This week we read Juuls are no longer cool, but that doesn't mean they're going anywhere anytime soon. The slender, USB drive-resembling vaping stick is being quietly huffed on every street corner, in movie theaters, high school bathrooms and even in Uber pools. It's prevalence promotes the misconception that the product is unequivocally safe, or at its very worst, miles better than, well, actual cigarettes.
Related | How Cannabis Became the New Normal
But that's not necessarily true. Juuls, like many smoking tools, have not been FDA-approved, and are currently enjoying the unregulated, Wild West-esque environment of e-cigarettes — all of which are sticking their tongues out at the tobacco industry, who in turn, are either scrambling to shimmy into bed with the newcomers or petitioning their DC daddies to get moving. Regulation won't prevent smokers, non-smokers, and general vapers vaping, nor should it. Vaping is a persuasive alternative given that, not only is it easy and in most places acceptable indoors, but it means avoiding the 1000+ chemicals cigarettes contain. It's just about finding the right one. Which we have.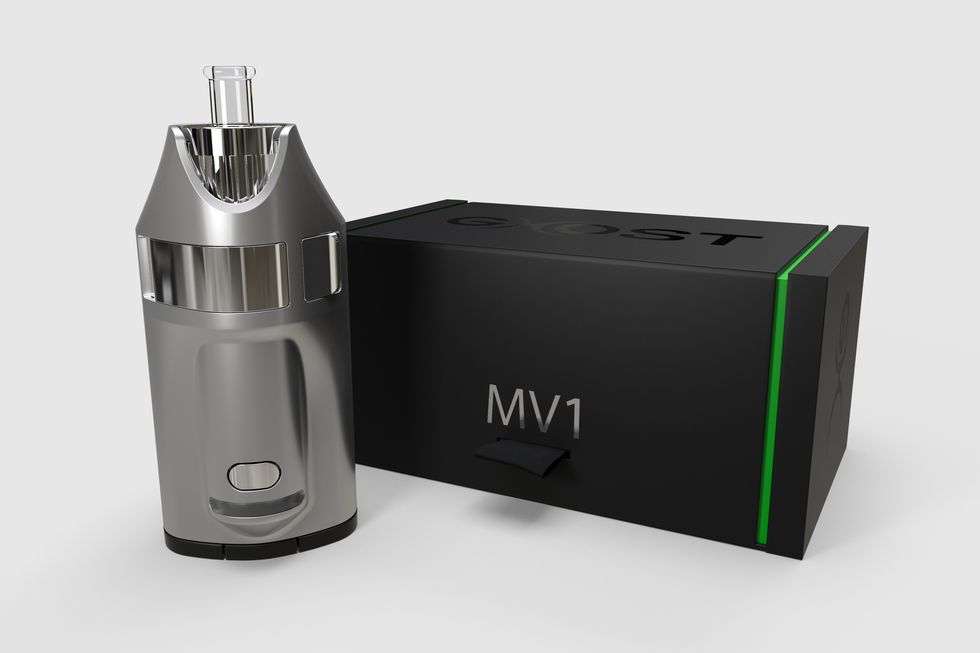 The GHOST MV1, is one of the few convection products on the market that are not only built to medical grade standards. The device allows you to smoke almost anything — even a coffee bean. Of course, some substances are inadvisable based on taste and consistency, but for the most part you're set. Chamomile tea? Sure. Lavender? Why not. Weed? Easy. The brand has teamed up with a herbs distributor, Harmony Herbals, to create combinations that really cater to your health and wellness and 0.1 grams of the material you choose to put into the MV1 is more effective than 0.3 in other devices — which means you're going to get a lot of bang for your buck.

"Herbal remedies for mood and relaxation have been around for centuries, but GHOST MV1 is the best tool to be able to pinpoint specific elements of a plant to help you enhance your mood," explains Tara Kelly, President of the brand. "I like to tell people that it is a necessary tool for health and wellness as it not only allows you to experience terpene profiles in a whole new way."
Where as your backwoods or papers burn your marijuana too fast (by holding it to open flame you're literally setting it alight), the MV1's on-demand convection process, which means it heats the material solely with hot air, allows for higher purity and potency. This means a better taste, Kelly assures, given that the material is free from heat and harshness. For this reason the MV1 will fill all your microdosing needs, it's not like stubbing a joint to be re-burnt later — you can put the device down to be discretely picked up later and still experience the best your herb has to offer.
"[All smokers] should really be looking for an escape route from smoking — which is unhealthy — and a move to full convection vaporizing, targeting active compounds effectively, without adding any liquids or chemicals in the process."
The MV1 is heavier than your Juul, and significantly more conspicuous. This is something Kelly claims is necessary to fulfill medical requirements: components that ensure a quality vapor pathway and a battery pack that includes it's own power management chip with safety features — which, when you hear of exploding e-cigarettes, certainly makes you question the resilience of smaller devices. Nonetheless, the product is ergonomically weight-balanced, which means it feels at home in your hand. "The metal alloy body feels very solid and durable," says noted vape reviewer, Vape Critic. "It's one of the sexiest ""and most elegant vaporizers I own, it makes you want to keep it out on the table as a statement piece."

"The vaping landscape is opening up to new generational demographics and more inclusiveness," says Kelly. It feels like the scene is trending globally and also quickly innovating. We feel that we reflect all of those values: inclusiveness, state of the art technology, global reach."
Do your weed — and your body — right, y'all, and experience the high life this 4/20.
Photos Courtesy of Ghost Vape
Sign Up For The Morning PAPER
Nightlife
Story by Zach Shucklin / Photography by The Cobra Snake (Sponsored by Cuervo Tradicional Cristalino)