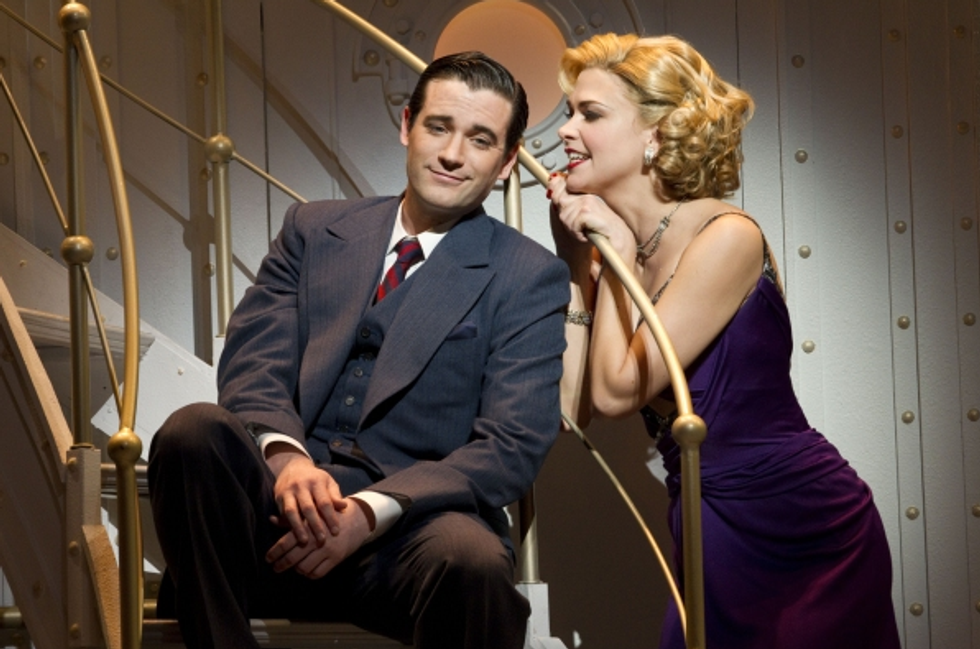 Last week we fell in love twice: Once with the little-known bluegrass musical
The Robber Bridegroom
, and again with Broadway's newest heartthrob
Colin Donnell
. Donnell currently stars as Billy Crocker, a stowaway stock broker on a cruise ship, in the amazingly uplifting and entertaining Broadway revival of
Cole Porter
's musical
Anything Goes
, but he took some time last Tuesday before heading off to the Stephen Sondheim Theater to participate in an intimate reading of
The Robber Bridegroom
, directed by 2011 Beautiful Person
Alex Timbers
. After seeing the perfectly-cast reading, we hope that once Donnell is done hamming it up with
Sutton Foster
(who plays the bawdy nightclub entertainer, Reno Sweeney), he'll take on the starring role of Jamie Lockheart in a proper production of
The Robber Bridegroom
, which hasn't been seen on Broadway since 1977. Between the two shows, we managed to catch up with Donnell for a much-needed cup of coffee. 
In their review of Anything Goes, New York magazine described you as "Don Draper from the waist up." What did you think of the comparison? 


It's totally flattering, but I had nothing to do with that -- it's my parents -- so I just got lucky with some genes that people seem to take a liking to. I mean my brothers are better looking dudes than I am. I did a show down at the Irish Rep a couple of years ago that Anita Gates reviewed for the New York Times and she said something about me being, I think the words were, "boyishly gorgeous," and my sister-in-laws still call me B.G. sometimes. I'll never live that down.  

It sounds like you're really close to your family. 

Yeah they're awesome, and so supportive. One of my brothers lives in town, and my other brother lives in Philly. My parents are still back in St. Louis but they make it out. It's nice to have that group here because it gets a little overwhelming, at times, just the city itself -- let alone everything else that's going on. It's nice to have people to keep you sane and grounded. I finally got my own place and that helped a lot, but still, it's a big ol' busy city.  

Do you think you'd live in New York if you weren't a theater actor? 

I don't know. I love the city so much now that I can't imagine moving away from it permanently. There's something about it that definitely gets under your skin and I can't imagine not having the options that I have here. And, I love where I live -- I have my little nerd sanctuary where I get to go home, play video games, sip cocktails and watch Netflix. I have a very extensive bar at home because I love -- and not that I drink all the time -- but I love cocktail making. My friends like to say I'm the only actor they know that wishes he could be a bartender.  One of my favorite things to do is to entertain people and mix drinks all night. I also bought this indoor-outdoor electric grill recently that has an iPod hookup. I'm very excited about it, but talk about excessive. What do I need an iPod player on my grill for?   

Wow, party at Colin's house!  When you do go out or go to events or weddings, are you a novelty among your friends and family since you can dance? 

I am literally the last person on the dance floor. And, I'm the last person you'll find doing karaoke, although I did go karaoking the other night and I had a really good time. I love the karaoke where there are rooms, that's much better. 

You're a great dancer though. And Anything Goes is full of old-fashioned big dance numbers like "De-Lovely" and "Blow, Gabriel, Blow!" 

[Director] Kathleen [Marshall] didn't even ask me if I was a dancer before. Maybe she talked to somebody, but I've never done this much dancing -- ever. She had to have a lot of faith. I did train as a dancer a little bit in college at Indiana University and I had great teachers there and it's nice to have in the bag of tricks but I never thought I'd be doing it to this extent. I'm having a great time with it though. "De-Lovely" is one of my favorite moments of the show now. It's a beautiful dance and it's not something you see so much on Broadway anymore. You don't see two of your lead characters dancing like that in this great, grand beautiful way that Kathleen set up. I grew up watching all the Fred Astaire and Gene Kelly movies. I wanted to walk like Fred Astaire and dance like Gene Kelly -- before I even knew I wanted to be an actor. I was so fascinated with the fact that those guys were so masculine but floating on air. It was this incredible sense of bodily awareness.  

Was it hard growing up in the Midwest being interested in dancing and singing?  

It was a little weird when I started taking dance classes back in high school because I was the only guy doing it and I had been playing football and sports and suddenly I was finding all this joy in singing and acting and dancing and reading plays and that sort of stuff. It was a bit of a 180.

How did you start dancing? 
I broke my ankle playing football when I was a freshman in high school and I tried to come back and wrestle but couldn't do it, so I quit, and I think my mom wanted me out of the house so she mentioned that the musical was auditioning and she told me they were looking for circus performers because it was Barnum and I could juggle, so that's how I got into the business; I juggle.  It's a little bit of a useless trait, but it's fun every once in awhile when someone wants to see it. If they give me three things I can usually do it without breaking anything.  

What's in your dressing room?

I always keep a couple of bottles... or five, of whiskey, so I can enjoy a nip with some people on a Sunday night. It's an open invitation to people. I also have the world's biggest sweet tooth. I like the sugariest crappiest stuff -- Jelly Belly's, Starburst Jelly Beans, Sour Patch Kids -- that's my jam.  I try not to eat too much but I always keep it in the dressing room. It satisfies some sort of craving to buy it for other people. There was a girl at the stage door who gave me a Ring Pop and proposed to me the other day. I think she was like 13, and I said, "That is so sweet. I'm a little young to be married and maybe you are too, but I will take your Ring Pop." I felt bad for a split second like should I be taking a Ring Pop right now from a kid?  

That's crazy! Other than daily proposals from young girls, what's your experience of being part of a hit Broadway show been like? 

The community itself is such a cool, supportive atmosphere -- it's wild. The other night I went to my friend Arian [Moayed]'s birthday party (he's in Bengal Tiger at the Baghdad Zoo), and then our friend Nicole Parker is in People in the Picture. It's just everywhere you go you know somebody. It keeps getting smaller and smaller and better and better. There are so many good people around and it makes it really easy to come to work. It sounds cheesy, but we have a tendency to take care of each other -- at least that's what I find. I think I surround myself with those people as opposed to people that aren't like that.

Photograph of Colin Donnell and Sutton Foster from Anything Goes by Joan Marcus.