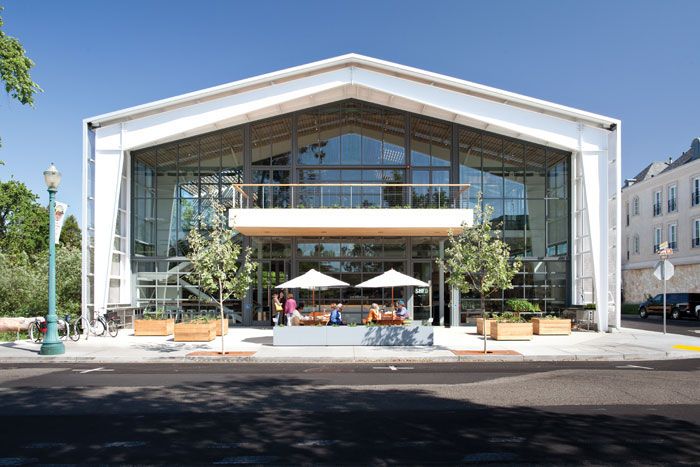 Now that it's no longer enough to just sell local jam and pickles, Cindy Daniel and her husband Doug Lipton have opened SHED, a combined café, classroom, home goods shop and community event space in Healdsburg, California. Billing itself as a "modern grange," the stunning, two-story glass-encased barn is a new kind of food establishment in an era of backyard farming and kitchen composting.
SHED, which opened in April, has become a kind of DIY mecca for Northern California food obsessives, who flock to the space to take ramen-making classes and shop for hand-operated kitchen tools (no KitchenAids here -- SHED sells only non-electric appliances). Everything operates according to seasonal themes. "The first one was bees," says Daniel. "Bees" translated to a class on beekeeping, putting honey in the larder and on the daily-changing menu and a mead tasting at the "fermentation bar," a handsome seating area serving local wines, beers, cider and kombucha tea.
Both farmers themselves­ -- Lipton is a "dirt doctor," according to Daniels, with a PhD in soil sciences -- SHED's founders delight in the dirtier business of bringing food to the table. Their education calendar includes talks with local farmers as well as hands-on classes on vermicomposting (that is, composting using live worms). And in a nod to the area's agrarian history -- Healdsburg is named for the Heald brothers, who opened the first flour mill in northeastern Sonoma County -- SHED has its own mill, grinding flour for purchase and to supply its kitchen, led by Chez Panisse alum Niki Ford.
Occasionally SHED serves lunches (think dark rye sourdough topped with smoked fish and beets) in individual picnic baskets to take outside to the lawn. Daniels clipped an old article mentioning picnic baskets at a farm event in Healdsburg as a reference point: "There were people talking about them in the early 1900s," she says. "It's fun to find those connections."
The SHED is located at 25 North St., Healdsburg, CA