George Michael was tired of the spotlight when his video for "Freedom! '90" came out. The year was 1990 and Michael was looking to distance himself from his image as a floppy-haired teen-dream in Wham! as well as the brooding, leather-jacket-sporting jukebox hunk that became synonymous with the 1987 "Faith" video.
As such, Michael didn't want to appear in the clip, directed by David Fincher, instead casting the supermodels of the moment who were shifting the perception of models-as-celebrities at the time, and were becoming enormous stars in their own right.
The video featured all of fashion's biggest runway-walkers of the time bathed in Fincher's signature moody lighting, lip-synching in a cavernous building. There was Naomi Campbell in a sheer top, Linda Evangelista in an oversized black turtleneck sweater, Cindy Crawford sprawled in a bathtub, her hair flipped over the edge, Tatjana Patitz smoking sumptuously and Christy Turlington draped in nothing but a linen sheet. (All five had also been featured on the January 1990 cover of Vogue shot by Peter Lindbergh, inspiring the casting.) In the video's climax, Michael's "Faith" leather jacket, hanging in a closet, dramatically goes up in flames. It was the beginning of the '90s cinematic music video and it was glorious.
But back to Linda's turtleneck. The thing about this video: It's curiously high-fashion without having much clothing in it at all. Most of the models are dressed in basic separates or in lingerie, but, boy, do they wear it well.
Get the look in the gallery above. Sometimes the clothes do make the man.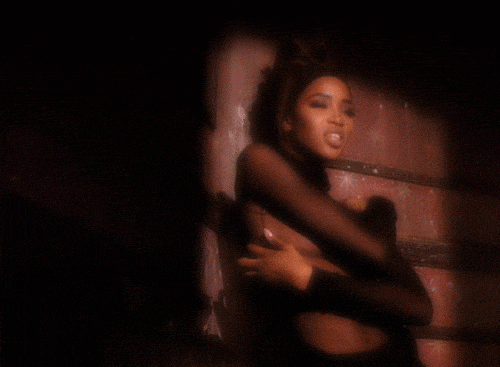 You May Also Like