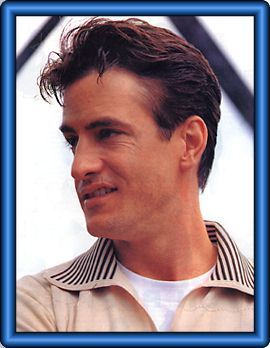 I should probably get this off my chest before we go any further: Dermot Mulroney is the entertainment industry's undisputed, devastatingly sweet and staggeringly stunning sex god, and the mere thought of him wearing that little blue Speedo in Longtime Companion all but erases any thought I ever had of Keanu, Tom Jones or the Six Million Dollar Man. Whew! Now that we've gotten that out of the way, we can return to the unflinchingly highbrow brand of journalism that the upper echelons of global intellectuals expect from this magazine. Still, you must be thinking to yourself, what more can we learn about Mulroney after that outburst? Trust me, folks, it's just the tip of the iceberg. Get ready for Hollywood romance, sibling rivalry, embryonic twins, a parade of strong women, the record industry and nothing but nice things about Julia Roberts. Yes, it'll be enough fun for the entire family. Before meeting Mulroney, I was already well aware of his physical magnetism, having followed his career for years, along with a diverse cross-section of friends who just can't get enough of the 33-year-old actor's charms, talents and versatility that have made him a favorite on both the indie art-house circuit and the big-budget battlefield. In fact, when we met, he was on location in Chicago to shoot My Best Friend's Wedding, costarring Julia Roberts, Cameron Diaz and Rupert Everett.
When asked which female costar he would rather "date" in real life, Mulroney proved what a discreet gentleman he is. (I invariably ask all interviewees this question, not so much to give myself a cheap thrill as to provide valuable insight into the inner recesses of the subject's subconscious mind.) Considering he's worked with such a stellar roster of actors, including Bill Bixby (who was Mulroney's costar in his first big project, the TV movie Sin of Innocence), Alan Bates, Bridget Fonda and Miranda Richardson, I was particularly looking forward to firing some choice names at Mulroney for his sexual perusal. He made his feature-film debut in Blake Edwards' Sunset, with James Garner, the first in a series of westerns that includes Young Guns, Bad Girls (with Drew Barrymore), The Last Outlaw (an HBO movie with Mickey Rourke) and Sam Shepard's Silent Tongue. Mulroney admits, "I've been really lucky with casts - especially the women I've worked with. It's been incredible." He is definitely popular with the female fans, not to mention his devoted gay male followers. I know women who actually own Career Opportunities on video (an early Mulroney feature that's most notable for his appearance alongside brother Kieran). Mulroney concedes, "I've been in a couple of those strong-women films," which can only begin to explain his popularity with the ladies. Mulroney is also notorious for being one of the few actors who easily fluctuates between making arty independent films and mainstream movies, though he credits his eclectic list of roles as "probably half my doing and half by chance." He gained lots of exposure, literally, in Longtime Companion, the heartwrenching 1990 film about AIDS in which the actor turned in an impressive performance as John Deacon. His comfortable attitude about playing a gay role is refreshing in a Hollywood that's often wary of controversy. Mulroney didn't hesitate about taking the part. "There was no question in my mind, it was a great role, a groundbreaking film. Right from page two you could tell," he recalls.
One recent major independent release graced by Mulroney's presence was the underground hit Living in Oblivion, directed by Tom DiCillo and costarring Mulroney's wife, Catherine Keener (seen this summer in Walking and Talking), and Steve Buscemi. Oblivion was originally made as a short film, but it turned out so well that the entire cast reconvened weeks later to make it a feature. Although Mulroney and Keener were in the same film - Mulroney played a macho, eye patch-wearing cameraman, Keener an actress who just couldn't get it right - they weren't really costars, choosing instead to gracefully avoid the pitfalls of being one of Hollywood's most talent-heavy twosomes. Mulroney will pair up again with DiCillo for his next as-yet-untitled film, in which he'll play something of an asshole - a nice break from the likable types with which he's become associated. Mulroney is no stranger to the people who frequent the new-release shelf at the video store. He starred in Point of No Return - the American remake of La Femme Nikita - with Bridget Fonda and, among others, has costarred in Copycat with Sigourney Weaver and Holly Hunter and The Thing Called Love with River Phoenix and Samantha Mathis. Of Phoenix, he remembers, "He was really fun to work with - extremely hilarious, very unique way of thinking."
The Thing Called Love also gave Mulroney the chance to sing onscreen, and his character's song was played on the radio - something Mulroney hopes to re-enact. "I've been anticipating that for a long time, to live that out in real life." He's a member of L.A.'s popular Low and Sweet Orchestra - he plays mandolin, cello and the dobro - and admits that with such a full schedule, music and movies are a lot to juggle. But, he adds, "I'm not trying to work on every movie, and hopefully there's time in between. We've also, as a band, had a lot of good luck." I'll say: their debut album, Goodbye to All That (Interscope), was released last month. Mulroney makes a musical appearance in Robert Altman's upcoming jazz epic, Kansas City, costarring Jennifer Jason Leigh and Miranda Richardson. He has nothing but praise for the project: the film was "very fulfilling," his costars "incredible" and Altman "a sweet generous man; an incredible director." He describes his latest movie, The Trigger Effect, about three friends in a blackout, as "a character piece in the guise of a disaster film." Sashaying off to the screening with visions of Towering Inferno in my head, I was surprised instead to find a chilling film filled with impressive performances by Mulroney and costars Elisabeth Shue and Kyle MacLachlan. Mulroney elaborates on the film's title: "It's more in the characters choosing the wrong thing at the wrong time...." The script is smart and the pace is relentless. I was on pins and needles for almost two hours. I can't tell you what a thrill it was to finally meet an actor of whom I've been such a devoted fan. Mulroney was everything and more in person. He's an aficionado of frontier history, believes he's an embryonic twin (in which one twin never develops and is absorbed by the other surviving twin) and I don't even mind that he's too much of a gentleman to talk about sex with Julia Roberts.