Milan, Rome, Florence — these are often the three places that come to mind when it comes to the fashion scene in Italy. But for GCDS (God Can't Destroy Streetwear), it was all about Naples. It's where the brand's creative director Giuliano Calza hails from, and it's what he dedicated his Fall 2020 collection to.
Calza's love letter to the southern Italian city manifested itself in an abundance of cheeky references and playful details, all of which draw from Naples' distinct sense of "extra," according to the show notes. While last season's collection was inspired by all things manga, this lineup incorporated more subdued colors than last time and featured distinct silhouettes from '80s and '90s pop.
Touching upon Calza's concept of "inviting everyone to his hometown," the brand enlisted a variety of parties to collaborate with for this collection, which included everything from Tom & Jerry graphics to pieces designed with SSC Napoli, the city's local soccer team. See, below, for all the collaborations GCDS embarked on for FW 2020.
This season marks GCDS' first full sunglasses collection in partnership with eyewear manufacturer Marcolin (which works with brands like Tom Ford, Bally and Diesel). The range includes a variety of styles from oversized rose-tinted aviators to elaborate sunglasses decorated with floral appliqués as seen on model Alton Mason.
Tom & Jerry cartoons from the franchise's 1950 episode where the titular characters visit the Gulf of Naples is etched onto a pair of fleece jackets.
Many looks were adorned with tiny crystals by Czech-based Preciosa (a competitor to Swarovski) on gowns, knits and and accessories like a dazzling heart-shaped minaudière.
Naples' local soccer team SSC Napoli (known for its passionate Italian fanbase) teamed up with GCDS to design a couple of pieces incorporating the club's "N" logo on sweaters for men and bodysuits for women.
Morning Pick-Me-Up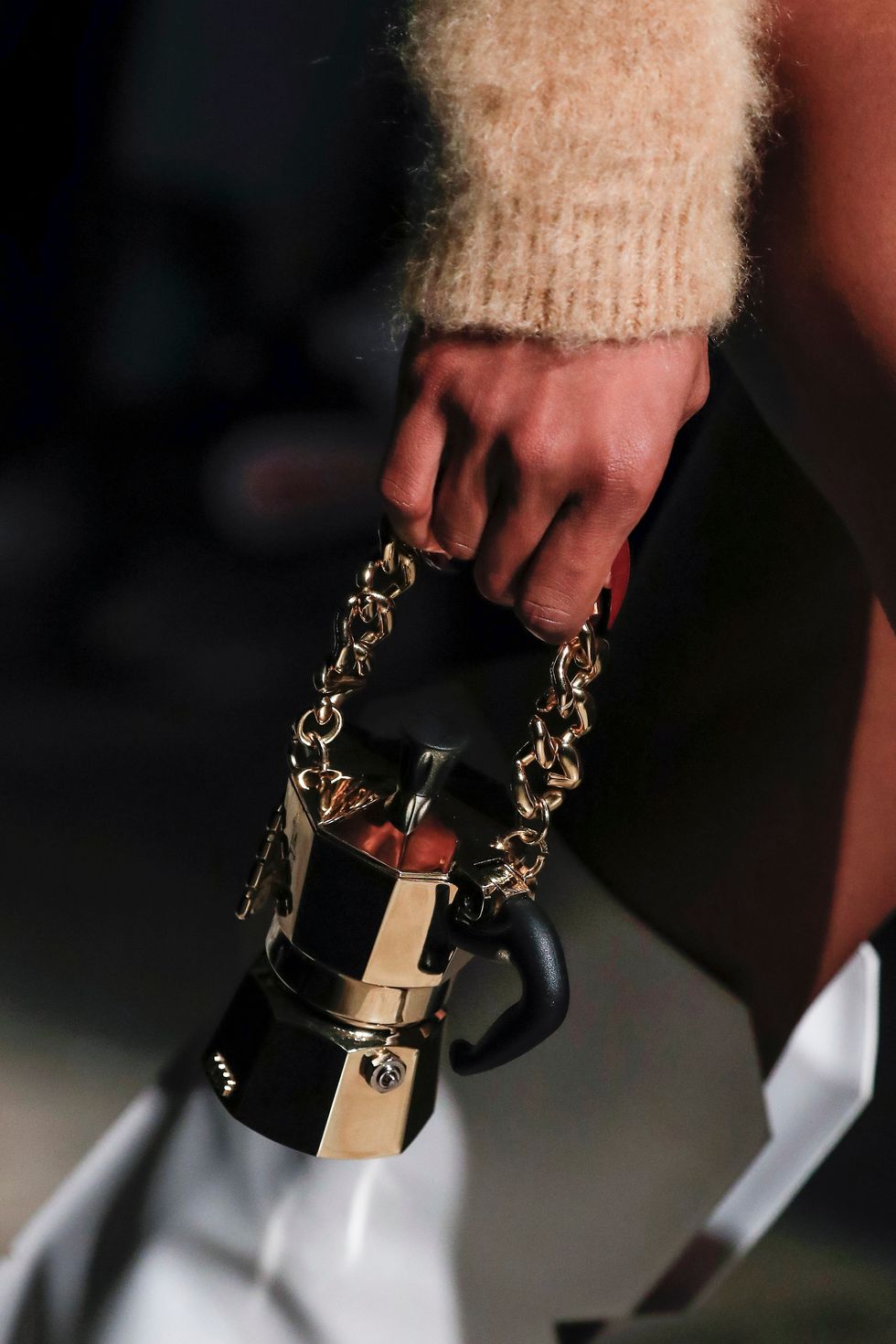 One of the stranger yet more charming accessories on the runway is a small bag in the shape of a Bialetti Moka pot. Calza says you'd be hard-pressed to find an Italian home without one, describing the coffee maker as one of the "few household items embodying such authentic and nationalistic identity."
Sign Up For The Morning PAPER