The popular and critically-praised podcast Food 4 Thot, which features a roundtable discussion between four queer hosts on "boys, butts, books and brown people," recently launched a new project: an 11-piece t-shirt collaboration with the Florida-based company GreenBoxShop. Printed with words like "Decolonize your bookshelf," "heterophobic" and "THOT," the slogans for the shirts reinforced the pillars of the show which include activism, intellectual insight and sex positivity. Immediately fans began to express support for the new merch with comments and quote tweets, subsequently retweeted on the official account, but just as quickly came criticism of a design that said "Gay slang was invented by black women." on the front.
"Hi Food 4 Thot," a Twitter user named Ryan Sides tweeted. "Black women didn't create gay lingo. [Black women] are also not the sources of gay culture. [Black women], during the formative years of gay culture and black gay culture specifically, were harmful and violent toward their black gay sons. This shirt is trash. And inaccurate."
The post has since racked up over 550 retweets, 1,000 likes and 30 comments as of this writing, excluding the quote tweets. These numbers far outpace engagement of any tweet in support of the designs and echoes the sentiment of many other voices on Twitter. Neither Food 4 Thot nor Greenbox responded to Sides' criticism online but when we reached out to Marco Robinson, a co-founder of Greenbox, he told us, "I just think it's important to acknowledge the creators of culture," adding, "It is important to recognize in the queer community how gay men can appropriate culture." Robinson managed the collaboration and says that all designs were done by Food 4 Thot while shirt production and order fulfillment was handled by Greenbox, whose shirts first broke out in pop culture when Frank Ocean was spotted wearing one of their designs.
Hi @food4thotpod

Black women didn't create gay lingo.
BW are also not the sources of gay culture.

BW, during the formative years of gay culture and black gay culture specifically, were harmful and violent toward their black gay sons.

This shirt is trash.
And inaccurate. pic.twitter.com/c6tBd0MBIW

— ryan. (@writelikeryan) June 6, 2018
At the time we first spoke, Robinson hadn't yet seen any criticism of the design (it appeared that Greenbox wasn't tagged in any of the initial negative comments). But after learning more about negative feedback directed towards the t-shirt on the Internet in general, and the crux of the argument that the shirt is viewed by some as erasing and invalidating the contributions of black queer femmes — many of whom may have felt excluded or oppressed by black women — to gay culture and gay slang in particular, Robinson provided further comment.
"I think the problem here is the word 'women,'" Robinson said. "If instead of women it said 'femme,' we probably wouldn't be having this conversation. I think it also includes queer women in the black women part but I can see how it excludes queer feminine men. But I do think it's really helpful to have these conversations."
PAPER reached out to each of the four hosts from the Food 4 Thot team — Tommy Pico, Joe Osmundson, Dennis Norris II and Fran Tirado — and only received a response via email from Tirado. About the debate happening around the t-shirt, Tirado said: "What we can say is that a t-shirt, ours or any on Greenbox's site, is not a complete conversation. We are glad it is able to generate a more nuanced dialogue. We hope you'll note that 100% of our cut goes to [Trans Law Center.]" Further requests for clarification as well as follow-up questions went unanswered.
This narrative and the surrounding debates are not new ideas. In 2014, a college op-ed catalyzed a similar conversation. The piece, headlined "Dear White Gays: Stop Stealing Black Female Culture," written by a female student at the University of Mississippi for her school paper and re-published in TIME Magazine, prompted a conversation among writers working at Slate, New York Magazine and Huffington Post, as well as countless others on social media, about the ways that gay culture was indebted to black women but, perhaps even more crucially, black femme men. It's a sentiment that has even spawned other t-shirts and memes long before Food 4 Thot launched their merch.
But in addition to hearing that idea in places like the media, for many queer black femmes (this writer identifies as such) questions may come from mothers or other children like, "So you want to be a woman?" Or "You're trying to be a girl?" But they are not trying to be women. They're trying to be themselves.
"As black gay people, we are so othered at the essence of our being that it has demanded a new language to interact with the world."

The descriptor 'black femme' itself is a big tent that can encompass lots of different experiences, backgrounds and biologies ranging from cisgender black women and black transwomen (perhaps the two most identifiable manifestations of the label), as well as queer men who have feminine affectations. And though they may share mannerisms and habits, the groups are treated by society in distinctly different ways, causing complicated relationships between themselves. As Sides attested to in his tweet, one of those complicated relationships is undoubtedly between black cisgender women and femme men.
"Half of RuPaul's Drag Race, when these girls are lip syncing for their lives — the eye rolls, the hair, the weave patting — those are all things that I've seen the black women in my life do," Elegance Bratton, creator of VICELAND's My House show, a documentary series on the New York ballroom scene, said. "So many of the gestures that we think of as go-to gestures certainly came from black women. But as black gay people, we are so othered at the essence of our being that it has demanded a new language to interact with the world."
Bratton continued, "So as much as I can acknowledge that so much of what I love about gay culture is inspired by black women, there's another side to this that so much of who I am is in resistance to their notion of heteronormativity. And that resistance is a language we came up with ourselves."
And Bratton's point holds true. Black queer feminine men, trans women and cis women are a part of a symbiotic relationship all contributing to the black femme canon. They all jointly define, in their own ways, what it is to be black and femme and then draw from that collective pot for our own respective presentations. They are all a part of the canon.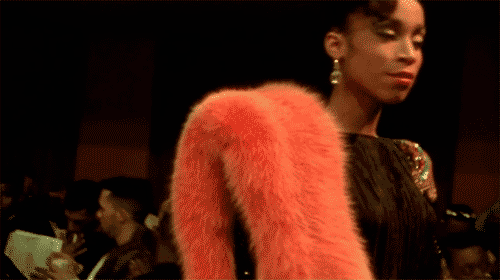 Octavia St. Laurent in "Paris is Burning"
Take Beyoncé, a cultural archetype of black femme. She is certainly a product of the black women in her life, but it's clear to many that her presentation as an artist is indelibly influenced by others under the tent. In a piece byThe Paris Review examining Beyoncé's "hairography," the author sees Octavia St. Laurent, a notable trans woman from the ballroom community and Pose choreographer and ballroom legend Leiomy Maldonado, as undeniable influences, especially Maldonado's signature "Leiomy lolly" hair flip, which the star borrowed for her "Video Phone" video. Bey has even admitted that Southern black drag queens have influenced her as have choreographers like Jonte Moaning whose imprint is felt throughout "The Beyonce Experience" era. You can watch the process happen in footage from rehearsals as Beyoncé mimics and then personalizes the movements of a choreographer (who also happens to be from the ballroom scene); this is black femme exemplified, all contributing, pulling and personalizing equally. And all should be given credit as such.
But as much as there are uplifting examples of this black femme pastiche, there are other examples of strands of black femininity not co-existing so neatly alongside one another. There are some aspects of gay culture, particularly those formed and created by black gay feminine men, many of which have recently become the epicenter of mainstream gay culture, that came in spite of black women who tried to exclude queer men from their definitions of black femininity.
This of course is a part of an overall legacy of black people: to turn pain, refusal and a dearth of opportunities into something completely new.

"A lot of times black femmes and queer folks had their entire foundations ripped from under them and so they had to create a new language or speak in a coded language," Roy Kinsey, a queer Chicago-based rapper who released his last album as an ode to black femmes including voices like Jenifer Lewis and James Baldwin. "We had to be inventive in the way that we existed and that did not come from black women."
"When we think about hip-hop, that comes from sampling [other music] but hip hop is its own thing," Kinsey continued. "We talk about house, which came from disco but became its own thing. Being a black femme [as a gay man,] came from survival, it came from embellishment, it came from existing in this world and a lot of it came from pain." This of course is a part of an overall legacy of black people: to turn pain, refusal and a dearth of opportunities into something completely new. Sorrows became blues, frustrations turned into hip hop. Dapper Dan took scraps to made a legacy in fashion and slaves took the refuse from the tables of those who had enslaved them and made soul food. Black gay feminine men took the rejection of black women from the femme canon and created a coded language that allowed them to not only exist in the world but also, for those who understood the language, express their true selves.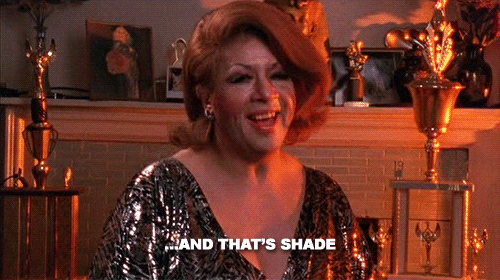 Dorian Corey in "Paris is Burning"
"You watch Paris is Burning and they put these big words on the screen [and then explain them] because that's a very big part of it," Kinsey continued. Those words have now been integrated not only into gay culture but pop culture at large. "We need to be talking about that. We need to be talking about the fact that I had to recreate my identity and my existence on every level because I'm not a black woman and I'm not a black [masculine] man; I'm different and everything about my identify and myself is going to be different. Yes, I make it look beautiful and I make it good but it definitely came from that pain."
To have the history of that creation and the work revised, ignored in the name of activism and progressivism, is a conflation of the issues. In fact, it contradicts the subtext of acknowledging and giving credit to the source; here it erases black queer men in favor of black women. And while this could be perceived as a mistake or a blindspot, an approach that doubles down by continually ignoring these voices frames the entire effort; it changes it from a statement about the "real history" and giving black women their due into a posturing that uses black women in a talismanic-like gesture for performative wokeness.
For information on how to donate to the Transgender Law Center, click here.
Photo courtesy of Academy Entertainment
Sign Up for the Morning PAPER