Patti Smith recently griped that "New York has closed itself off to the young and struggling." But Roulette's new Brooklyn space will surely prove her wrong. The arts venue--which bills itself partly as an "incubator for young talent"--was originally conceived in the late '70s in founder and current producer and president Jim Staley's Tribeca loft. Those were the halcyon days when real estate was cheap and arts spaces such as the Kitchen and Dance Theater Workshop were taking root in New York's neglected downtown. "Anyone who had a loft had a performance space," remembers Staley, whose own apartment housed composers, choreographers, painters and poets. "And there was a lot of collaboration." All that changed in the '80s, Staley says, as artists began segregating themselves by medium. Roulette itself began to cater specifically to musicians, hosting the likes of John Zorn and Elliott Sharp.

Now, as Roulette settles into its 33rd year and a new venue, it's broadening its purview once again. After moving from Staley's loft to a temporary space at SoHo's Location One gallery, Roulette has now set up shop a stone's throw from the Brooklyn Academy of Music, in a former YWCA concert hall with the intention of making itself bigger, better and more experimental than ever. "There will be things happening here that are more finished," says Staley, referencing folks like composer Anthony Braxton and legendary avant garde rocker-couple Lou Reed and Laurie Ander- son. "But there will still be the more fresh-off-the-plate kind of work." Roulette offered a sneak peak at the latter over the summer, at a two-day reinterpretation of John Cage's 1967 composition "Musicircus," featuring video, dance and music by lesser-known groups like Unicornicopia and Ashcan Orchestra. And in the coming months the space will host a show by Bay Area electronic musician Amy X Neuberg, an I Ching-inspired composition by tubist Ben Stapp and a "Sonic Massage" weekend courtesy of Wollesonic Laboratories, a group that plays handmade instru- ments while its audience relaxes on yoga mats.

"A lot of it's very raw and undeveloped," Staley acknowledges of Roulette's new programming. And that rawness, he adds, is sort of the point. "We don't want to lose the support for emerging artists," says Staley. "That's important to us--it's vital creative work."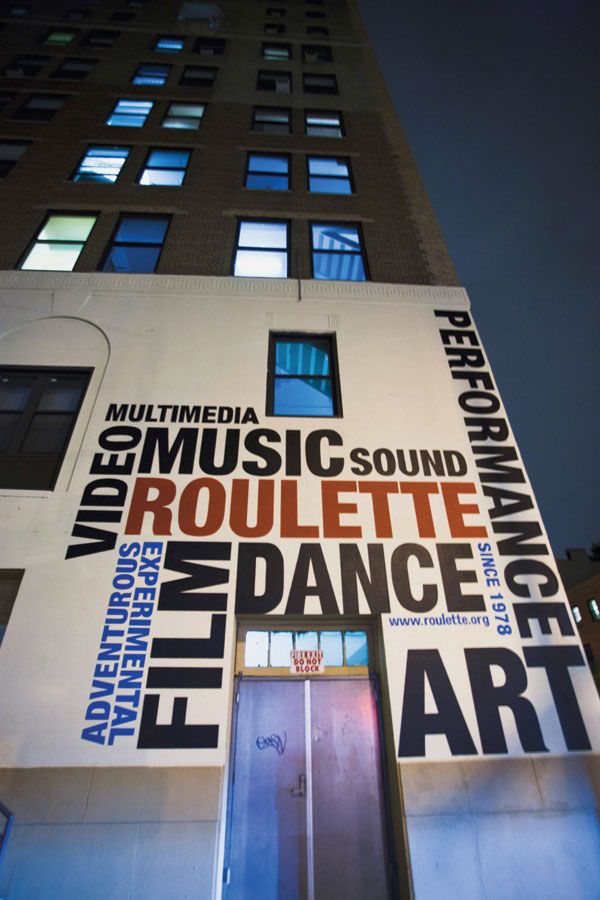 This month at Roulette
Nov. 11: Barbez, the Brooklyn-based experimental rock and Jewish-folk group performs songs from their latest John Zorn-produced album.
Nov. 21: The innovative composer and director Adam Rudolph conducts his go Organic Orchestra.
Nov. 19: Bassist Garth Stevenson and movement artist Deborah Gladstein perform a tribute to roulette's new space.
Nov. 30-Dec.2: Chicago jazz musician Henry Threadgill presents his album ZOOID.