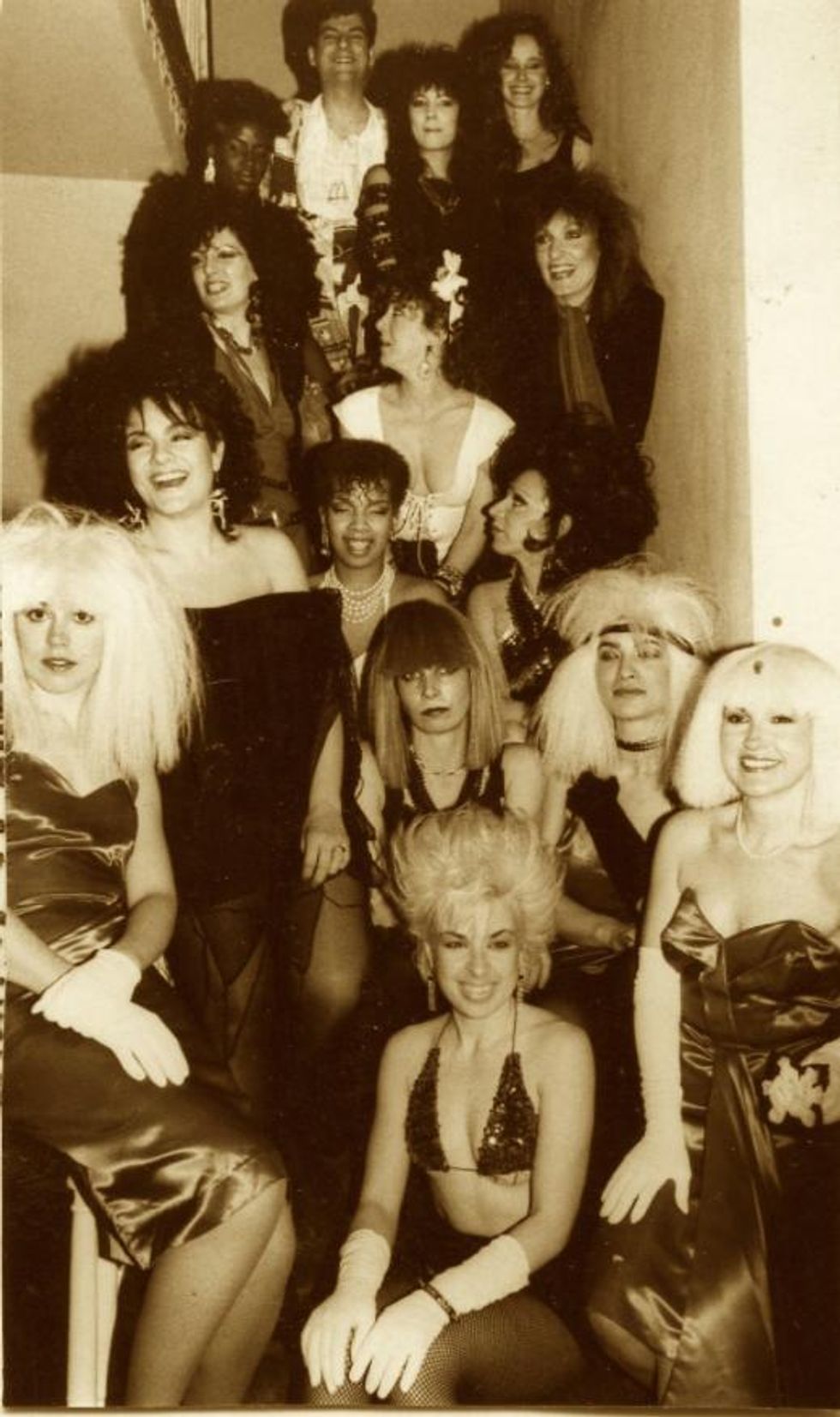 Downtown Divas group shot after the first show. (Musto on top)
Gabriel Rotello has had an extraordinarily multifaceted career, ranging from cofounding and editing the angry gay magazine OutWeek to being an out columnist at New York Newsday to writing 1997's Sexual Ecology: AIDS and the Destiny of Gay Men, after which he moved to L.A., where he currently makes documentaries for companies like Flight 33 Productions and World of Wonder. But I first knew him as the producer of the extraordinary "Downtown Dukes & Divas" musical revues that he put on at places like Limelight and the Palladium. Gabriel would assemble a roster of wacky and talented singers (plus me), back them with the Uptown Horns, and draw throngs panting for the sizzling sounds. It was a true '80s event -- one that brought together wildly divergent creative strands for some electrifying entertainment. I caught up with Gabriel for a piercing look back at '80s Diva-dom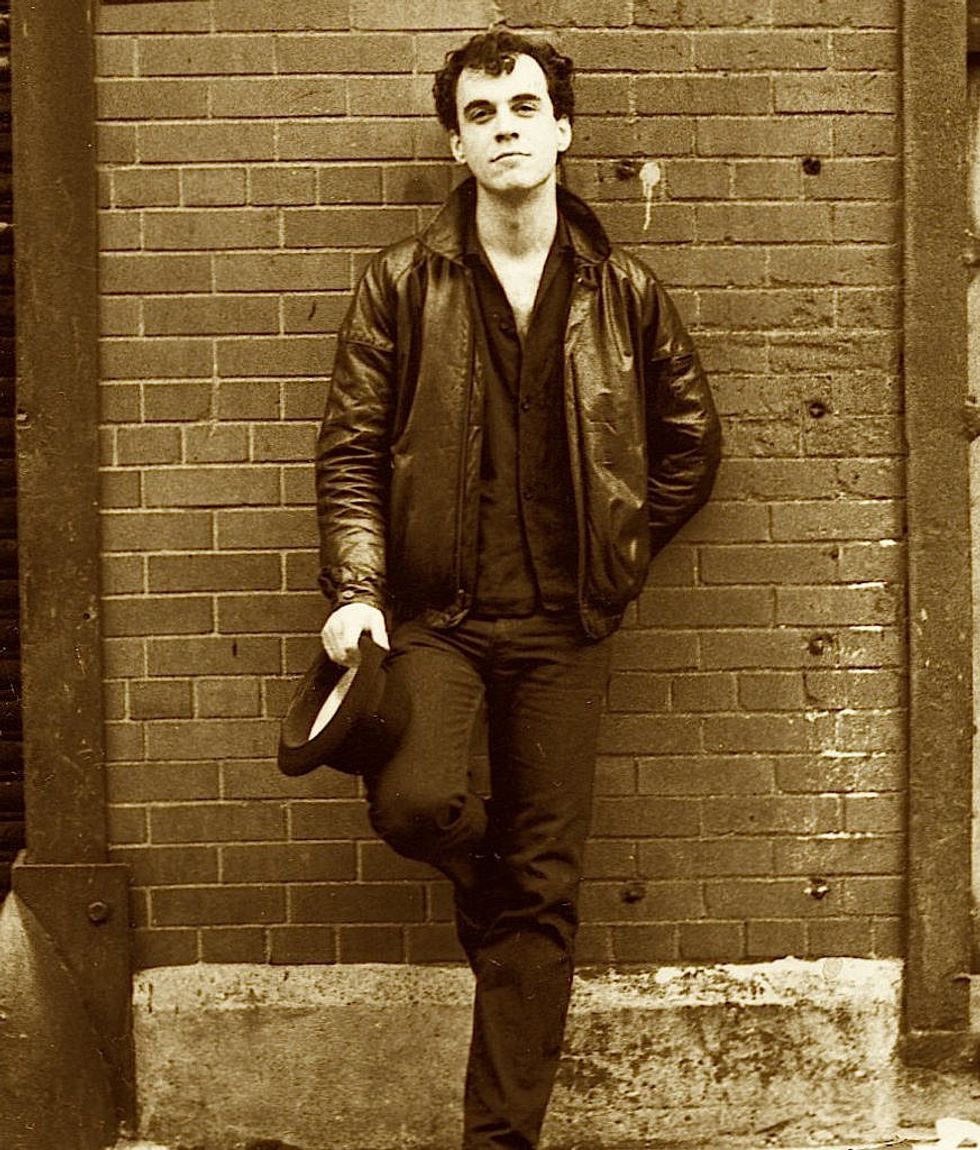 Gabriel Rotello. Photo by Ira Cohen.
Hello, Gabriel. You came to New York in the 1970s. Was working with singer/actress Brenda Bergman your first show biz gig?
No, not really, but that was the first thing that was my own sort of project. I hooked up with Brenda in '79 and she had been in a bunch of plays and was quite spectacular in them. She had started a little a cappella group and wanted to expand it into a rock band, so we teamed up and started writing original songs and put this band together, which became the Realtones. The horn section became the germ of what ultimately became the Uptown Horns. It lasted for two years, from '79 to '81.
When did you start the Downtown Dukes & Divas shows?
They started in 1980. [Singer/Bowie publicist] Cherry Vanilla came to me with an idea in the summer of 1980. She wanted to do a show at the Ritz, which was the big, beautiful rock club, of four female lead singers with their bands—Cherry with her band, Sherri Beachfront with Get Wet, Donna Destri with her band, and Brenda and the Realtones. So we did it and called it "Girls Night Out." It was the fourth of July, 1980. It was a huge success. Every time I say something like that now, I feel like Donald Trump. "It was huge." [laughs] But it was a big hit. Casablanca Records' Neil Bogart was there that night and signed Get Wet from that gig.
Cherry and I said, "Instead of doing four bands -- which involves a lot of setup and breakdown -- why don't we do one band and have a bunch of different female singers?" Jerry Brandt from the Ritz thought that was a great idea. We did them at the Ritz on holidays -- Halloween, Christmas, Easter. Then we stopped doing them, for whatever reason. Five years later, in the summer of 1985, I was at a bar with some friends and we were talking about how the music scene in New York had deteriorated, and somebody said, "Did anyone ever see those shows at the Ritz? How come no one does shows like that anymore?" And someone said, "Gabriel here is the one who did those shows." The person said, "Oh my god, why don't you do them anymore?" I said, "I don't know." I called Jerry Brandt, and we did one. Limelight had just opened five months before, and people from Limelight were there that night and went to [publicist/organizer] Claire O'Connor and told her about the show. She called and said, "Could we do a show like that at Limelight?" I said "Sure." That was the tail end of the Ritz, but the Limelight was brand new. The first show was April of '85. It was a big hit and we kept doing them. We did them at Limelight, Palladium, and a few at the Saint. It became almost like a bidding war between the big clubs because they drew a large audience and were considered to be very fun. A great moment of bringing together the best of the downtown music scene from all aspects of it--so eclectic. Downtown Divas was all girls. Then we decided to do the all male version, Downtown Dukes. I remember you were in the first one of those. Then we combined it. Then we did an all black version called Uptown Dukes and Divas. We began doing performance artists like Karen Finley, drag versions, and little musicals like Hair [in which you sang "My Conviction"] and Grease. I did a few with Justin Ross called Broadway Dancing in the Limelight. We asked the dance captains of Broadway shows if they'd choreograph something to a favorite song and use their casts. Needless to say, they were absolutely fantastic and they loved the opportunity to do their own stuff.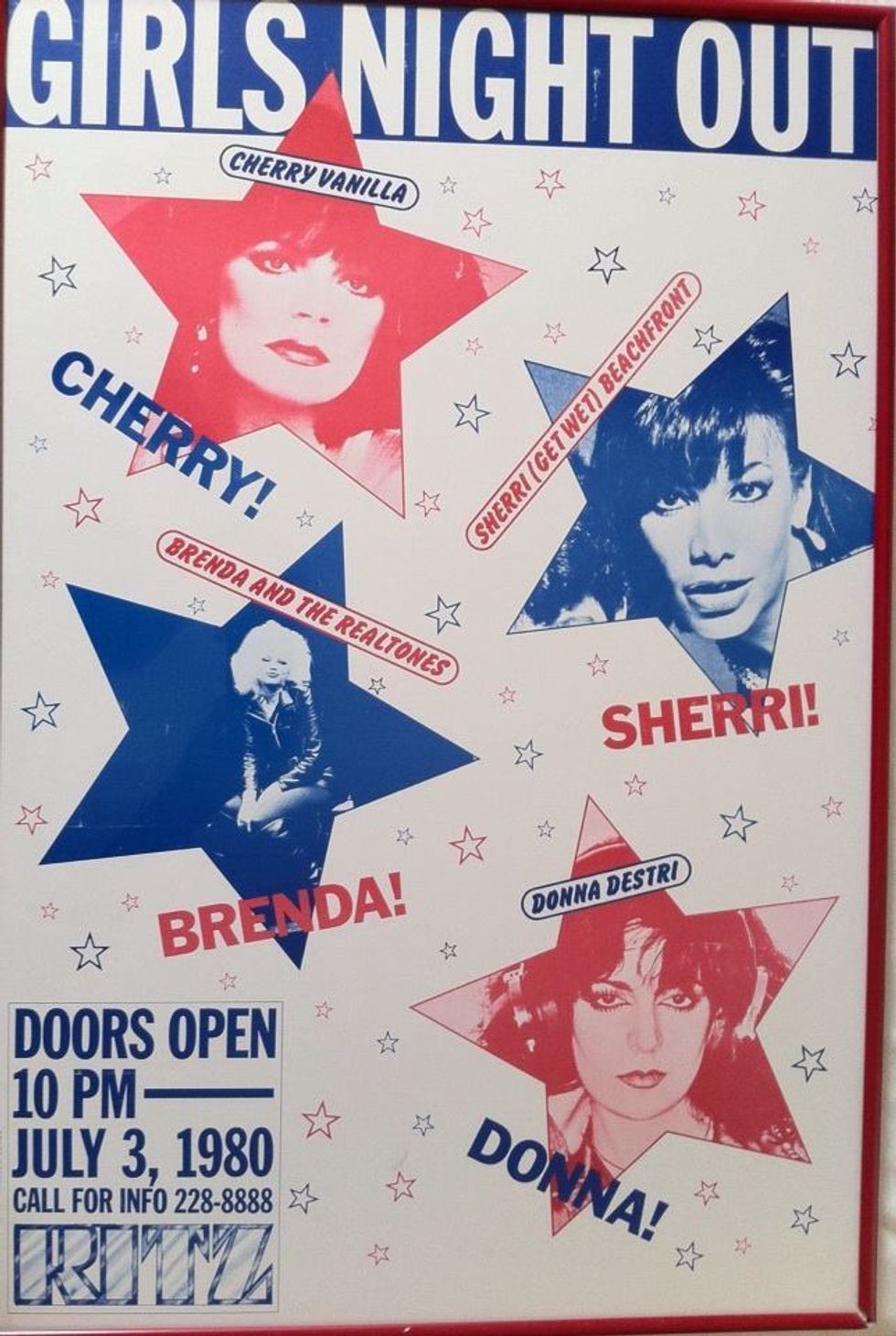 Girls Night Out invite
How did the door charge work?
With the invite, it was six dollars, then the word would spread. Those clubs made a huge amount from the bar. Maybe a third or half would get in for the discount, but they were all buying overpriced drinks. We always advertised that the show starts at 10 or 1030 PM sharp, and they wouldn't go on until midnight or 1 clock, with everyone drinking.
Was I the only male in a Divas show?
I think so, yes, but you were also in the Dukes show.
I guess I'm gender fluid. How did you line up the talent for each show?
People would come to me like crazy and implore me to put them in the shows because people realized this was a way to really break through--to get in one of these shows, do a really good job, and bingo, everyone knew who you were. Also, most of the musicians in the band were playing out all the time, so they'd come to me and say, "I was just playing a gig at Maxwell's in Hoboken with this unbelievable lead singer, you've got to get him." A lot of it was musicians and other singers saying there are these incredible people out there that nobody knows about. I was going out seven nights a week and would see them and see what I thought of them, and I'd talk to club owners. I was good friends with Hilly Kristal from CBGB's and they'd have like four bands a night. I'd say, "Who's blown you away in the last month?" He'd say, "There's this kid, Jahn Xavier, who blows you away." There was an excess of singing talent in New York. New York was still a magnet for people who had dreams of making it in the music business, but the scene was dying in the sense that in a slightly earlier iteration -- the mid to late '70s -- there was one group after another -- Blondie and Patti Smith and the Talking Heads and the Ramones -- who were getting signed and becoming big stars from playing on the downtown music scene, and by the mid '80s, that was coming to an end and people had not realized that yet, so they were still coming to New York.
So none of your picks became big recording stars? I know I didn't.
No, but Kristi Rose is still singing all the time in Nashville and Lina Koutrakos still sings too. She's a cabaret singer, basically, and she is spectacular. And Joy Askew.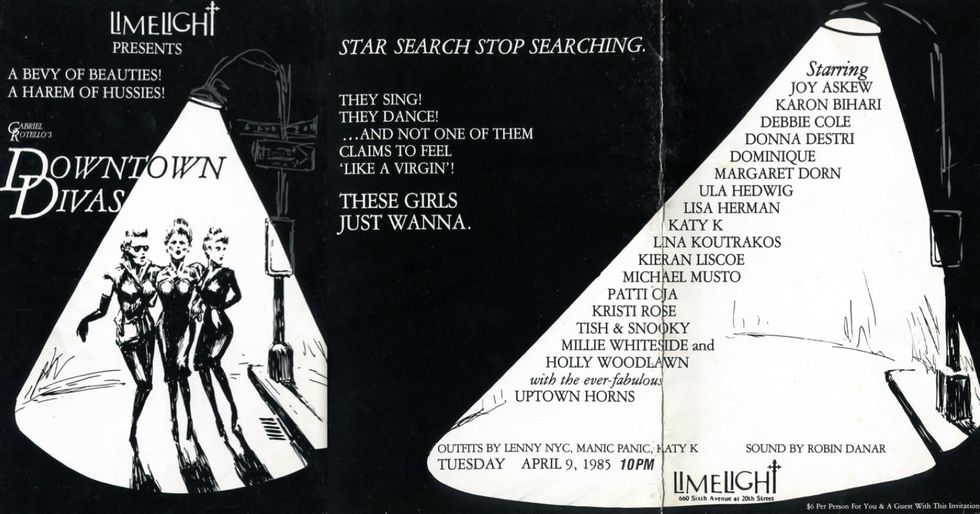 Downtown Divas' first invite
Who else blew you away?
David Peaston, who I used as much as I could. I think it was Vernon Reid who turned me on to him. He was this big, heavy set guy. He had a major, major career. He died some years ago from complications from diabetes. He was arguably one of the greatest voices in modern music. The story is they ultimately had to kick him off Showtime at the Apollo because no one else was ever going to win. He was a male Whitney Houston—unbelievable control and range, but a lot of physical problems.
There were also people like David Johansen and Johnny Thunders and Sylvain Sylvain and Ronnie Spector, who had established careers. Everybody like that that I ever asked they always said yes.
Were the legends harder or easier to work with than us mortals?
They were just as easy as everybody else. They loved it. It reminded them of an earlier time in their career when it was all for one and one for all. I never had to deal with any ego problems at all. People like [Warhol drag star] Holly Woodlawn that I had really worshiped from afar years earlier, watching Warhol movies in college, and Jackie Curtis, were in them.
Were there any backstage mishaps?
I don't remember any. The shows were enormously stressful to produce because there would be 40, 50 or 60 people in the show. Singers, musicians, go-go dancers, people doing wigs and costumes. The idea that somebody might show up late or something might happen to somebody on the way to the club was always a little bit of a nail biter, but nothing bad ever happened. We'd do a few rehearsals in my loft at 10th Avenue and the day of the show, we'd do a sound check and then a dress rehearsal. So we'd all just done it a few hours before, so I didn't have to do much of anything. I stood in the balcony and watched the show. One of my favorite things about it is [videographer] Nelson Sullivan would come to every show. You introduced me to him. He came to a show and said, "I video everything Michael Musto does, so here I am." He'd show up 90 minutes early and film an hour and a half backstage, then go in front and film the entire show, then film everybody backstage after the show. He always said I was the only person who paid him! He'd make a copy of every show. I have all of those.
He followed me everywhere—I didn't even have to ask—and we all acted unselfconsciously for his camera because we knew no one would see the result but us. Little did we know that years later, there would be a YouTube, and now he's a legend who got a document of that era that no one else did.
You can see when you watch the videos what was going on backstage, and it was incredibly fun. People were having an absolute blast. A group of these disparate people coming together with costumes and makeup--hilariously funny and relaxed and very supported. Claire at Limelight and Rudolf Pieper at Palladium were exceptionally supportive people for me. We never got stiffed. They were totally professional and did what they said they were gonna do.
When did it all crumble?
In 1987, that moment you wrote about in your Voice cover story, "The Death of Downtown." They suddenly didn't want to spend any money. The era of big shows came to an end and the era of the club kids dawned. It had almost become a bidding war, and once that ended, it was like a balloon that deflated, and that was it. The AIDS epidemic was really impinging. We did the last show at Palladium -- a cowboy western I did with Scott Wittman. We were gonna call it Oklahomo! but the club wouldn't let us. I forget what we did call it. The night before that show, my partner Hap had a really bad cold and was rushed to the hospital, and it was pneumocystis and he was diagnosed with AIDS, and it totally changed my life. He died two years later. It's interesting that the last one of those shows coincided with the personal explosion of the AIDS epidemic. I don't know if I would have wanted or had the wherewithal to continue doing things like that. It was a fun, carefree world and there was this cloud hanging over us and everybody knew somebody who knew somebody, and suddenly it all came crashing down. When you look at those shows and people like John Sex, who then died, you think "Wow." There's one video of me backstage with John Sex and [Limelight's] Fred Rothbell-Mista and [Pyramid club's] Bobby Bradley and Nelson was in it because Fred took his camera for a bit. I think, "Wait a minute, everybody in that video is dead except for me." All were gonna be dead in two or three years of that video. By 1990, they were gone. [Side note: Nelson died of a heart attack.]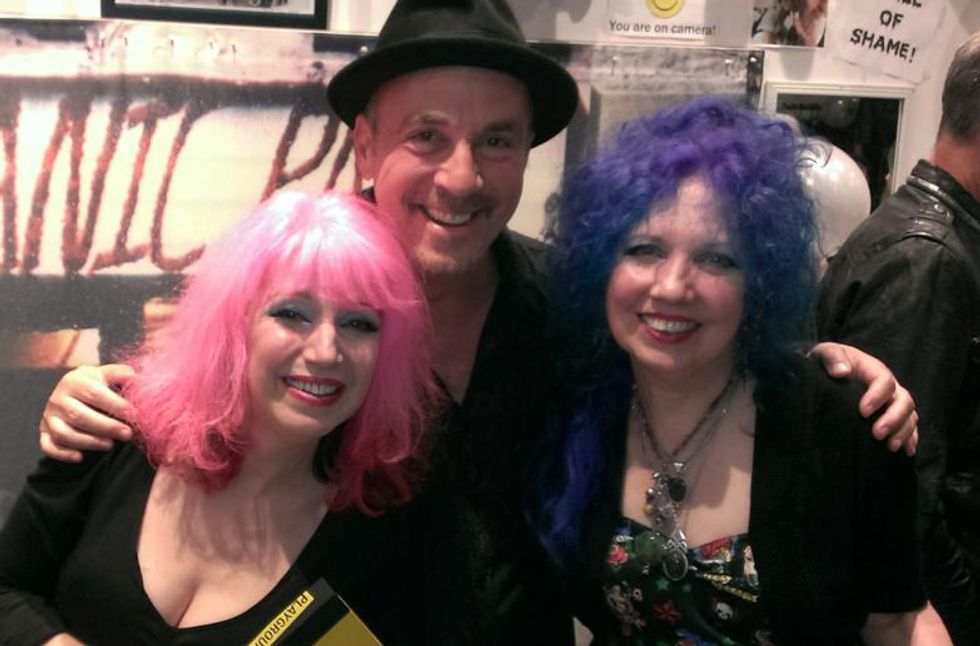 Gabriel Rotello (today) with Tish and Snooky Bellomo
There really was a darker mood coming in, whereas your shows were kind of happy and accessible. You had edgy, outrageous people, but doing standards in a slick presentation.
I was trying to bring the downtown sensibility to a much larger audience. The way to do it was to combine these edgy, interesting downtown people with more traditional material that's more accessible. They'd love it, whereas they might not love what these people were doing in their own shows at the Pyramid or wherever. Another thing was to give them exposure. It got them attention and, even if they didn't get recording contracts, it made them stars on a larger scene.
You May Also Like