When we heard over the weekend that 19-year-old Shaun White, aka "The Flying Tomato," had won the Olympic snowboarding halfpipe gold medal, we decided it was time to take a trip down memory lane... Back to August of 2004, when PAPER's very own Peter Davis profiled him for the magazine. We knew from the get-go that we had a very, very talented and very, very cute snowboarder on our hands and have been rooting for him ever since. Here, below, is that very 2004 article. Think of it as a kind of, "We told you so." Enjoy!
For Fire-haired 17-year-old snowboarding and skate-boarding prodigy Shaun White, life is literally a beach. Last year when he was barely a sophomore in high school, he bought a house a kick jump away from the ocean in Carlsbad, California, the surf town that is also home to skate legend Tony Hawk. White's parents and sister moved in with him. His brother Jesse, 24, an accomplished graphic designer and snowboarder, lives a short drive away.
Nicknamed "Future Boy" because of his ability to meld together an array of tricks while snowboarding, White was the first person to compete in both the Winter 2003 X Games (snowboarding) and Summer 2003 X Games (skateboarding). He won "Best Athlete" at the Winter X Games in 2003. He started skateboarding professionally in 2002, when he joined Hawk on the Gigantic Skatepark Tour. From the time he was 6 until he was 12, he was winning trophies at contests all over California. "At around 13, I wasn't into the amateur contests anymore," White recalls. He got his first pro board with Burton at age 15.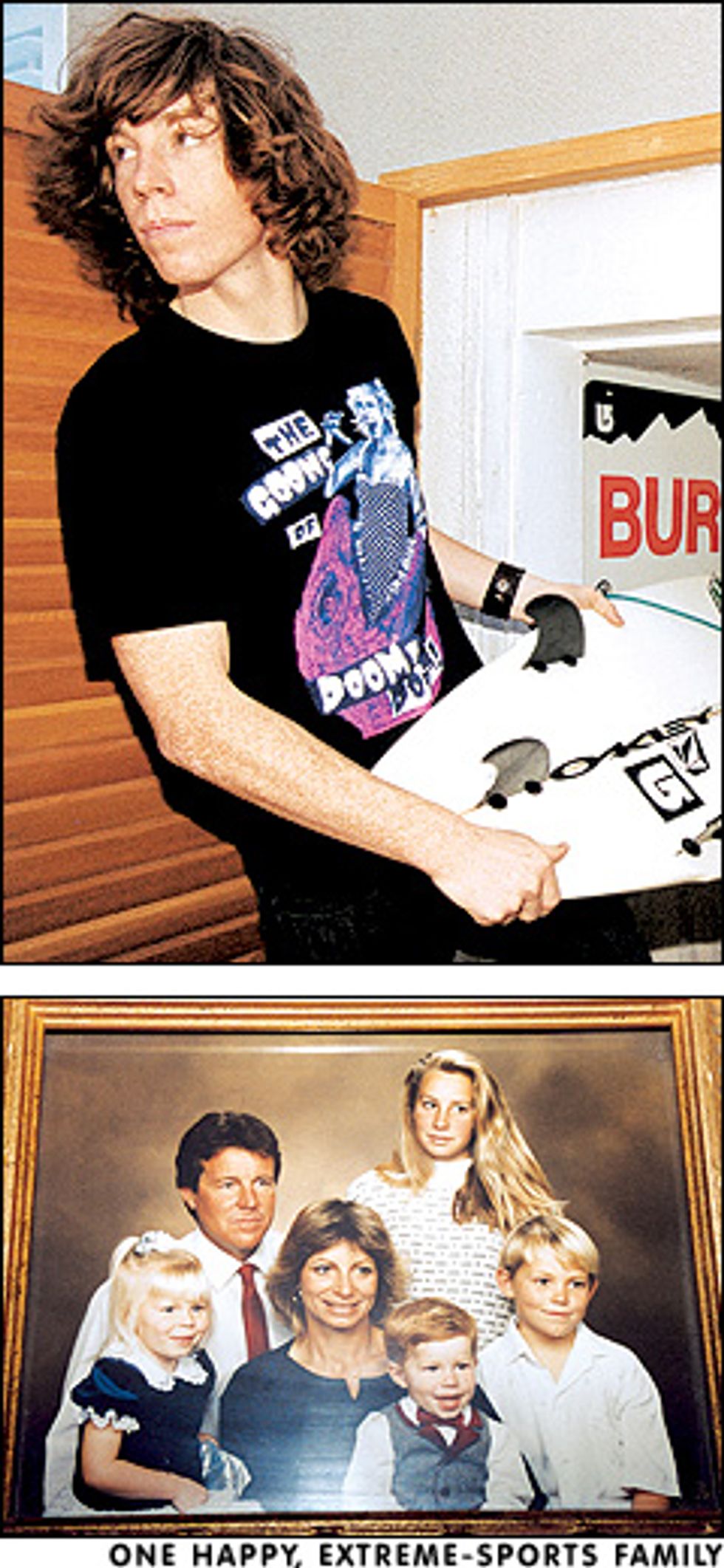 Earning serious bank and traveling the globe as a pro-snowboarder hasn't jaded him. Dressed in black jeans and a T-shirt by Volcom (one of his sponsors), White punctuates his sentences with Valley Boyisms like "awesome" and "stoked," and he uses the word "super" before adjectives.
A shiny, graphite-gray Lexus IS-300 sits in the driveway. White got the car shortly after his 16th birthday last September. "Tony [Hawk] bought a bunch of Lexuses, so I kind of got inspired and checked it out," he says as he strokes the hood. "They are super nice. I was so stoked. My sister is always snagging it when I'm gone." Evidence of extreme-sports stardom clutters his garage. Schoolhouse-type lockers are stuffed with wet suits, rash guards, surfboards, stacks of new skate decks and Burton snowboards. White reveals a stash of Independent trucks and Ricca wheels -- the only brands he'll use when he skates. Sponsored by Burton since he was 7 years old, White also has deals with Birdhouse skateboards, Oakley sunglasses, T-Mobile, Playstation and Mountain Dew. In the backyard near the bubbling hot tub is a Mountain Dew vending machine. "All the stuff we get ends up piling in here," White says. "It's pretty awesome."
The house is typical of a Southern Californian, beach-happy family -- comfortable furniture and bright colors. White's dad, Roger, an avid longboarder, built the outside deck himself in just two days. White spends a lot of time in his room, which his brother painted in a bold black-and-white design. It was Jesse who got White into snowboarding 12 years ago. "He's the one that inspires me the most," White says. "I'd just ride with my bro and get better and better. He's the best guy to be with. I learn so much." Jesse designed the graphics for the Shaun White boot and helmet for Burton, and the brothers are also working on a line of snowboarding clothes for the company.
White falls onto a couch in his room and starts strumming a Fender guitar. He recently started to play and now travels everywhere with a guitar and a miniature Marshall amplifier. His favorite bands are Metallica, AC/DC, Iron Maiden and the White Stripes. "I play during layovers in airport courtesy lounges. I'm awful, but I love playing so much. I'd love to start a band, but I don't have the time for it." This fall, White is releasing his first solo project, a DVD of snowboarding and skating footage called The White Album. The soundtrack will be mostly '80s rock like E.L.O. and, hopefully, White says, some White Stripes.
His room is devoid of trophies, medals and other spoils of his killer career. Instead, a wood-and-glass case near the flat-screen television is filled with Japanese toys, like an Ozzy Osbourne action figure by the Tokyo toy company Medicom. White has been to Japan 13 times. He eagerly shows off a collection of Vagabond comic books about a bloodthirsty samurai by Inoue Takehiko.
In the kitchen, Jesse is eating spaghetti, and his sister Carrie wants to go surfing, but White climbs the stairs to gaze out at the crashing waves across the street. "It's a pretty cool setup," he concludes contentedly. "In the afternoon, the sun sets in those trees. The beach is right there. It's super awesome."