Candace Cameron Bure, Jodie Sweetin, and Andrea Barber, stars of the Full House Netflix reboot, Fuller House, stopped by The Ellen Show to discuss the beloved show's resurrection, and the cast's continued bond since the original went off the air.
Cameron Bure--who is also a co-host of The View--discussed how she and Barber's real-life friendship often eerily mimics DJ and Kimmie's BFF antics on the show.
Describing one particular wine-fueled evening at her house, Candace ended up making Andrea stay overnight to avoid drunk driving, and drunkenly tucked her into bed; "Thanks, Deej!" Andrea told her when they said goodnight.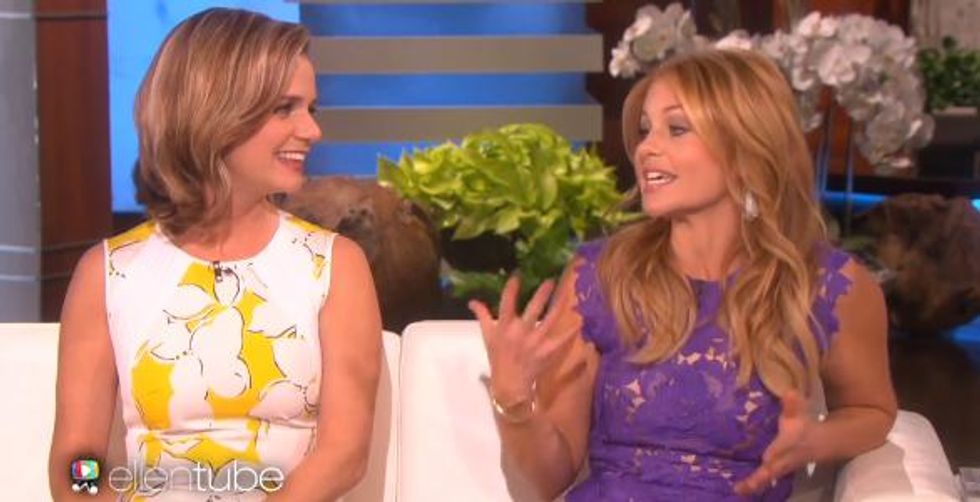 AW HELL!
They also discussed an ongoing group text the cast is in (minus, I assume, the Olsen twins), and PAPER bum-approved John Stamos complains daily how he is not represented by a designated Bitmoji.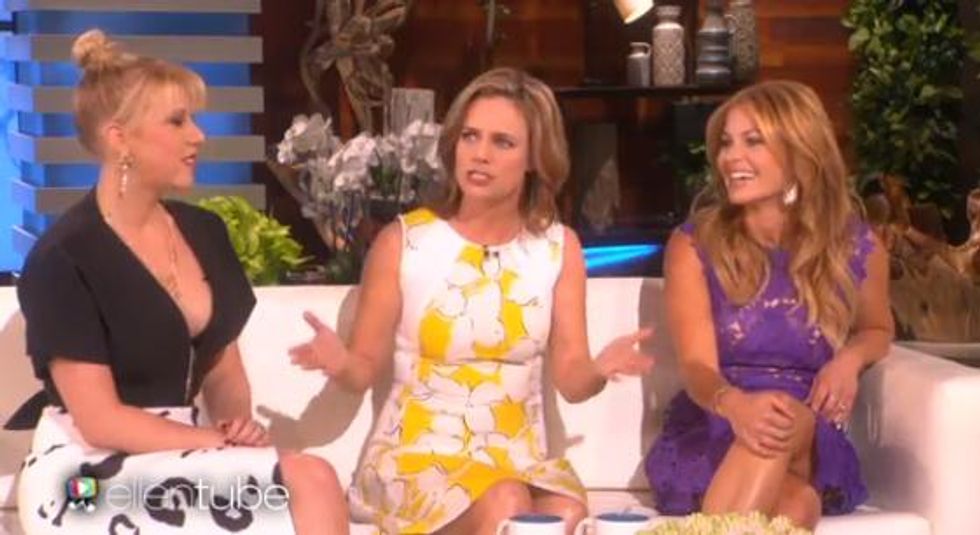 They really are just like us-ish.
The OG Tanner girls (and Kimmie Gibbler) also supplied us with the first trailer featuring the players in action; trigger warning, it may warm your cold, dead heart
Primer: the new show centers around DJ Tanner (Cameron Bure), who returns to the Tanner homestead with her two sons after the death of her husband; younger sister Stephanie (Sweetin), and Kimmie (Barber) move in with their own broods to help Deej adjust to being a new widow.
Of course Danny, Uncle Jessie, Aunt Becky, Joey (Bob Saget, John Stamos, Lori Loughlin, Dave Coulier) step in as well, because this family FUCKING. LOVES. BEING. TOGETHER.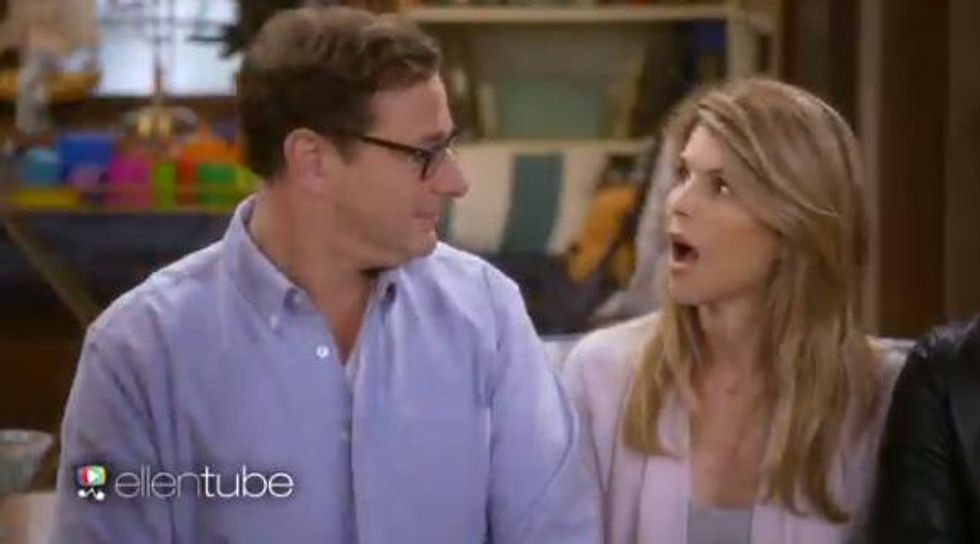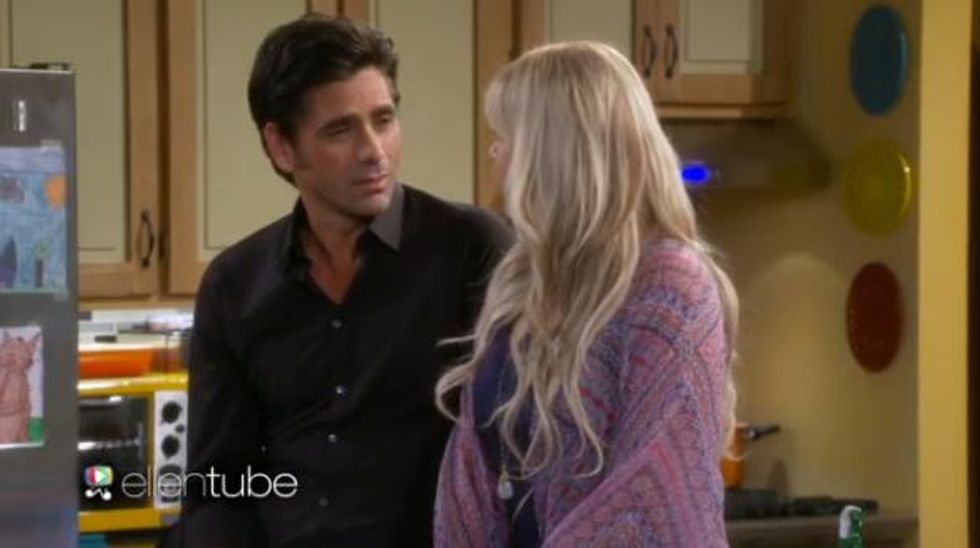 Of the O Twins' highly publicized absence from the series, the ladies were quick to say that if there is a (most likely) second season of the show, "the door is open" if the duo feel the burn to bring their Michelle Tanner incarnation back to San Francisco.
I imagine Mary Kate and Ashley in their The Row office, waving cigarette smoke out of their faces, as their publicists relays their onscreen sister's open door message to them over speaker phone.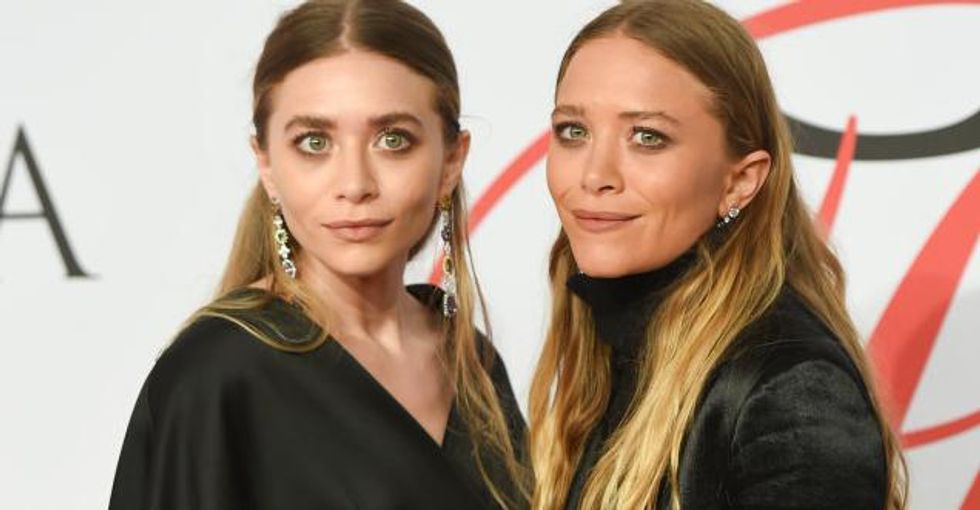 "Wait, what's the show called again" Mary Kate asks, coughing.

Watch the interview and trailer below; Fuller House will be available on Netflix February 26th.