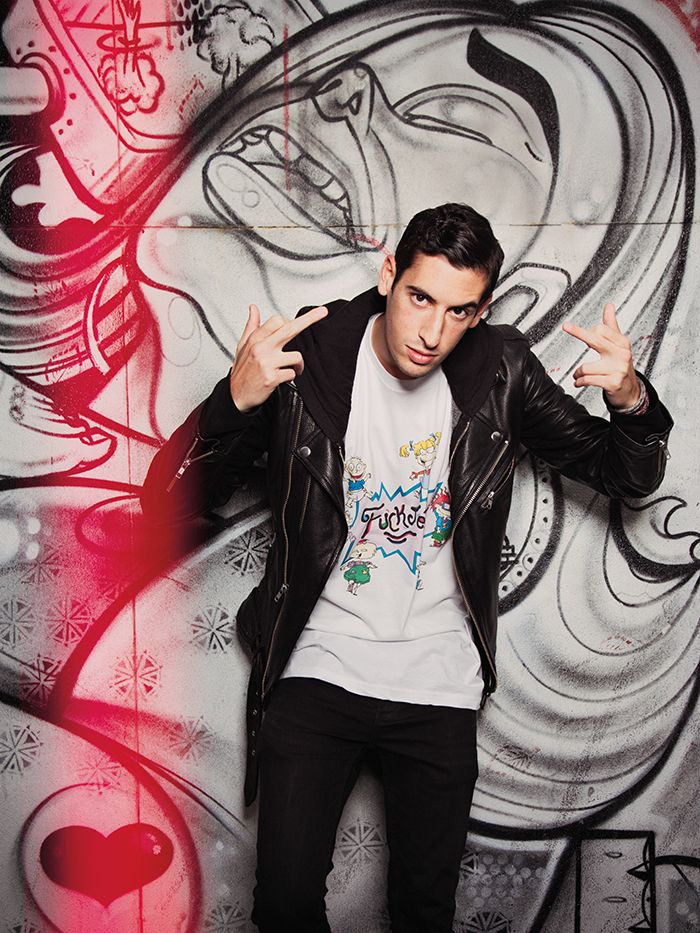 Elliot Tebele, founder of
@FuckJerry
, is Instagram's unofficial curator of things that incite incriminating I'm-clearly-not-doing-my-job laughter in the workplace. From mortifying mom-texts to a video of a kitten falling off a toilet, his posts bring daily spasms of joy to over 1.6 million followers, including Miley, Cara and multiple Kardashians. Here, Tebele tells us the story behind the name, the weirdest things he's searched for on Tumblr and more.
How did you get the idea to start @FuckJerry?
Around three years ago, I was hanging at home one day and had some free time. I realized that I had collected thousands of pictures on my computer and I needed a place to store them. So I made a Tumblr. I was watching
Seinfeld
at the time, "Fuckjerry" just sort of came to me. To my surprise, the Tumblr gained traction. About several months later I created an Instagram account, just as it was going viral.

Where do you find your images?
World Star Hip Hop.
What was your 'most liked' post?
Infant wrapped up like a Chipotle Burrito (150K Likes)
What would your career look like in a world without the Internet?
I would be a trout fisherman.
What's the longest you've ever been offline?
14 days when I was hiking in Machu Picchu.
Have you ever been recognized by fans, off-line?
Yeah, a good amount. In part because a die-hard fan of mine recently made an account called @fuckjerrydoingthings.
What's the weirdest thing you've ever searched on Tumblr?

Guinea Pigs and Brussel Sprouts.
Do you ever post while under the influence of substances?

Regularly.
What types of images do your fans respond to most?
Animals -- pugs. Kim Kardashian -- I posted a vide [of her] a few days ago and it got 130k likes and 105k comments. I've never seen that many comments on Instagram in my life. People will say 'this is the funniest thing I've ever seen in my life.' Kim follows me and didn't unfollow me because of it.
Have celebs ever commented on your posts?
Cara Delevingne reposts my pictures and so has Miley Cyrus -- I'll get comments like emoji LOL. Katy Perry comments, Adriana Lima always comments.
Since you get a lot of images from the web, do people ever call you out and say 'wait, that's my image!' and, if so, how do you respond?
That happens rarely -- someone might message me and say, 'How'd you get that photo, I took it,' and I'll tag them in the photo afterward. But it's really hard to find out who was the original creator when pictures go viral on Tumblr or whatever. I don't look at Reddit but I have a few Tumblrs that I go on.
Is Instagram a good forum for comedians as compared to Twitter or Tumblr?
If you're trying to be a stand-up comedian, you can post a 15 second bit and people can watch you speaking as opposed to reading a bunch of short text. I think visuals are a lot more effective than just reading something. People focus on Instagram and look at every image on their feed more closely than they do on Twitter where people are just skimming through.
What's next for @FuckJerry?
I'm building a long-term sustainable brand. I've already begun building a team to work on FJ Media, Apparel, and Events...I'm a big believer that one day we'll have a Fuck Jerry festival.
Grooming by Legend Rivera at Artists at Wilhelmina
BACK TO OUR SOCIAL MEDIA STARS PORTFOLIO