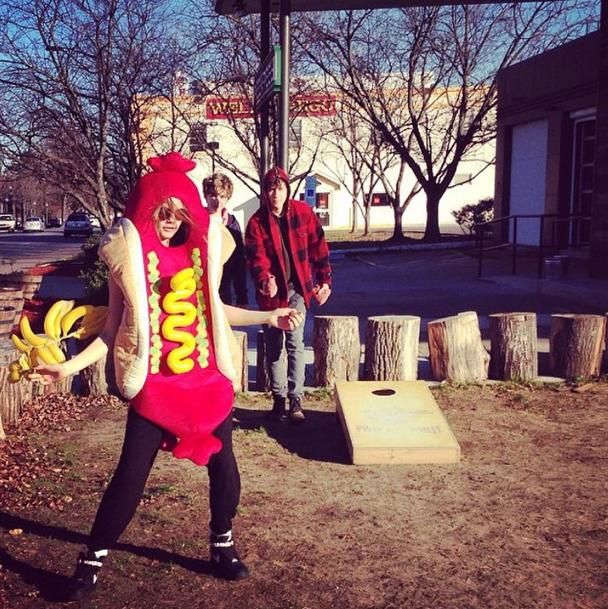 This photo of supermodel Cara Delevingne, above, who
wears push-up bras by profession
, reminded us that 2014 was a great year for chic women to revel in their lazier side.
Over at
the Hairpin
, writers Hazel Cills and Gabrielle Noon brought snackwave to the forefront, citing Jennifer Lawrence's open love for pizza, the rise of
food fashion
, and women generally agreeing that yeah, cheeseburgers are amazing and salads are some bullshit. Or in other words, "snackwave is about taking pleasure in foods that are deemed off-limits for women who want to stay thin and traditionally attractive. Food becomes cartoonish and goofy, rather than a constant test of whether or not you're treating your body the way the world (i.e. menz) wants you too."
Similarly, 2014's
normcore
and athleisure obsession made it acceptable to leave your apartment in sweatpants, truthfully proclaiming "I woke up like this."
The Cut
pointed out the
myth of effortlessness
-- in the same way that "gross" snacks are usually made cool by thin, pretty women, it does take a certain preternatural ability to elevate the yoga pants and messy bun combo -- but even so, knowing that you can walk out the door in a sweatshirt and still be on-trend is a small reprieve. Soon, we might be able to exhale an even bigger collective sigh of relief once the
war on heels
is brought to its logical conclusion. Citing a
Wall Street Journal
article titled,
Are High Heels Dead?
,
Jezebel wrote
, "
Look down at your feet. If you're wearing Crocs or clogs right now, then you win and you're right on trend.
"
Elsewhere online, many women joined the ranks of a self-proclaimed
#slobcore
this year. Notable moments from the movement's brief history include artist
Molly Crabapple
rocking the dirty laundry look to a party while
Vice
reporter
Natasha Lennard
proudly drank a milkshake in bed.
There's never been a better time to be slovenly chic -- and it's not by accident. Even makeup was given a make-under this year and as
T Magazine
explained, "'undone' is the enemy of 'not done.'"
Not Done
, is the result of hard work, of hours spent in front of the mirror to paint on a "natural look."
Undone
is purposely messy and smeared. "Pehaps," Sarah Nicole Prickett remarked, "a way of saying 'no thank you' to airbrushing in Photoshop." Not unlike how slobcore or snackwave are -- perhaps -- in defiance to other norms that airbrush a woman's life perfectly put together.
But, if anything, we're just happy that we can finally eat pizza and
wear pizza
in peace, safe from all the
bread shaming
haters.