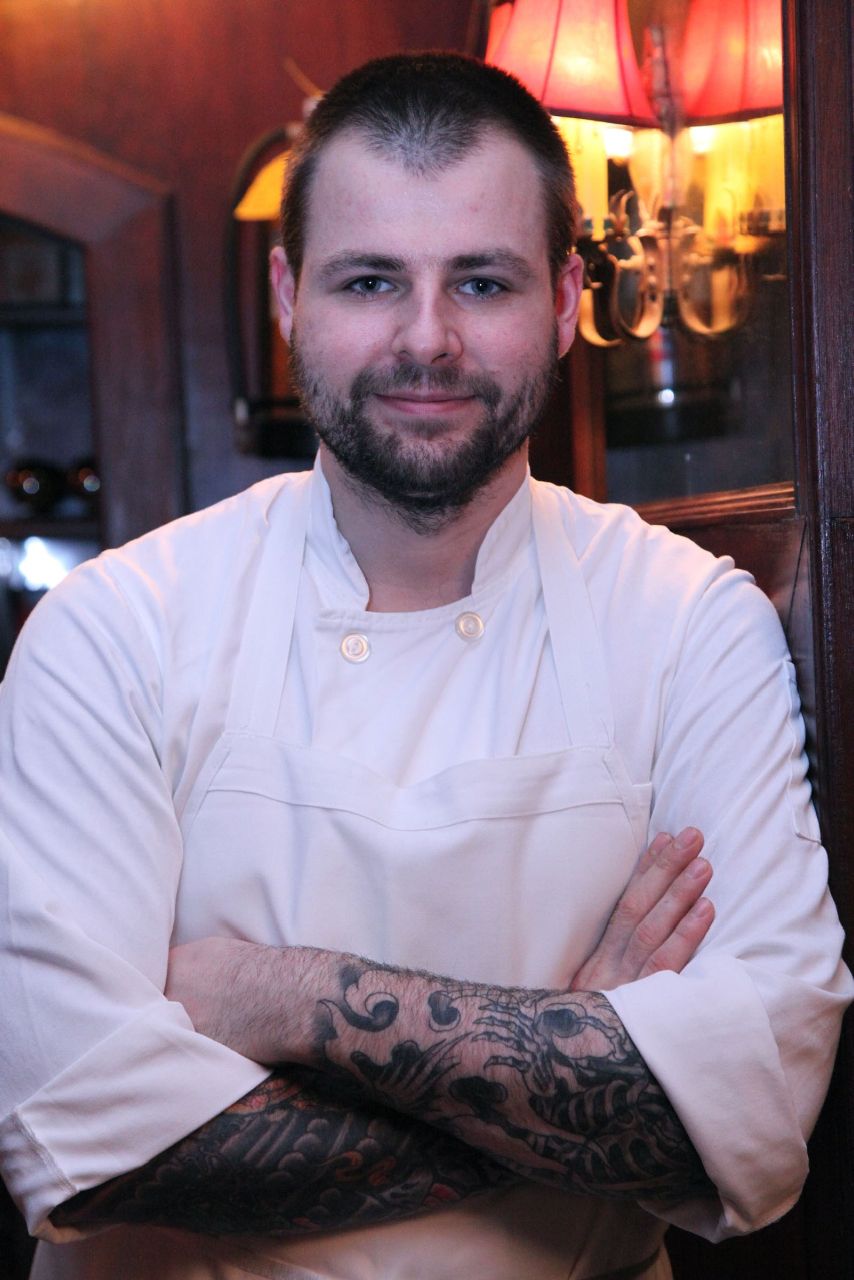 Chef
Devon Gilroy
, 27, left the
East Side Social Club
last September and it subsequently closed in January, lasting just over a year. It had gotten loads of press for being an all-in-the-family endeavor, involving Devon's father
Billy Gilroy
(
Employees Only
,
Macao Trading Co.
), his uncle
Jim Gilroy
(ex
-Raoul
's), sister
Grace Gilroy
(ex-
Maritime Hotel
), and his girlfriend,
Erica Ohrling
, who worked as a sous chef and pastry chef. Devon is now the chef at the new
Park Avenue Tavern
on Park Avenue and 39th Street and he recently chatted with PAPERMAG about what went wrong at East Side Social Club, his new job and his plans to start a private dining company.  
How did you come on board Park Avenue Tavern?

I was enjoying some time off after I left East Side and then heard they were looking for a chef and started in October. My father is a consultant here. I'd describe it as true American.
I met the guy running your door, Dominic Chianese Jr., the son of Uncle Junior on The Sopranos.
Yeah, he's a great guy. He's an actor, too.
It must have been devastating to have East Side Social Club not work out when your whole family was involved.
It was really when summer hit that we knew we weren't going to survive. Every one of Billy's other projects survived and flourished through word of mouth and we thought we'd be busy because of his reputation, the type of Italian food we were doing and the service we were providing, and that it was good to be by the [Pod] hotel. When we opened it was fantastic, very busy, but when the summer came around, Midtown slows down and we weren't getting any foot traffic. It turned into a very corporate Monday-to-Thursday crowd and then nothing on the weekends. It wasn't enough to sustain us. It was very sad. As the chef, I was there every day. I had five days off the whole time. With our revenue decreasing, we were cutting back on staff and I was removing people from the kitchen and working the line every lunch and dinner and finally I decided I couldn't do it anymore. Erica and I took a month off and moved into a new apartment in Chinatown.
So the location was the main problem?
We're downtown operators. We have slow-downs in the summer but not 50 percent. All my experience was downtown. I worked at Chanterelle for three years and at Employees Only and it was slow but not like in the East 50s. You've got to stick to the neighborhoods you know. We have a strong support structure downtown and although they enjoyed the vibe and overall experience at East Side, it was work for them to take the 6 train uptown and walk four blocks from the station.
Does your family have plans to work together again?
With Erica and my dad, we talk about it all the time. It'd probably be below 14th Street.
What is your dad doing now?
They just started this
Employees Only brand
, making their own grenadine and liqueurs and bitters and Bloody Mary mix. He's focusing on getting the brand up and running and doing some consulting.
Where did your sister, Grace, go?
She's the assistant general manager now at The Standard. She's having a blast. At East Side it was really a very, very trying time and everyone needed to take a break.
Where do you like to go when you're off work?
In Chinatown, our staple is Wonton Garden on Mott and Bayard. I like their noodles with ginger and scallions. Erica gets mixed vegetables and rice. We go there to take a break from intense food. My other favorite restaurant is Mogador on St. Marks Place. They have a new chef who's awesome. Every night we look at each other say, 'Are we going to Mogador?' We get a bunch of small plates. They have this pan-fried cheese that's fantastic with a squeeze of lemon.
Anything else on the horizon?
Erica and I are in the planning stages of starting a private dining company called Parkerhouse, working with Alan Rish. We want to do dinners for people, which will include styling their homes for the event, doing the music, very hands-on, creating an experience. We're trying to stay away from the whole pop-up trend, but there might be some of that as well as catering and eventually a Parkerhouse restaurant. It'll be very New England, comfortable and approachable. We're naming it after the Parker House roll, which originated in Boston. I'm from northwestern Connecticut, Cornwall, and love that country vibe. But I'm very much rooted at Park Avenue Tavern and very happy with the team that's here. The partners are Irish guys from Rockaway and two of them work as firefighters and also have family in the police force.
So it'd be a bad place to rob.
Hasn't happened yet.