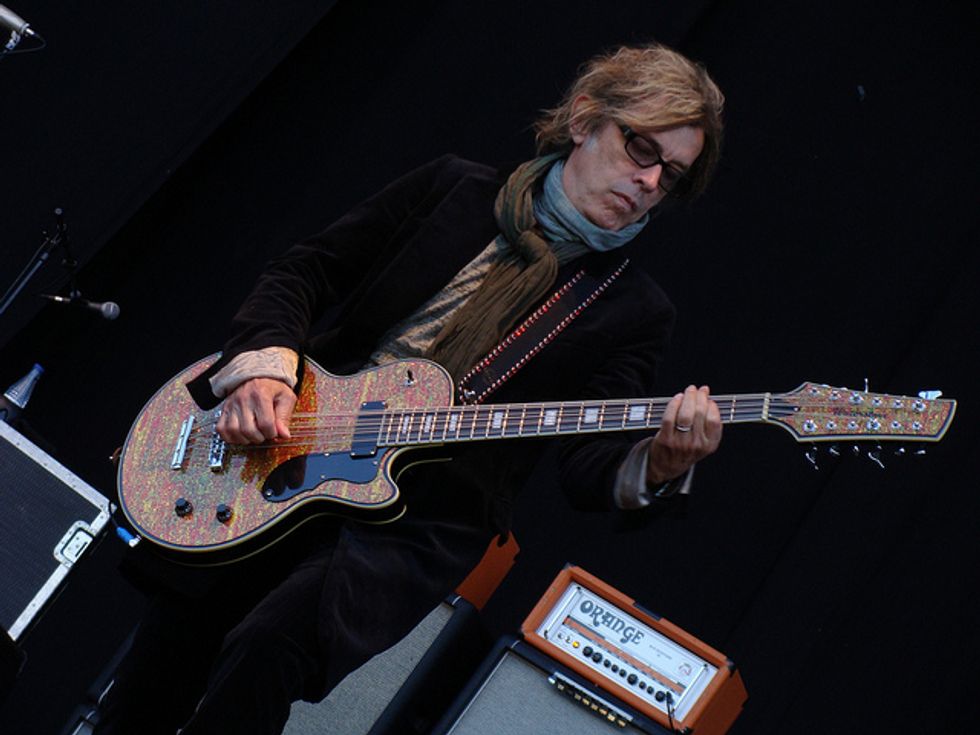 (Photo by Alberto Cabello on Flickr)
Thirty-five years ago this Sunday, Illinois' own Cheap Trick headlined Tokyo's Nippon Budokan stadium on their first Japanese tour. Recordings of that show (and another one two days later) were released for the Japanese market, but became so popular as imports that Epic re-released At Budokan for the home market, where the single "I Want You to Want Me" carried it to triple-platinum status.
On Sunday, Cheap Trick will re-create their first Budokan set at the John Varvatos store in the former CBGB's space; the show will be livestreamed here. (The band has also modeled for Varvatos.) PAPER spoke with bassist Tom Petersson about the band's legacy and future.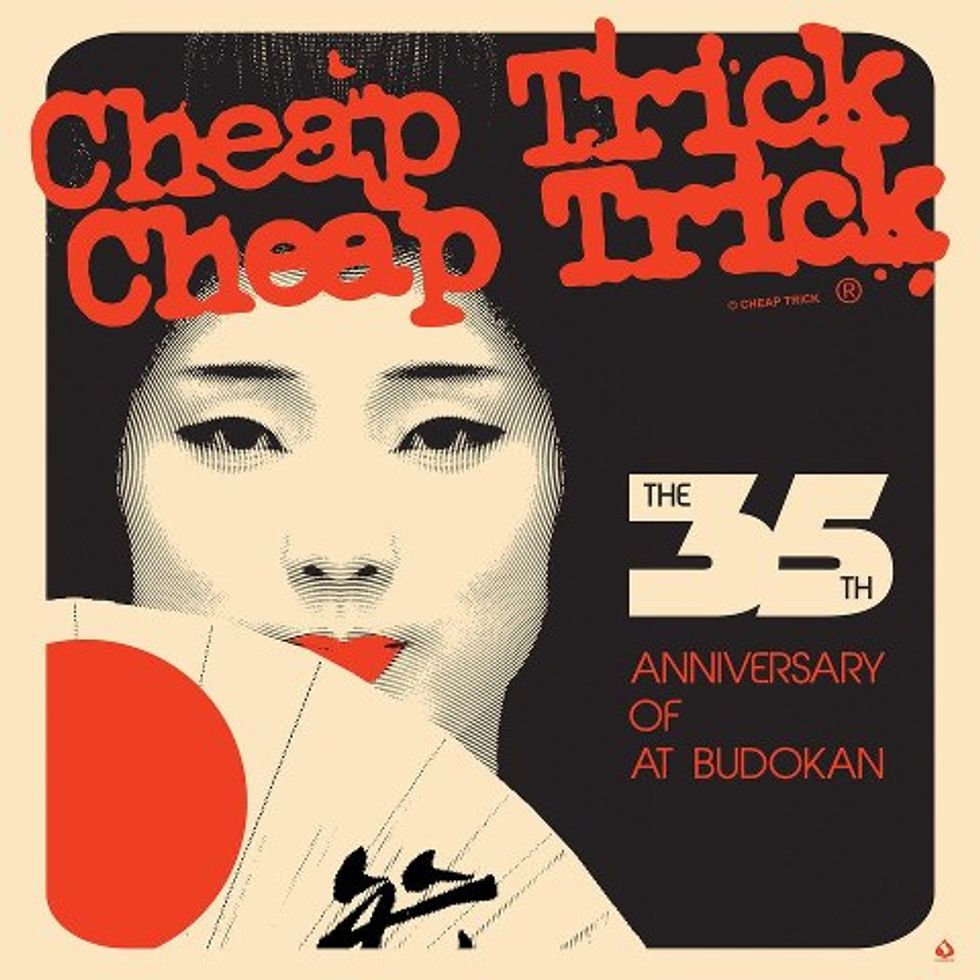 You're playing on Sunday in the former CBGB's space. I saw you'd played there almost 15 years ago. Was that the only time you'd played there?
Yes. I'd been there plenty of times, saw Johnny Thunders and all sorts of different people there. We didn't play there until really after it had all gone on, the whole punk scene.
Were you following that scene?
Oh yeah, I thought it was fantastic. I thought it was great. I saw the [New York] Dolls early on on New Year's Eve, I don't remember what year [evidently 1973 -- Ed.], in Detroit. I loved all that.
Do you think of Cheap Trick as relating to that?
I would say so. The label was always trying to clean us up. We were always in a constant battle. And then the Sex Pistols came out, it was like, wow! They were the whole package, it was great, it was funny, people were outraged. They had really cool songs. The whole thing was just perfect.
We just missed them, they played in Dallas and we were on our way there. The guy that was driving us went like 300 miles out of the way. We were so angry that we missed the Sex Pistols, and then it was all over after that. I lived in New York City for about ten years, I saw all sorts of people there. I moved there in '85.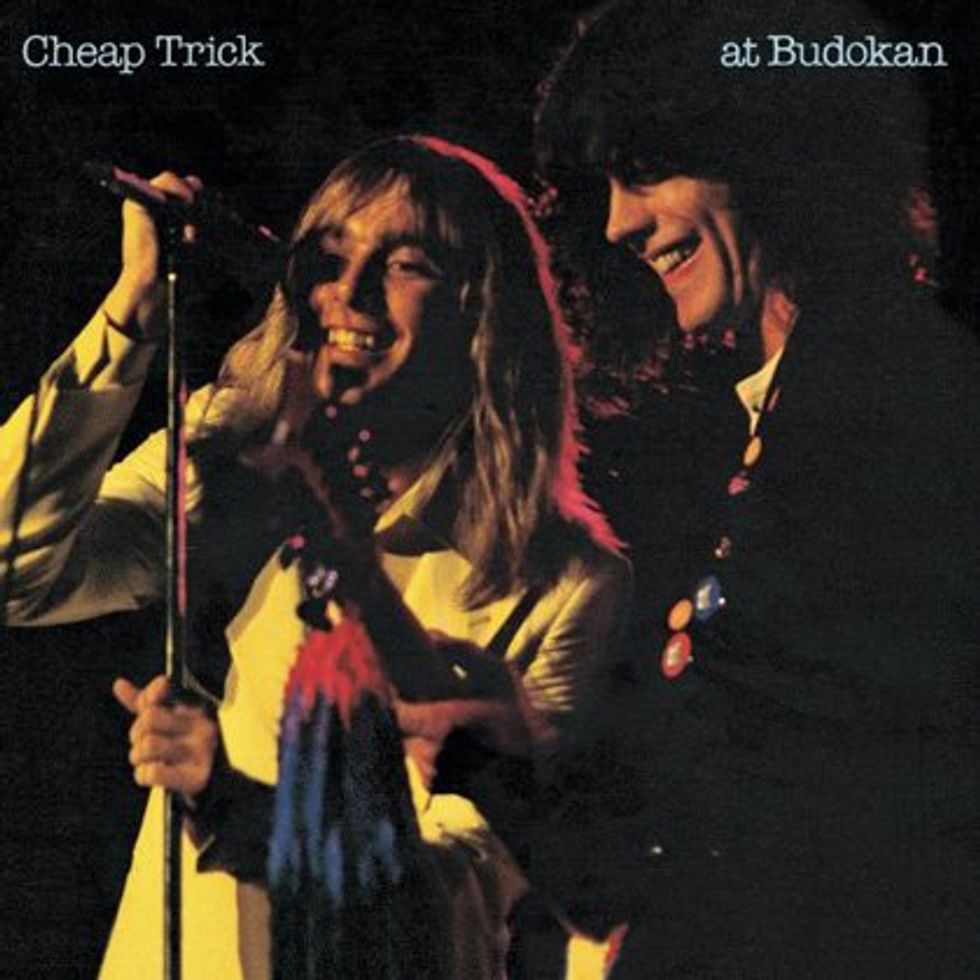 What are the acoustics like at Budokan?
It's like a big gymnasium. It's not great acoustics. In Japan all of the shows are early, like six o'clock at night so everybody can catch their trains back to wherever they live. And there's never any opening acts, so you're on at six. It's light, and there's big windows way up at the top of the place. It's a very strange scene. It's obviously not meant to be a concert hall, but most places that we play aren't.
Why do you think then that that concert became so popular? Was it just that you didn't have any other live records out, or was it something about the audience there in Japan that somehow translated onto the record? Or was it a special performance in anyway?
It was really just what we always did. We didn't do the same show all the time, but basically we came straight out of clubs into Budokan. Obviously we had a record deal and a couple records out at that point, but we had done a short run with Queen and then we did a tour with KISS, and they were huge in Japan so there were all these Japanese journalists following them and there we were opening. So we got all this attention.
We had hit singles from our first few records in Japan and so we came over there and it was pandemonium. It was pretty weird! It was pandemonium in Japan for a few weeks straight and then we come back and we're at Shakey's Pizza Parlor in Des Moines, Iowa.
And we were just trying to get ahead and then that record came out unexpectedly. They did a television show of that concert and then they decided to release a record in Japan only. That record caught on as an import all over the whole world, so our record label said, "Gosh, I guess we have to release this thing worldwide," and next thing you know we had a big hit with it. So it was kind of like a greatest hits record for us after only three records. Then we had to turn around and do all those songs all over again.
Are there other live albums by other bands that you think are exemplary? After you, all these other bands started releasing Budokan records.
I'm sorry about that. It's not my fault. Yes, I'm not a big fan of live records, I love studio records where the stuff's thought out. It's interesting to hear live records out of curiosity. My all-time favorite live record is the Who Live at Leeds. I think that's unbeatable.
I think our record is, it's exciting hearing it because at that time it was mainly young, female fans, so that the sound of the crowd was more like Beatlemania than it would be normally in 1978. It was that hysteria that really was exciting, just that sound alone. It's really great. In fact we had to really tone it down for that record. You couldn't tell what was going on. Everyone says, "Oh yeah, you flew in some extra screaming." There was no way. We were trying to get away from it.
Even before this weekend, you've often revisited and re-worked your old material. You don't seem to be getting sick of playing the old songs as much as some bands might.
That's true. We do it almost as if it's the first time people have seen us. And a lot of times it is, or people haven't seen us in thirty years or whatever it is. It just comes naturally to us. We've worked for a long time. We started out playing five sets a night in dingy bars to six people. We just kept going. Right when our first record came out, that year, we averaged I think 295 shows and recorded two records. It was that type of thing. I don't know what it is, just something about us, we've kept working all through the years. We're not up there putting in time, it never feels like that.
Do you think the recordings you did with Steve Albini will ever get an official release?
I think they will. We never totally finished them. But eventually. That was our second record, In Color, we just did it over because we really did not like the way that record sounded. It was right during that whole punk scene in '77 and the record labels and our producers just didn't see that as anything that was any good. So our first record sounded just like the way we sounded and then that record was a watered-down version of what people thought we should sound like and it really upset us. We just always wanted to do that record over and do it more like we did the first record. Like, "Hey this is actually how we sound." Not like, "You guys are great if you only sounded like" whoever it was that was on the charts at that time. There was the punk scene and then disco was huge, so what is it? I don't know where we would have fit in. So that's why we did that thing over but there was really no reason to do it except that we just wanted to do it and we never really finished doing overdubs. It will eventually come out because we put a lot of effort into it. We loved recording with Steve, he's great. I hope we can get back in with him and do something else.
Do you guys still get royalties from the Beastie Boys sample? [The Beasties' Check Your Head album opens with a sample of Trick's Robin Zander introducing "Surrender" to the screaming Budokan audience: "This next one is the first song on our new album!"]
Yes, probably a small amount. Too small. I don't remember the story of that, if we found out after the fact. I don't remember what happened. I'll ask though, because now I'm curious what the hell happened. They may have given us some flat fee or something.
You're working on a new record.
We're always working on a new record, really. We're not in recording it right now but during the course of this year we'll put it all together and get it going and have it out next year for sure.
So The Latest (2009) will no longer be the latest Cheap Trick album.
That's correct.
What's the direction of the new record?
We put the songs together and we see where it leads. Because we have ballads and heavy stuff and scary things and happy-go-lucky things. It's quite a big variety.