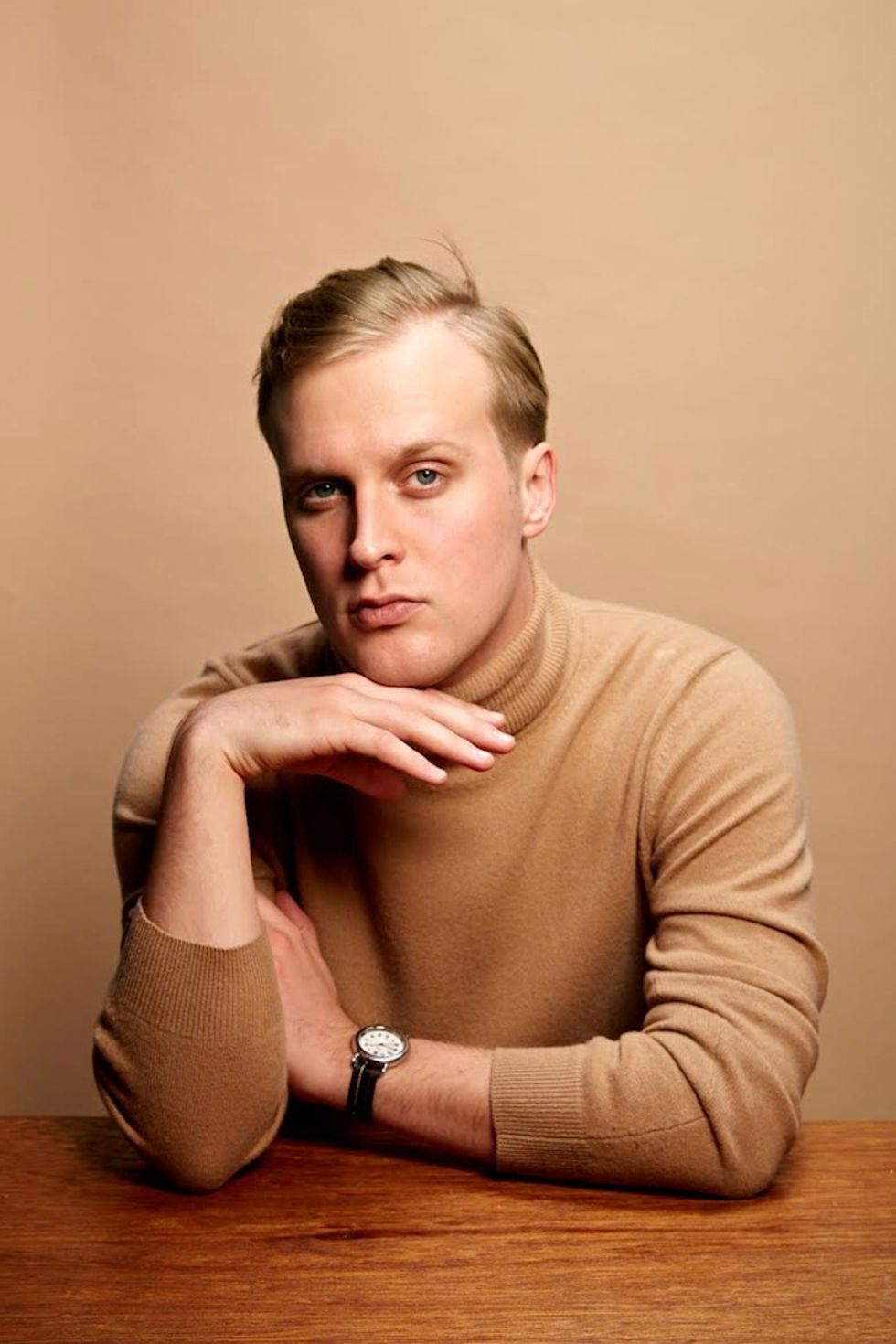 (Photo by Jesse Untracht-Oakner)
John Early is, well, just that -- prompt. Or at least running ahead of schedule. Which is astounding given the young performer's robust calendar as an in-demand comedian, writer and emcee around town and also the fact that, on the day we are scheduled to meet, he completed that mundane but nonetheless horrifying gauntlet of New York experience: moving apartments. He politely asks to push our dinner at Gemma up about an hour and I agree realizing this guy does not waste time if his protean creative output in the past few years is any indication.
You may have encountered Early at one of his regular gigs in New York, be it Ars Nova where he hosts
Showgasm
with his friend, the witheringly droll drag queen Hamm Samwich, or perhaps at Cake Shop downtown where he leads a rotating group of stand-up comedians. Or there is his one-off show this Sunday, , that he's putting on with friends and performers including
Cole Escola
, Samwich, and Isaac Oliver.
"Our friendship as a foursome debuted on Instagram a year ago during a very Love! Valor! Compassion! trip to Connecticut. I'll never forget the day we decided to do the Pride show. It was over email and someone said 'we should do a Pride show,'" he recalls when I ask him later how the group came together. The evening will also feature
SNL
's Sasheer Zamata, comedian Julie Klausner and
Girls
' Jemima Kirke, among others, and the proceeds will benefit SAGE, a group that works to improve the lives of LGBT elders.
If you can't make it this weekend there is no dearth of his work to be found online. We particularly recommend the videos of him playing his various uber-selves, often, and most successfully, with his arch comedic foil, Kate Berlant. Their short about two self-obsessed travelers waxing romantic about life in Paris (aptly titled
"Paris"
) is nothing short of flawless (and makes you hope to never encounter ex-pats like that abroad). "This girl sent us a video of herself lip synching the whole  ["Paris"] video. Kate and I were like, 'well, we've made it.'" he says. Another, based on a filmed reunion between two television stars who shall remain nameless, is a masterpiece of self-delusion and confounding passive aggression called 'Reunion'.
Google it now
.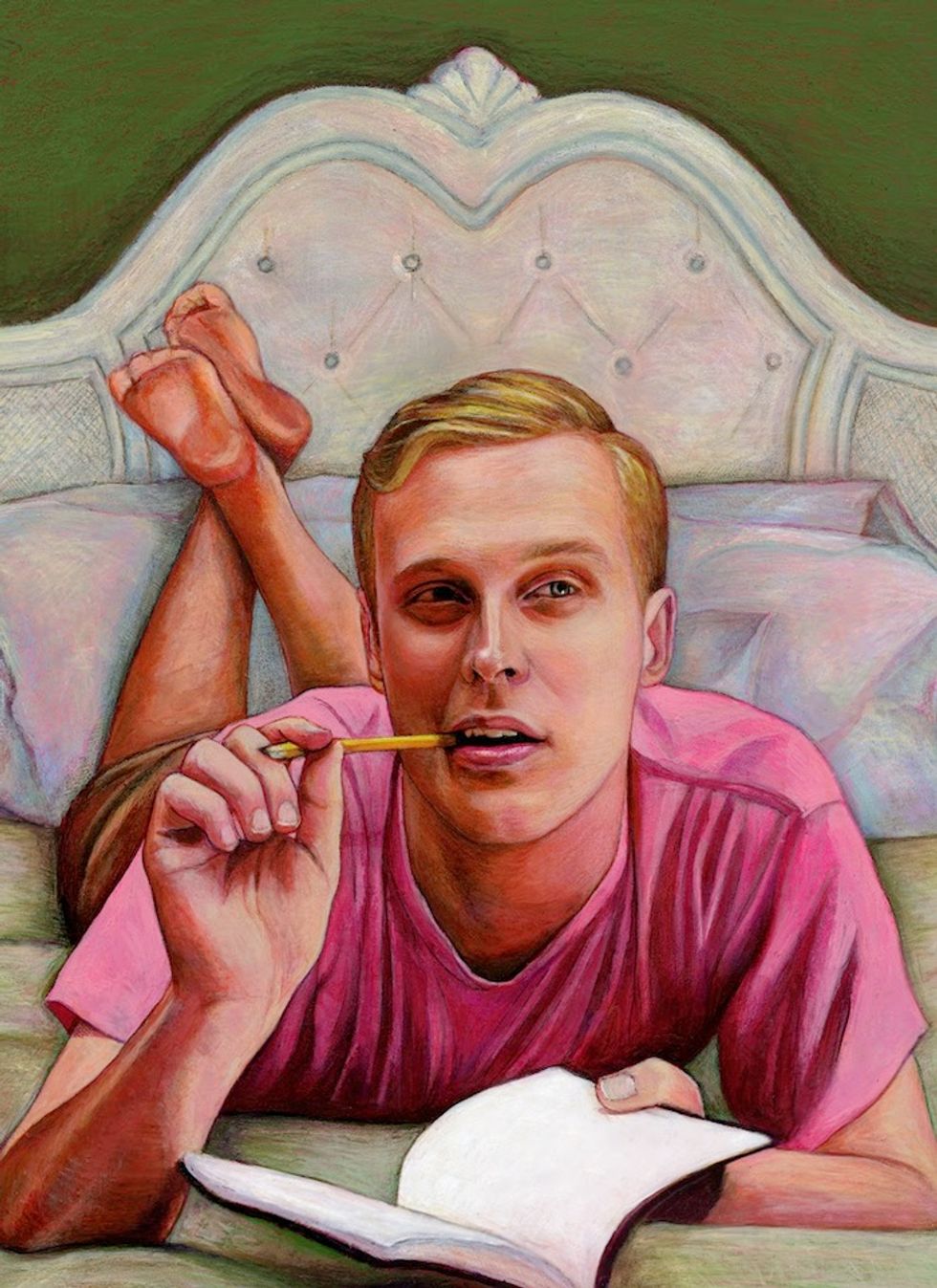 (Illustration by Greg Kozatek)
Early is one of the more exceptional players in a new-ish paradigm in comedy. It's one where performers and writers who make their own work in sketches and self-produced videos are able to gain momentum from their own followers, publishing directly on their YouTube channels and Tumblrs and cutting out the historically career-stifling instruments of larger network and cable productions and comedy clubs. The videos usually promote some kind of live act but are in and of themselves a fully realized narrative short, as though his nights at
Showgasm
were just a vehicle to make the promotional videos.
That's not to say he works entirely outside of established mediums. He's also a writer for
Billy on the the Street
and has a featured role in the upcoming
Wet Hot American Summer update
out in July, playing a musical theater alpha teen, clashing with Amy Poehler on the artistic direction of the big (original) camp show, 'Electro City.' 
"It's me being super rehearsed and polished like a dick and I sing 'Corner of the Sky' from
Pippin
. Like full out," he beams. Belting out a Stephen Schwartz number is not too much of a leap for the Tisch grad. He's happy to talk about his more earnest moments working on his 'craft' doing very serious (but absurd) theater as a 20-year-old freshly-arrived from Nasvhville, like appearing in an original musical called
Only Children
about a pedophile. He played a role that required him to perform nude from the waist down.
His intense NYU training is evident in the sharpness of his characters. There is a reptilian precision to how he moves within his comedic personas, their exact gestures and glances are so fully realized, down to the breath. With his tufts of downy blonde hair, one imagines a cross between Dennis the Menace and Christopher Guest in his level of commitment to the character and the world he's creating. But all with an air of boyish charm cut with mischief. 
Being that it's Pride Week, I ask John after our talk more existentially about the state of LGBT comedy. "I think the LGBT sensibility [in comedy] is in chaos right now. Limitations aren't good for people but they are good for art. So everyone right now is looking out into the abyss and is like, 'Welp! Guess I'll make a show about me and my friends! The twist is that we're bored!'" Funny given that boredom is the last thing anyone feels watching Early's work.
You May Also Like