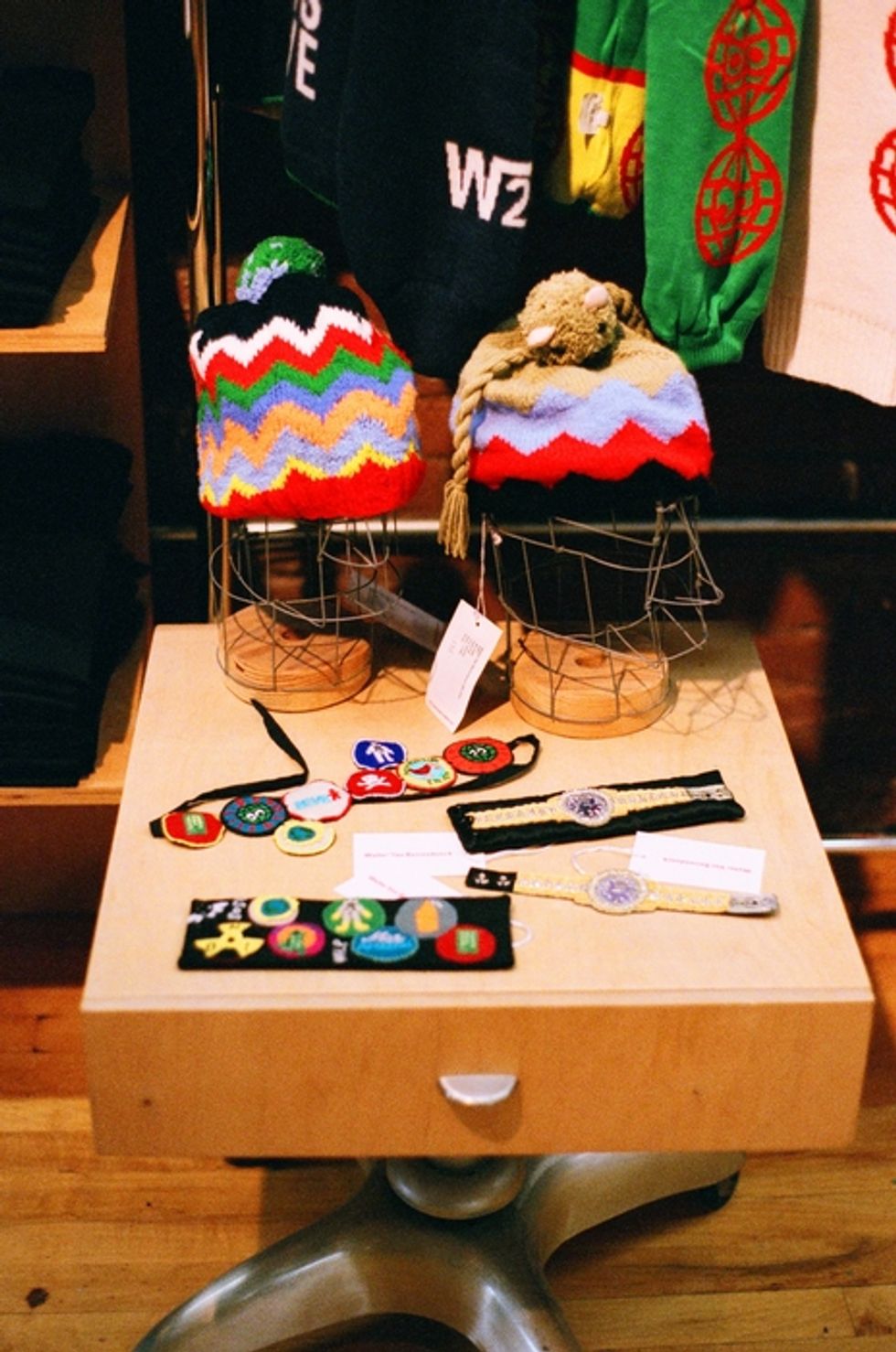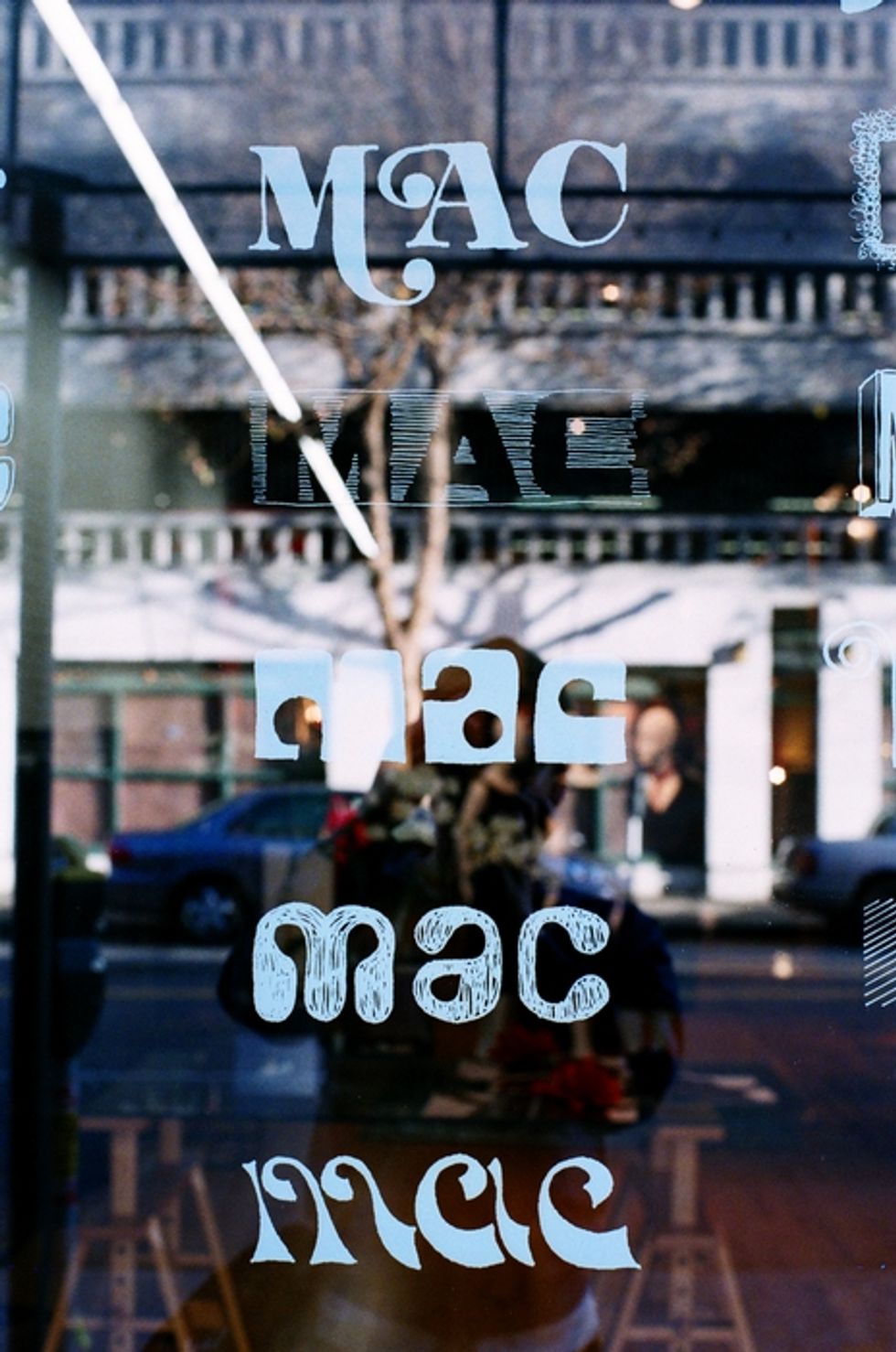 The latter part of yesterday I spent with my dear MAC (Modern Appealing Clothing) friends Ben and Chris Ospital, who threw a super fun gathering for me at their fabulous shop (see photos of their shop, MAC, above!) in the Hayes district (on Grove Street), inviting all the talented young kids that they knew around to come and show me what they do. For three hours, I met cuties of all sorts. Not only did I meet kids who make amazing jewelry, shirts, menswear and dresses, but they generously invited kids who have lots of small shops in the Mission to stop by and meet me. Some old friends came by too. I adored seeing my kooky friend, artist/psychedelic graphic designer Tom Bonauro, who I haven't seen in years.
The great folks from this chocolate company named POCO DOLCE came by with boxes of their amazing salted bittersweet tiles (try these, they're sick). My friend Nick Graham (of Joe Boxer fame) stopped by. Nick has a cool new company called Wonderbrand (he's making underwear now for half the world it seems!) but... get this... Nick (another kook) is going to be opening "boutiques" in the Goodwill stores in San Francisco under the label "WILLIAM GOOD." In these shops within the shop, he will invite celebrity "curators" (fashion folks, artists, design mavens) to come and troll the Goodwill store for fabulousness, taking the treasures found and cleaning them up, putting WILLIAM GOOD labels into them and displaying them in fabulosity. Isn't that hilarious? Of course, he's invited me to be one of the first curators and -- get this -- the president of Goodwill is a huge PAPER fan. Hysterical.
Back to MAC. My fave moments of the get together was meeting this super cute kid named Kit Holverson who made chic/skinny/high-end menswear for his two-year-old label named Common Era. The hitch is that Kit just turned 17 and is a junior in high school. I died when I saw how cute his stuff was. Gorgeously made. Check out his website. He's totally amazing.
Another fun moment was when I met this super cute girl named Savannah who designs clothes under the label TINC. MAC sells both Kit and this girl's stuff of course. The clothes were eccentric and sweet (and well made) and many of the pieces could be worn upside down. Turns out Savannah is JT Leroy!!!!!!! Remember JT? Savannah is the one who portrayed JT Leroy in public. And now she's a fashion designer. I couldn't believe it. (see Savannah as she looks now below.)
After gabbing for three hours, Ben and Chris took me out to a wonderful spot called Delphine. The food in Frisco is a whole other story. They are insane here. Every piece of lettuce has a provenance. Every bean sprout is from one farm and every pea shoot is from another. People do not eat here without every ingredient having a provenance. It's INSANE. They are nuts about it. Everything has to be grown within 100 miles that you put in your mouth. This mentality has truly taken over San Francisco and you cannot find a restaurant now anywhere that isn't strict about their ingredients being organic and provenanced. Its wild...