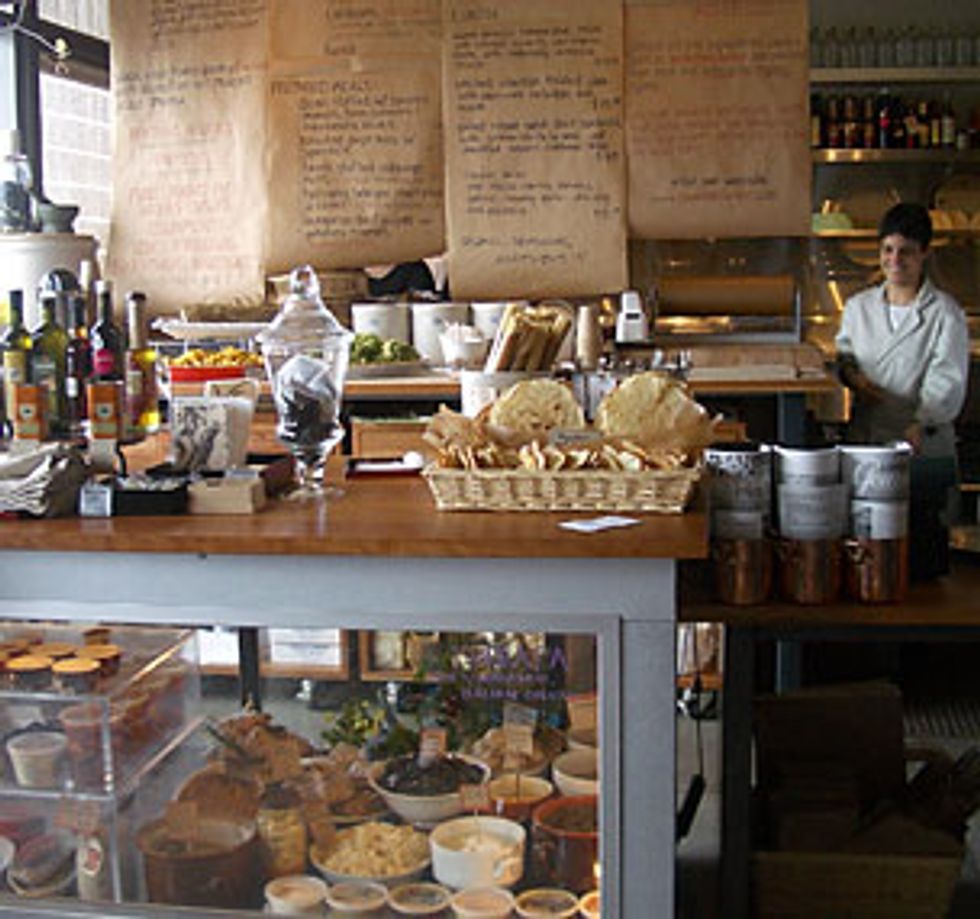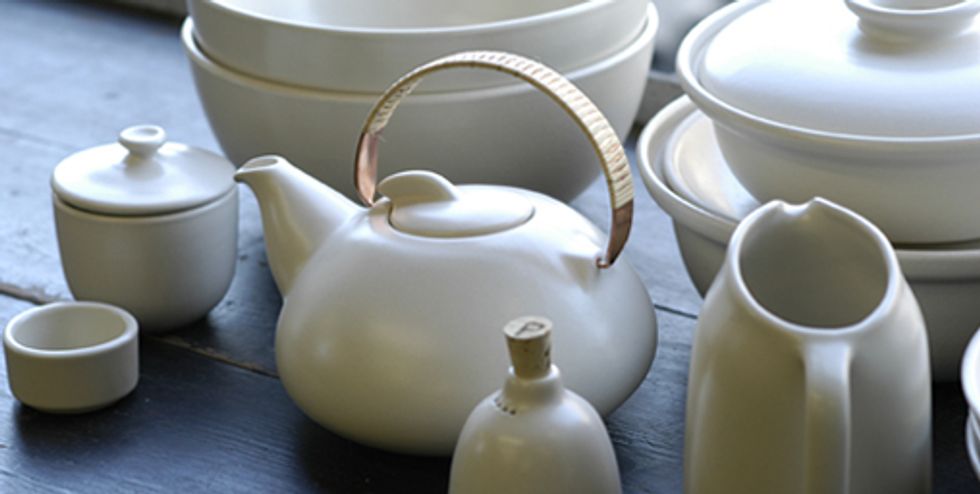 Whew. I'm writing this quickly as I'm heading to the airport soon, but yesterday was another fantabulous jam-packed day. We started out at 9 .m. meeting our crew for the day (filmmaker Cheryl Dunn, my friends from Target -- Minda, John and Paul -- and of course, our tour guide Ben Ospital from MAC) at this amazing little spot in the Ferry Building called Boulettes Larder for breakfast (see photo at top left).
We were greeted by Boulette, a Puli dog, owned by BL's two wonderful proprietors, Amarylis and Laurie, who sat us in their amazing hearth/kitchen and cooked us an incredible breakfast as we stared out the window at the ferries and the Oakland Bridge.
We then hopped in a car and headed over the GG Bridge to Sausalito where we met Kathy and Robin Baily, who own the incredible Heath Ceramics, an amazing 1940s sun-filled ceramics factory. They produce dishes for restaurants such as Alice Waters's Chez Panisse and Slanted Door and fab shops like Moss. They are also famous for their awesome tiles, which you may recognize if you've ever eaten at the restaurant Hiro in the Maritime Hotel. They're gorgeous. The designs were all done by Edith Heath in the '40s and Robin and Kathy (who bought the factory from Heath four years ago) have respectfully and meticulously continued the tradition of manufacturing and design that she started. I love this stuff and actually own a whole gorgeous set of Heath at home that I eat off of every day. After an amazing tour, where we saw the tiles and dishes (see photo, above right) made, fired and glazed by workers (many of whom had been there for over 30 years), we went crazy shopping, of course.
We all then headed over to nearby Golden Gate National Park to meet the crazy Nick Graham (of Joe Boxer fame) at the amazingly gorgeous, lush and pristine spot that is home to the Headlands Arts Center. (We had been invited for lunch.) This is an amazing program located in old bunker buildings in a beautiful setting where artists are invited to live and work in residency programs. People like Barry McGee and Margaret Kilgallen have been artists-in-residence here and it's quite an awesome and idyllic place. They have a beautiful communal dining room (see photo below) where after our tour, the artists/chefs cooked us lunch. What a treat.
After lunch, we headed to the De Young Museum where we met Gilbert and George, who were sitting in this huge empty room at a giant table all alone waiting for people to come and ask them to sign their books. They looked hysterical. No one was there and the museum people were semi-freaking out. They are truly hilarious. I adore Gilbert and George. Wait till you see my picture with them. (I don't have it yet cause my friend took it and is emailing it to me.) Thank God for absurd people like G+G in the world.
We then took a tour of the Vivienne Westwood show, which was fun to see. Looking at Westwood's body of work, I think that her high point was really when she collaborated with Malcolm McLaren (for collections like the Pirates, Seditionaries and Buffalo Girls). The two were an explosive cocktail and when they broke up it's like her work became two dimensional. Just my opinion.
We raced back to the hotel, stopping at this really sweet new shop called Park Life that sells a wonderful selection of books and artist objects (see photo below).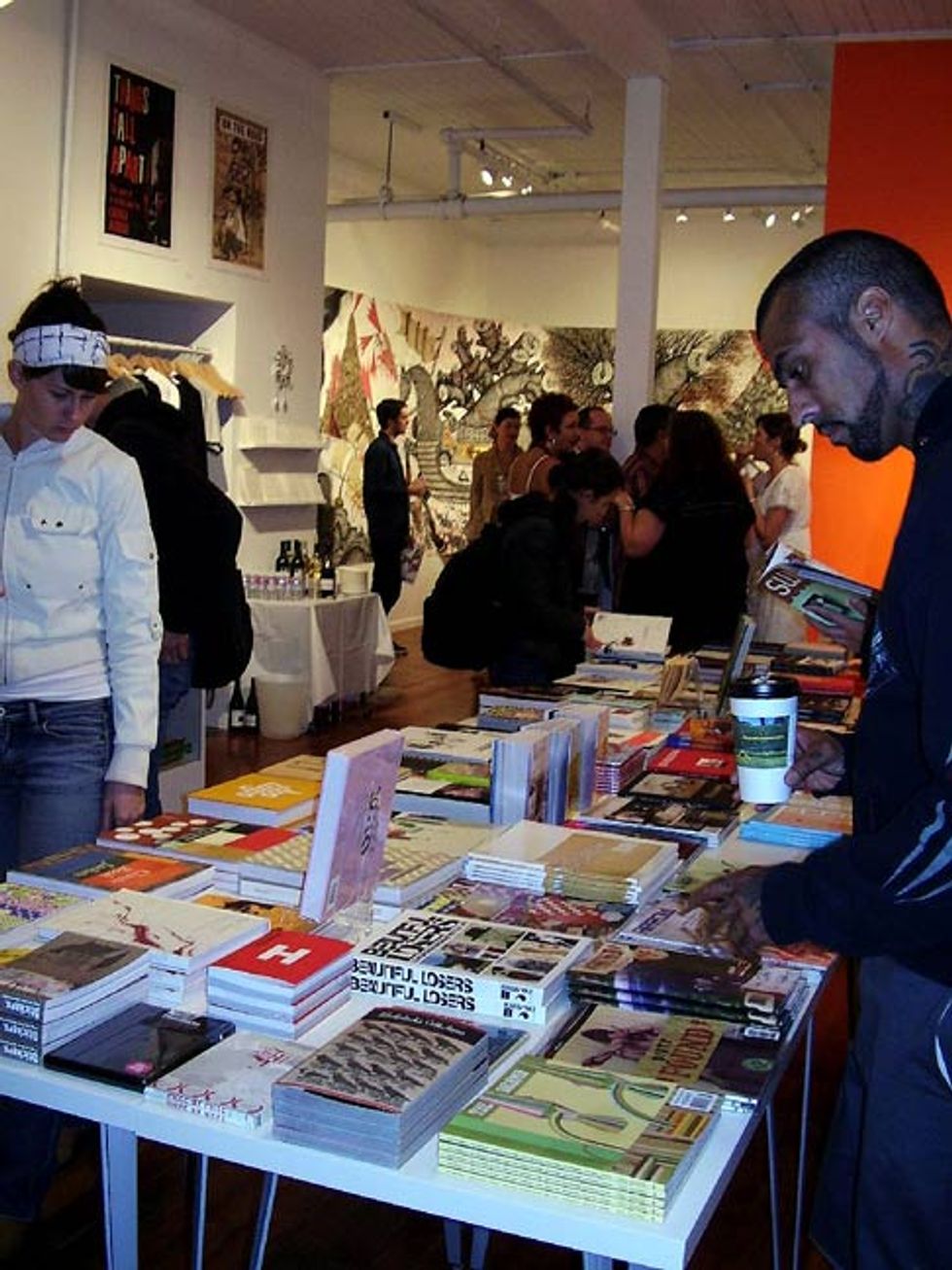 After our showers, we headed to Oakland for the main reason why I came to San Francisco... TheCreative Growth Arts Center benefit where Target had so generously bought a table. Our table was a wonderful crew. I sat next to Henry Urbach, a very cool guy who is the new curator of design and architecture at the SFMOMA museum and who told me the head just bought an amazing piece by Tauba -- her alphabetized bible -- for his permanent collection. He must be good if he bought that! I sat across from gallerist Jack Hanley, Cheryl Dunn (who has just made a movie about Creative Growth) and Yves Behar, and of course down the table from Ben and Chris from MAC. Ben and Chris are like the "mayors" of San Francisco, and turned me on to Creative Growth over 20 years ago.
I (of course) went out of control and bought two amazing pieces of art: a rug with an aerial view of fried eggs and bacon strips and a giant ceramic head of a ghetto-style homegirl whom they tell me was meant to be an albino Halle Berry. What an ending! See you back in New York!