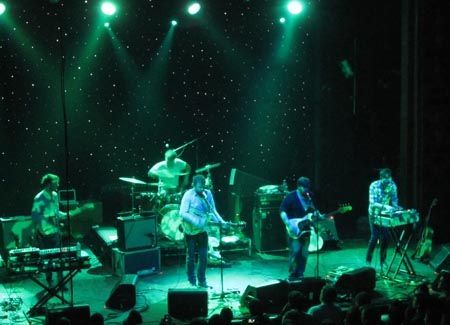 Webster Hall can be pretty when it wants to be. Such was the case Wednesday night when Glasgow's
Frightened Rabbit
hopped the pond to perform before a backdrop of twinkling stars:  a charming accent that lent a fairytale feel to the evening. More sweet than that, and disappointing to hopeful females ogling from the front row, lead singer
Scott Hutchison
gestured toward an Apple laptop behind him and told us his girlfriend back home was watching via Skype.
Sweetness aside, Hutchison and Frightened Rabbit's music is distinct in its vulnerability.  Hutchison seemed at home with his heart on his sleeve all night, his charming brogue occasionally taking a backseat to a sad howl. Wallow, however, the band does not: "Keep Yourself Warm" comes with the wincingly self-aware chorus "It takes more than fucking someone you don't know to keep yourself warm."
A sold out show, the place was packed -- fans were perhaps even more desperate to get in on the action after the quintet was unable to make it to their slot at Coachella due to Iceland's erupting volcano. Hutchison joked, "If you're going to be fucked in the ass by something, you don't want it to be a volcano." Frightened Rabbit may have missed the California festival, but they're on American soil now, touring through the end of May. These Scottish lads don't scare easy and are taking the country by storm, sans ash. Catch them if you can.