NYC GALLERIES TO CHECK OUT THIS WEEK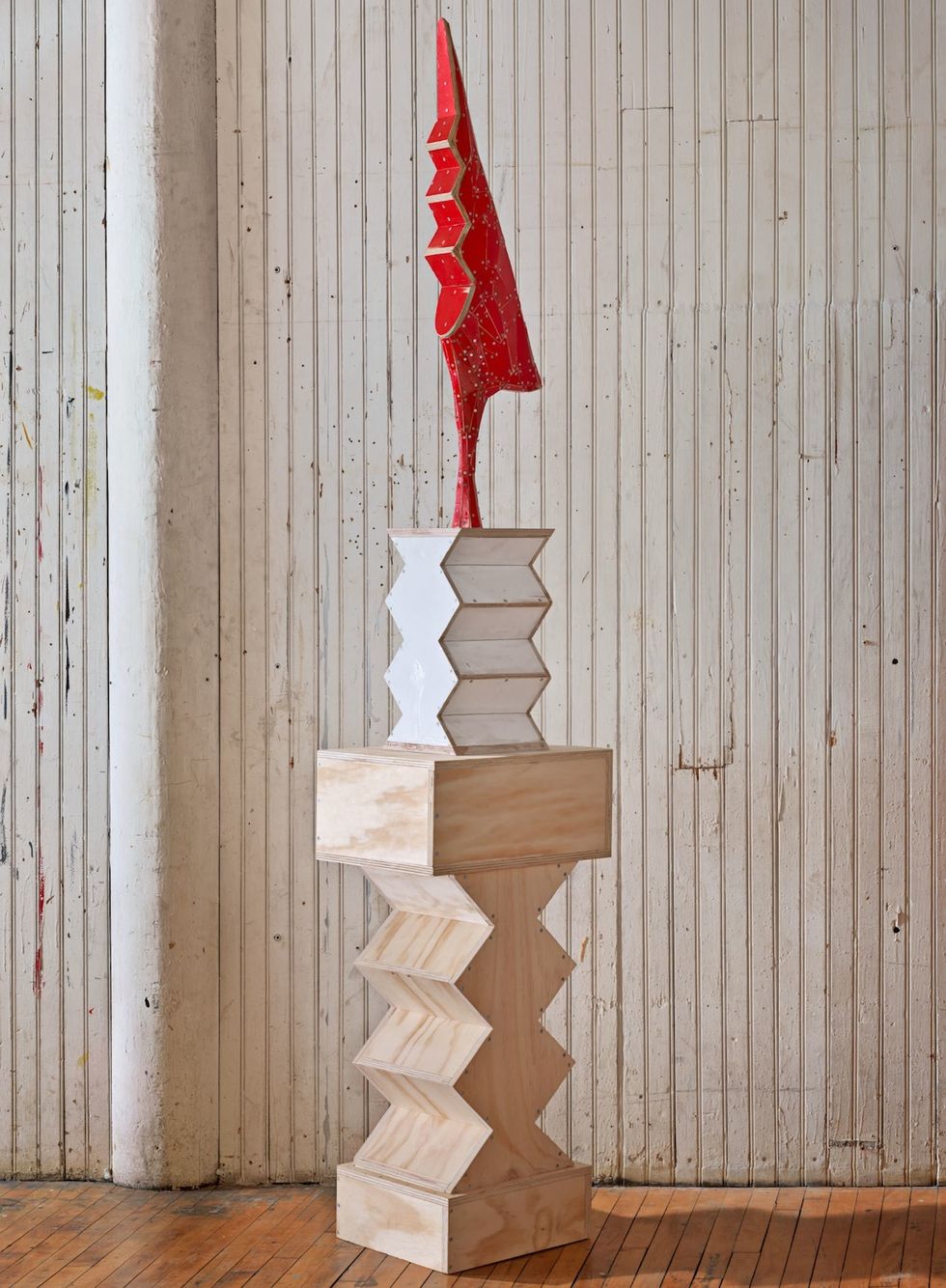 Tom Sachs at Deitch Projects

Jeffrey Deitch (76 Grand Street) opens Tom Sachs' "Nuggets" on May 5, 6 to 9 p.m., and on view until June 4. The show, Deitch's first with the artist, features "Sachs-ified versions of Modernist masterpieces...from Brancusi to McDonalds's."

Howl! Happening (6 East 1st Street) opens "When Jackie Met Ethyl" curated by Dan Cameron on May 5 an on view until June 1. This exhibition looks at the impact of two East Village icons: Jackie Curtis (1947-1985) and Ethyl Eichelberger (1945-1990).

Happy Lucky No. 1 Gallery (734 Nostrand Avenue, Crown Heights) has a new exhibition by Rey Parla opening on May 6, 7 p.m.

Part 3 of Visionaire's giveaway of issue #65, "FREE," will be in NYC all week with "art trucks" distributing posters by 12 artists including Gigi Hadid, Christian Marclay, Yoko Ono, Anton Corbijn etc. at NADA and several other locations. You can also grab one in the Times Square Arts kiosk on Broadway between 43rd and 44th Streets, May 5 to May 8, 11 a.m. to 8 p.m.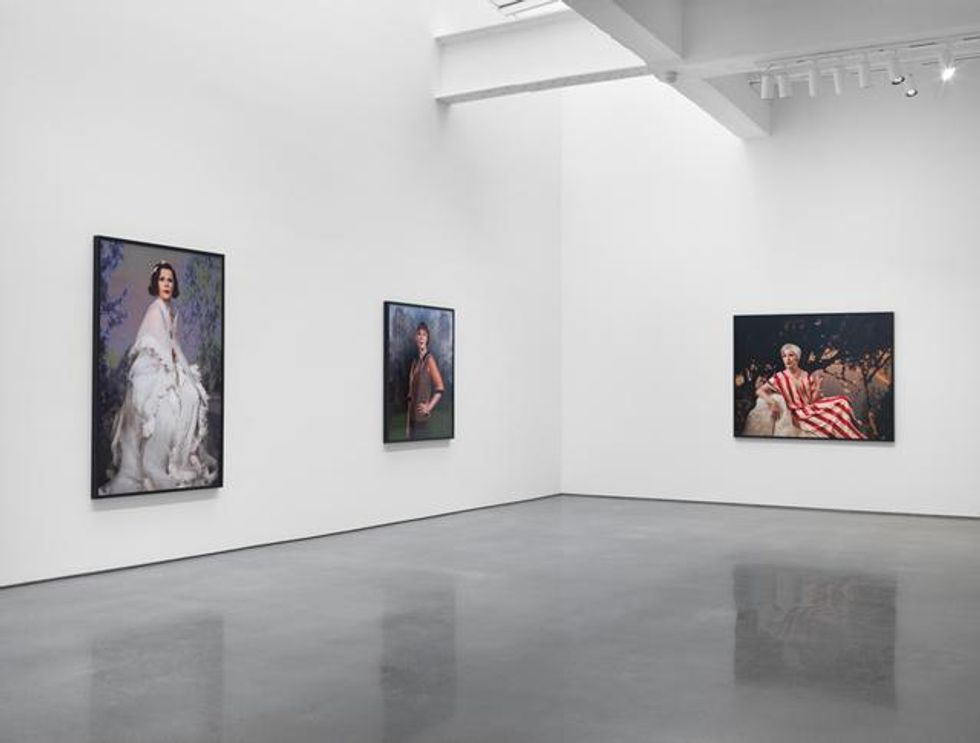 Cindy Sherman at Mertro Pictures.
Metro Pictures (519 West 24th Street) opens a show of new works by Cindy Sherman on May 5 and up until June 11. This is her first new body of work since 2012 and the exhibition is also the first show in the newly-remodeled gallery.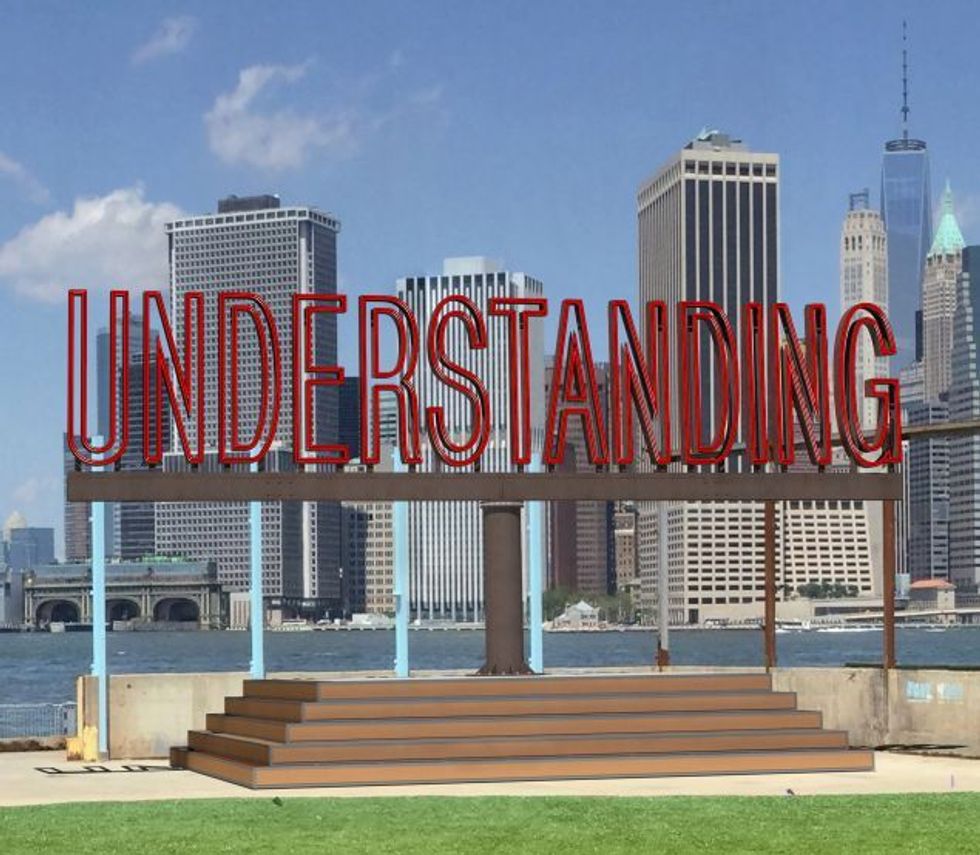 Martin Creed, Work No. 2630 UNDERSTANDING, (2016). (Photo: Courtesy Public Art Fund, NY)
UK artist (and 2001 Turner Prize winner) Martin Creed unveils a new sculpture in the form of a huge sign spelling out the word "UNDERSTANDING" on May 4 at the end of Pier 6 in Brooklyn Bridge Park. The rotating work is mounted on a 50-foot-long steel I-Beam and is up until October 23. Public Art Fund NY commissioned the work.

Makebish Gallery (126 10th Avenue) opens a solo exhibition called "Dad's Garage" by the Texas-based artist Paul Kremer on Thursday, May 5, 6 to 9 p.m., and on view until May 27. The artist's large, color-field canvases "achieve a graphic clarity that plays trick on our mind."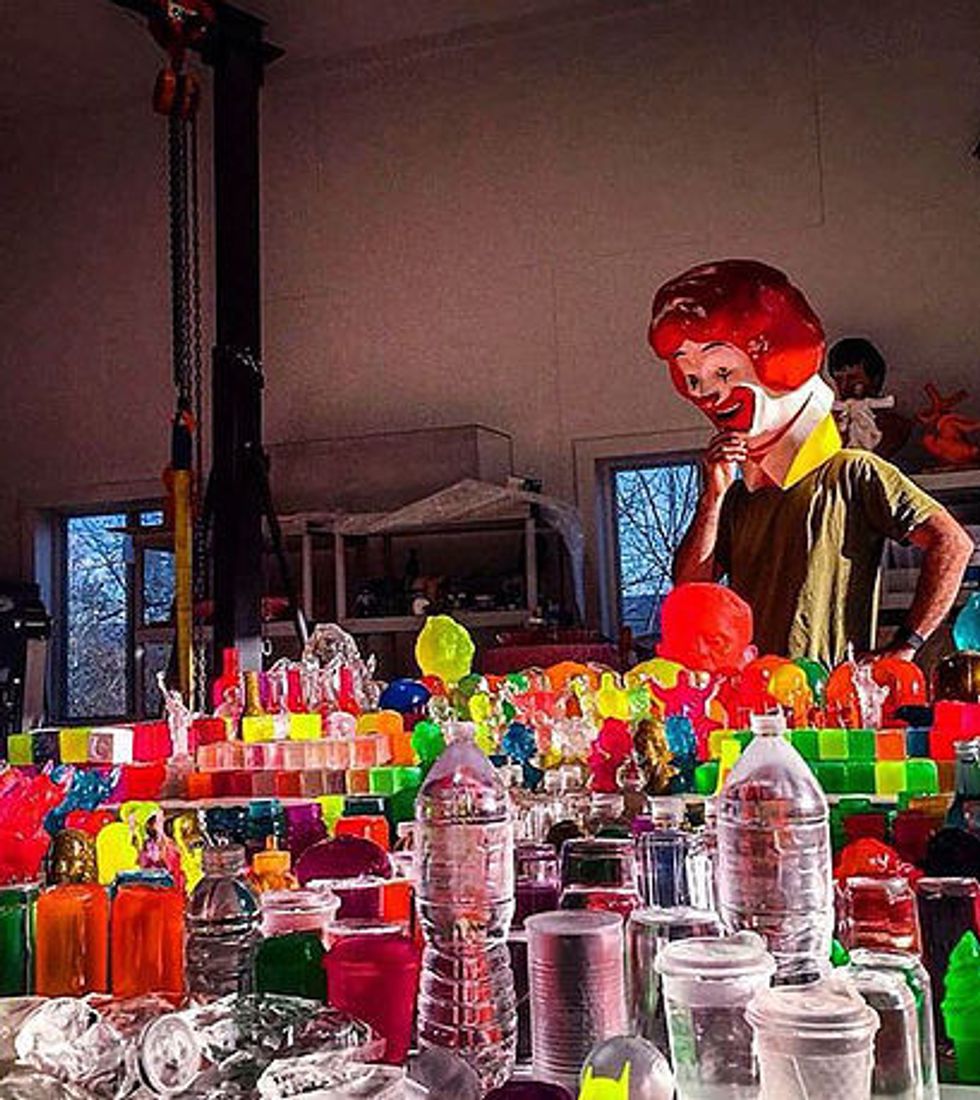 "Misappropriation" at Castle Fitzjohns Gallery
Castle Fitzjohns Gallery (98 Orchard Street) opens a group show called "Misappropriation" on May 5, 7 to 10 p.m., and on view until June 15. Curated by Ashley Ramos, the exhibition features four artists that demonstrate "how appropriation in the 21st century can be innovative, clever and thought provoking." The artists are Sam Tufnell, Whisbe, Jason Dussault and Ori Carino & Ben Armas.
TUMBLR and Prizm host "Closing the Gender Gap," a conversation with Mickalene Thomas and Charles Harbison moderated by Emil Wilbekin, on Thursday, May 5, 1 p.m., at TUMBLR (35 East 21st Street, ground floor) RSVP required.


The closing night of Marie Lorenz' sculpture called "Flow Pool" is May 5, 6 to 8 p.m., at 41 Grand Street. The "hydrodynamic test tank" includes "sound experiments" by Brian Chippendale on the night. RECESS commissioned the work.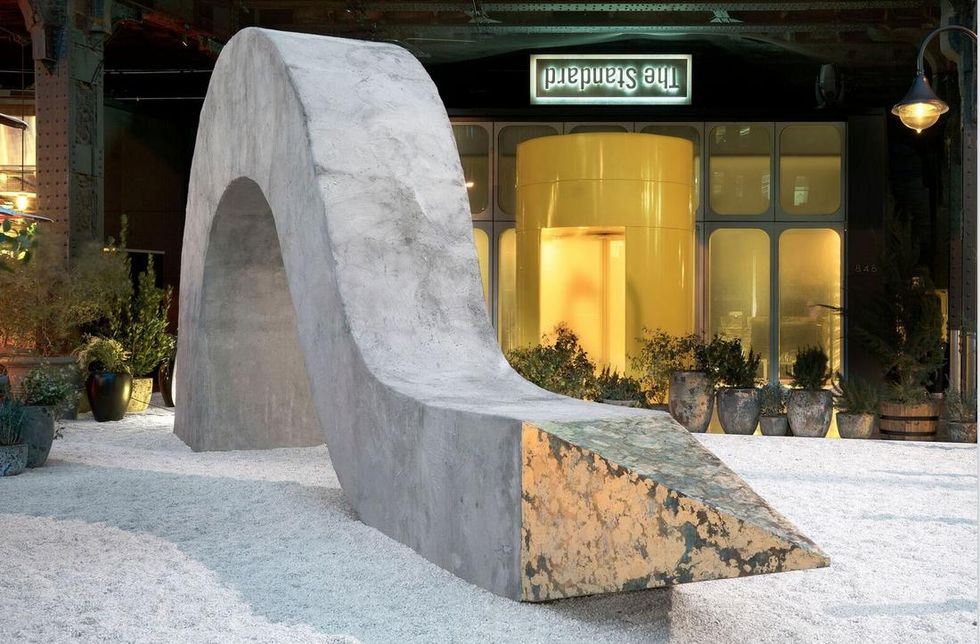 The Standard High Line (848 Washington Street) and Galerie Perrotin unveil a new public artwork called "Strengthlessness" by Ivan Argote on May 7 in the hotel's plaza.
Lisson Gallery (504 West 24th Street) presents a show of recent paintings by the Cuban-born, NY-based artist Carmen Herrera in the gallery's first permanent space in NYC. Up until June 11.

Galerie Lelong (528 West 26th Street) opens "Constructivist Dialogues in the Cuban Vanguard" on Thursday, May 5, 6 to 8 p.m., and on view until June 25. The show features three Cuban painters -- Amelia Pelaez, Lolo Soldevilla and Zilia Sanchez -- "engaged in geometric and constructivist practices from the 30s to the present." They are in Booth C17 at FRIEZE.

303 Gallery inaugurates their new space in the Foster+Partners building at 555 West 21st Street on Saturday, May 7, 6 to 8 p.m., with their first solo show, "I Rise Again, Changed But The Same," by the Berlin-based artist Alicja Kwade. On view until the end of June.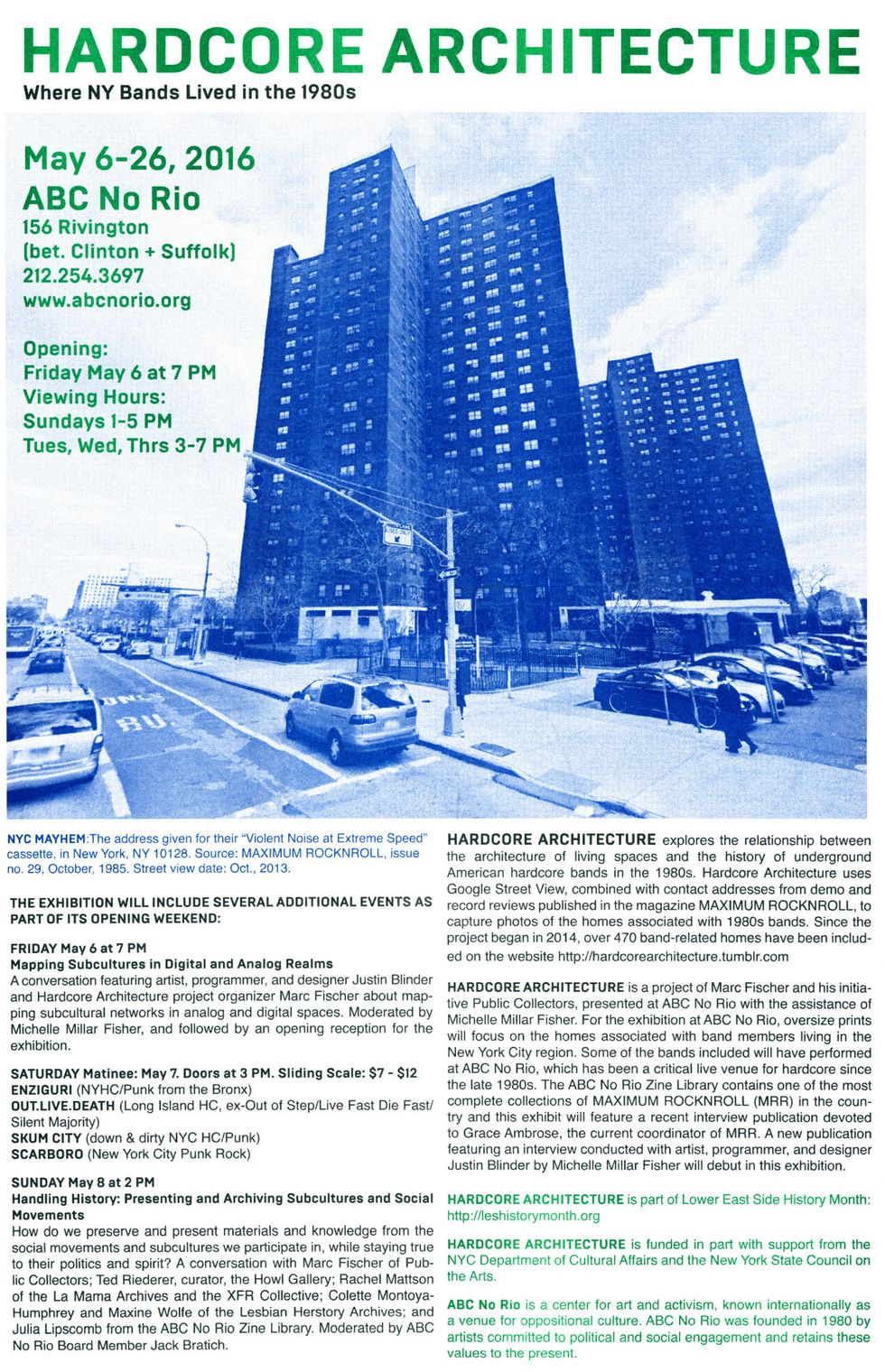 ABC No Rio (156 Rivington Street) takes a unique look at NYC music history with "Hardcore Architecture: Where NY Bands Lived in the 1980s," opening on May 6 with a panel discussion at 7 p.m., and up until May 26. Using Google Street View and contact info from Maximum Rocknroll magazine, the show includes photos of the homes associated with 80s bands. This is a project of Mark Fischer and Public Collectors. If you've never been to a hardcore show, stop by ABC No Rio at 3 p.m. on Saturday, May 7, and check it out. Preview it all HERE.


Petzel Gallery (35 East 67th Street) opens a show by the late Danish artist Asger Jorn called "The Open Hide" on Thursday, May 5, 6 to 8 p.m., and on view until the end of July. This is the first US solo show for Jorn since 1993. Petzel also opens "galesburg, illinois+" by Stephen Prina in their 456 West 18th Street space on Friday, May 6, 6 to 8 p.m.
Gagosian Gallery (980 Madison Avenue) opens "Howard Hodgkin: From Memory" on Thursday, May 5, 6 to 8 p.m., and on view until June 18. Downtown, they've got two Richard Serra shows opening on Friday, May 6, 6 to 8 p.m.: "Above Below Betwixt Between..." at 555 West 24th Street and "NJ-1" at 522 West 21st Street.

The Journal Gallery (106 North 1st Street, Brooklyn) presents "Sitting," an exhibition of photos and films by John Kayser. Over 500 works by the late California artist will on view until June 19.

Off Vendome (254 West 23rd Street, #2) has group-gallery show called "Gallery Share" opening on Thursday. May 5, noon to 9 p.m., featuring artists from five galleries: Chewday's (London), Bridget Donahue (New York), Jenny's (Los Angeles), Galerie Max Mayer (Dusseldorf) and Real Fine Arts (Brooklyn). You can also check it out from Friday through Sunday, from noon to 7 p.m.daily.

C24 Gallery (560 West 24th Street) has a solo show by hyper-realist sculptor Carole A. Feuerman called "Hero and Leander" opening on Friday, May 6, 6 to 8 p.m., and on view until June 25. The opening will include dance performances.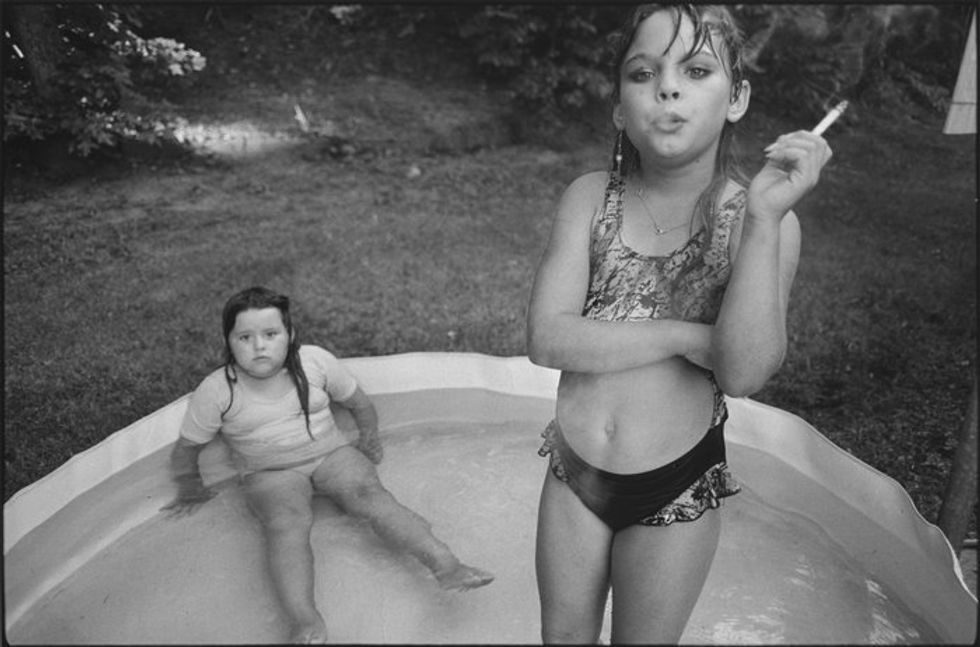 Mary Ellen Mark
Howard Greenberg Gallery (41 East 57th Street) has an exhibition of photos taken from inside the New York Times building by Kathy Ryan opening on May 5, 6 to 8 p.m., and up until June 19. "Office Romance" is the debut show by Ryan, the director of photography at the Times magazine. On the same night, the gallery opens "Attitude: Portraits by Mary Ellen Mark, 1964 - 2015." The exhibit includes 40 of the late artist's "most enduring images." Also on view until June 19.


The Creative Time sunset presentation of Duke Riley's "Fly By Night" runs from May 7 to 12 in the Brooklyn Navy Yard. It's free, but you'll need a ticket. Spoiler alert: the work includes a massive flock of pigeons, an aircraft carrier and LED lights.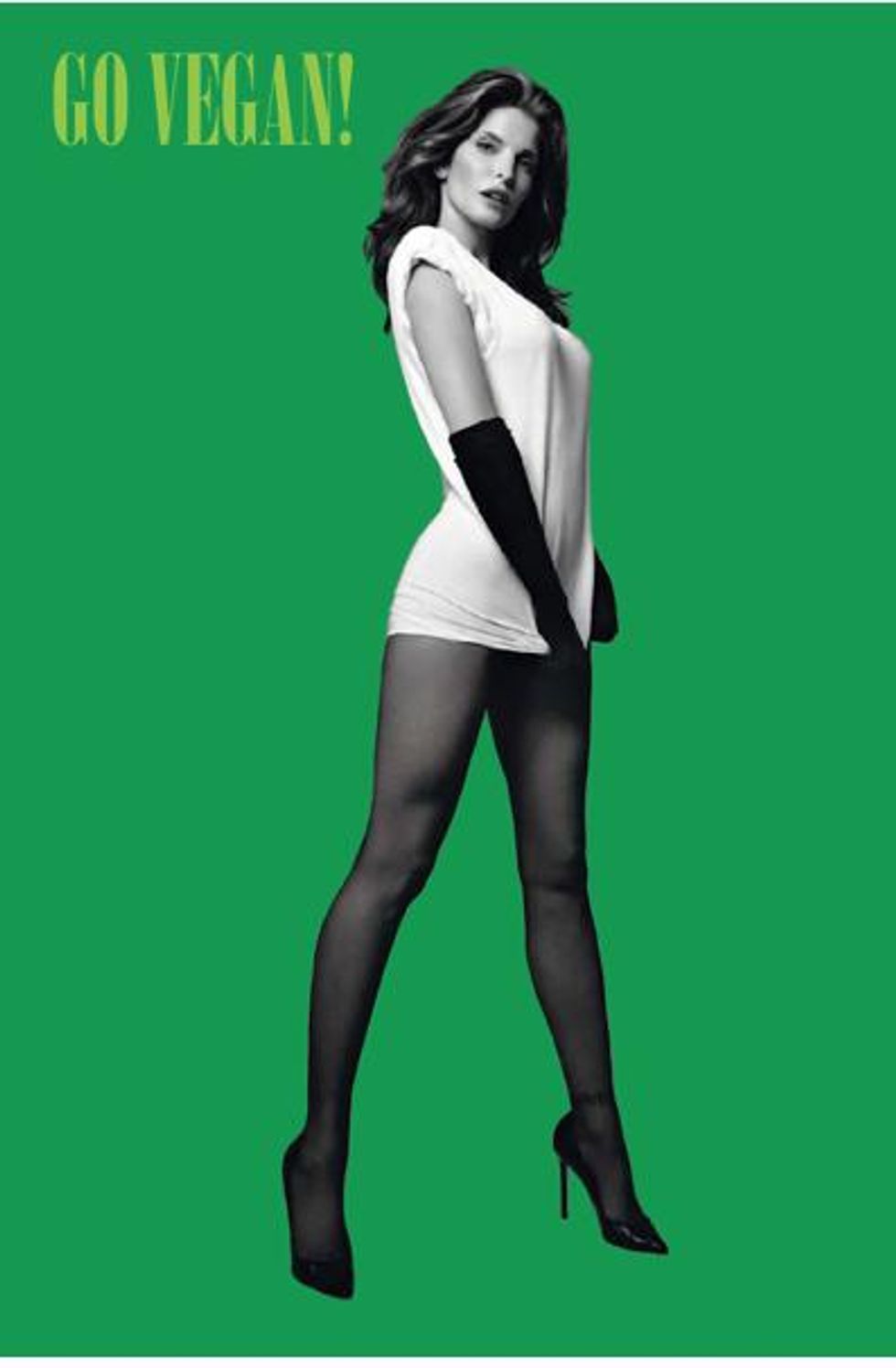 Jonathan Horowitz' "Occupy Greenwich"

The Brant Foundation Art Study Center () (941 North Street, Greenwich, Connecticut) opens an exhibition of works by the New York artist Jonathan Horowitz called "Occupy Greenwich" on May 8 and up until October. The works use "pop cultural and art historical sources... (with) political undertones."
Luxembourg & Dayan (64 East 77th Street) opens "Cesar in Context" on Thursday, May 5, 6 to 8 p.m., and on view until July 2. The show features key works by the French artist juxtaposed with contemporary masterpieces by his US and European peers including Giacometti, Nevelson, Oldenburg etc.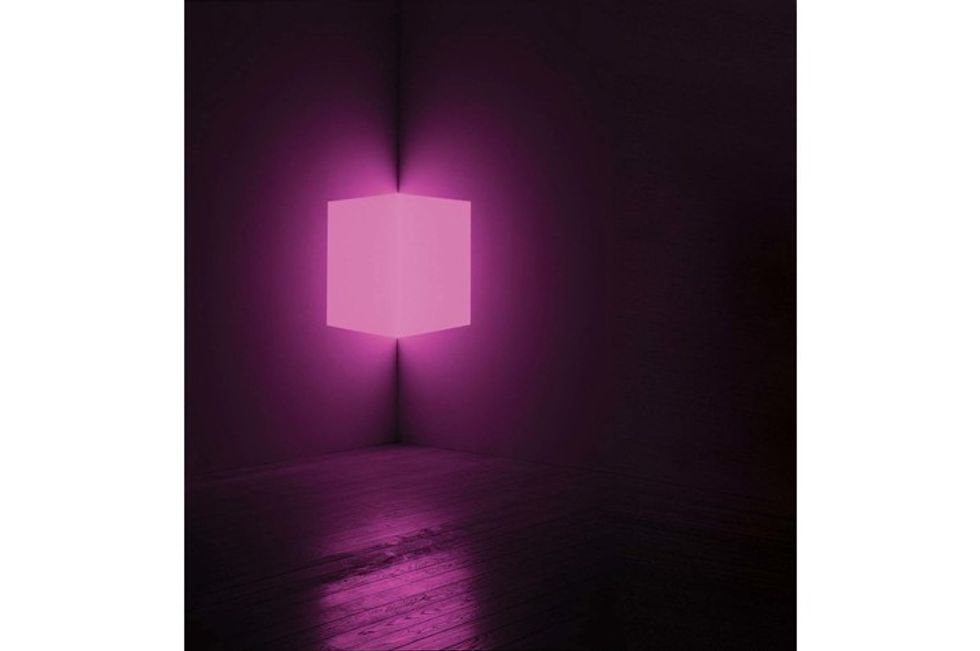 James Turrell at Pace

Pace (32 East 57th Street) presents "James Turrell: Projections, 1967 - 1968," on view from May 6 to June 18. The opening reception is on May 5, 6 to 8 p.m. This is the first exhibition in over 10 years that looks exclusively at Turrell's light works. At their 510 West 25th Street location, Pace presents "26" featuring works by Richard Tuttle spanning 50 years. The opening is also on May 5, 6 to 8 p.m., and it's up until June 11.


The Japan Society (333 East 47th Street) hosts a conversation with the performance artist and dancer Eiko Otake and the founder of Project Fukushima, Otomo Yoshihide, on Thursday, May 5, 6:30 p.m. You can also check out the current photo exhibition, "In the Wake," commemorating the 3/11 tsunami.

Andrea Rosen Gallery (525 West 24th Street) opens a show of works by the late Cuban artist Felix Gonzalez-Torres -- curated by Julie Ault and Roni Horn -- on May 5, 6 to 8 p.m., and on view until June 18.

Tina Kim Gallery (525 West 25th Street) presents the first solo show by Korean artist Park Chan-kyong, opening on Thursday, May 5, 6 to 8 p.m., and up until June 11. The show includes photography, photomontages and multi-media installations.

Friedman Benda (515 West 26th Street) opens two shows on May 5, 6 to 8 p.m.: "Andrea Branzi: Interiors" and "Adam Silverman: Ground Control." Both are up until June 11. The gallery is also in Booth A2 at the Collective Design Fair (550 Washington Street) with seven designers including the Campana Brothers.

Albertz Benda (515 West 26th Street) presents "Motohiko Odani: Depth of the Body" opening on May 5, 6 to 8 p.m., and on view until June 18. Look for recent works by the Japanese artist in his first gallery show outside Asia.

PART 1 OF OUR MEGA GUIDE TO FRIEZE ART WEEK IS HERE