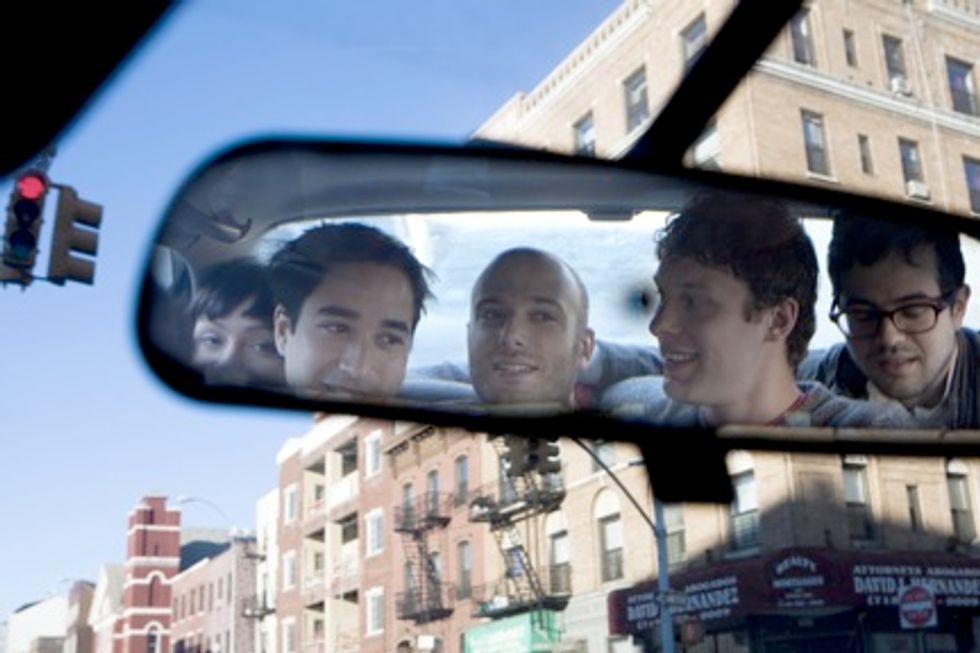 When New York City's indie-pop quintet
Freelance Whales
finished recording their LP
Weathervanes
in early 2009, how did they mark the occasion? By performing at an abandoned farm colony in Staten Island, reportedly one of the most haunted places in America. Considering that the bandmates are "collectors of ghost stories," their celebratory concert wasn't all that shocking. What surprised Freelance Whales is how
Weathervanes
quickly became last year's summer soundtrack for Williamsburg music nerds. It's hard not to fall for
Weathervanes
' dreamy melodies and haunting lyrics, which features everything from a delicate banjo to the more mouthful glockenspiel. Maybe it's the group's tender ballads or front man
Judah Dadone
's geeky Buddy Holly look that has us hooked, but either way, we're not complaining. We chatted with Dadone about subway busking, diving into the group's second album, and why he wants to chat with you at his next show.
How did Craigslist help start what would later be the Freelance Whales?
None of us knew each other, but we were all living in New York and aggressively looking for people to play with in a band. We found each other pretty quickly on Craigslist from a post back in 2008.  It was just like, 'Hey, check out these songs I'm working on. Does anyone want to interact with this kind of sound?' It was three of us at first and we stayed with two people for a couple of months. We then managed to get more members and completed the group.
The Freelance Whales were known for performing on subway platforms. Tell us a little bit more about that.
It's something that we were doing mostly in 2009. The first several shows that we did were great and a lot of people came out, but it was basically all of our friends. That was lovely, but if we wanted to be professional musicians we couldn't just play to our friends. We wanted to perform on subway platforms as a vehicle to promote our shows. Audiences were ready to accept the music as something valuable that they stumbled upon. Performing on subway platforms also gave us a chance to interact with people. If someone was having a bad day they can tell us right then and there. It was a big part of our early development. We haven't necessarily been doing it recently because we've done it so much. We might go back down again when we need to practice new songs.
What's been the strangest thing you've seen on the subway?
There have been a lot of strange things that have happened to us on the subway. Some people I think were on psychedelic drugs and were losing themselves in the music, doing some kind of interpretive dance. It's really nice, though! We've had interactions with crack heads and a lot of people that don't want the music there. Some would be very vocal about it. But here's a funny one. There was this guy who was a little bit intoxicated on a big bicycle with a Puerto Rican flag. He rode his bike right into the bass drum.
So when is the second album coming out?
It could happen pretty quickly or it could take a while. Our hope is to do another record in good time, but to make sure that we're absolutely in love with it in every way possible.
What is the most important lesson that you learned as a band so far?
We learned to just take opportunities and interact directly with people. We want to connect with listeners, respond to their emails, and talk to them after shows. That's why it's really important for me to wander through the crowd at concerts, overhear conversations, and meet new people. Anyone who wants to come up to me and talk, I'm there for that. When it comes to being an independent band, it's about doing it on a one-person basis, as opposed to becoming huge overnight. That works for us.
Freelance Whales headline Terminal 5 on May 4th. Tickets available here.