As we wait with apocalyptic vigil over the CONFIRMED (by Apple Music) release of Frank Ocean's highly anticipated sophomore album Boys Don't Cry today, the internet continues in its hilarious, fanatic and simply exasperated night-watch.
There have been some rumors of alleged Frank-themed Snapchat filters...
Full disclosure, I woke up at 3 am and saw the Snapchat tweets and they did NOT appear for me. SHOW ME THE RECEIPTS????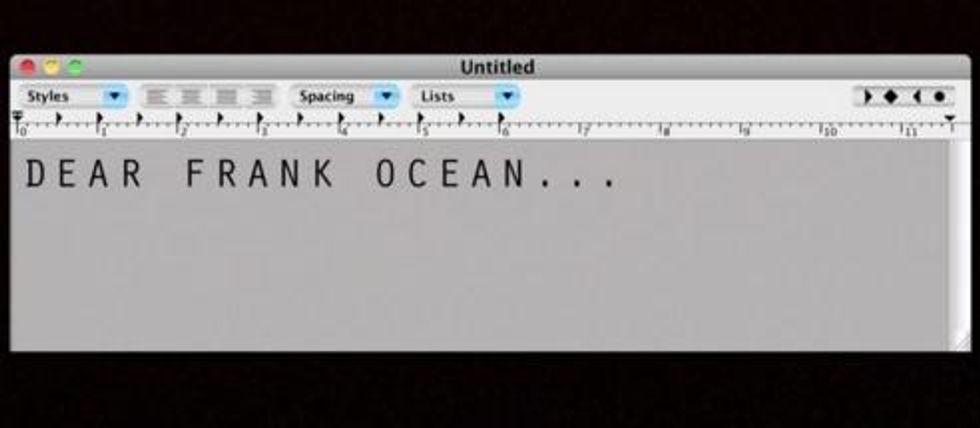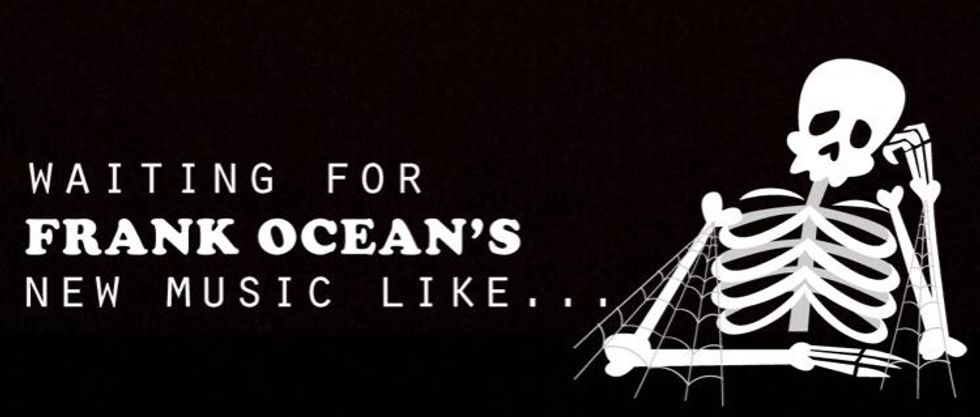 There are some hoax "tracklist" screenshots...
Track 3.. THIS MIGHT BE SOMETHING!! #FrankOcean pic.twitter.com/lr1OrUEDvy
— Zack (@Pokediger1) August 5, 2016
And still no. damn. album.
Twitter laments...
Waiting on Frank Ocean's album like pic.twitter.com/sw3ZDzvMvv
— KHADI DON (@KhadiDon) August 5, 2016
Technically...
technically frank ocean still has 15 hours 37 minutes 33 seconds to drop the album
— MTV News (@MTVNews) August 5, 2016
Good morning to everyone except frank ocean
— abby (@abbn0rmal_) August 5, 2016
I remember the night I crept downstairs, saw my parents crooning in a heartbreaking falsetto, and realized Frank Ocean isn't real.
— Josh Gondelman (@joshgondelman) August 5, 2016
When you spend all day waiting for #FrankOcean to release his sophomore album today and he doesn't..
https://t.co/MmktFemwHR
— Godwin Strings (@GodwinStrings) August 5, 2016
things you can't hear:

-unicorn farts
-hair growing
-the new #FrankOcean album

it's science. pic.twitter.com/vHalucWmHP
— Kamari Copeland (@kamaricopeland) August 5, 2016
me: good morning everyone :-)

Frank Ocean: hey, good morning :-)

me: pic.twitter.com/DYlr3gG6B5
— ᴊʙ (@JohnBelsha) August 5, 2016
my reaction to the invisible album I've been waiting for #FrankOcean pic.twitter.com/kXVhPcLByp
— Kamari Copeland (@kamaricopeland) August 5, 2016
Woke up and logged on to see if Frank Ocean dropped and all of Twitter was already awake waiting like this. pic.twitter.com/2OmU41ovSo
— Ernest Ezeugo (@ErnestEzeugo) August 5, 2016
me outside frank ocean's house pic.twitter.com/HYEna0TReC
— t✨ (@Juiicy_Lipsz) August 5, 2016