It's unlikely anyone actually learned how to make the "super-healthy" chia seed pudding from Franco Noriega's now-viral tutorial video. It seems like most were either envying the model-turned-chef's marbled eight-pack or ogling at a very snug "banana." And who could blame them? Why settle for a snack when the entrée looks that… chiseled?
Released in October of 2016, the two-minute clip helped propel then 26-year-old Noriega into an Internet sensation — and inadvertent sex symbol — prompting Ellen Degeneres to call him with an invitation to cook on her show. "She thought it was just hysterical how I'm cooking basically naked," says Noriega. The chef says that appearance, in which he wears only an apron over his bare chest and makes a vegan version of Peruvian tacu tacu, marks the moment he began to realize things were really starting to change.
"It was huge. It was also my first American TV show, After that, everything seemed different," recalls Noriega, who says that he never expected the chia pudding video would go viral. "I was clearly shooting in my underwear, but I had no idea that it was so… exposed. If you watch the video, I have no idea what's going on. I'm really focused on the pudding," he says, with straight-faced sincerity. He's since gone on to appear on Wendy Williams and has recently taped an upcoming segment with Martha Stewart.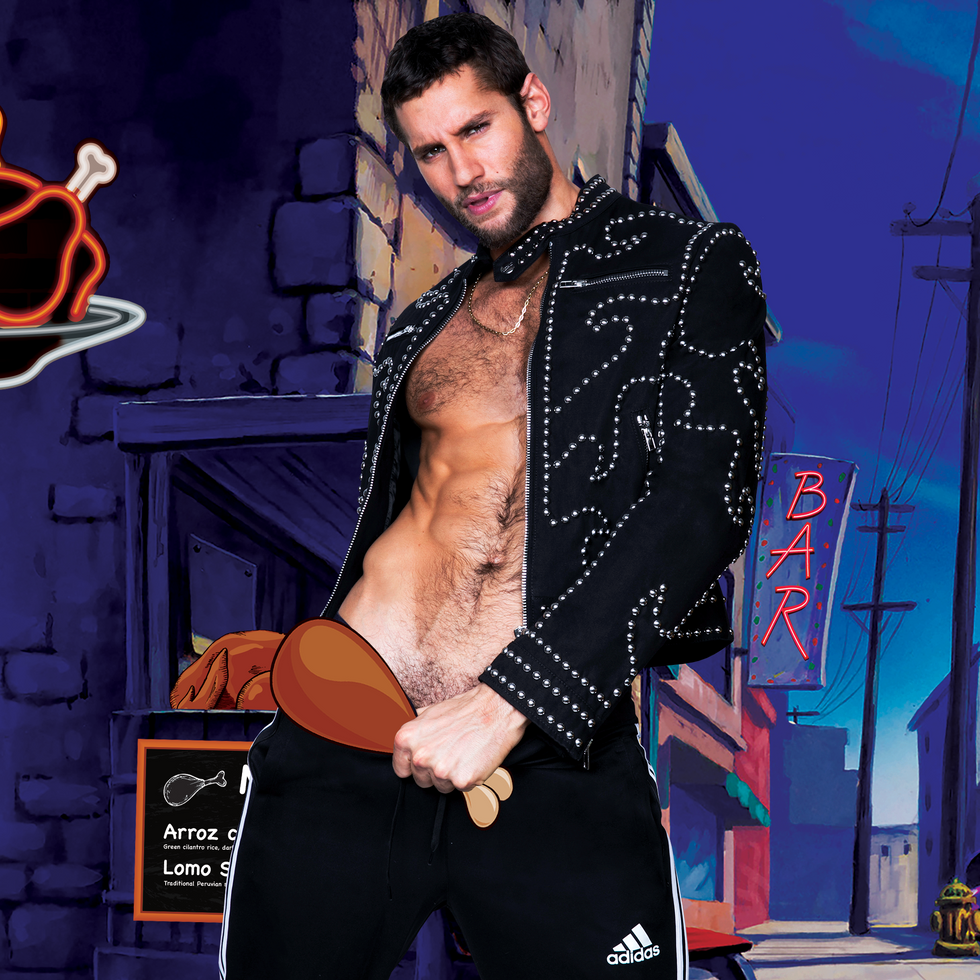 Jacket: Moschino, Pants: Adidas
When I met Noriega at his West Village-set Peruvian Baby Brasa pollería, he had just wrapped yet another major video shoot, this one with Mexico's reigning Queen of Pop, Thalia, for an episode of her new show. He beamed, seemingly starstruck, as he flaunted a photo they took together. There were also whispers of a possible musical collaboration. "We were talking about maybe doing a duet together, and it was incredible, because it was something that would be in my wildest dreams — to really record something with her," he says. "The fact that it's already kind of in the works is just unbelievable."

Yes, that's right. Noriega — who, prior to becoming an Internet-famous chef, swam for Peru at the 2004 Olympics, modeled for the likes of Dolce & Gabbana and Hugo Boss, and worked as a creative director at Macy's — is now fulfilling a casual pipe dream of becoming an international pop singer. His self-released single, "Me Aceleras" ("You Accelerate Me"), comes out in March along with a video produced by two heavyweight names who he can't yet reveal.
It may seem like the unlikeliest of his transitions yet, chef-to-pop star, but Noriega seems confident. Luckily, success seems to follow him wherever he goes — from the swimming pool to the runway to the kitchen — even when he's not entirely sure where it is he's going. "I believe a lot in the power of visualization. That's what I do." Noriega reveals. "It's like the Law of Attraction philosophy. You meditate towards [what you want], and it's incredible, because you really create your own reality." Of his musical endeavor, he adds, "I'm super excited for everything about singing, because it's so new. When something is so new, there's nothing really that can go wrong. Because you had nothing before this. There's a beauty in the freedom of the unknown."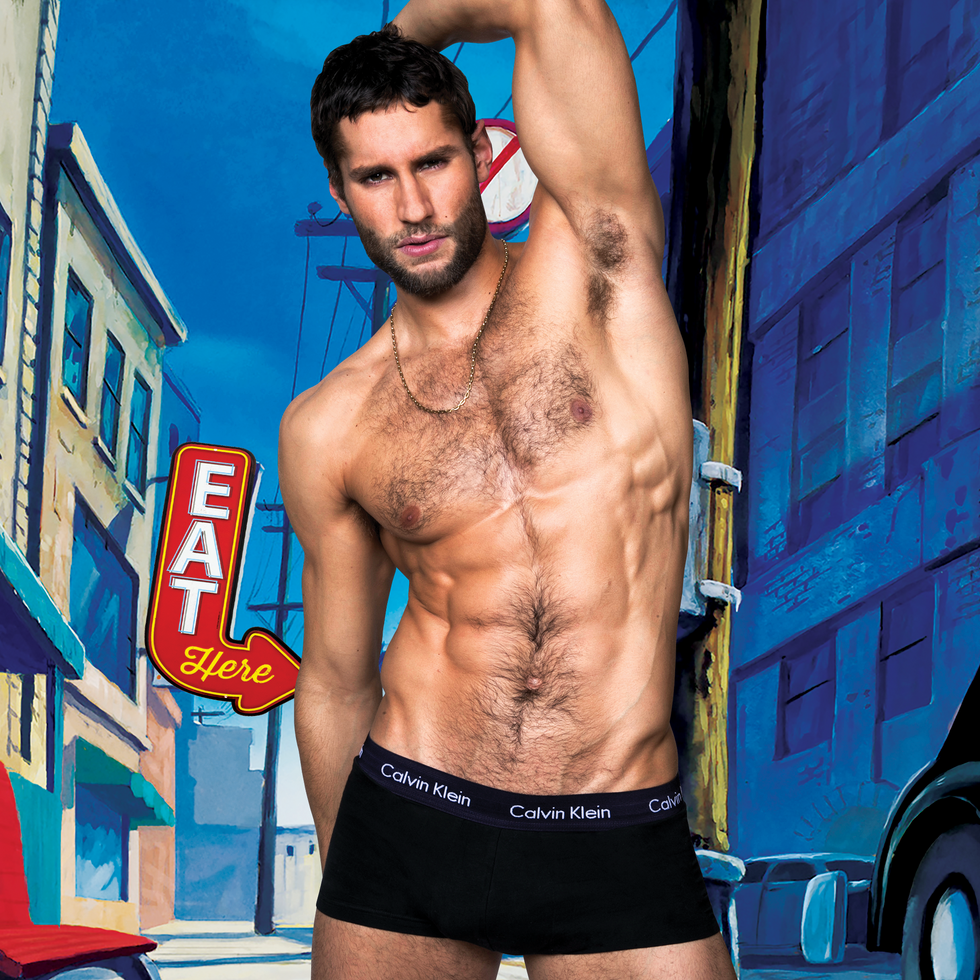 Underwear: Calvin Klein
Despite his pursuit of that limitless, unknown future, Noriega is firmly rooted in his past, his heritage, and his upbringing. He partially attributes his chefly ambitions, for instance, to the fact that he grew up in a family of restaurant entrepreneurs. "My parents had several different restaurant businesses. Their idea was always to create the concept, work on it to the point where they had four, five, or six stores, and then sell it all to an investor who could expand it. They've done that with three big brands in Peru, where I'm from," he explains, "Peru is also a gastronomic capital of the world. We have this incredible cuisine, so I think I was exposed to food early, by being Peruvian, but also because everything we talked about in my house when I was a kid was the business of food. Business in every single sense, but especially the food business."

—
Noriega left Lima at 18 and moved to New York City to attend the American Academy of Dramatic Arts. It was love at first sight. "I was like, 'This is my city.' I'm lucky enough that I still feel the same way, 10 years after. I have no idea where else I would go if it was not New York, you know?" he remembers fondly. But the food world was still calling to him, and after leaving acting school, he eventually enrolled at the International Culinary Center in Soho. Though that move was never the original plan, Noriega says it felt very natural, like it was part of his DNA. He admits, "It was very much embedded in me. It was not necessarily like a dream I had all my life of opening a restaurant, but it was definitely like a very realistic scenario if I wanted to open one. It was always a very natural thought. I didn't really have to think about it so much."
The first Baby Brasa, a small counter space on the Lower East Side, opened in the summer of 2016 (it's closed temporarily, pending a relocation to Hell's Kitchen). The second, flagship location, co-owned by Noriega and his long time friend and fellow model from Peru, Milan Kelez, opened in March of 2017. Here, the tropically-fitted space itself speaks to the duo's many passions: food, music, art, and nightlife. Many of the paintings, prints, and sculptures featured in the space are sourced from their two-year-old art collective, The New Allen.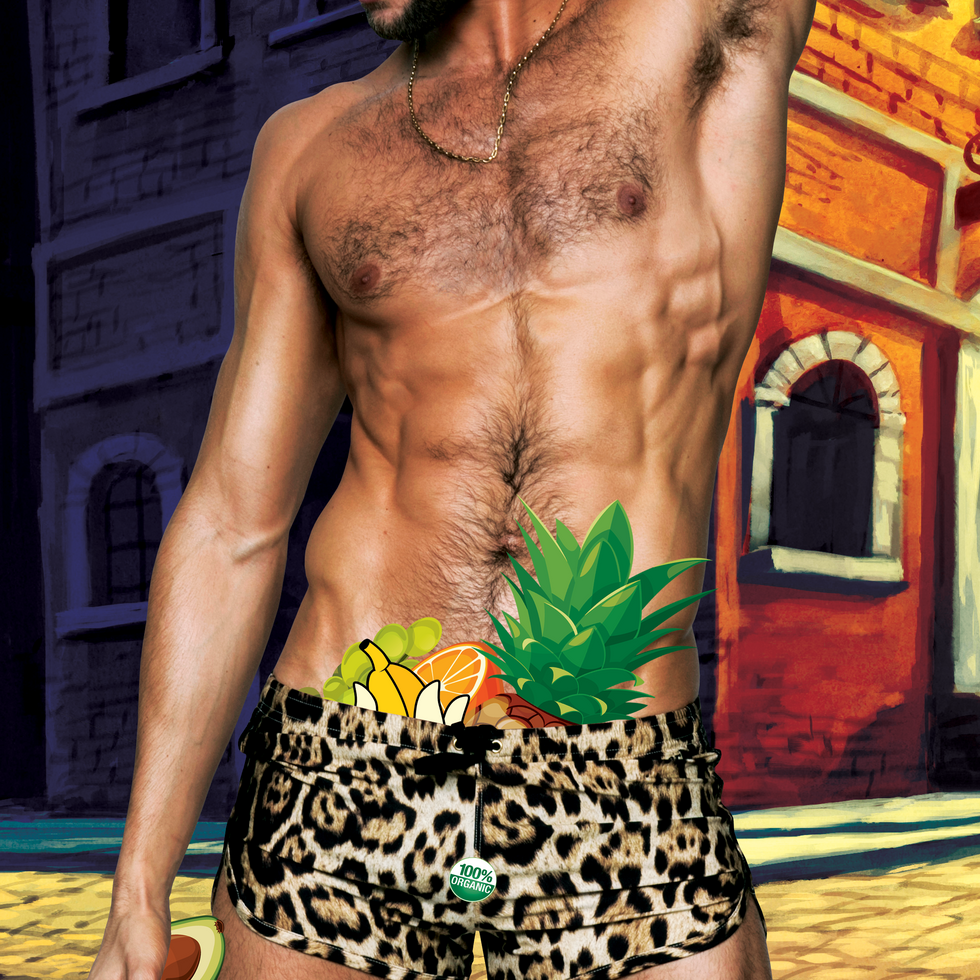 Underwear: Charlie by Matthew Zink
"We have more than 45 murals around New York City, one of them being the 'I Feel You, Baby' wall, which is actually the most Instagrammed mural in New York," he says, referring to the custom piece created for and next to the restaurant by the multimedia artist Baron von Fancy (you can now even buy plates with the mural on them). "Even the interior walls of Baby Brasa, the palm trees, are also made by one of the artists that we work with. We're growing, we're expanding, we're planning on going to different cities with the collective." Kelez tells me other pieces include indigenous artwork and textiles sourced from Peru.

Then there's the food. Noriega breezily rattles off a detailed explanation of how Peru's diverse climate regions have allowed for an incredible diversity of natural ingredients, including its 2,500 varieties of potatoes. He speaks with pride, and knowledge, about the country's culinary achievements. "Peruvians have had always this incredible cuisine, one that is extremely rich, but it wasn't really until a couple years ago that we realized how great our food was," he explains, noting that so few people in the States know much about it. "Now we've started packaging it in a way where the world can understand what it is. That's partly why Lima has been named the world's number one culinary destination in the world for the sixth year in a row."
Baby Brasa's menu is, fittingly, a highlight reel of Peruvian staples: a pitch-perfect take on the hallmark ceviche adheres closely to tradition with thin slabs of raw flounder cured in a bright lime juice and paired with onions, sweet potato, and rococo peppers. A vegan version uses mushroom to similar effect. "What most people know about Peruvian cuisine is ceviche," says Noriega. "But the beauty of Peruvian cuisine, and another reason it's so rich in flavors is that we are a country of immigrants. We have one of the biggest Asian immigrant populations in South America, from Japan and China. Ceviche is like a form of Japanese sashimi, with lime juice." He also cites the the influence of Chinese stir-fries in Peruvian dishes, noting, "Many of our dishes are actually made in a wok, like lomo saltado." In Noriega's likewise classic version of that dish, marinated sirloin strips are stir-fried with onions and tomatoes and served with rice and French fries, both of which happily soak up the meat's savory juices.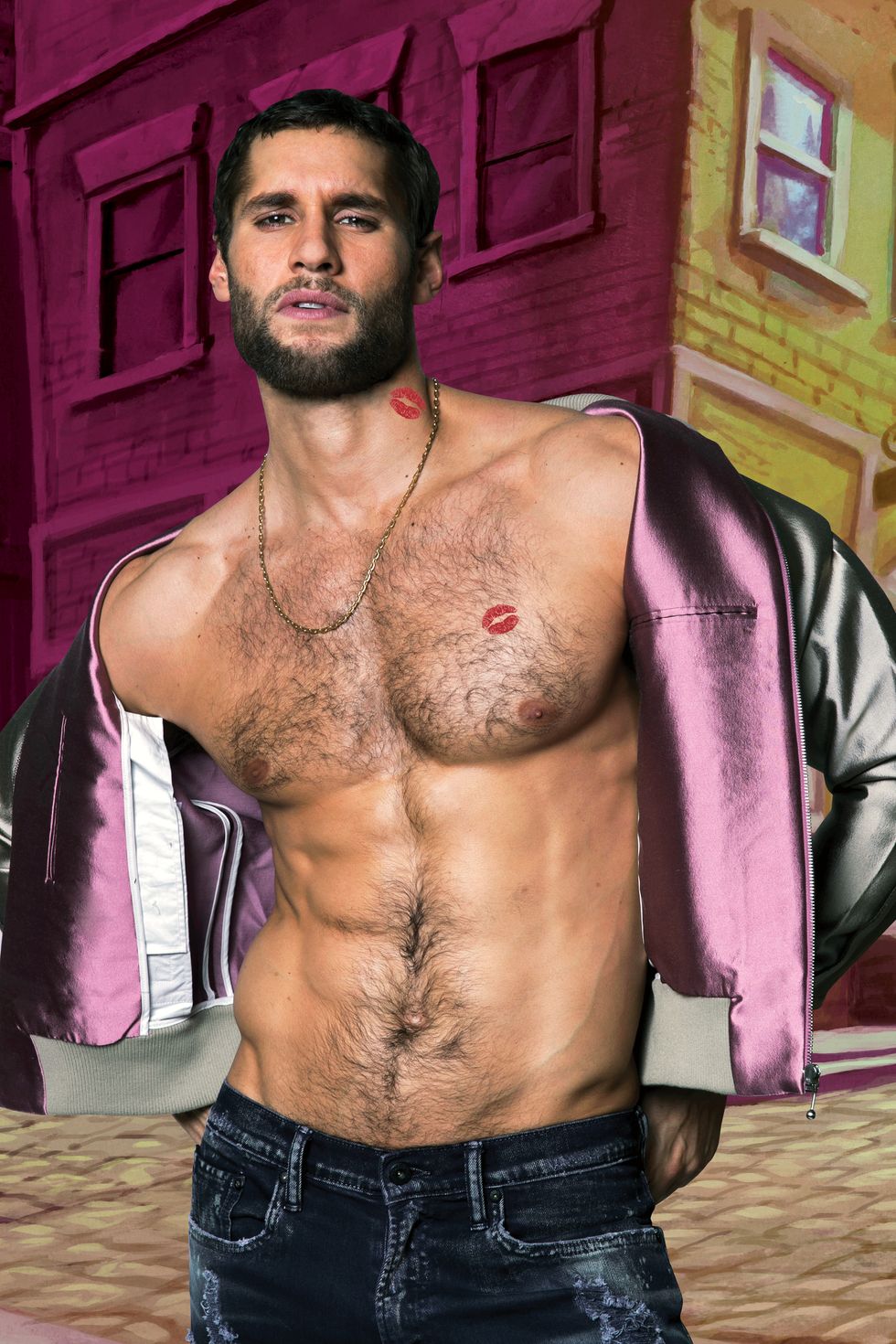 Jacket: Private Policy, Jeans: PRPS
Health is another crucial component of Noriega's culinary philosophy, which hinges on showcasing premium, organic food while staying true to authentic ingredients and techniques. The restaurant's namesake dish, pollo a la brasa, tops jasmine rice and plantains with organic grilled chicken, while other entrees highlight "wild-caught salmon" and "grass-fed beef." "One of the reasons why I look so good, because, really, I eat here all the time," he says. "I really believe that if you're cooking with quality ingredients, then it's almost impossible to fuck it up."

That's not to say he doesn't indulge in cheese and carbs: one of Noriega's personal favorites on the menu is his less traditional take on the fried empanada, which comes in a crispy, flaky shell with shredded chicken smothered in hot, melted cheese. And, though it may seem hard to believe, Noriega claims his warrior physique requires no dieting. "I also don't do any diets — I think if you eat healthy enough, and you're eating meats that are really well-fed, then you really don't have to look so much for the shit that's out there," he insists, adding that he has no special workout regimen either. "I skateboard every day, everywhere I go, so my cardio is insane without even realizing it. And then I do weights at the gym once a day for like an hour. I don't really go crazy."
—
When the first Baby Brasa opened nearly two years ago, Noriega told Eater, "I love to be without a shirt and I encourage other people to be shirtless, too." It's certainly an ethos he stands by, to the fascination and enjoyment of many (he has more than half a million followers on Instagram), but when it comes to "serious" chefs — often interchangeable with chefs who take themselves too seriously — it's rare to find one who prefers such a state of undress. For Noriega, however, being comfortable in his own skin is just second nature. "I was a swimmer for a very long time, and after that, I became a model, which is also, you know, with no clothes, so it has always been very natural for me to be shirtless, or with little clothes."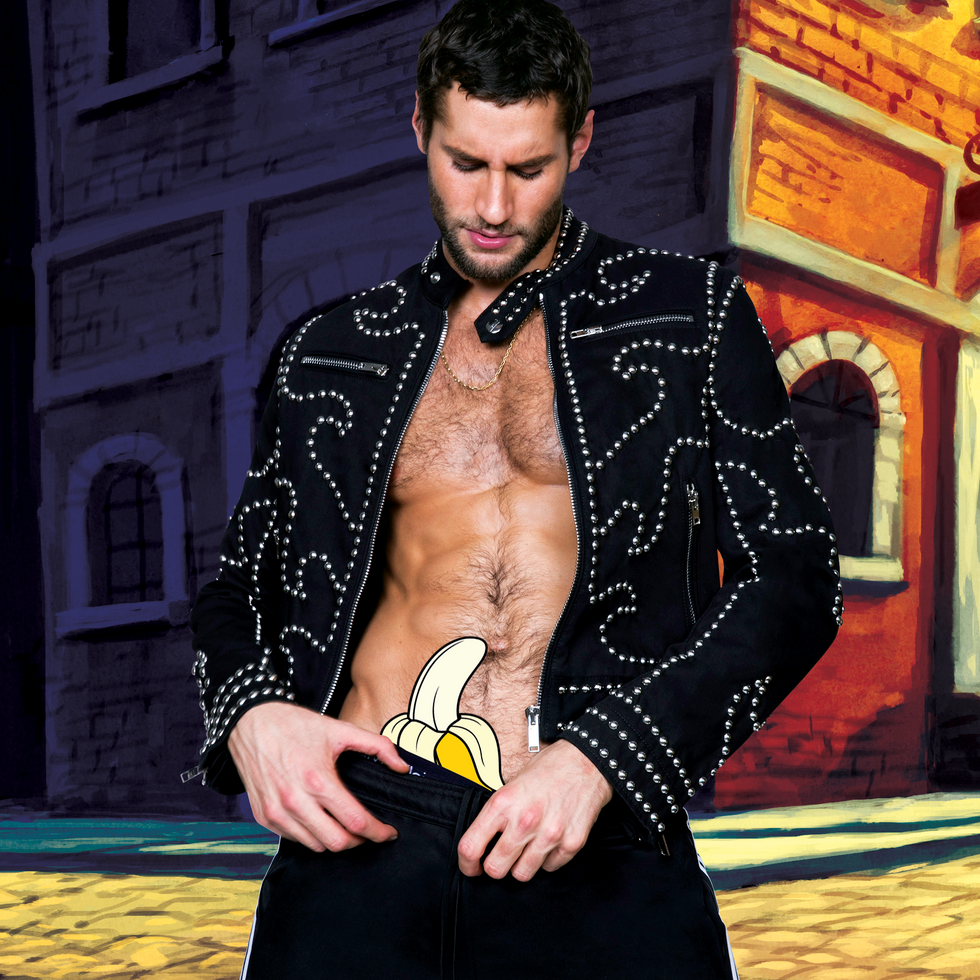 Jacket: Moschino, Pants: Adidas
It's refreshing — especially in a time where the hospitality industry, like so many others, is being rocked by sexual misconduct scandals — that Noriega is able to package and sell his brand of healthy food and healthy sex appeal in a way that promotes body positivity and sensible appetites. "I think that's fucked up," says Noriega, when I ask him about the harassment allegations leveled against celebrity chef Mario Batali. "I mean, I have no tolerance for [harassment] and I think, you know, it's great that people are speaking up. It's very clear for me and everybody on my staff, that's something we don't accept."

For Noriega, attraction isn't about dominance, but rather confidence. "I encourage people to really try to be healthy because it's not only about the outside and the aesthetics of how you look — it's also how you feel," he muses. "It's great when people are able to fit in jeans or in a dress they like, but it's also great because they have a sense of security that's very important." And, as cliché as it sounds, Noriega wants to set the record straight that brains are just as important as looks. "I believe being smart is really sexy," he says, explaining what he hopes has earned him the sex symbol title. "Of course, there is a big component of your body and your looks to being a sex symbol, but I also think that image is transcended when you meet someone really smart. So I guess if I'm considered a sex symbol, I'm honored."
Luckily, Noriega isn't a huge stickler for self-identification, or labels, whether it's sex symbol. model, chef, or even dancer (he recently appeared on the Spanish-language version of Dancing With the Stars, called Mira Quien Baila). "I mean, honestly, I've never really thought of how I want to be known," he admits. "I believe in the power of powerhouses. Like Martha Stewart. What is she known for? For many things, from cooking to TV. I also want to be known for everything that I've done, to be a multi-faceted artist with endless creativity."
Photography: Katie Levine

Collages: Portis Wasp
Video Director: Nadia Bedzhanova
Production Assistant: Emilie Louizides
Styling: Kevin Breen
Grooming: Kim White
Sign Up For The Morning PAPER