There was so much to love about The Nanny, Fran Drescher's 1993-1999 sitcom tour de force about a bouffed-up Flushing-Queens fashion plate named Fran that transforms the lives of an uptight British Manhattanite family with her warmth, street smarts, and all-around fabulousness.
First of all, it had an amazing explain-the-entire show theme song, which we know to be a hallmark of quality for 90s sitcoms (see also Fresh Prince and Sister Sister)... She had style! She had class! She was there!
Secondly, there was the glorious, relentless shade perpetrated by British butler Niles on Fran's scheming romantic rival, CC Babcock. Drag her to hell, Niles!
Thirdly, the WISDOM!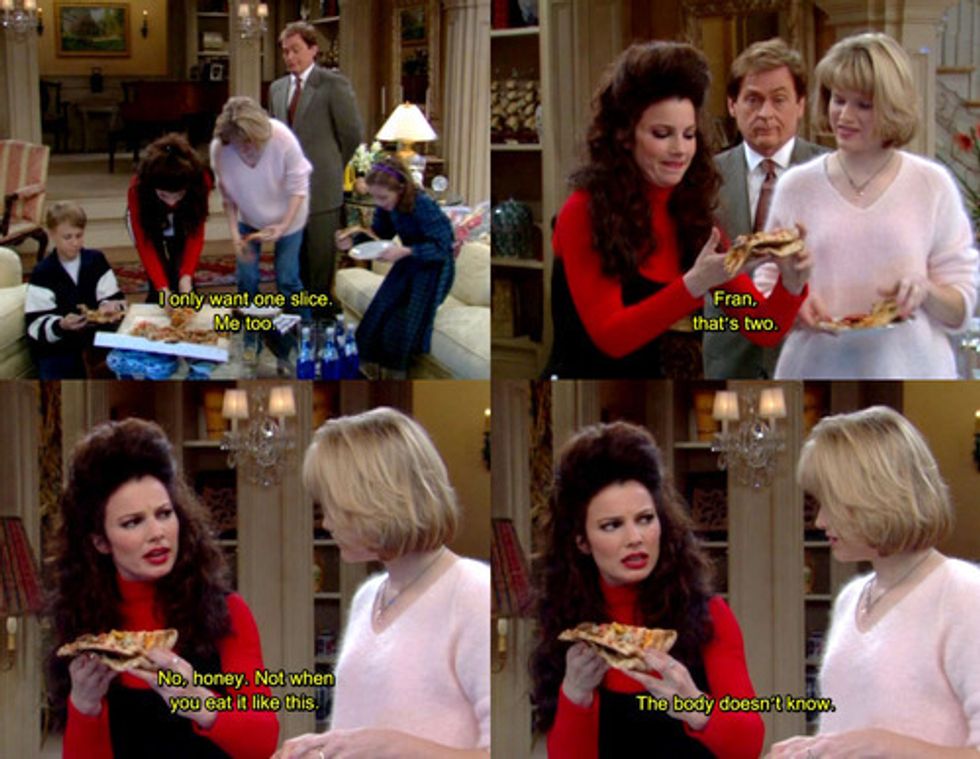 CBS / weheartit
But by far the most important feature of The Nanny was Fran's immaculate fashion, which was a daring, sexy, campy swirl of leather, neon, and skintight minis, featuring some of the most important designers of the 90s like Moschino, Marc Jacobs, Azzedine Alaia, Todd Oldham and Stephen Sprouse. Fran's fashion icon status is chronicled and celebrated in our fave new blog / Instagram account, What Fran Wore, which catalogues and IDs all of the looks that drove Mr. Sheffield wild. She was the lady in red while everybody else was wearing tan, and honestly, Carrie Bradshaw could never.
Check out some of our fave Fran looks below...