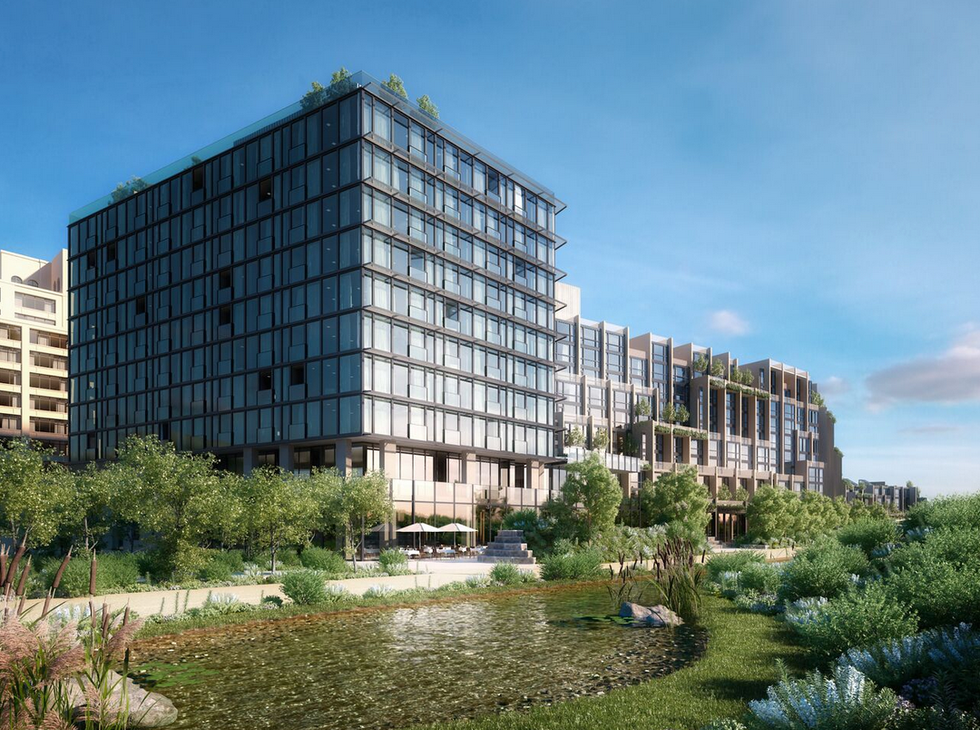 1 Hotel Brooklyn Bridge Park
Barry Sternlicht is nothing if not ambitious. As chief executive of private-equity firm Starwood Capital Group and CEO of Starwood Hotels & Resorts Worldwide, he created the W Hotels brand, bringing scale to the boutique hotel concept pioneered by Ian Schrager and Andre Balazs. Though he left the company some 10 years ago, he continued to buy and re-brand hotels, but the itch to create a new hotel concept á la the W never left him. With the expiration of his non-compete agreement, he was free to get back into the game, but many of his innovations were now commonplace. The hotel-as-destination had become a template followed by seemingly every big hotel chain and innovations like deluxe mattresses became the industry standard. Would there be a second act for Barry Stenrlicht?
Meet 1 Hotels, a brand quietly rolled out in Miami and Manhattan that will make lots of noise when its first all-new from-the-ground-up hotel opens on the magnificent setting of Brooklyn Bridge Park in Dumbo at the end of this year. Its raison d'être, according to Sternlicht, is not only to make a great hotel, but "to make the world a better place." Lest you dismiss this as marketing hyperbole and wishful thinking you haven't spoken to Sternlicht whose passion cuts through any skepticism.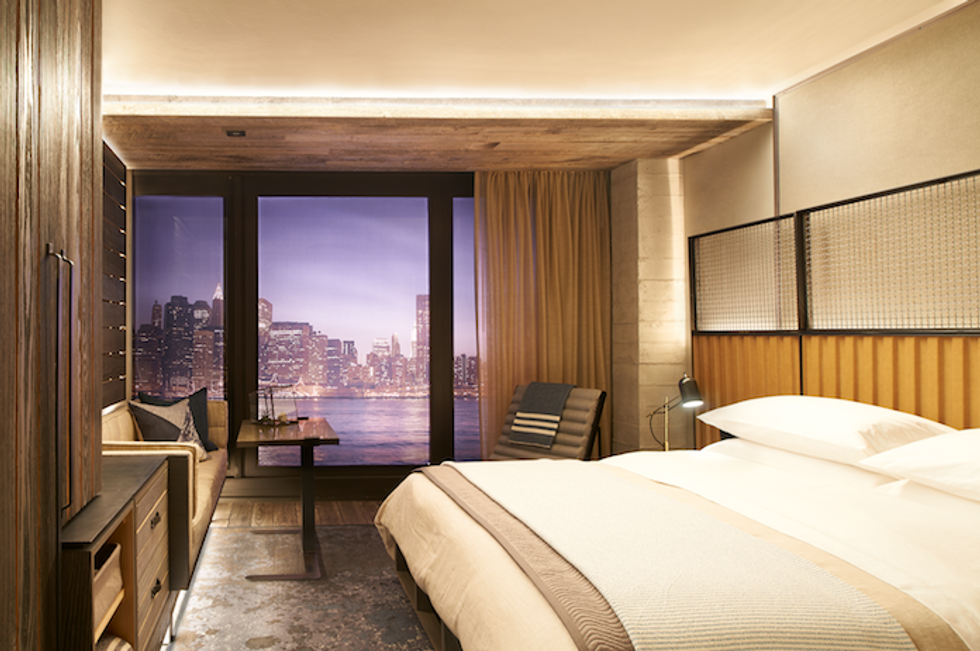 A room at 1 Hotel Brooklyn Bridge Park
For Sternlicht it's more than business. It's personal. Spurred on by his children and friends, he has become active in the environmental group the National Resources Defense Council. "I pay attention to global warming," he says when asked what made him move into this unchartered land. "We happen to own a ski resort and we haven't had snow in a long time. I've seen the pictures and Al Gore's movie. I've been to Alaska, I've seen the receding glaciers and you know that all these fossil effluents are changing the environment. You just know it. You can see the impact. You don't have to guess. It's not a discussion. It's fact."
He's watched what's happening in the marketplace and knows that his mantra -- "Not a brand, it's a cause" -- can make a good business strategy as well. "We're part of a socially conscious brand. And I take my hat off to people I've had the pleasure of speaking with like Blake Mycoskie of Toms who I met 5 years ago when he was giving away shoes with the "buy one, give one away" [model]. And I thought,
how cool if we could do the same thing with a hotel and create a social benefit with what we do
?"
The Miami and Manhattan iterations of 1 Hotels only serve as appetizers for the full course to be served on the Brooklyn waterfront. They are predominately renovations, repurposed to go green in settings where nature and culture come together whether on South Beach or Central Park, but the Brooklyn waterfront version will be the first fully-imagined hotel of its kind, as sustainable and environmentally friendly as conceivable given the limitations of design and technology. "We think of it as an evolution. We learn. It's harder when working with old buildings to do what you want to do from an environmental perspective. In Brooklyn, we have better control of things you can't see like systems, water and disposal. We're using less electricity because the windows are different. We're going to make compromises but it's OK. Our approach is to take it one step at a time, to teach people they can live green. As we work on design the hardest part is to keep my design team on brand. They wander off into physical design and I've got to get them back in the organic natural. There's incredible beauty in nature and you've just got to help people see it."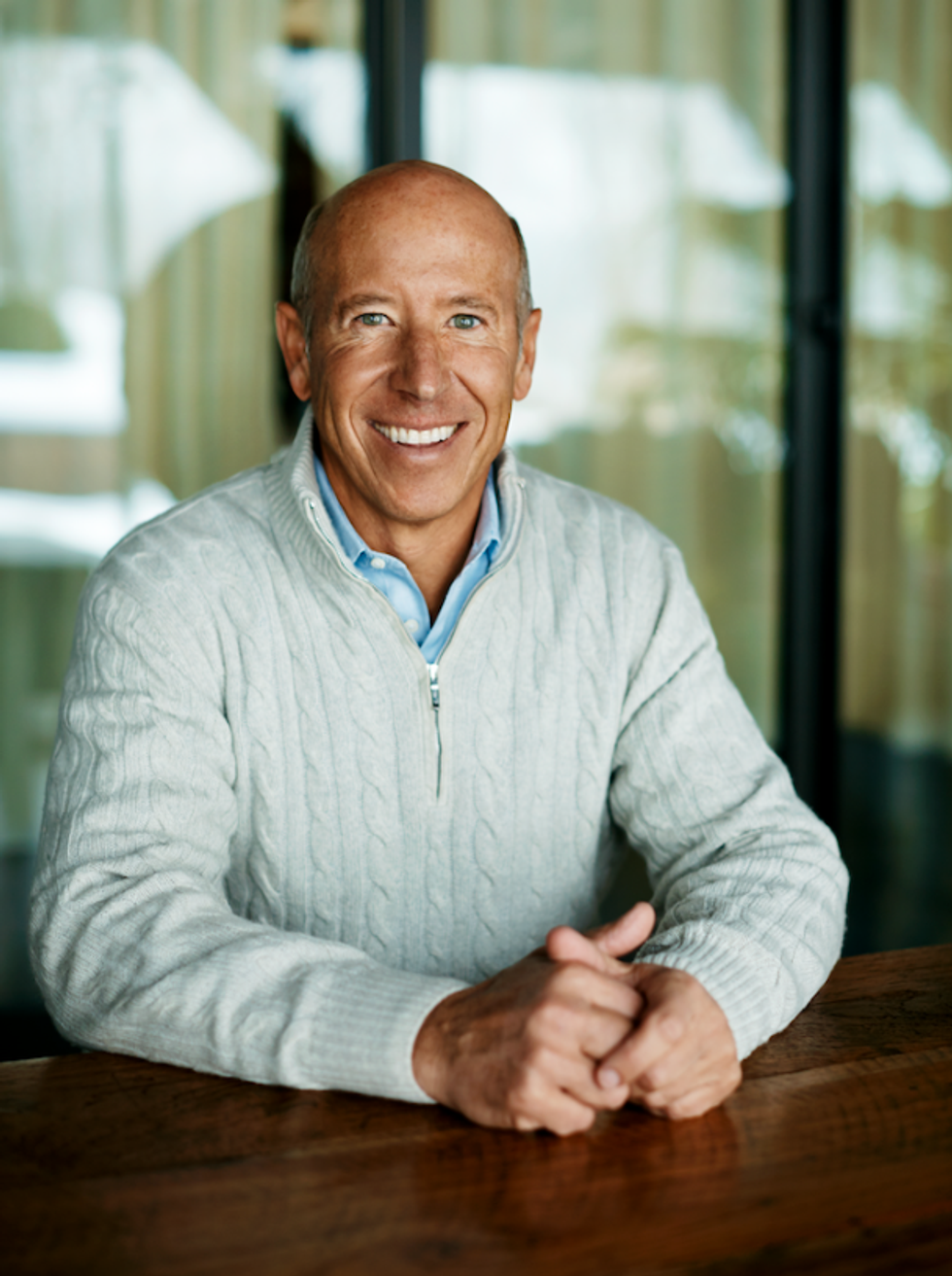 Barry Sternlicht
On the other end, there's a tech solution to the traditional in-room experience with a phone "thingy" replacing the traditional informational brochure. "On the technology side we tried to be very cognizant," he says. "We will have keyless check-in. We've tried to be state of the art for all the back of the house things with the goal of really empowering us to get to know our guests better. So when you order room service, it goes straight to the chef and it pops up as his orders. We're trying to remove human interaction so we can make fewer mistakes. One of the things I learned at Starwood Hotels that shocked me is that some 60% of hotel guests encounter a problem during their stay. Think about that. For most companies if 6 of every 10 pieces you bought at the store broke you would be out of business. In the hotel world people have come to expect that. So using technology I thought we could lower the number of guest mishaps. Some parts of the hotel are over designed and less is more. We overdid some of the things that we did. But we'll get better. We're having raging debates about what to serve in the mini bar. People love Diet Coke. But we want to serve whole pressed juices." 
A lot will be revealed when 1Hotel Brooklyn comes to life. "It's right on the water," he says, "just south of the Brooklyn Bridge on land that's leased from Brooklyn Bridge park. The city went out to operators and developers and asked for proposals for a mixed-use project, one side apartments, the other side hotel. And they loved our green ethos and they liked our design the best. So they chose us. What I loved about it is that right in front of us is the park and the river. So it's a natural setting. You'll be able to take the ferry and be in our hotel in one minute from Manhattan. And we're going to have the greatest pool and roof deck in the history of all the boroughs. We look at the Statute of Liberty and the skyline of Manhattan. There'll be fire pits, a pool with an invisible edge. Completely sick. The best thing we've ever done."
You May Also Like