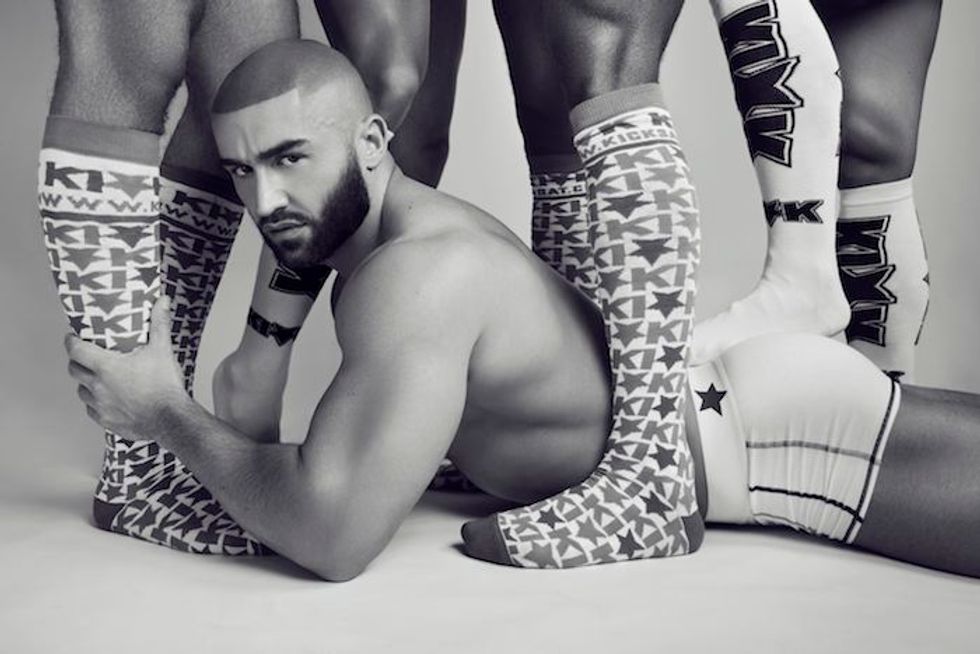 In his new column, Mr. Mickey introduces you to his MCM -- that's Man Crush Monday -- of the week. First up? Former porn star, Francois Sagat.


Francois Sagat is probably the most legendary name (and ass) in gay porn. With his star and crescent tattoos and his larger than life muscle god mystique, the French star has gone from conquering the adult film world to crossing over into more "mainstream" territory. He's starred in films for directors Bruce LaBruce and Christophe Honore, appeared in fashion projects for designers Jeremy Scott and Bernard Willhelm and been photographed by top photographers like Terry Richardson. Most recently, Sagat decided to leave the world of X-rated cinema once and for all and launch a line of clothing called Kick Sagat. He was recently in New York City for a launch party for his clothing line so, naturally, we had to ask him about his latest adventure.


What inspired you to launch Kick Sagat?

Well it's horrible to say but when we first released the collection of t-shirts, the main inspiration was ...my character! I just wanted to create a product that would remind people of my sexual image without being porn. It sold well so I decided to relaunch a real collection of clothes, sportswear and underwear and try to escape a bit from the Francois Sagat porn image by doing more prints, trying to explore a new universe and playing with a funny sexy pop and colorful world. Kick Sagat is for every kind of man and less kinky than people think!


Which countries are your biggest markets?

The best market is the USA. Also Anglophone countries -- Australia is really supportive and the United Kingdom. France doesn't come first. Japan likes the brand, too, and I hope to grow in China as well.


Which pieces do you wear the most?


I wear the underwear the most, they fit really good. I'm less attracted to wearing my own face on t-shirts. I love to wear the jogger pants, too.


Do you miss doing porn?

Honestly yes, a lot. I loved doing shoots and hanging out with other guys. But to tell you the truth, the general market doesn't really offer what I want and nowadays I feel less and less energetic in terms of handling all the promo work. I like the job itself a lot, but what's going on afterwards is less my cup of tea. And there are too many younger and hotter guys that are amazing at what they're doing.


Any plans to do a fragrance? What would it be called? What would it smell like?


We already thought about it of course! I was thinking about this tacky name "Eau de Sagat" -- it would smell like my armpits after a hard workout mixed with vanilla and citrus. Hahaha.