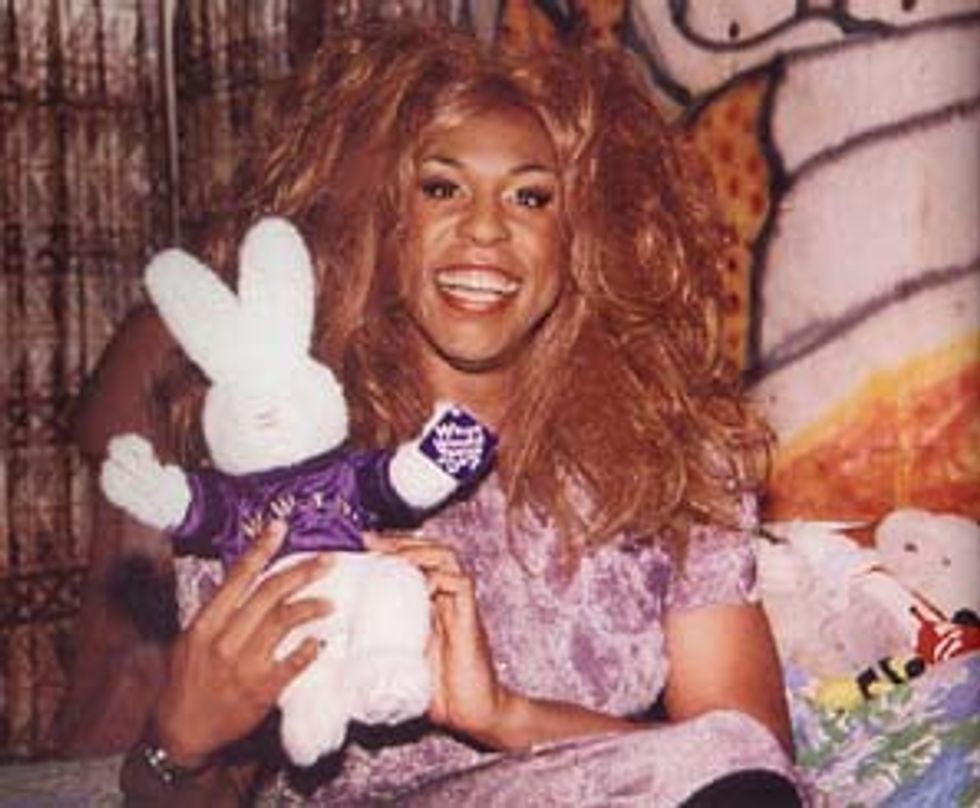 One of my favorite L.A. 'women' is the legendary punk/club impressario/performer/lecturer and all-around dazzling art star Miss Vaginal Davis! I wrote about her fab Roaring Twenties themed BRICKTOPS club in the hard copy version of PAPER way before the LA and NY Times covered it (PAPER rules!) and have known Miss Davis for... well, lets just say a while.
I first met 'her' when I put out a call to a Cal Arts friend to wrangle a gaggle of "Manson Family Glitter Rock Groupie Dancers" to appear on stage with us when Bongwater opened up for the Happy Mondays (at the infamous LA venue The Palladium, which is about to undergo a million dollar facelift!). It turned out to be a nightmare event -- the USC crowd out to see the Happy Mondays was NOT digging The Bongwater (we fared much better in San Francisco where, not so suprisingly I suppose, a big chunk of the audience was there to see us). Because the Mondays had that guy (their dealer?) Bez doing nothing but dancing on stage with them we decided we too needed dancers. Hence the Manson Glitter Kid Dazzle Dancers. Instead of having ONE dancer we wanted MANY. So one-by-one these absurdly-attired art students and LA punk rock scensters came on stage until by the end the stage was packed with dancers. The final dancer was Miss Davis, about 7 feet tall in heels and looking GORGEOUS in a prehistoric fur bikini. What a finale!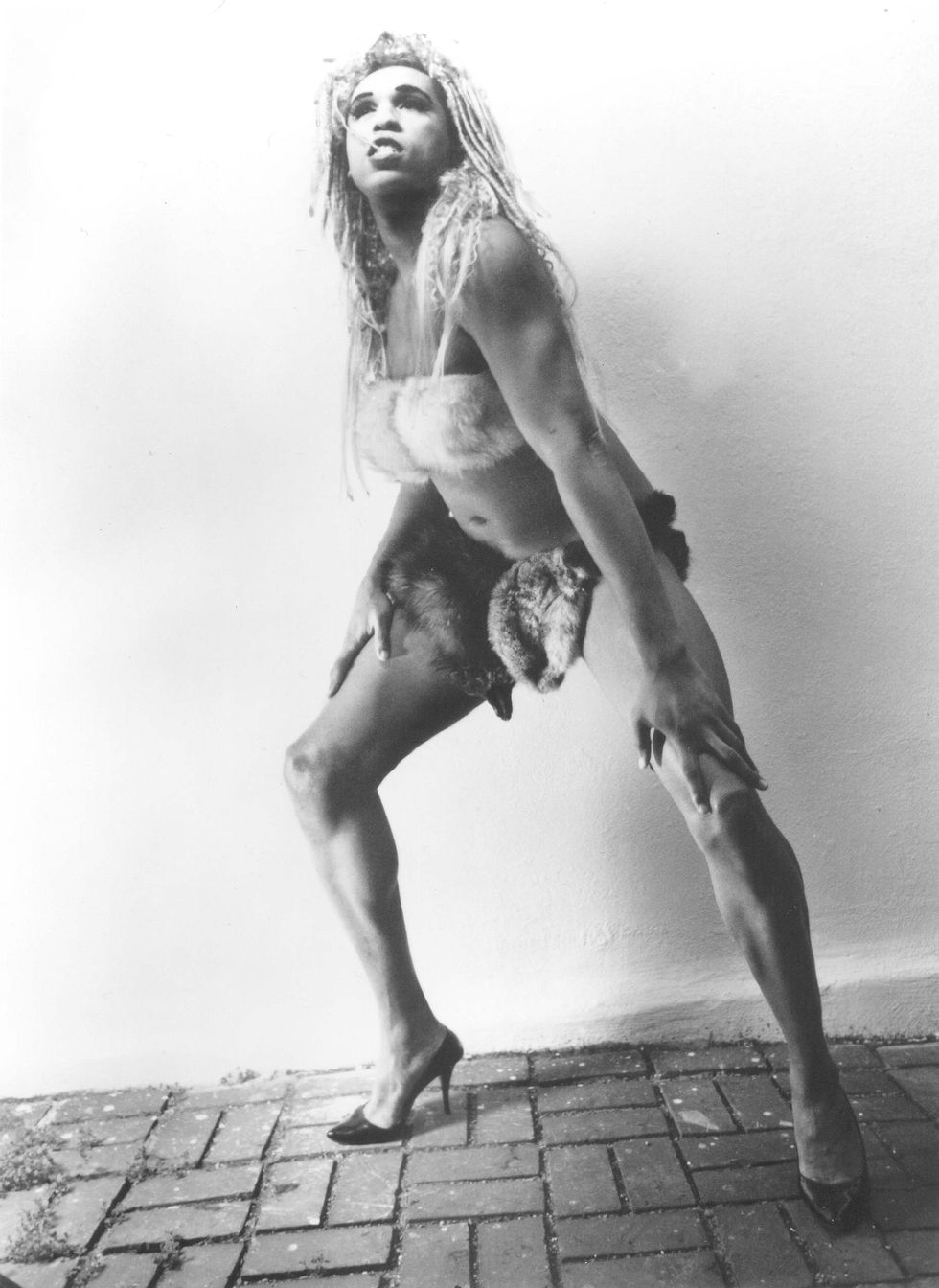 That was just too much for the alterna-frat boy Happy Monday fans and all hell broke loose. As the upteenth wad of chewing gum and lit cigarette butt lodged itself in my wig, I said to the band, "show's over," and we all scurried offstage into the shelter of our decrepit dressing room. Vag kept the whole scene lively -- and also acted as a formidable body guard!
Honey, Vaginal Davis was waaaaaay too hip for THAT room! She's also too hip for L.A. That's why this ex-L.A. Woman made her way for the uber-hip Berlin, the only place where artists can still thrive without juggling three corporate jobs and cashing trust fund checks from home. I've been hearing a lot about how Berlin is the last outpost of affordable funky/arty Downtown-ness so I asked Vag to grace the PAPER blog with her very own "Letter From Berlin". Here 'tis:
Hey Doll!
Its so great being an ex-pat here in Berlin. The only bad thing is more Americans are getting clued in, and are moving here in droves. I didn't come thousands of miles for mediocre penis. I'll take uncut cheesy German bratwurst over functional USDA anyday.
The Academy Awards came and went and i don't know who won what and couldn't care less. It's lovely not being in an industry town, and to hear people talk about other things besides trying to make it in the sad mainstream conglomerate film, music and entertainment biz.
For several years now I've been working as part of an art kollective called Cheap, based in Berlin. We curate art shows, do film programming with the Berlinale Film Festival, performance, experimental theatre, art book publishing and we even have a band called Ruth Fischer, named after a communist party leader of the 1920s.
Our latest project is subverting the kiddies at the largest Children and youth theatre in Europe,Theater An Der Parkaue. We've adapted the German classic Max und Moritz and turned it into a lovesexy musical review. I play a merry widow named Bolte, who breeds a bevy of all dancing, singing chickens who get murdered by a notorious girl gang who have one boy in the group who serves as their bitch.
In the summer we start work on a performance adaptation of the seminal Rainer Warner Fassbinder film Whitey, which Canadian auteur Bruce La Bruce will direct and will feature costumes by couture designer Rick Owens, who is also an ex-patriot dividing his time commuting between France and Italy.
I just signed a lease for a spacious apartment for only $200 a month that includes heating, and was awarded a coveted 2 year artist visa, with an option for an indefinate one, something that is almost unheard of. So i guess you won´t be running into me anytime soon at that new gelato joint in gentrified silverlake.
love and kissy
Vaginal "LuLu" Davis
www.Vaginaldavis.com
Guess we all better start learning German!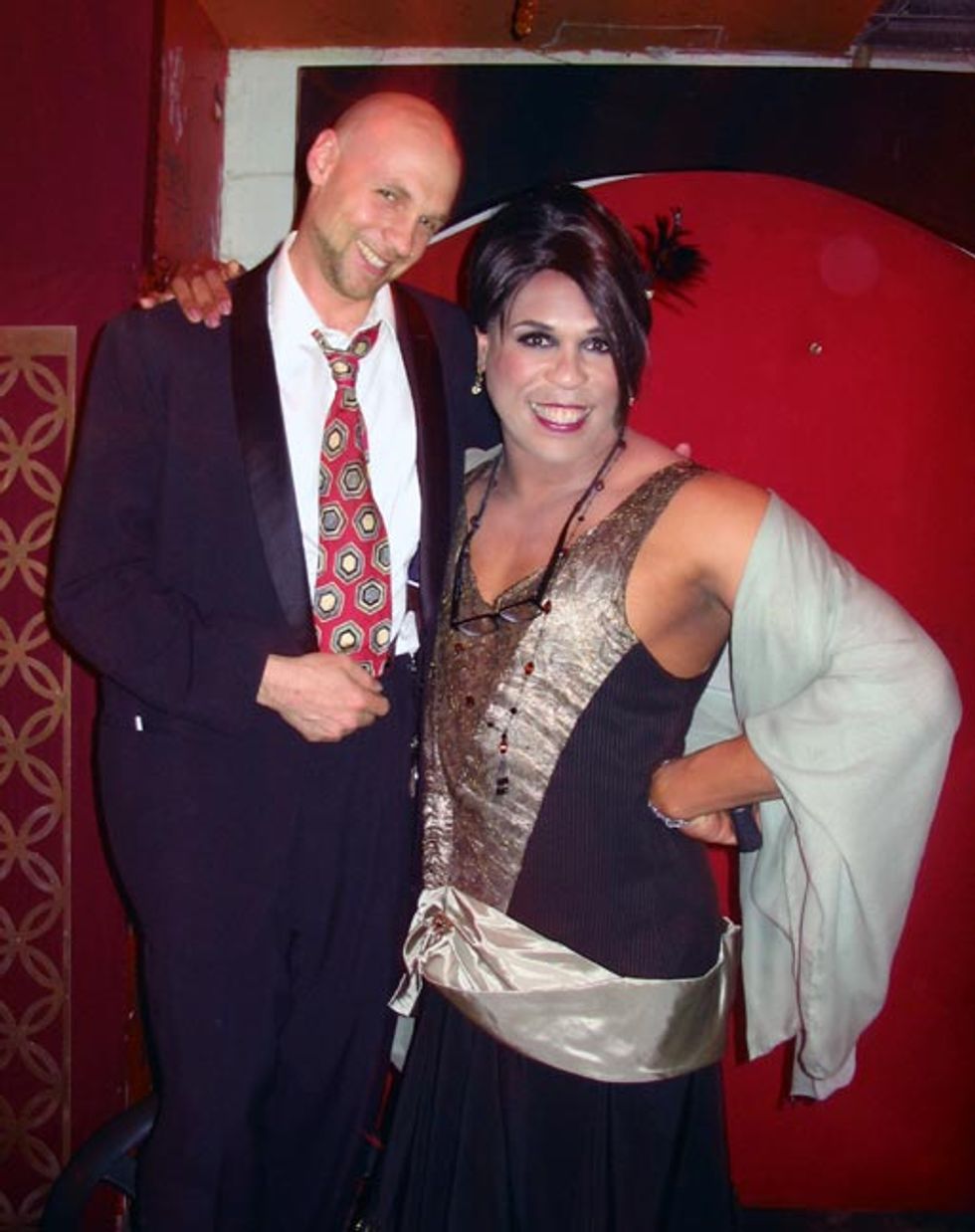 Hunky and dapper nephew of Vaginal Davis, "Ka-Johnny" Blue, and La Diva as Bricktop at Bricktops Takes Man!hattan at Siberia in NYC May, 2006. Gown by Morgan Olsen of Sweden. Photo by Billy Miller of the Manhattan Review of Unnatural Acts
Photo Longshot credits: "Vaginal Davis 1 Million BC," 1992 photo by Beulah Love, styling by i love Ricky, make-up by Glen Meadmore.