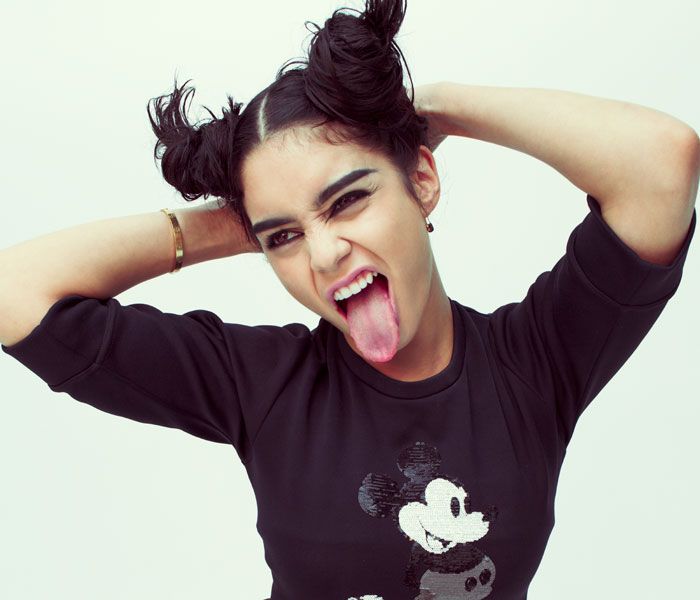 Sweater by Marc Jacobs and bracelet by Cartier.
During one magical chapter of her childhood, Vanessa Hudgens lived in Anaheim, California -- home of the 510-acre Disneyland theme park. On many days, Hudgens, her mother, and her younger sister would wake up, do schoolwork for a few hours and then head to the Happiest Place on Earth, where the family's season passes became a regular part of their home-schooling curriculum. "I don't know if it was very conducive to a good learning style," she laughs, "but it was fun."


As it turns out it was time well spent. When Hudgens was 15 she was cast as the leading lady in the Disney Channel's
High School Musical
. The 2006 TV movie not only jump-started Hudgens' acting career, but inspired a lucrative multimedia franchise.
"In 10,000 hours, they say you can master anything," Hudgens deadpans. "10,000 hours in Disneyland and you're the queen of Disney." 
During her reign, from 2006 to 2008, Hudgens reprised her role as the sweet, brainy songbird Gabriella Montez in
High School Musical 2
and
High School Musical 3: Senior Year
. She collected enough tween-centric awards and nominations to fill a Disney-licensed tote bag; dated her on-screen love interest and frequent duet partner, Zac Efron, in a highly publicized romance; recorded two studio albums--the gold-certified solo pop record
V
, and its follow-up,
Identified
; and zigzagged across the continent for a
High School Musical
concert tour. According to
Forbes
, she became one of Hollywood's top-earning young stars, alongside Daniel Radcliffe and the Olsen twins. But these years weren't all shopping mall tours and generous Mickey Mouse paychecks. In 2007 nude photographs the actress had taken ended up on the Internet. "That was just a really shitty situation that sucked," Hudgens tells me over breakfast at Kings Road Cafe in Studio City, her mood deflating for the first and only time in the two hours that we spend together. "That was by far the worst moment of my career." 
But perhaps those photos were a blessing in disguise, signaling to the world that she was not just the one-dimensional squeaky-clean face on the HSM collectible lunch boxes. She was a typical 18-year-old girl with a camera phone and a sexual appetite. Hudgens manned up and took responsibility for the pictures, apologizing to her fans. (Disney stood by her throughout the ordeal, simply admonishing the actress with an afterschool special-worthy message: "We hope she's learned a valuable lesson.")
Five years later, Hudgens is about to embark on the most crucial year of her career yet -- one which could cement her as a wide-ranging dramatic actress. After supporting roles in projects like Zack Snyder's fantasy thriller
Sucker Punch
and the sci-fi adventure
Journey 2: The Mysterious Island
, Hudgens will plumb markedly darker depths in her next three movies -- all scheduled for release in 2013. If the first of these films -- Harmony Korine's
Spring Breakers
, out March 15th -- is any indication, the 24-year-old is headed into legitimate adult acting territory -- a leap that few Disney stars have managed to land.
Korine is the unconventional filmmaker -- who shocked audiences and no doubt many parents, with his 1995 breakout film
Kids
-- from whom the idea for the wickedly original
Spring Breakers
sprung. The cra-mazing crime comedy stars Hudgens as one of four bored best friends who bust out of their small-town college and rob a restaurant to finance their spring break. After a raucous few days, the bikini-clad quartet is arrested, only to be bailed out by a corn-rowed rapper/gangster named Alien (James Franco), who incorporates them into his Florida crime scheme. After making twisted, experimental films like,
Gummo
and
julien donkey-boy
, Korine returns to the same gritty world of unsupervised teenagers that he explored in
Kids
. But he tops himself in Spring Breakers, showing uncensored displays of debauchery that would make even the hardest-partying frat boy blush.
In other words, it's a father's -- and a certain corporate mouse's -- worst nightmare. Ironically, though, it was Hudgens' father, a retired firefighter, who flagged
Spring Breakers
as a script worth reading. "He loved
Kids
so he was really excited for the project," she says, then quickly adds, laughing, "He didn't read the script, but when he saw that Harmony's name was attached to it he said, 'That's going to be a really interesting project.'"
Asked what she considers the key to making the tough transition from Disney star to grown-up actress, she says, "It's always been hard for actors to cross that bridge but honestly, you have to hold out and do what you think is right for yourself," she says, adding, "But I also think it is about finding someone who truly believes in you. Harmony took a really big jump in hiring me and [co-stars] Selena [Gomez] and [ABC Family actress] Ashley [Benson]."
Although Hudgens seems to think Korine gambled on her, the filmmaker says that he wrote the female roles with both Hudgens and Gomez in mind. In part because he loved the idea of incorporating actresses whom the audience "is not used to seeing in this way." ("This way" meaning that the girls writhe suggestively over each other, wield shotguns, take bong rips and snort coke off other spring breakers' stomachs.) Korine even suggests that it was Hudgens who took a chance on him. "From the very beginning, I'd say, 'This isn't going to be like anything else you've done before. We're going to push it. So I need you to be bold.'"
Hudgens heeded his advice. And in what Korine considers her most impressive scene -- one in which she and Benson shove a gun in Franco's mouth -- the actress not only holds her own against her Oscar-nominated co-star, Franco, but with the help of Benson, overpowers him with the kind of unexpectedly aggressive and manipulative temperament you might see in a David Lynch villain. "The scene wasn't even written like that," Korine says. "She took it to this other place where she kind of tried to emasculate him and then he ends up strangely turned on by it."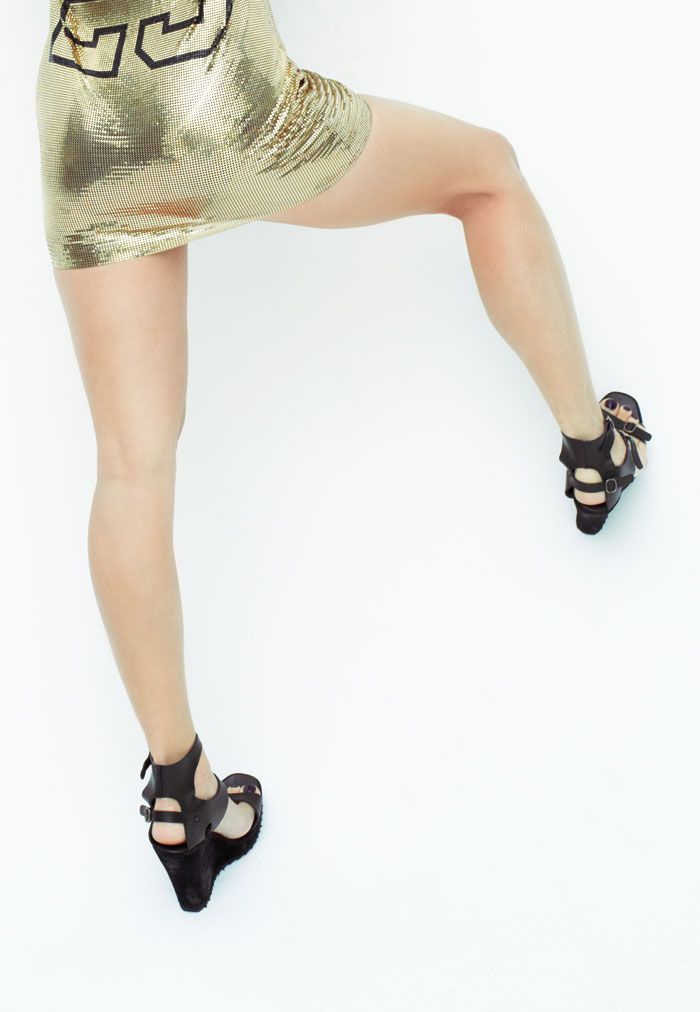 "In 10,000 hours, they say you can master anything...10,000 hours in Disneyland and you're the queen of Disney."


It was Franco, her avant-garde co-star, who attracted her to the unlikely project. ("I saw that James was already attached and I am his biggest fan. I thought, 'I need to be in this movie.'") But even though they shared intimate scenes together, including a three-way love sequence in a swimming pool, Hudgens is not any more familiar with the enigmatic actor now than she was when she first read the script.
"I still don't know him," Hudgens says in wonderment. "I have no idea who James Franco is. I know who Alien is. He's that into method acting. He comes on set as his character. In between scenes, he is still his character. When I first saw him, I was speechless because he just completely transformed himself. The way he talked, with that accent... Everything he does is so organic." She did, however, bond with her co-stars Benson, Gomez and Rachel Korine (Harmony's wife) over crushed-up vitamin B, which the actresses snorted on camera in lieu of cocaine. The foursome quickly realized that the vitamin's effect was not unlike that of the drug it was simulating. "We would run around set like mad men, and people would wonder, 'Did you switch that out with anything?'''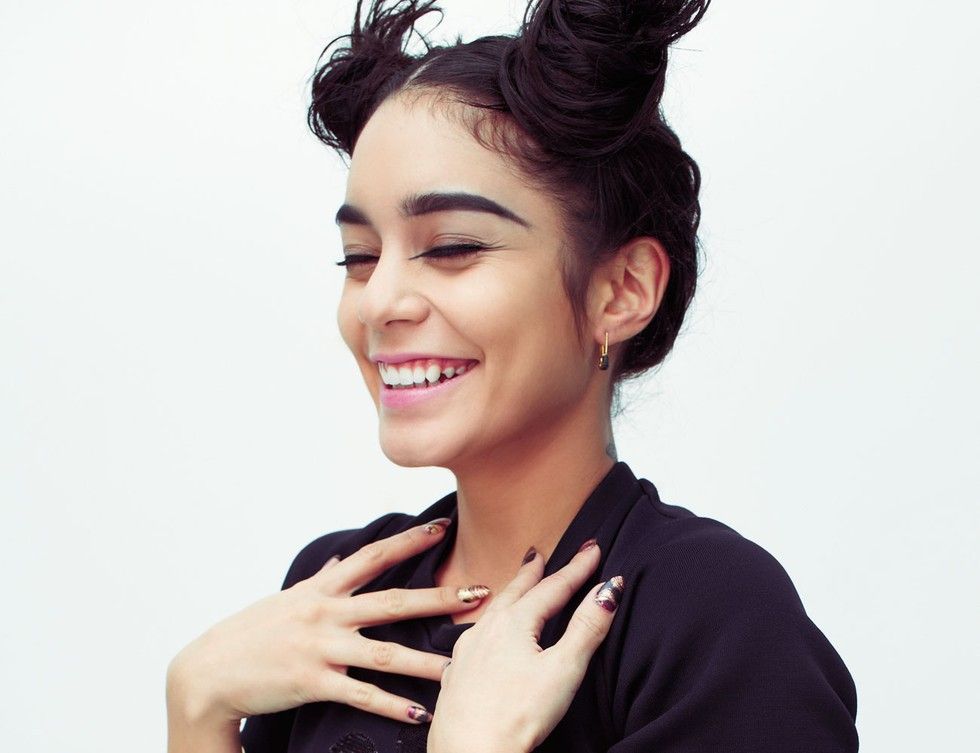 Although her acting career began rather innocently -- when she played Mary in the nativity story at age three -- Hudgens has always yearned to test her dramatic limits. She'll follow
Spring Breakers
with the thriller
Frozen Ground
, in which she plays a drug-addicted prostitute. "Ever since I was young, I wanted to play really heavy and intense roles and really push myself in a dramatic direction. So I was like, 'A prostitute! I can play a prostitute! This is going to be exciting.'"
The role that demanded the most transformation, however, is the wayward teenager she plays in the upcoming
Gimme Shelter
. For the survivalist drama, which is based on a true story and co-stars Rosario Dawson, Hudgens gained 15 pounds, chopped off her hair, wore three fake piercings and prepared by spending two weeks inside several covenant shelters for pregnant teens. She describes the film as "my
Monster
," and says she was so unrecognizable, even to herself in the mirror, that it took her time to regain her confidence and sense of self. "It's nice to be girly!" she exclaims. "I need my nails and my hair."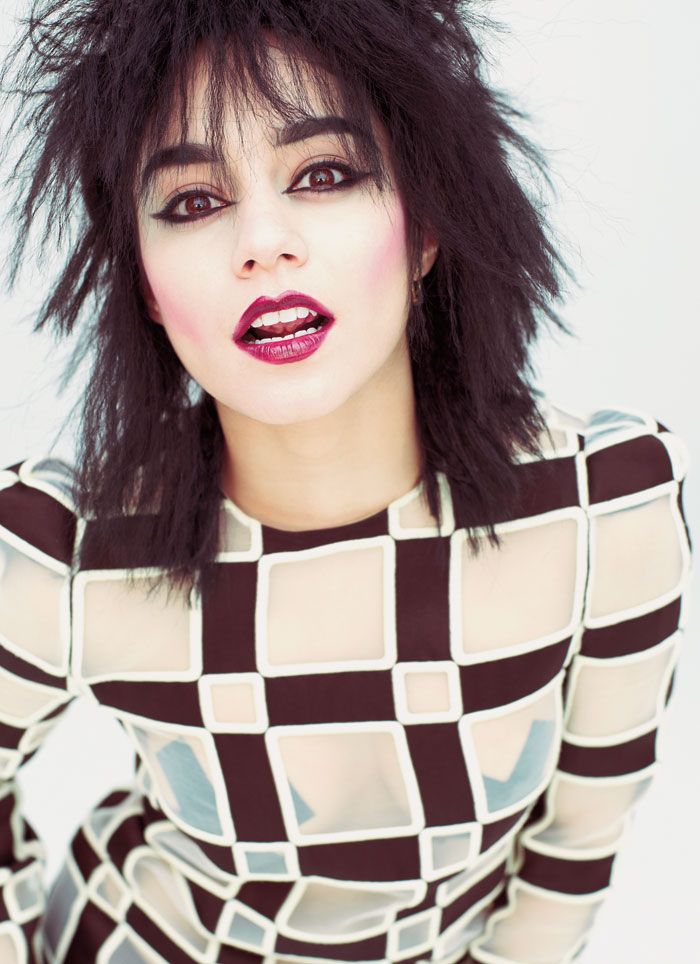 Dress by Louis Vuitton and underwear by Missoni.



Exiting the restaurant to head out on a hike, the actress protectively warns, "There are a lot of paparazzi outside, just so you know. So don't get freaked out and scared." Indeed, a swath of photographers lie in wait, and trail us to a nearby park. They document her paying the parking meter, and station themselves at the bottom of the hill to await her return. Pulling a basketball cap far down on her face, Hudgens whispers, "I'm always afraid that when I'm wearing a hat, I'm just going to run into a pole or something."

A clumsy misstep might be the most exciting thing these paparazzi could catch her doing these days. She spends most of her free time decorating her house (she just finished a Moroccan-themed room) and watching Girls and reruns of The Office with her boyfriend, Austin Butler, the handsome male lead in The Carrie Diaries.
 
The couple has been together for a year and a half but they're not quite ready for the next step -- a puppy. After cooing at several passing dogs, Hudgens laments the fact that she can't commit to canine ownership -- even if she was a successful surrogate to her sister's toy poodle, Moonshadow. "I took her with me to shoot a movie once. After that, I realized it's a lot of work, and she was kind of bitchy. I'm always traveling, so it's hard."
 
As we round a bend and overlook Los Angeles on an unexpectedly clear day, our conversation returns to Disneyland. The actress still adores her frequent childhood destination, and after a recent visit to the park's legendarily private Club 33 -- the only place in the park that serves alcohol -- Hudgens has a new appreciation for her former home away from home. "There's nothing more fun than being drunk at Disneyland," she giggles. Vanessa  Hudgens has officially left the theme park.


Styled by Heidi Bivens  / Hair by Adrian Clark / Makeup by Stevie Huynh at the Wall Group
Produced by Ahmer Khan at Jed Root / Photographed at Dune Studios

Fashion Coordinator: Kelly Govekar / Stylist's assistants: Jake Skolnick and Connor Krill Photographer's assistants: Paolo Stagnaro and Austin Kennedy