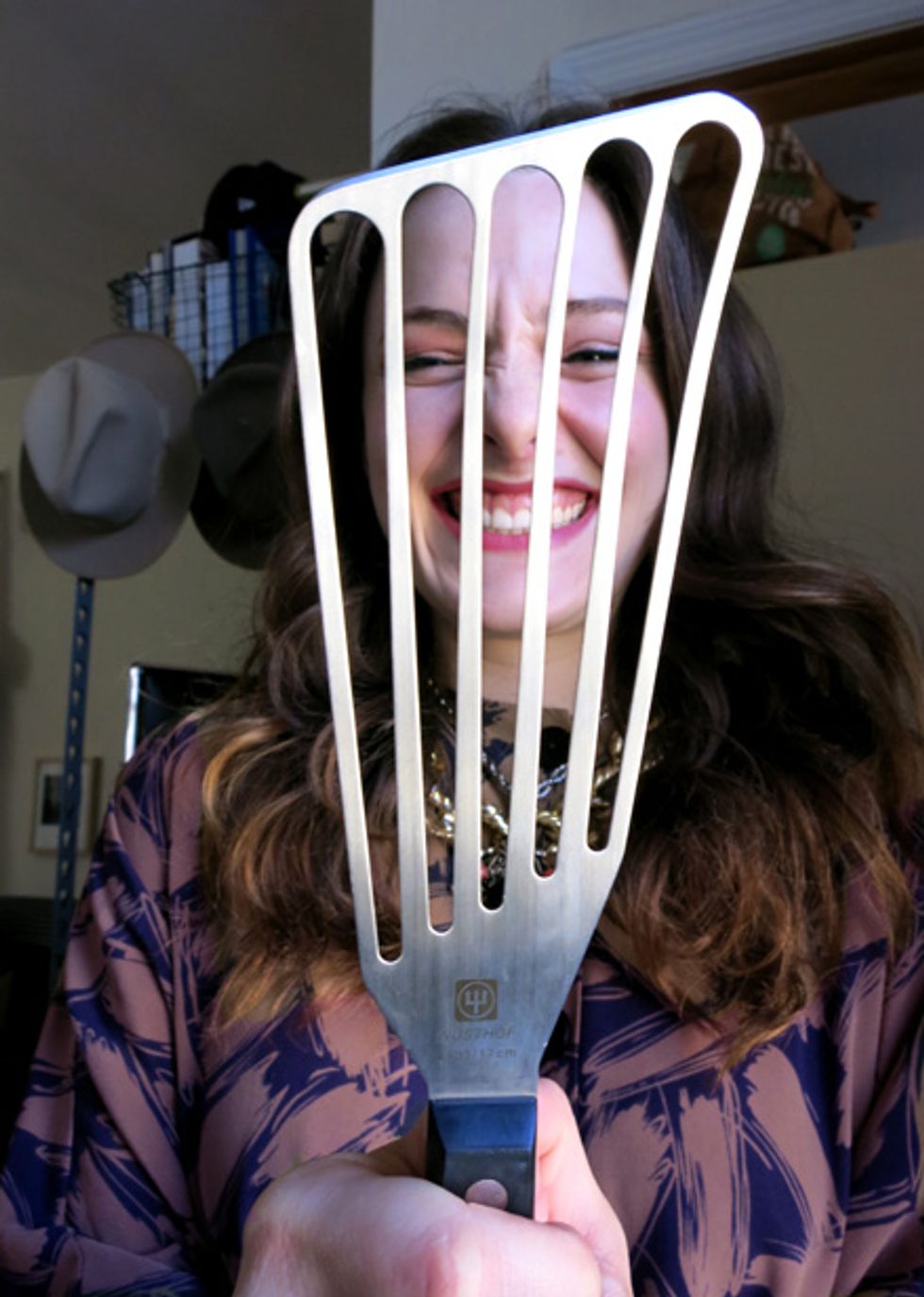 In our ongoing series, "Ladies Who Lunch," 2014 Beautiful Person, cook, co-founder of catering company bigLITTLE Get Together and Marc Jacobs' personal chef, Lauren Gerrie, will be whipping up lunch -- and conversation -- with some of our favorite New York City gals.
Although she hails from the Los Angeles enclave where the Kardashians currently reside, food blogger and photographer Julia Gartland is the furthest thing from the '80s stereotype of a "Valley Girl." Eloquent and insightful, Gartland got her start as a photographer by documenting friends during the "live journal" era (think: angsty shots of her teenage experiences collected in journals titled "Pink Eyeliner", "Tequila shot," "_transparent," and "impacts"). She eventually moved to the big city to attend Parsons and it was during this time that she became struck by a slew of digestive problems, which lead her to become educated about gluten-free cuisine and eventually fall in love with cooking. Shortly thereafter, she launched her gluten-free food blog,
Sassy Kitchen
, and the rest was history.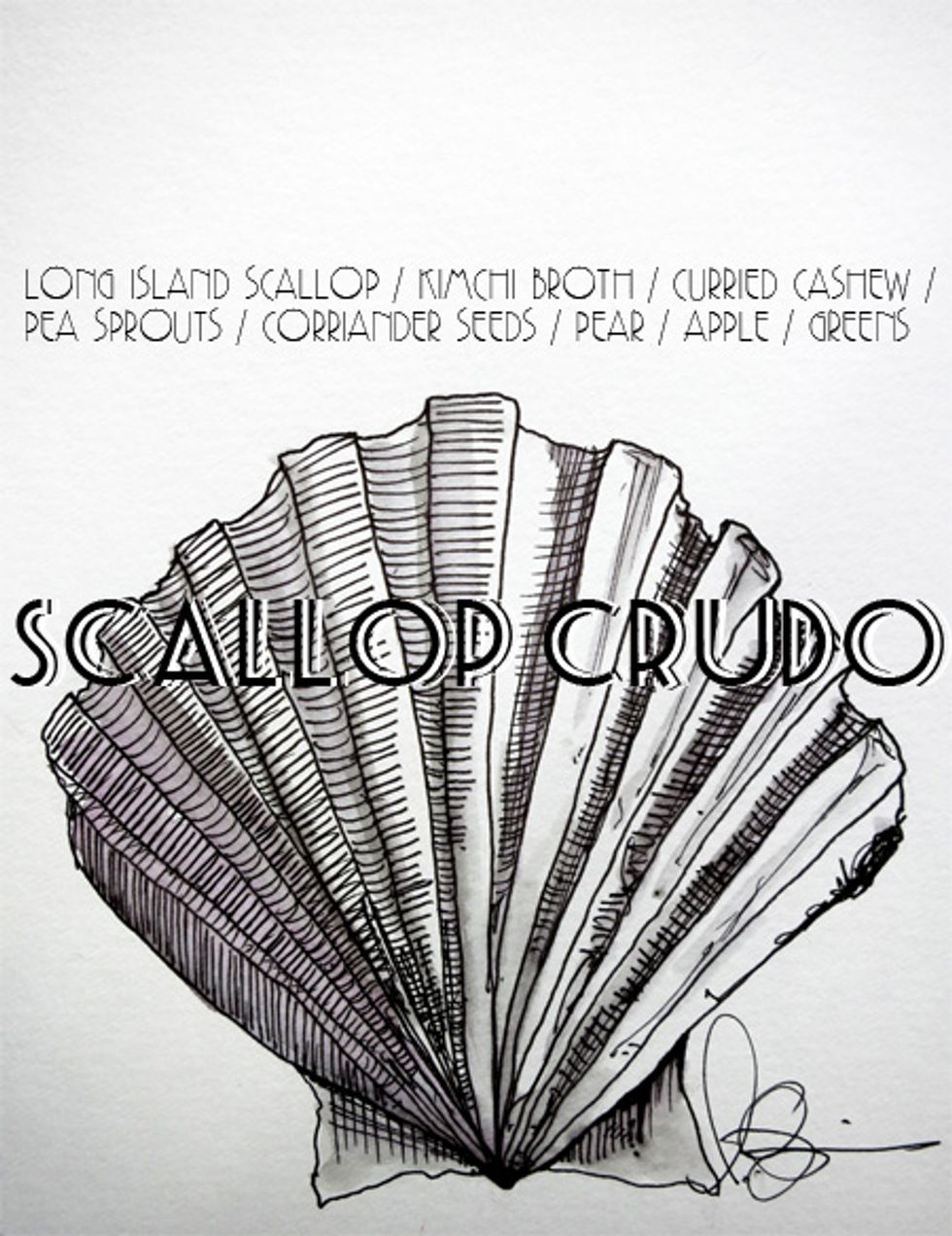 MENU
*
Scallop Crudo with Kimchi Broth
*
Curried Cashew / Pea Sprouts / Pear / Apple / Corriander Seeds / Kale Microgreen / Buckwheat Honey
What was your first job in NYC?
In school I was working at the organic juice bar in the Great Jones Spa. My skin looked fucking amazing, even though I was working for pennies. Then I worked for a photography workshop called Digital Photo Academy. Once out of school, I took a job at Trunk Archive. And now I'm doing freelance for food stylist Michelle Gatton and concentrating on my blog Sassy Kitchen.
From one Cali girl to another, what is your eternal West coast food craving?
In-N-Out. After soccer practice growing up it would be a real treat for us to go get burgers and fries. My mom also made this pasta -- I mean it was Prego or something -- with ground turkey. It was her special spaghetti that everyone always wanted. Her special touch.
When you go back now, what is your first stop?
Gjelina
and Intelligencia coffee. My dad recently moved to Manhattan Beach, so we are always eating and hanging on Abbot Kinney. I also love
Tasting Kitchen
. There is another great place called
Manhattan Beach Post
that has simple delicious food.
You post a lot of Instagram images centered around breakfast and brunch. Is that your favorite meal?
YES for sure hands down. Now that I am freelance I have a different relationship with lunch -- I'm enjoying it more. By dinner time I really just want a drink. You can't beat a breakfast salad with arugula, quinoa, avocado, radish, sunflower seeds, eggs. If you are hung over and nothing feels right have an arugula salad. It fixes the imbalance. I also love avocado toast with a fried or poached egg. Anything with a runny yolk.
What's the one condiment you could eat like real food?
I eat
a
lmond butter by the spoonfuls. I also like Maille mustard. I tried to make mustard once. Never again, there are so many good ones out there already.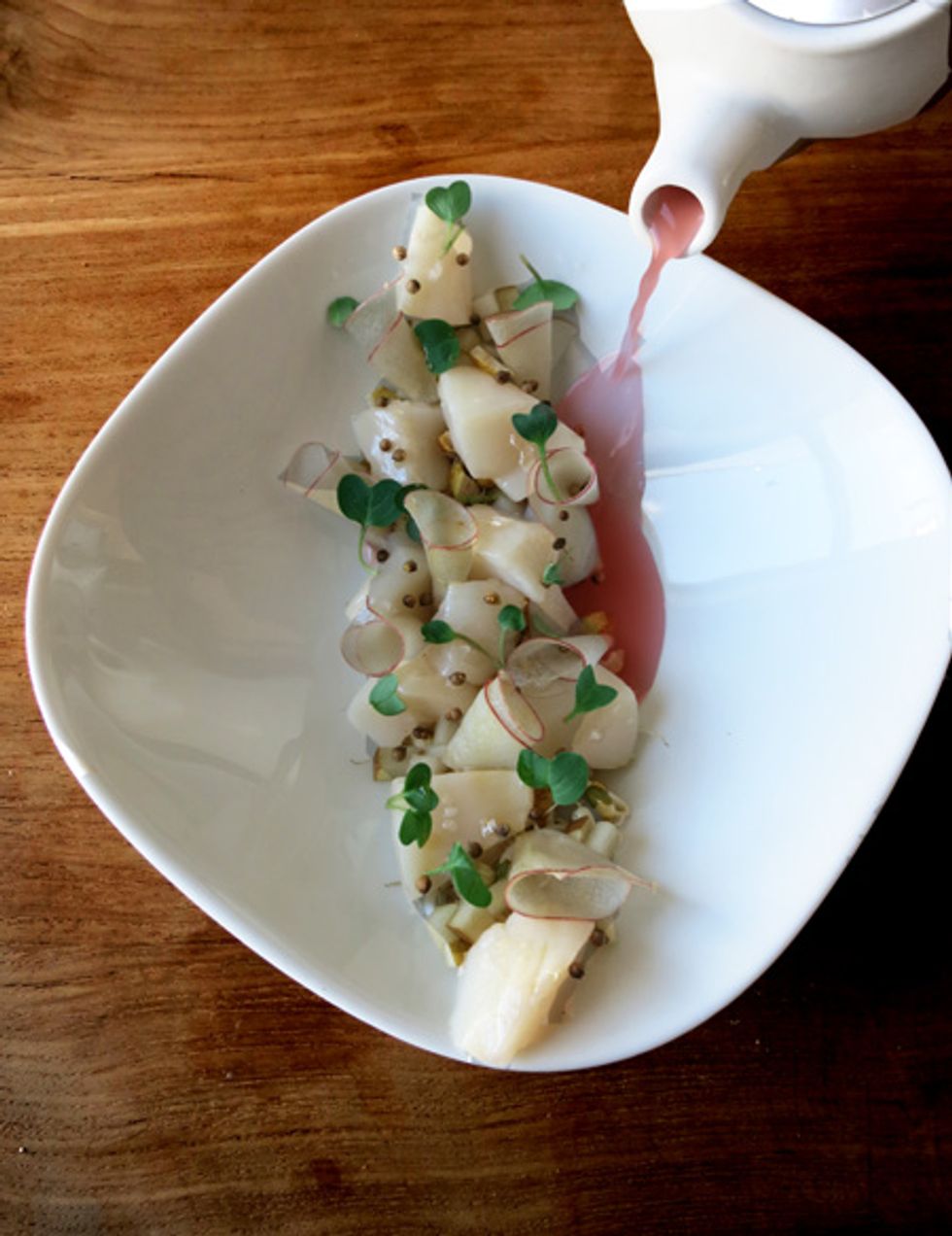 Can you think of the worst meal you have had in NYC?
This place in Carroll Gardens called Arthur, which is now closed. It was New Year's Eve and they were accepting walk-ins. We had the grossest Caesar salad with a basically uncooked egg on top. My boyfriend had the most overcooked pork chop. I think I had some sort of tomato broth with mussels. Ehhhh it was so bad. I would give them another chance if I had to, but that meal was not good. $200 later I was like "that was not worth it!"
And the best meal you've had in NYC?
Recently
Glasserie
. I went for my birthday and it was such a wonderful experience. I can't eat the bread, which is what everyone talks about, but we had this feta sauce I will never forget. I love all the little sides, too. For dessert we had the chestnut cake that was gluten-free and great. My all-time favorite NY spots are
Franny's
and
Northern Spy
. The food is always good and so homey.
If the world is your oyster, where would you go eat?
My family just took a trip to Tuscany and stayed in the town of Castellina in Chianti. We went to this tiny little restaurant, Osteria Pastececi, three times in the two weeks we were there. The host and owner was so gracious and she took care of us. The menu was nondescript and then these gorgeous plates of pasta would come out that you couldn't get enough of. I actually ate gluten there, but my stomach wasn't affected. With all the bottles of wine, bread, and pasta I thought I was going to die, but instead I felt like a million bucks. It's amazing how fresh unprocessed foods make you feel.
If NY wasn't home base would you move back to LA?
I like the idea of living in San Fransisco. The environment and culture there are my speed. I also don't like feeling hot, so the weather there is tempting. I've thought about Portland, but that seems so over and boring.
If you weren't a photographer what do you think you would be or who?
Hmmm... if I could be anything I would be what's her name on
Law & Order: SVU
. I would be Mariska Hargitay!!! She is so passionate about saving people's lives. I have that complex where I would be a super hero and save people.
If you could have lunch with one other lady...who would it be?
Could it be Julia Child
and
Meryl Streep? I would love for us to all make lunch together. I imagine Meryl Streep making the most delicious food because she is so perfect. She is an angel. I mean whose hair and skin are matching? She is just a ray of light.