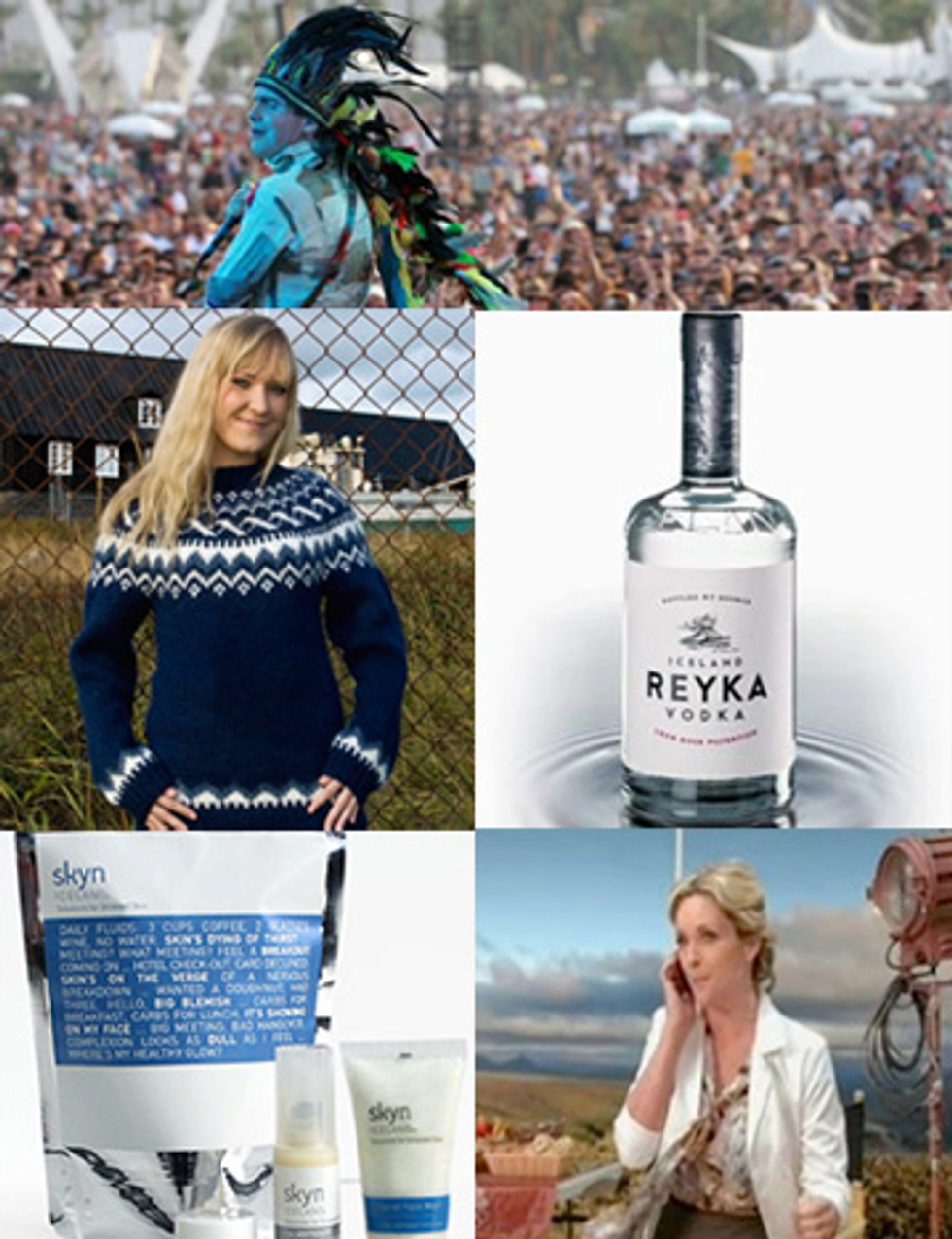 Poor Iceland! What with the volcanic ash from Eyjafjallajokull continuing to cause massive air traffic disruption, there's been lots of anger directed towards the land of puffins and geysers. The country is also in the midst of a major financial crisis. Which is why we have compiled five simple ways you can do you your part to keep Iceland's spirits afloat.
1.
Listen to the new Jónsi album
.
Last week,
Sigur Rós
frontman
Jón Þór Birgisson
released his much-anticipated solo album under the moniker
Jonsi
. Featuring
Nico Muhly
's stunning, jaunty arrangements,
Go
is upbeat and ecstatic in ways that Sigur Ros's albums sort of haven't been of late. Over the weekend, he performed at Coachella and made for quite a
sight
. Buy the album
here
.
2.
Buy yourself a chunky knit
.
If those Icelanders know one thing, it's how to keep warm and cozy with a nice chunky knit. You, too, can look chic and Nordic with this traditional navy pullover made from Icelandic wool. Buy one
here
.
3.
Drink some Reyka
.
When a chunky knit just won't do, Icelanders drink. A lot. So make like a native and guzzle down some yummy
Reyka
vodka, a "green" vodka
distilled using sustainable geothermal heat.
It makes doing something very un-pure (i.e. getting wasted) at least
feel
pure.
4.
Moisturize
.
When we went to Iceland this past fall, we spent a very rushed 15 minutes before our flight back to New York in the Blue Lagoon, a geothermal spa featuring steamy waters and very cool, creamy minerals that we rubbed on our face. It was a pretty amazing 15 minutes, but we got some of our hair in the water, and we swear, it has never quite been the same since. And not in a fun way. Anyway, Iceland is home to some very pure natural minerals, many of which are used in Icelandlike skincare line
Skyn
's products. We regularly use and enjoy Skyn's under-eye cream. Check out this cute little "
Mini Fundamentals Kit
," which features travel-sized containers of Skyn's three core basics.
5.
Watch the 30 Rock episode in which Jenna films a movie in Iceland
.
This isn't so much helping Iceland as it is just a fun thing to do. In season 4, episode 2, Jenna has to leave the set of
TGS
in the middle of the summer to go to Iceland in order to film a "sexy supernatural thriller" in which she plays a moon scientest/werewolf who is "getting to the bottom of things." Playing a moon scientist who turns into a werewolf at night inevitably poses some problems -- since during the summer in Iceland, the sun rarely sets. Hilarity ensues.  Watch a clip
here
.