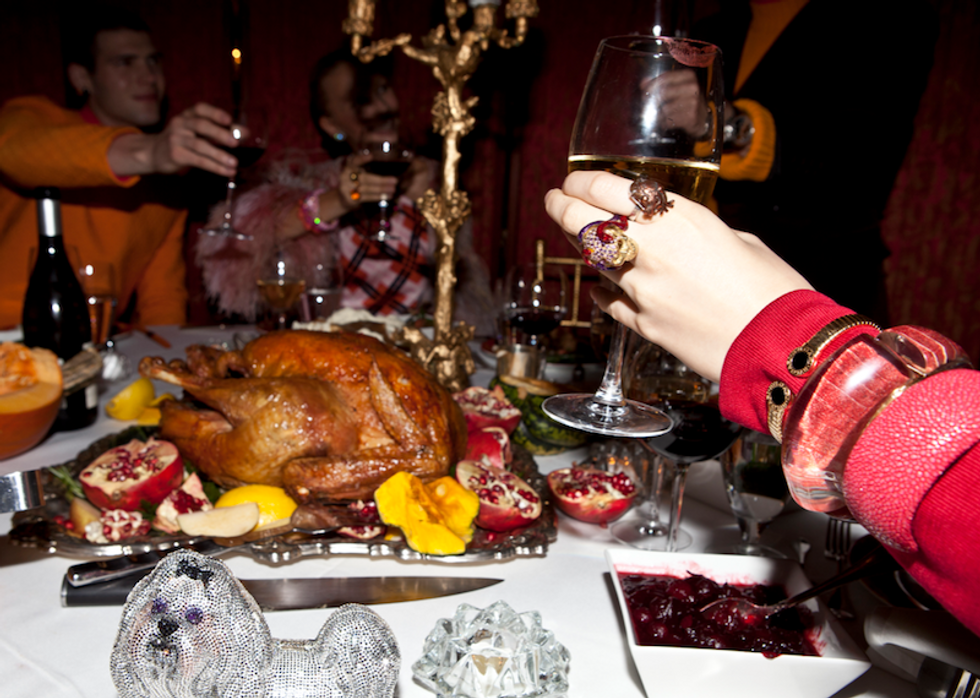 The Russian Tea Room:
Per
our fancy pants photo shoot
, put on your velvet and furs and knock back a few vodkas with your blinis and caviar. Even if the snow has not made itself known by next Thursday, a fur muff in the house of the Ruskies is always apropos. 
The Breslin:
Should you want to travel with 8 to 10 in tow, the Ace's Michelin starred team will feed you a heap of quivering roasted meat (provided you've secured a reservation). However, should you just prefer to hover at the bar with a pint and a piece of pie, The Breslin's homey English hipster vibe is the perfect setting in which to observe family meltdowns from afar.
Freemans:
If you're looking to adopt some Lower East Side brothers and sisters, sit it down at Freemans and order the signature cocktail (rye, lemon, pomegranate molasses and orange bitters). Turkey is totally optional, taxidermy is not. Wander over to sister restaurant
Peels
for dessert with your newly found family.
Rye:
Tucked away from the domestic madness, Rye's lowly lit and highly polished bar will allow you to rest your holiday weary bones with a classic Jack Rose or Old Fashioned, minus scrutiny and squealing from the kids' table. 
Daddy-O:
If it's Thanksgiving and you had to work, or you just didn't feel like making a fuss, or you did and you need to escape your nutty Aunt Betsy, Daddy-O promises a laid back, West Village corner in which to hide -- plus all the tater tots your turkey-hating heart could ever desire.
Photo by Jessica Craig-Martin