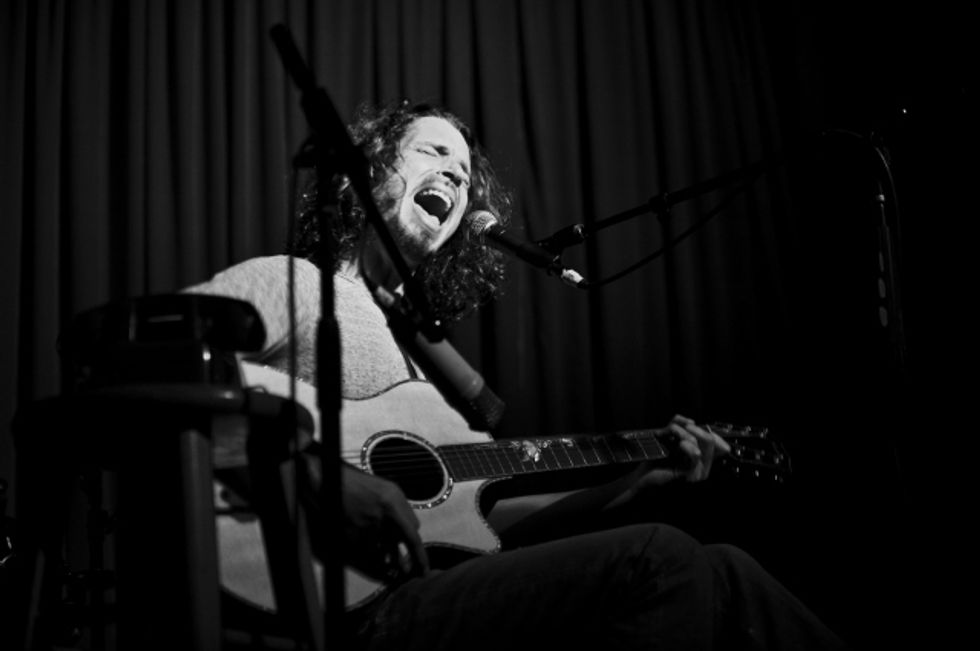 Looking like
Johnny Depp
with a Jheri curl (compliment!),
Soundgarden
singer
Chris Cornell
was in true form last night for his performance at Times Square's Town Hall Theatre. Here are some highlights from the sold-out acoustic show:
1. Cornell's rousing rendition of "She Can't Change Me":
One of the best parts of Cornell's acoustic-only gig was that it allowed for a newfound appreciation of some of his campier, more musically cluttered jams. "Can't Change Me" was one of those songs I never really understood, but it turns out all I needed was for Cornell to serenade me with his guitar and powerhouse vocals. Now all is right in the world.
2. Fun Facts
Cornell wasn't much of a VH1 storyteller type during the performance, but he did let loose a few little nuggets of interesting info. For example, did you know Chris wrote "You Know My Name," the theme song for the James Bond film
Casino Royale
, because he had an affinity for the acting styles of Sir Daniel Craig? I didn't know he loved D. Craig too -- we have so much in common!
3. Little Chris
At one point in the show, Cornell brought his precious five-year-old son, Christopher, out to the stage to sing a duet. Well, it wasn't as much of a duet as Christopher adorably strumming an imaginary guitar as the crowd cheered him on. One thing's for sure: Chris' little guy is a budding rock star -- he even gave the crowd high-fives as he made his exit! "How am I gonna follow that?" Chris so aptly noted.  
4. A Ghostland Observatory cover


In an unexpected move, Chris broke out an acoustic cover of electro-duo
Ghostland Observatory
's "Sad Sad City." The result? A wonderfully fresh  rendition of the song that made its bass-booming counterpart a distant memory.
5. A "Black Hole Sun" sing-along
In the last leg of the two-hour show, Chris commanded that everyone stand up on their feet (they obliged) and sing the Soundgarden classic "Black Hole Sun" with him (they did). With that song, Chris proved that he is without a doubt just as talented, if not more talented, then he was when the song was released in 1994.