"Beware of the cream sauce!" is my familiar cry when it comes to NYC's fancier restaurants. After all, a whole bunch of these chi-chi eateries happen to be on the sites of places that were way more raunchy, back in New York's fabled past. Here are some upscale boîtes (and other establishments that tourists flock to) that used to cater to downscale…well, you come up with a rhyme.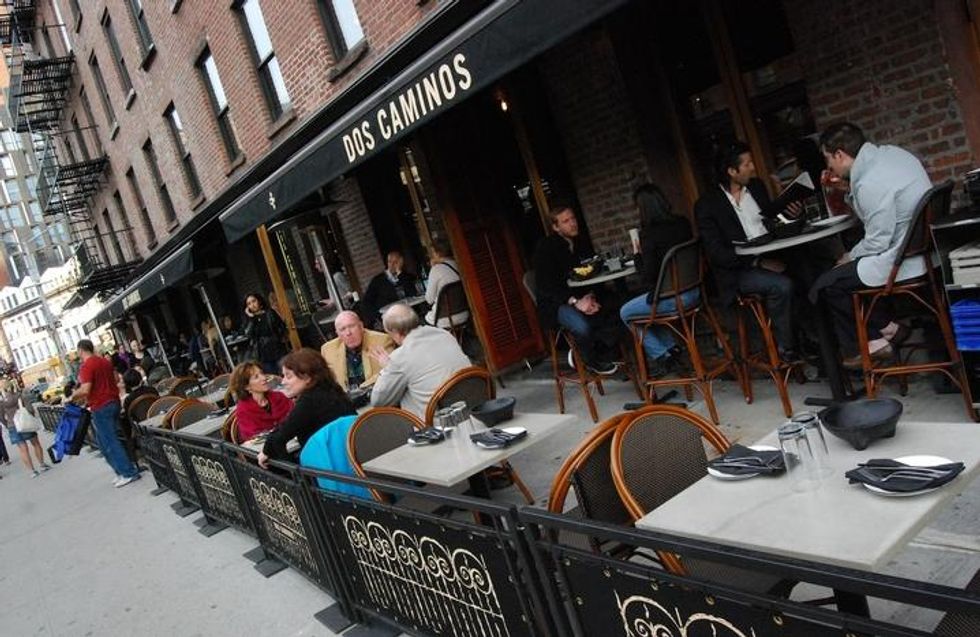 DOS CAMINOS (675 Hudson Street)

Delicious Mexican food, swanky patrons, and lovely outdoor seating all comprise the success story that is Dos Caminos. But did you know that at this Meatpacking hangout, meat used to be seriously packed? The place used to be the Vault -- the hardcore S&M club where CEOs got whipped and waxed until 1997. There are also two other Dos Caminos restaurants in Manhattan, and only Shirley MacLaine can imagine what they were in a past life.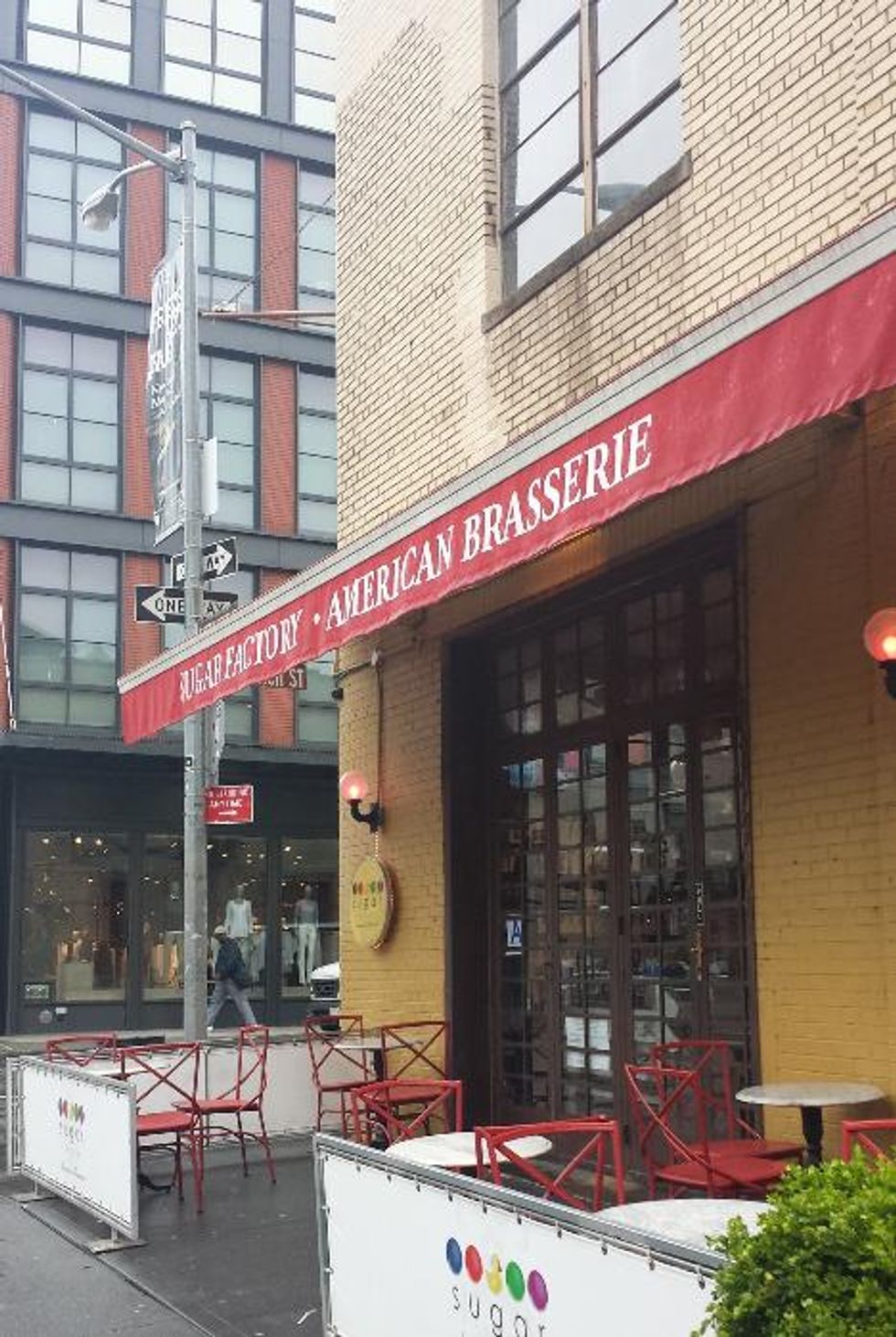 SUGAR FACTORY (835 Washington St)

"We shared one of the coolest drinks called a goblet that had gummy bears in it and had dry ice fog coming out of it!" gushes one Yelp respondent about this cutesy eatery. Another one recommended "a Rice Krispie treat with icing on top and a sparkler." Quaint, no? But from 1977 to 1985, this place happened to be the Mineshaft, the most notoriously raunchy gay sex hangout of all, where studs congregated around the communal bathtub to relieve themselves on a willing slave. And it wasn't because they'd had too many Rice Krispie treats!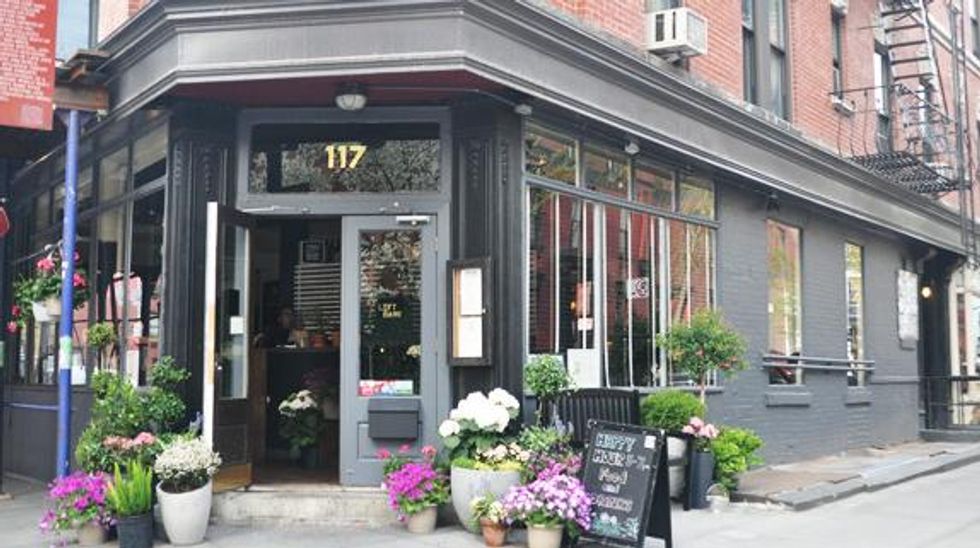 LEFT BANK NYC (117 Perry Street)

At this high-toned American restaurant, grilled pork sausage with crispy russet potatoes and pickles cost $24. But in the 1970s, when it was the International Stud, pretty much the very same dish was free! The Stud's legendary side room was home to a clusterfuck of horny gays yanking out their sausages. Today it's a kitchen for pork and pickles!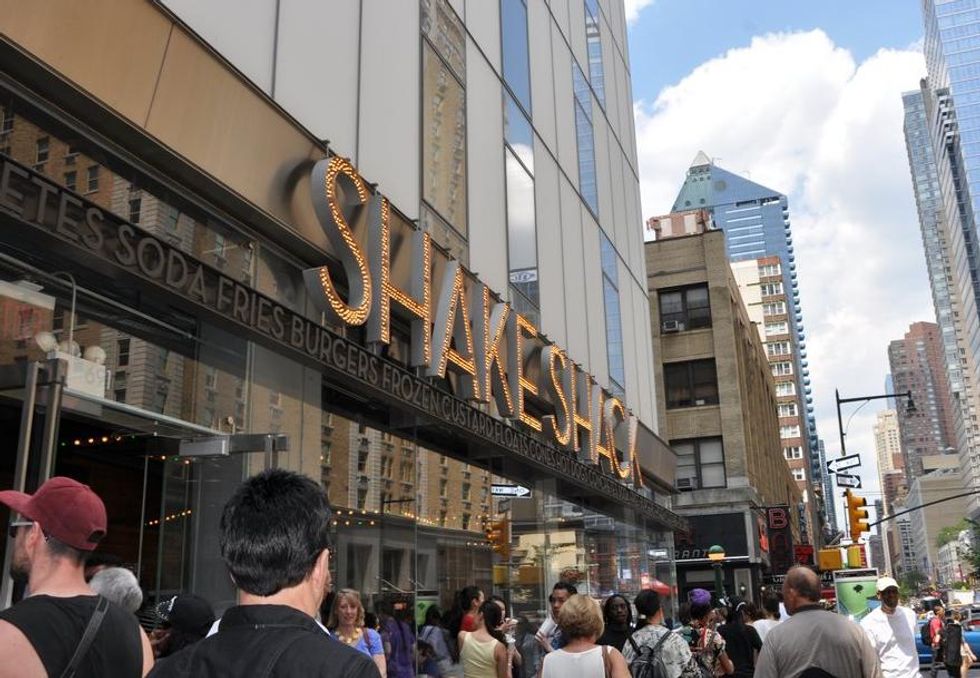 SHAKE SHACK (691 8th Avenue)

Tourists line up for upscale burgers and other treats at this Times Square destination known for sassy snacking. Little do they know that on the very same site was the all-male porn theater the Adonis, which, until its shuttering in 1994, hosted dirty movies and raunchy real-life blow jobs among the customers, all creating a multimedia skankfest of delight. Lots of hot dogs on display! With cheese!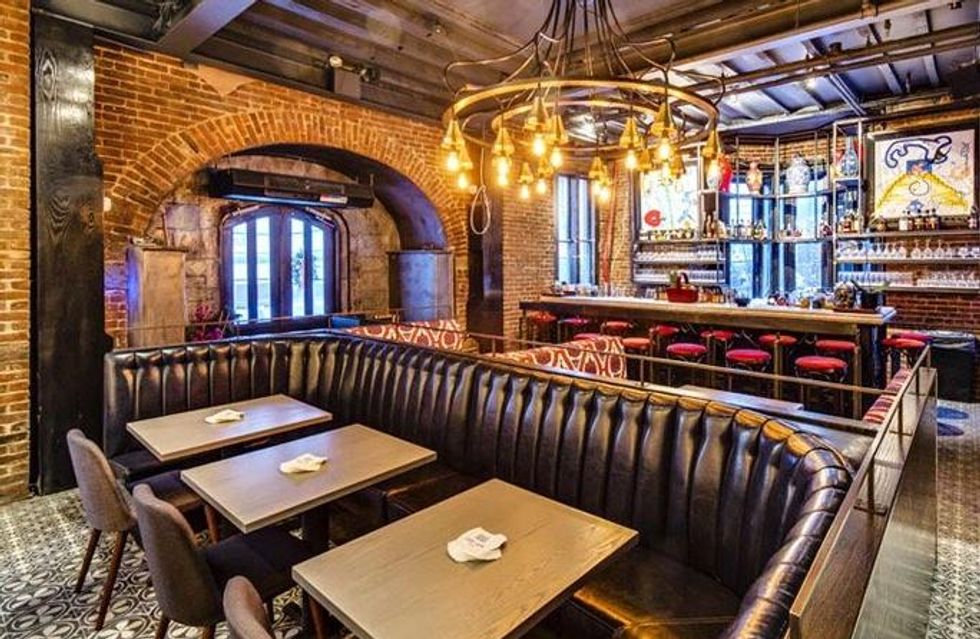 JUE LAN CLUB AT LIMELIGHT SHOPS (47 W. 20th Street)

Swanky Chinese spot Jue Lan Club joins a genteel assortment of accessory, scent and gelato boutiques in this multi-story mall, but back in the '80s and '90s, it was the nightclub the Limelight, the mecca for raucous clubbies on drugs and occasionally on their knees. The stuff you saw in the stairway alone! This location definitely has range (and I hope has been seriously fumigated).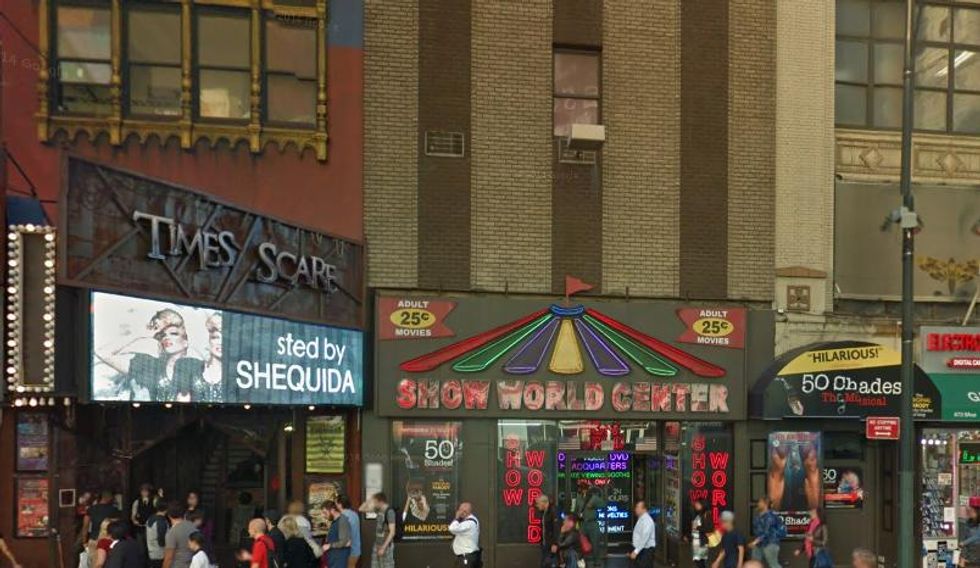 SHOW WORLD CENTER (671 8th Avenue)

This shiny emporium is now the site of comedy shows, magic tricks, haunted houses, and theater, all enjoyed by tourists and their spouses. But it used to be a peep show where porn stars swept in to flaunt their wares, greet their trenchcoat-wearing fans, and leave in a cloud of Fantastik.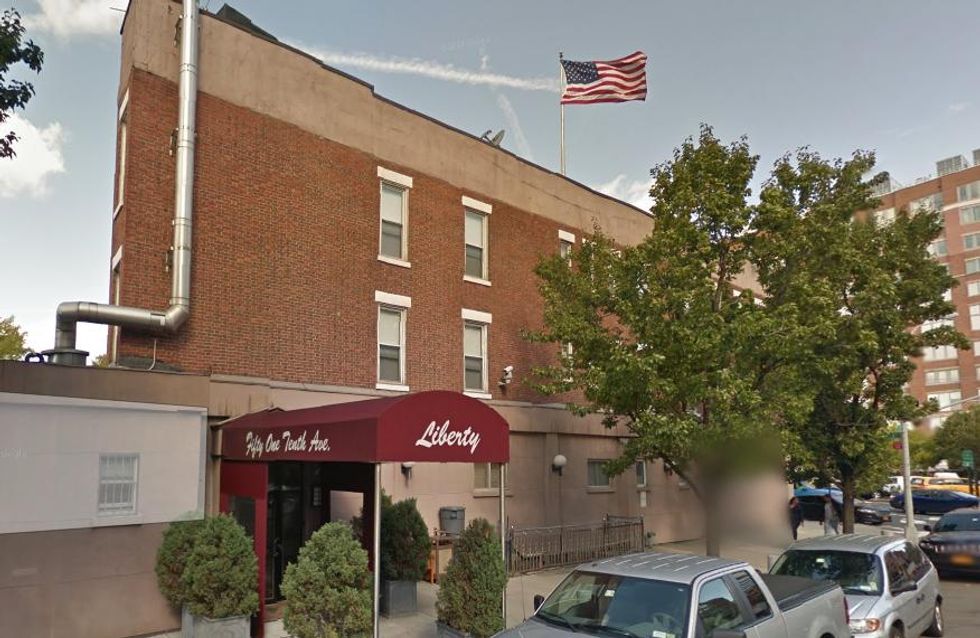 LIBERTY INN HOTEL (500 W. 14th Street)

Yes, this is a sexy hotel, where you can apparently rent by the hour, but it used to be way steamier than that. From 1974 to 1986, it was the multi-level gay sex bar the Anvil, where you were afraid to raise a fist at anyone, for fear it would somehow end up in their butt. Ah, the memories.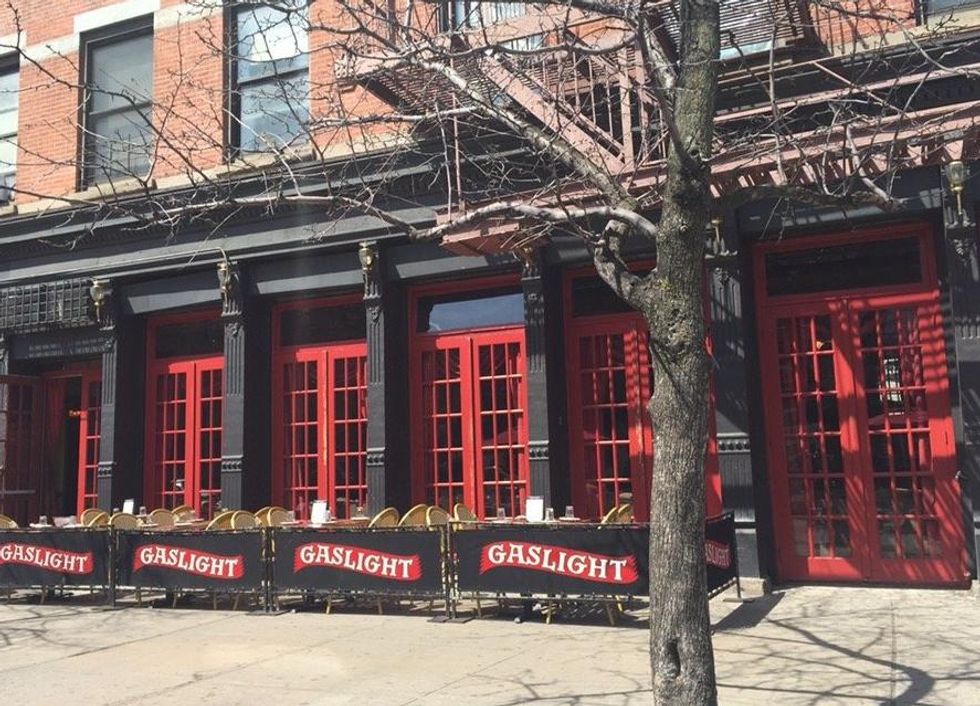 GASLIGHT LOUNGE (400 W. 14th Street)

Sandwiches, wine, and dancing are the key elements at this perfectly delightful Meatpacking pub. "And clean bathrooms!" exults someone on Yelp. That's ironic because it used to be the Toilet, a naughty gay dungeon that totally lived up to its name. Beware of the cream sauce indeed!

You May Also Like