Seen as a fad that '90s kids were obsessed with along the lines of Pokemon or Magic: The Gathering, fingerboarding has actually evolved into a thriving community that includes competitions, Internet videos and even professional sponsorships. Chris Daniels, 31, who's one such sponsored fingerboarder, has been doing ollies and hardflips with his fingertips since he first picked up a 100-millimeter-long board 20 years ago. Here, he tells us about his life as a champ on the (mini) ramp.
—
Back in 1998 when I was in the sixth grade, I was at a Stanford swim camp in California when I saw these kids playing with these little skateboard ramps and skateboards and I was like, "That looks pretty fun and cool!" But I didn't actually go over and play with them at the time. But if you fast forward to a month and a half later, I got to school at the beginning of the year and every single kid had these little skateboards. I was like, "Oh man, that's so cool. I want to have one of them." So that same day, I convinced my mom to take me to Toys 'R' Us and ended up buying two of the Tech Deck skateboards, which had become a big fad and were kind of like Pogs or Magic cards or Pokemon back then.
I never actually thought of becoming a professional finger skateboarder. It just kind of happened. I'd be playing with the [fingerboard] during class because all I could think about was actual skateboarding. I stumbled on the Internet and found that people were making fingerboard videos, so I decided to make videos to show that I was good at it, too. And I just happened to be really, really good at it. There was a big community on the Internet and then people started having contests in Germany, and it got bigger and bigger. In 2007 or 2008 I decided to go to a contest in Boston, and that's when my whole "professional" career thing started. I remember there was a "Knights of Columbus" bar downstairs from the venue that I ended up getting drunk at...but I did pretty well, though, and had one of the best runs there! I went on to travel around the US, Germany, Austria and Italy to fingerboard.
Related | Leo Messi Is the G.O.A.T.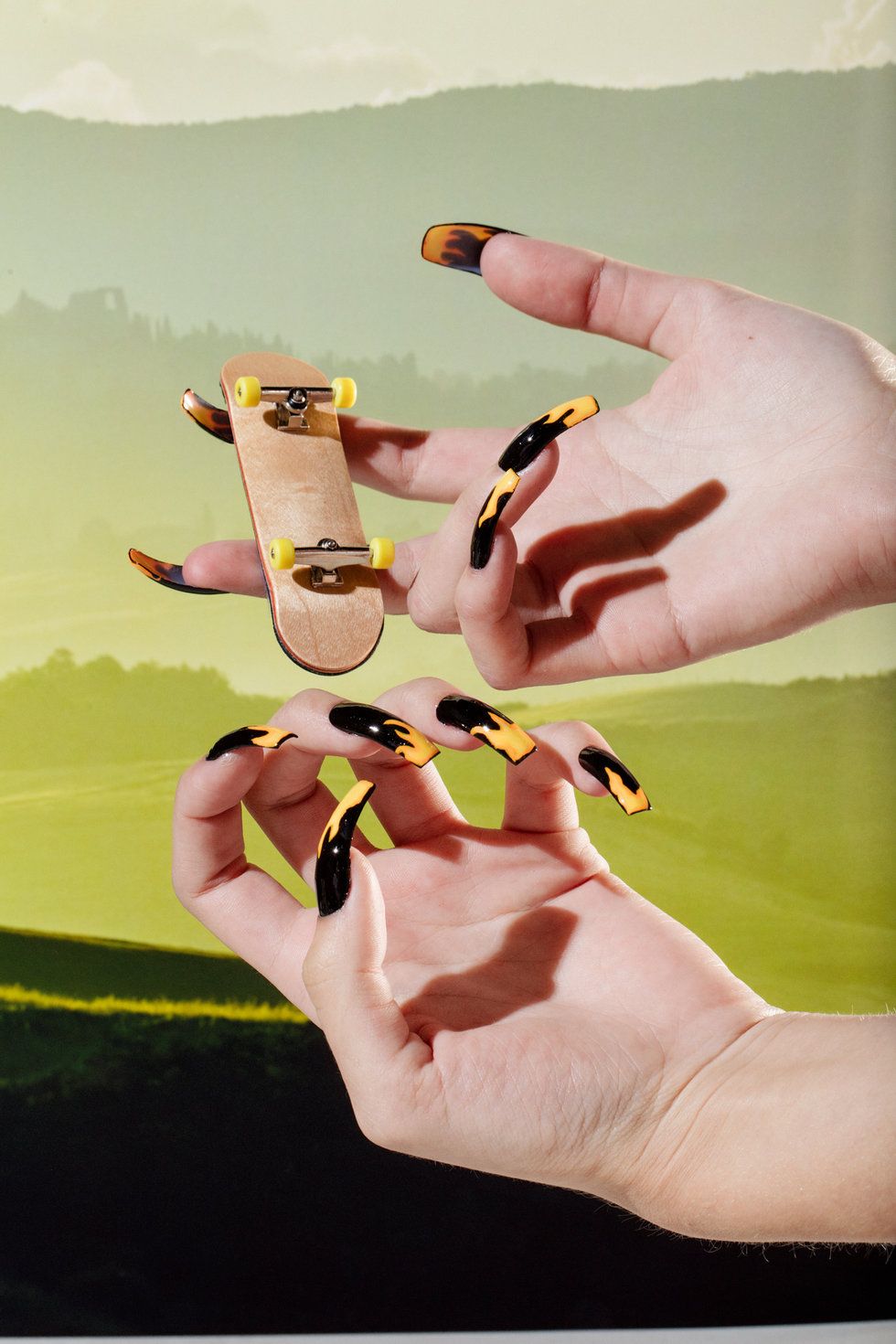 In those days when I was first fingerboarding, I would spend an hour or two hours a day practicing. I'd do the same tricks that I would watch in skateboard videos, because any trick you can do in skateboarding you can do in fingerboarding. My best trick is probably a hardflip. I got sponsorship offers from fingerboard brands like FlatFace, YoungLords, BlackRiver Ramps and BerlinWood — the last two are headquartered in Germany. Basically, it means I get tons of free product at my request.
At a competition, typically the prizes are fingerboards and fingerboard ramps, but sometimes there are monetary prizes as well, which can be as much as 1000 euros to 2000 euros for the winner. (Although, most of the time the winner spends a huge chunk of that prize money taking his friends out to party after).
Unfortunately, for most people, professional fingerboarding doesn't pay the bills unless you own a fingerboard company. Sometimes people will pay you to film a commercial, though. But, for the most part, those jobs are few and far between, so I do have a day job as a marketer at a consulting firm in Seattle.
I got caught up in the 9–5 life and fingerboarding fell on the wayside, so I retired from professional fingerboarding about four years ago. But my friend Stephen, who also lives in Seattle, hit me up about nine months ago wanting to host a fingerboard event in the city. I went and met a group of really skilled and friendly fingerboarders and realized I missed that connection, and now I'm all aboard!
Although it's not something that pays the bills, fingerboarding has allowed me to travel the world and make friends. You have this instant bond with somebody.
Photography: David Brandon Geeting
Prop Styling: Rosie Turnbull
Nails: Mar y Soul
Model: Belen Videla (State)
Location: Dune Studios