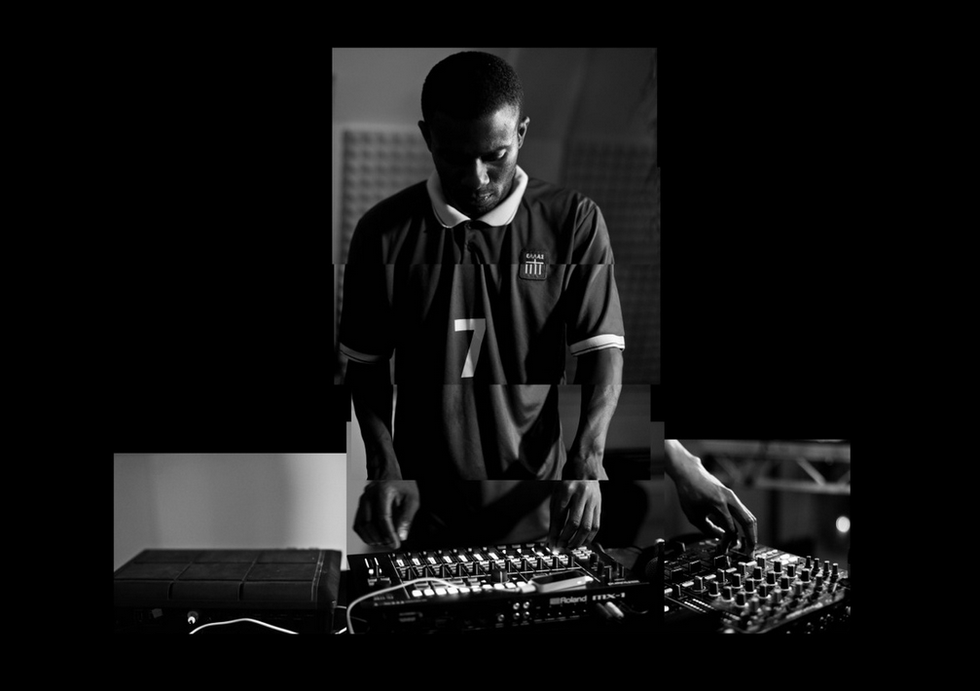 There's a well worn stereotype that says jocks and art kids can't be friends, much less be the same person. But New York-based electronic producer Sporting Life is turning that cliché on its head. If his name and profession aren't enough of an indication, the video for his single "Badd" seals the deal and conveys the essence of his identity and intention as a solo artist. In it
Sporting Life
encounters a gauntlet of challengers on the basketball court to the sound of his music, a hyperkinetic blend of sleek footwork and Harlem rap á la the Diplomats heydey. The track appears on the producer's recently-released debut solo album,
55 5's
, out now via tastemaking Belgian electronic label R&S.
We had the chance to spend time with the producer to chat about the album, a conversation that veered back-and-forth between his thoughts on music, basketball, and art. He playfully calls out Kanye to challenge him to a game of one-on-one and talks about the ways in which basketball is an art form, and one that reminds him of Matthew Barney's
Drawing Restraint
work, a piece notable for its required endurance training and Barney's own admission that the piece was inspired by his experiences as a former athlete. Inspired by Barney, Sporting Life is setting out to prove that, as he puts it, "dudes who have ill crossovers also know how to midi-sync Ableton to MPC 2500s."
As the producer for experimental hip-hop trio Ratking, Sporting Life creates a plexus of sounds that resemble the noise of No Wave and the stress rap that comes with being a New Yorker. Since the release of the
Wiki93
EP on XL Recordings in 2012, Ratking has delivered two albums and toured extensively with artists like Earl Sweatshirt, Run The Jewels, Trash Talk, and Death Grips. And still, in the demanding years of touring and recording, Sporting Life managed to explore opportunities outside the group.
The 33-year-old producer, born Eric Adiele, talks about the evolution of his music and ability the same way a disciplined athlete might talk about their evolution as a player. He believes in constant practice and the idea that fundamentals are the foundation on which you are able to create. He says that he didn't want to embellish his basketball skills on "Badd" by having him dunk on opponents since he can't actually do so.
55 5's
is no different. There are few flashy moves and Sporting Life does not try to perform outside his limitations. He applies what he knows with precision. But that doesn't mean that the record isn't full of surprises -- much like the fact that he's in the business of relying on his off hand when playing ball.
"I'm a righty, but I go left mostly," he says. "If people think I'm a lefty from the video then I've already got a few of them fooled." It's the on-the-court equivalent to Nas saying "ahh made you look." It's a characteristic great athletes develop and many rap artists imitate, a survival tactic incumbent upon keeping the opposition on its toes.
It's apparent Sporting Life is a student of the game. He knows his playing style as both an artist and an athlete and he describes his basketball game as more akin to "soccer style" of play -- "everything comes off a hesitation." His ability to ambidextrously dribble illustrates his attention to balance. He says a music analogue to this ambidextrousness would be going from Aphex Twin to Young Thug.
"I watch producers like ball players or watch rappers like ball players," he says. "It's like when ball players are watching other ball players. I ask,
what am I missing and how much time will it take for me to gain this skill?
Like maybe I'm missing some Mike Will Made It drums and it's something I gotta practice."
Several times he mentions levels and powering up like stages in a videogame or he's a Shaolin monk training in the 36 chambers. "You can unlock other levels like a video game. So I've unlocked a couple and that goes into the progression that's heard in the sound." In discussing the labyrinthian process of learning Ableton he also compared it to solving a Rubix cube -- which he admits he's never done -- in that everyone uses it in different ways and there is no singular path to mastering it.
55 5's
was recorded as live takes, in which Sporting Life collected sounds for each particular track and recorded it without interruption or adding overdubs later. Some tracks are two years old, while others were composed only months before the release. But no matter when they were recorded, before setting down the live track he practiced, training his hands to respond intuitively.
"[Athletes] spend all this time lifting weights and training their whole lives just to play a game," Sporting Life says. "Really the outcome kinda doesn't matter. Virtually who cares really if you win or lose. But the passion of wanting to win. I tried to transfer that into music."
He also compared his mapping strategy to William S. Burrough's cut-up technique, in which everything is known and laid out so that it may be rearranged in hopes of divine discovery.
"Recording it live is the easiest way I can get things done," he says. "I set up a beat for maybe an hour or so. I get it like a soup, get it bubbling and boiling first, and then you can serve it out. So I was doing that by getting pieces I can change like maybe throw some midi-effects on the drums to switch it up."
Much like RATKING bridges street mixtapes with an experimental 1970s No Wave mentality, Sporting Life's solo production connects disparate elements, from the ambient futurism of Arca and Actress to the jitters of footwork and the DIPSETian glory of Heatmakerz circa
Diplomatic Immunity
. It's a blend of styles and sounds, of indie and mainstream, that's like the sonic equivalent to a ballplayer's crossover.
But, like any true student, just because Sporting Life's seem to have mastered the crossover, that doesn't mean he's satisfied that he knows everything he needs to.
"I already know what [the album is] missing compared to the new stuff I'm hearing and where I want to go. You should always respect what you've made even if you're over it and on to something else because you never know if you'll be able to duplicate the things you've made. I've asked myself what is my game and what am I missing?"
55 5s
is out now. You can buy it HERE