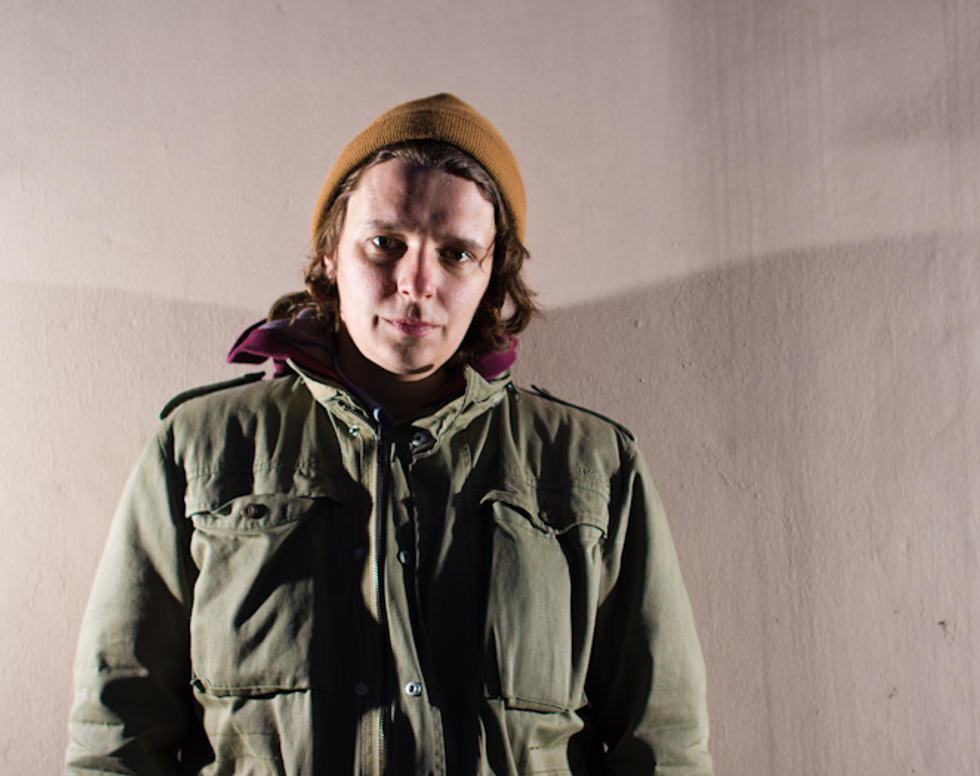 A little more than a year ago, French-born, Shanghai-based filmmaker
Charles Lanceplaine
's
Shanghai 5
took viewers on a skate journey through China, highlighting a still relatively underground subculture developing across the sidewalks, parks and every available, slightly raised bit of asphalt and concrete in the country's urban centers. The film captured the attention and praise of film and sports communities across the web, earning Charles his place as a fast fixture and a go-to filmmaker at the fringe of arts and sports culture in China.
Shanghai 5
was really the first film Lanceplaine ever attempted to make. "When I started making videos in 2009, I had no idea about style and perspective... I was just trying to figure out how to use a camera and tell a story." Since its release, Charles has teamed up with brands such as Nike to continue to tell the skate story in China and released personal projects such as
Dabaoge
, in collaboration with friend Andy Miller, to introduce emerging bands in China to new local and global audiences. I recently spoke with Charles.
What inspired you to start making movies?
I grew up watching a lot of movies, but what really triggered my passion for filmmaking was a trip in 2008 I took to Indonesia and the city of Surabaya, after running into some visa issues in China. I was staying for three months for work (I used to work in the e-commerce business) and got really fascinated by the people and the culture. During my time there, I got the chance to hang out with local skaters practically every day and saw that no matter how harsh life was and how little money those people had, they were always happy and smiling. It made me wish I had a camera to capture all of those moments and people. I only had a small point and shoot camera back then and no idea how to make videos or edit. So as soon as I got back to China, I decided to buy a camera and start filming the skate scene -- this is how
Shanghai 5
started.
I never studied filmmaking so it has been a long process of trials and errors. I used to film a lot of slow motion because I thought it was cool, and time lapses as well. In the end it was a bit of an overkill but I still use those techniques when its necessary.
What brought you to Shanghai?
Back in 2006 I was studying in Missouri for an exchange program in a small town called Kirksville. It was my first trip abroad by myself. Before that I was always a bit reluctant about traveling. As soon as I got back to France I realized that I didn't want to stay. I felt there was no real prospect of a career for me there. Back then, Shanghai -- and China in general -- was the place to be if you wanted to find a good job or make a good career according to everybody in France and Europe. Since I was 20 and I had no idea of what I wanted to do, I decided to move out here. I didn't know anyone or speak a word of Mandarin, I just had my bag and my skateboard and somehow made it work.
Being relatively new to China and very new to film-making, how did you get involved with the local skate scene?
Well it pretty much took a documentary to get me into the scene. When I first got there the local skaters were nice to me but not very friendly. To them, I was just another foreigner coming into town. When they realized I was here to stay and saw what I was trying to do, they really welcomed me into their scene. And when
Shanghai 5
dropped, it created a big change for me -- I started to get calls from different companies and ad agencies. If it weren't for that documentary, I would still be answering customers' emails in this dreadful e-commerce company. It was literally like the movie
Office Space
.
What were some of your favorite moments shooting the film?
The opening shot. I remember talking with my friend Tommy Zhao about filming something over this street gap, but because of the traffic the only way we could film it was at five in the morning, We went there at sunrise after staying up all night and he got it in a couple of tries. I was blown away...
What's the best thing about being a filmmaker in China at the moment?
In Shanghai I would say there are two scenes: the people who are at all events and pretending to be cool (those are mostly foreigners) and the others, the people who are actually not at every party and who are actually pushing the scene. There are so many of them: Nini & Gregor at Idlebeats; Chacha, the singer of AM 444; Benoit Florencon, a French photographer who has been extensively documenting the music scene; Ka Xiaoxi. a local photographer, Keflione and Dezio, who are both really good street artists, to name a few.
Shanghai is really a place where with very little means you can make things happen. There is a very do-it-yourself culture out here. There are no real barriers if you really want to do something.
Of course there always some touchy subjects you must avoid (if you do not want to get shut down) but as long as you don't cross certain boundaries, it's pretty safe.
What are some of the best places to skate in Shanghai?
Shanghai is full of gems, the main downtown spot by the opera, Love Park, is definitely a go-to place and a great meeting point. Also, there is the World Expo area which is a very fun place, and because there are so many skyscrapers being built with no one being able to afford them, it almost feel like a bit of a ghost town out there.
Describe Dabaoge. What were you and Andy hoping to create when you started the project?
Dabaoge is a project inspired by the
Blogotheque Takeaway shows
. So Andy and I decided to start something similar in China. The project started a year ago and the main idea behind it was to showcase local artists people never get to hear about, but who are really good. To be pretty straightforward, mainstream music in China is really bad and we felt that we could showcase the indie scene through this project. We are mostly doing it for the love of music.
You've managed to do some really incredible brand work with clients like Nike. How do you work with brands and balance commercial work with your personal projects as a filmmaker?
Well, I get the chance to choose the type of projects I want to work on, which is very fortunate. I got approached by all those big clients right after the release of
Shanghai 5
and it snowballed from there. I really like working with big clients because it means new challenges, coming up with new ideas, and working with bigger budgets. Most of the time, it's a fight to convince them that you have the right idea; sometimes you win and sometimes you don't. It's really fun to apply the things you learn on commercial shoots to your own work and the other way around. Progression and challenges are my two main drives.
What's next? What projects do you have coming up?
I have a new skate video; a 10 minute video of a two-week trip in Vietnam and Thailand with a Chinese skateboard brand called Vagabond Skateboards.
Then I'll be traveling to Kazakhstan with
Patrik Wallner
to help him on his new skate documentary.
On the side, I'm currently working on a new independent documentary about creativity in China. I won't give many details yet but it will hopefully come out early next year.