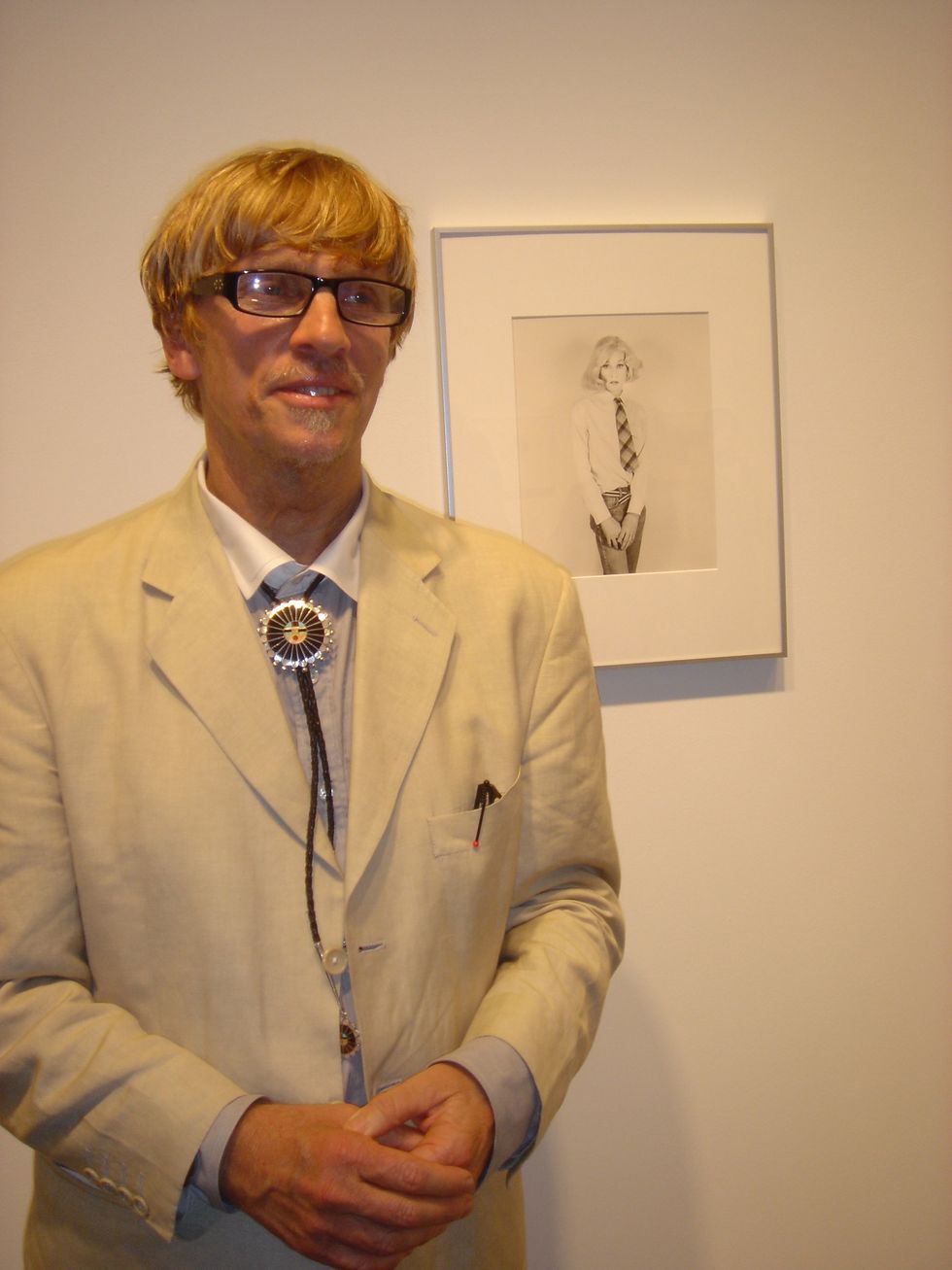 Text and photos by Phil Smrek
Multiple films (I Shot Andy Warhol, Basquiat, Factory Girl), a myriad of books and countless magazine articles have all tried to capture the essence of "Warholia." Few, save for The Andy Warhol Diaries, actually have. That is, until photographer Christopher Makos placed Andy Warhol in the context of his own life with his latest book, Warhol/Makos in Context (PowerHouse Books), and an exhibit "Warhol: Vintage Portraits" at Yancey Richardson Gallery through June 29.
With In Context, Makos presents, in chronological order, an unexpurgated visual review of his days as Andy's collaborator, sidekick and close friend. Via never before seen contact sheets reproduced in full, and prints from parties, events, projects, behind the scenes hoopla and trips the two made together, one is afforded a rare look into the circumstances surrounding the images from the final decade (1977-1987) of Warhol's life.
"Vintage Portraits" is an exhibit of the Warhol-in-drag series Christopher and Andy teamed up on over a two-day period in 1981. They used May Ray (with whom Makos earlier apprenticed)'s portrayal of Marcel Duchamp as Rose Selavy (wearing a woman's hat and dress) as a starting point and explored their own ambiguous sexualities with the help of eight different wigs and two different make-up applications, juxtaposed with the shirt, tie and jeans Warhol was already wearing. The result was 349 images of Warhol's "Altered Image," a highlighted selection of which are on view at the Yancey Richardson Gallery.
I got a personal peek at the Punch and Judy show that the two put on while working as an assistant at the 32nd Street Factory just before Andy died. I'd often see Christopher buzzing about, full of boundless energy and enthusiasm, with discoveries of the latest "it" boy or girl or the newest undiscovered talent he'd invited to lunch at the Factory. Andy, whose place was at the end of the lunch table, would glance over his beloved New York Post and sheepishly reply, "Oh… that sounds great." Let us not forget it was Christopher, after all, who introduced Andy to Keith Haring.
Some 20 years later, I was granted 15 minutes from the man who so uniquely chronicled the man who made 15 minutes so meaningful.
Phil Smrek (from cell phone): Chris. It's Phil! Hey, I just got out of the subway… I'm so sorry, we were delayed in a tunnel and there wasn't anything I could do… I'm two blocks away. I'll be right up.
Christopher Makos: (from studio) OK but hurry... You'll only have 15 minutes. The rest of my day is booked.
(at studio)
PS: OK, let's get cracking. Why did you wait until now to publish this book?
CM: It was the 20th anniversary of him passing. It's called In Context because I got tired of going to all these gallery shows and events and people trying to convey what they thought these times and moments were like. I wanted to put the whole thing in context by publishing all the contact sheets. This way I could show at least my version of it and people could draw their own conclusions. Besides, people always want to see behind the scenes.
PS: Have the pictures of Andy as a woman aged gracefully since they were taken over 25 years ago?
CM: I think so. I don't think they have really aged at all. They appear to be better than ever.
PS: What did Andy say about upon seeing the results?
CM: He loved them.
PS: In the context to your life now, what has Andy's influence been?
CM: I mean, the fact that I put out a book like this is this notion… the idea of popular; making things easy and accessible and to make people understand that time in history. I'm a by-product of that whole period, weather it was him or further back, Man Ray, or all the different artists that were around at the time… we were all a product of that moment. He stands out because he was so visual -- not only in terms of the way he looked, but in the way he referenced American art exclusively. He didn't look to Europe for inspiration; he looked at America.
PS: Speaking of America, you have images in the book from Andy's last tour in '85 to promote his photo book America. What do you think he'd say about our country's current state of affairs?
CM: He wouldn't like it.
PS: The book is in Spanish and English… how'd that come about?
CM: My first trip to Spain was in 1983 when Andy did his "Guns, Knives and Crosses" show opening in Madrid. I've been back and forth to Spain ever since. They love me there and I love them. I wanted to give something back to them and wanted them to see my life during this whole period.
PS: Which trip with Andy stands out as the most memorable?
CM: The last one, just before he died. It was to Milan for his "Last Supper" painting, so it was rather appropriate in retrospect. But that was the last trip for Andy and for me with him.
(I looked down at my digital recording device and indeed 15 minutes had elapsed. For more on Makos see: http://www.makostudio.com/.