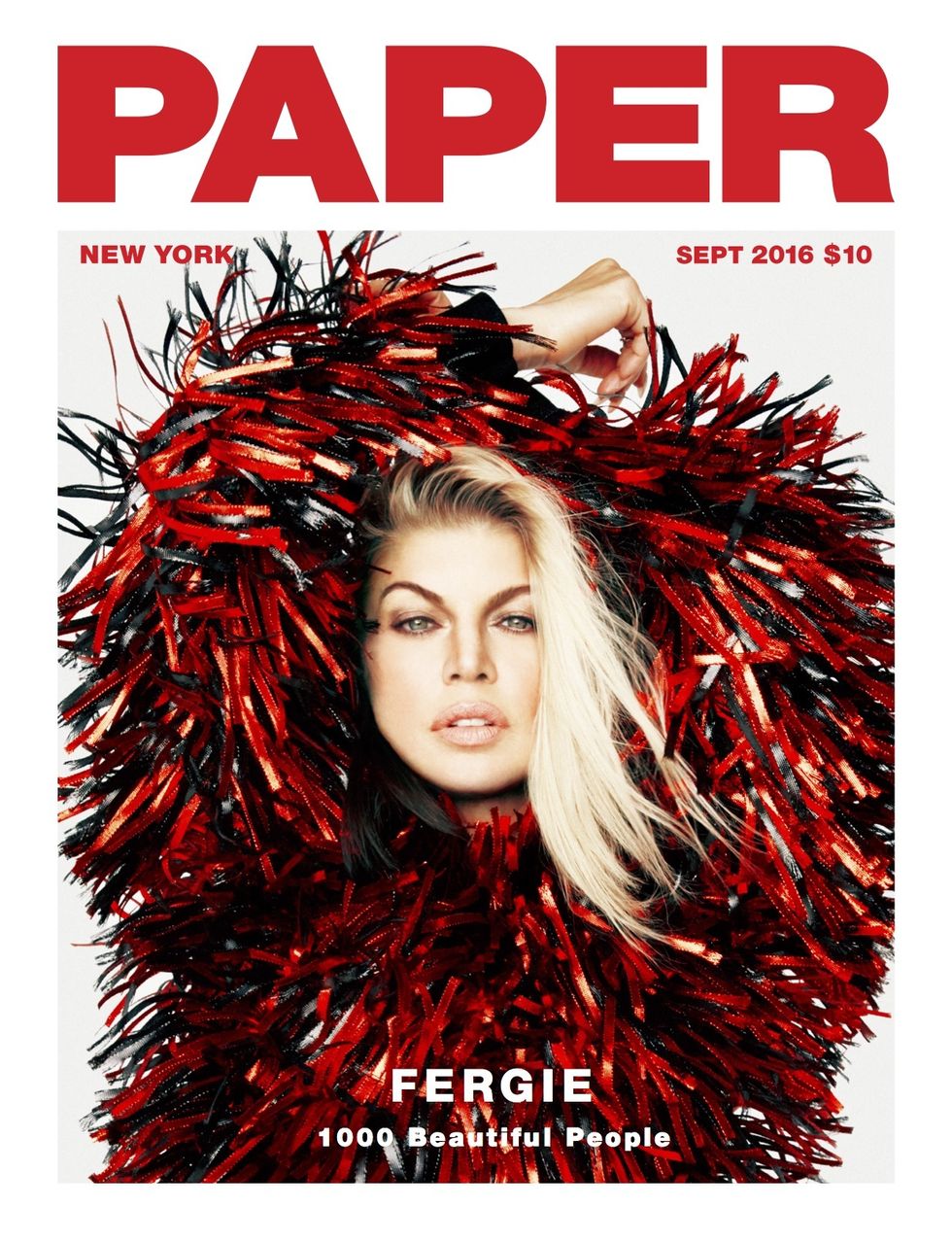 "I've never gone viral before!" Fergie exclaims. "My video has 70 million views -- what the hell is that?!" The video she's referring to is for "M.I.L.F. $," the sexy, dairy-drenched, motherhood-celebrating lead single off her ever-so-close-to- being-released new album, Double Dutchess. It's been a decade since the release of her cheeky, genre-hopping, multi-platinum solo album, The Dutchess; seven years since her marriage to actor Josh Duhamel; five years since her group The Black Eyed Peas, an electro-pop- rap colossus, went on hiatus; three years since the birth of her son Axl Jack and two years since she began building the new album. "If everyone's wondering what the hell's been going on all this time, I'm not sitting drinking mimosas on some balcony," laughs Fergie, putting it mildly.

When Fergie (née Stacy Ann Ferguson) joined The Black Eyed Peas way back in 2003, she had been living at her mother's house in Los Angeles, with all of her possessions in storage. She had spent the last year in therapy, trying to regroup after overcoming the crystal meth addiction that precipitated the breakup of her first band, Wild Orchid. Ready to begin work on a solo music career, she reached out to group leader will.i.am, whom she met years earlier when Wild Orchid opened for The Black Eyed Peas. She needed a producer, and he needed female vocals for The Peas' nearly completed third album, Elephunk. Their creative chemistry was off the charts, and after she contributed powerhouse lead vocals to "Shut Up," will.i.am., along with fellow members apl.de.ap and Taboo, asked her to become a formal member of the group.
Up to that moment,The Black Eyed Peas had been critically well-regarded for their quirky, socially conscious backpack rap, but the group didn't really find a mainstream audience until Fergie entered the equation. She had the range as a performer and a writer to complement and enhance the band's genre-bending sound, which incorporated hip-hop, pop and proto-EDM. She could go from sex kitten to swagged-out tomboy; she could rap; she could croon like a pop princess and she could wail like Nancy Wilson (the fact that she's gorgeous didn't hurt, either).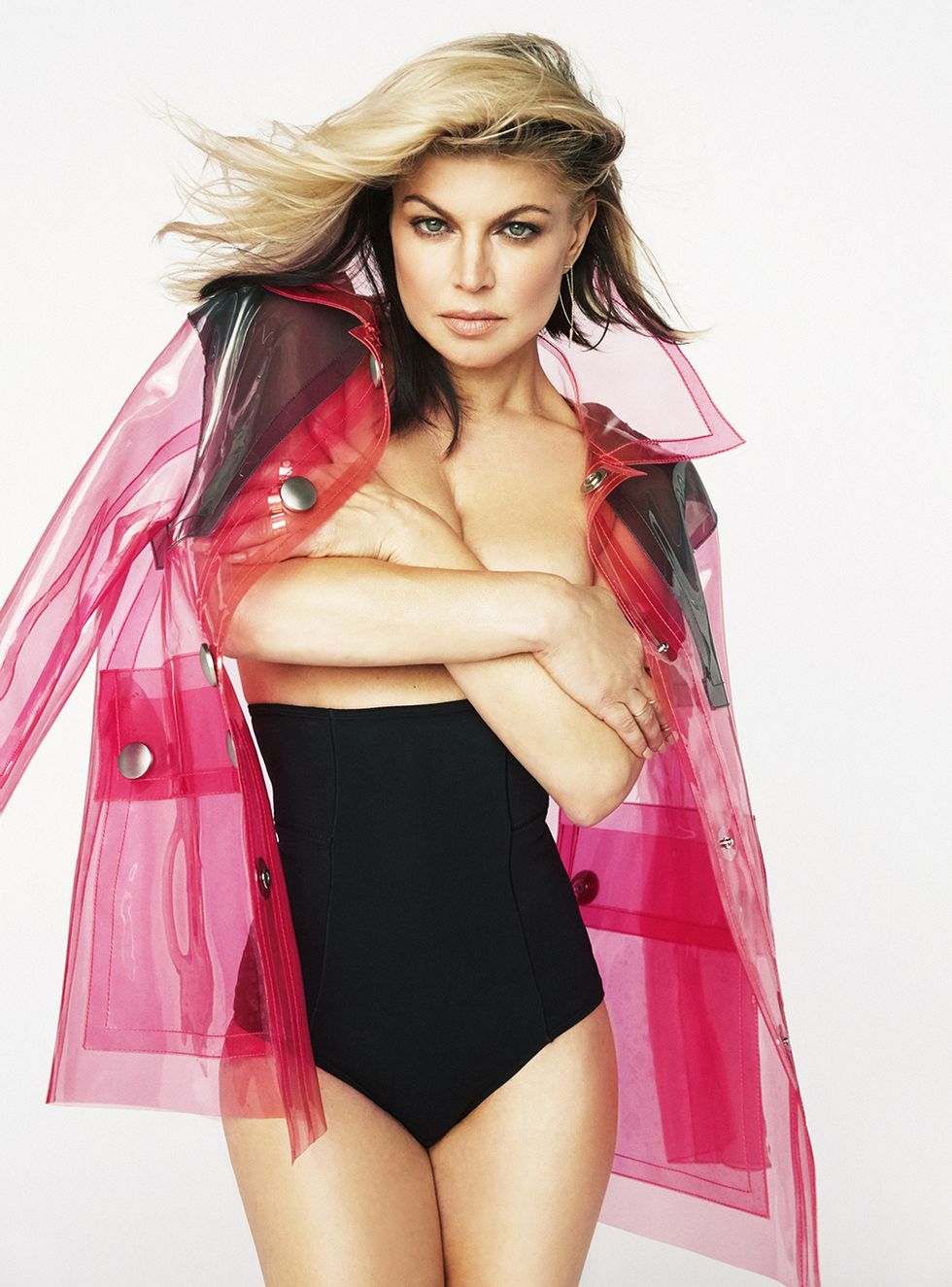 By 2011, having won every possible award, broken several chart records, played the Super Bowl and circled the globe countless times with the Peas, Fergie had to get off tour. "My husband and I wanted to start a family -- it's crazy going from city to city like that, and to be honest, I was really burnt out," she recalls. After The Black Eyed Peas announced their hiatus, Fergie bought a home with her husband and began the hard work of acclimating herself to civilian life. "It was like peeling back layers from an onion," she says. "It was relearning how to live." She continues, "I'm living with my husband for the first time as a couple, and all of a sudden I'm not living out of travel bags -- that took a while, because it always felt like I was about to leave at any second. I was like, 'No, I can actually have drawers that look like drawers.' It's such a weird thing to explain to people, but it was just my reality."
In 2013, the couple welcomed their son Axl into the world in the midst of a full home renovation, and after navigating the white-knuckle survival phase that all new parents must endure, Fergie was ready to start adding the layers back. She created a granular schedule to block out time for the important elements of her life, so that when work returned, the life she had built would be protected. Baby time. Alone time. Husband time. Family time. Workouts. Eventually, studio time. "Those are non-negotiable," she says, soberly." Everything needs to have a little ebb and flow, but I gotta hold this shit together." She adds, "I thank the Lord for Google Calendar. Mine's color-coordinated and has a category called 'basic human functions,' because otherwise I wouldn't have time to eat!"
By the next year, the inevitable question arose: another baby, or another album? "My husband was really the one who encouraged me," she beams. "He said, 'It's who you are, and I want to see you onstage again.'" So it began. Re-learning how to dance in heels was added to the calendar. She got into the studio with DJ Mustard in 2014 and put out "L.A. Love (La La)," an utterly infectious slow-tempo hip-pop strut that featured shoutouts to the better part of an atlas and helped recontextualize Fergie's brand of sassy braggadocio for the post-Iggy Azalea landscape."It was great to reach out and say, 'Hi! I'm here,'" she laughs, "'This is what I do and who I am, and what's up everybody in every fucking country!'" She adds, "Doing the video was good, because I got to put on the Jean Paul Gaultier and feel hot again and feel that part of me." She contemplated releasing her album that same year, but decided she just wasn't ready yet. "I told people back then -- next time I come out, I'm going to have the whole album done."
Fergie wears a top by Thomas Wylde, bottom by Versus Versace, rings by Eriness and earrings by Jennifer Fisher and Lynn Ban
Fergie wears a top and bottom by Venus Prototype, boots by Fausto Puglisi and a ring by Miera T

So she went into what she calls her "creative cave," and began building the new album track by track. In June, she reemerged with two stylish, black-and-white teaser clips for a moody, trunk-rattling track called "Hungry," which depicted the singer chopping her long signature locks into a chic bob and opened with the line,"To say it's complicated / understatement of the year." This uncharacteristically eerie, hard-hitting track, alongside the decidedly sophisticated image makeover, heralded the arrival of Fergie 2.0. The album's release date is still being finalized, but fans got another taste of what's in store when Fergie released her booty-bouncing, matriarchal banger,"M.I.L.F.$."

The video takes place in the candy-colored, '50s-flavored suburban idyll of MILFville (altered for Fergie's purposes from its objectifying original meaning to Moms I'd Like to Follow), and stars a megawatt cast of lingerie-clad celebrity moms like Ciara, Kim Kardashian and Chrissy Teigen as well as a full September issue's worth of supermodels like Alessandra Ambrosio and Amber Valletta. There are milk showers, pimped-out strollers, breastfeeding breaks and gallons of dairy puns. Fergie, clad in latex, struts her way through a variety of sexy, high-camp set pieces ,as she indulges in a luxurious milk bath, pulls a shift as a waitress at a diner that serves "MILF shakes" and reins in a classroom of rowdy teenage boys as a ruler-slapping Betty Page- style professor. Sure, it's a veritable neutron bomb of viral content, but its underlying message is one of empowerment.
"I wanted it to be liberating," she says. "I knew it was going to be campy and with a wink to the audience -- true to my DNA for sure -- but with the underlying message of strength." She continues, "Just because you're a mom doesn't mean that's all that defines you, and so the underlying message is 'Just be who you are.'" It's no small feat to just be who you are when who you are is a wife, a mother and an international pop sensation, but when her son got to see her perform for the very first time at the California Mid-State Fair in Paso Robles this past July, she knew she was in the right place. "That was such a magical moment in my life, seeing Axl in the crowd, waving" she says, her eyes welling with emotion. "The person I've worked so hard to become in my career, my destiny to be an entertainer, was matching up with my destiny to have a family and be a mom.Those two worlds connected in that moment, and I thought to myself, 'We got this.'"
Hair: Andy LeCompte for Wella Professionals at The Wall Group
Makeup: Matthew Van Lewen at Starworks Group
Manicure: Tracy Clemens at Opus Beauty
Photographer's Assistants: Jonathan Folds and Robert Morris
Digital Tech: Anthonie Gonzalez
Location EDGE Studios

You May Also Like
America
Story by Katherine Gillespie / Photography by Dana Trippe / Styling by Rebecca Grice
America
Story by Mikelle Street / Photography by Renell Medrano / Styling by Anatolli Smith / Hair by Evanie Frausto / Makeup by Marcelo Gutierrez