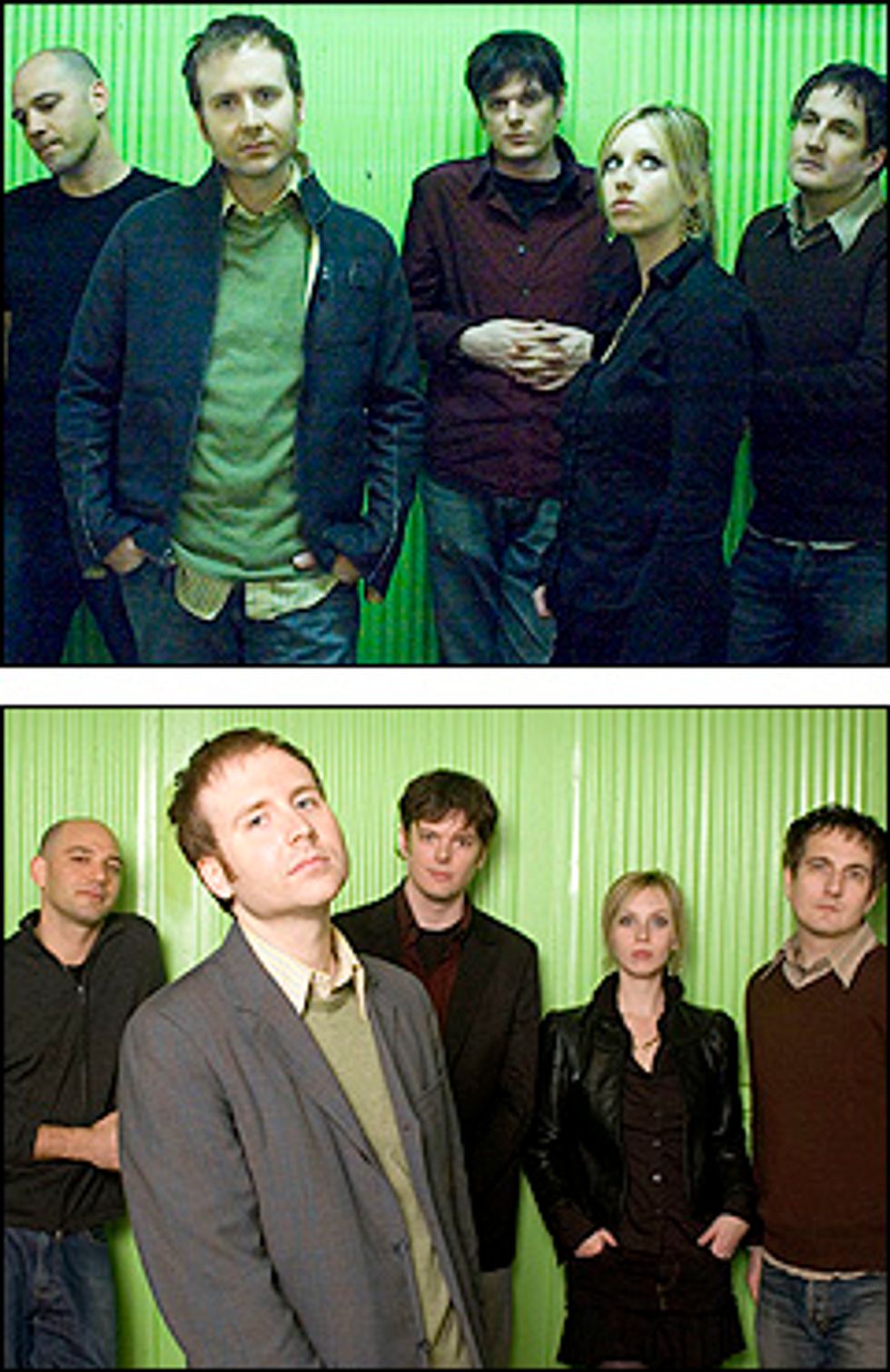 On the origin of their band name "Burnside Project," lead singer Richard Jankovich says, "We decided to name the band after the Civil War general of the same name. General Burnside is credited as the godfather of sideburns and, at the time, we all had lengthy sideburns... then, we thought of ourselves as very professional and also very dejected so we combined the words to create pro-ject." He pauses. "Actually, we are named after a public park in Portland, Oregon."
Obviously, Burnside Project don't take themselves too seriously. They do, however, rock, and have rocked for quite some time now. Now, with their sophomore record, The Finest Example Is You (Bar/None), which was released this past October, the band is ready for bigger things bigger venues, a bigger fan base and even bigger acclaim.
Founded in 2000 by Richard Jankovich (vocals) and Gerald Hammill (guitars), and then eventually joined by keyboardist Paul Searing, drummer Michael Lerner and bassist/backup vocalist Anna Mir, the New York City-based members of Burnside Project have always tried to avoid cliches. "In Burnside Project's early days," says Hammill, "Richard and I definitely viewed the band as a mix of indie rock and electronic. We both were coming out of the '90s, and having both played in assorted 'indie' bands, we were trying to shake off the Pavement-influence a little bit."
Their first album after signing with Bar/None Records in 2003 was titled, The Networks, The Circuits, The Streams, The Harmonies. A very appropriate title, really, as the band's goal has always been to create a diversity of sound using varying instruments and technology. "The fact that we have a very broad spectrum of influences, across all different art forms means that nothing is off limits," says Jankovich. "So... some songs have a mandolin and some are layered synthesized compositions. Some would say that makes us schizophrenic, but I like the variety."
So, apparently, does the Showtime series Queer As Folk. A Burnside Project song, "Cue The Pulse To Begin," was chosen as the theme for the show. And then there's the large following that they've gained in Japan. According to Hammill, "The Japanese audience listens to music in a more intense way than Americans. I can't exactly put it into words, but the culture over there just seems to have this imaginative element to it; I mean, you see 50-year-old business men reading comics on the subway in the morning. During our shows over there, the audience knew all the words to our songs, and seemed far less jaded."
With The Finest Example Is You, Burnside Project's sound has taken shape and taken off. Referred to by Hammill as "more of a 'band' album than [their] earlier dabbles with programmed beats and samples," The Finest Example Is You is danceable without the irony, sincere without the earnestness, and elegant without the pretension. It's electronica and indie-rock but not in any way one would expect. One could listen to them over the first cup of coffee in the morning or the final whiskey shot of last call.
The single, "And So It Goes," is a perfect example of Burnside's tendency to mix and match. It's a jerky, upstroke-laden dance assault coupled with Jankovich's homegrown, "geeky" voice. The song itself is clean and beautiful. However when paired with Jankovich's seemingly untrained vocal skills, it becomes more sincere than most dance music which feature stone cold serious, computer-like singers. Jankovich also credits this difference to Burnside Project's song-writing technique. "Our writing is pretty strange and inconsistent in terms of its genesis," he said. "Some songs start with a lyric, some with a guitar riff, some with a house beat, some with an entire song written on acoustic guitar, some with a sample... so... it's pretty different from song to song."
Being a New York-based band is not as easy as it looks especially when most critics are desperate to find the next Interpol or Bloc Party. At the same time, it certainly doesn't hurt, in terms of attracting the attention of New York's notoriously jaded music fans, that Burnside Project have a sound that's difficult to pin down in terms of references and direct inspiration. "We don't really consider ourselves locked into any particular genre, just like we don't consider ourselves involved in any specific scene," says Lerner. "We don't put restrictions on our own style or genre," Jankovich reiterates. "A lot of bands start out trying to be something in particular, so there are rules --that's not punk enough or that's too 'whatever.' We aren't really like that and so we often push boundaries a bit... We take our music very seriously but not really ourselves, which makes it all very fun as well."
Burnside Project play at the Knitting Factory on February 8 as part of Gothamist 6.0. Buy tickets here (www.ticketweb.com)