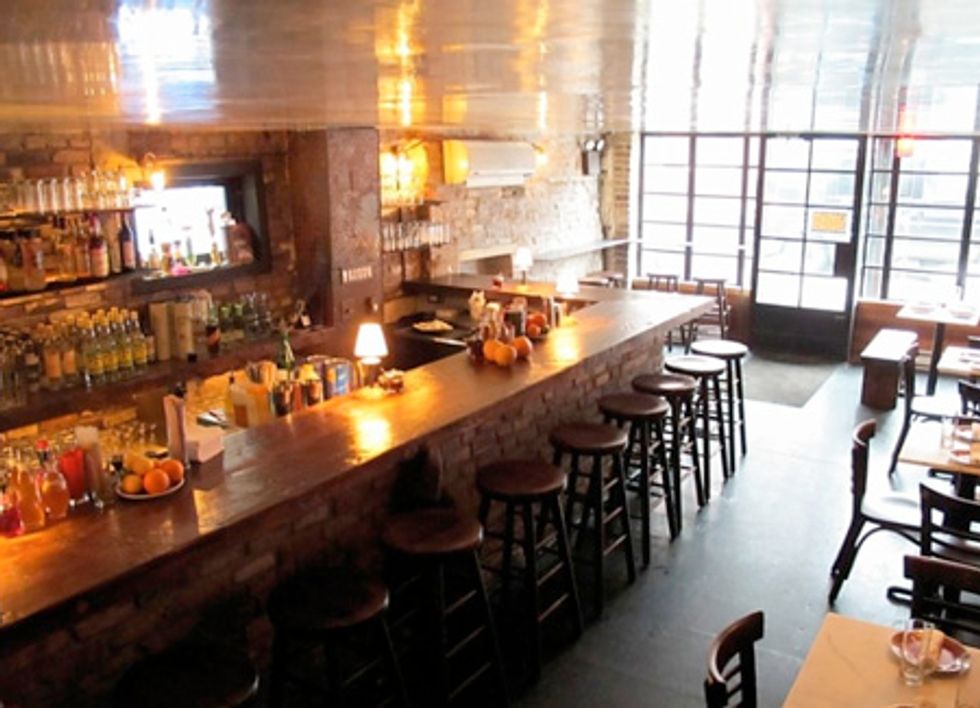 These days, it seems like every successful Manhattan chef wants to open a spot in Williamsburg -- you know, for cred (here's looking at you,
Michael Psilakis
. And one of the first to reach out to the Filson-bagged, Samantha Pleet-ed crowd is
Zak Pelaccio
, he of two very successful
Fatty Crab
outposts in the master borough. The new spot,
Fatty 'Cue
, is just as crowded and appealingly under-designed as its predecessors, with the kind of crowd that has to be reminded that, no, you can't take your Chupacabra cocktail (tequila with chili-infused Domaine de Canton, watermelon, and lime for $10) out onto the sidewalk as you wait for your table. While the food may be familiar if you've eaten the chef's chili crab, there's a smoky spin here thanks to the addition of
Robbie Richter
, who helped get BBQ star Hill Country off the ground. Those wood-infused flavors pop up all over the menu, in the smoked eggplant nam prik ($12), Manila clams with bacon and bone broth ($17), succulent lamb ribs ($12), and hulking hunk of brisket ($19). Of the offerings closer to the classic Pelaccio side of the things, the whole mackerel served with the sort of garlic-chili-lime sauce you want to drink ($22) takes the prize. The kicker: Once you pick off the meat, the kitchen will fry up the bones and deliver them back to you for snacking. The fried bones look almost insect-like -- like a super-long millipede -- and more appetizing than it sounds. They snap right apart and the chalky, salty, dry flavor reminded me of Ruffles. They're as good a treat as any dessert, even the Southern-inflected pies of the day ($6).
91 S. Sixth Street,
Williamsburg, Brooklyn
(718) 599-3090
fattycue.com