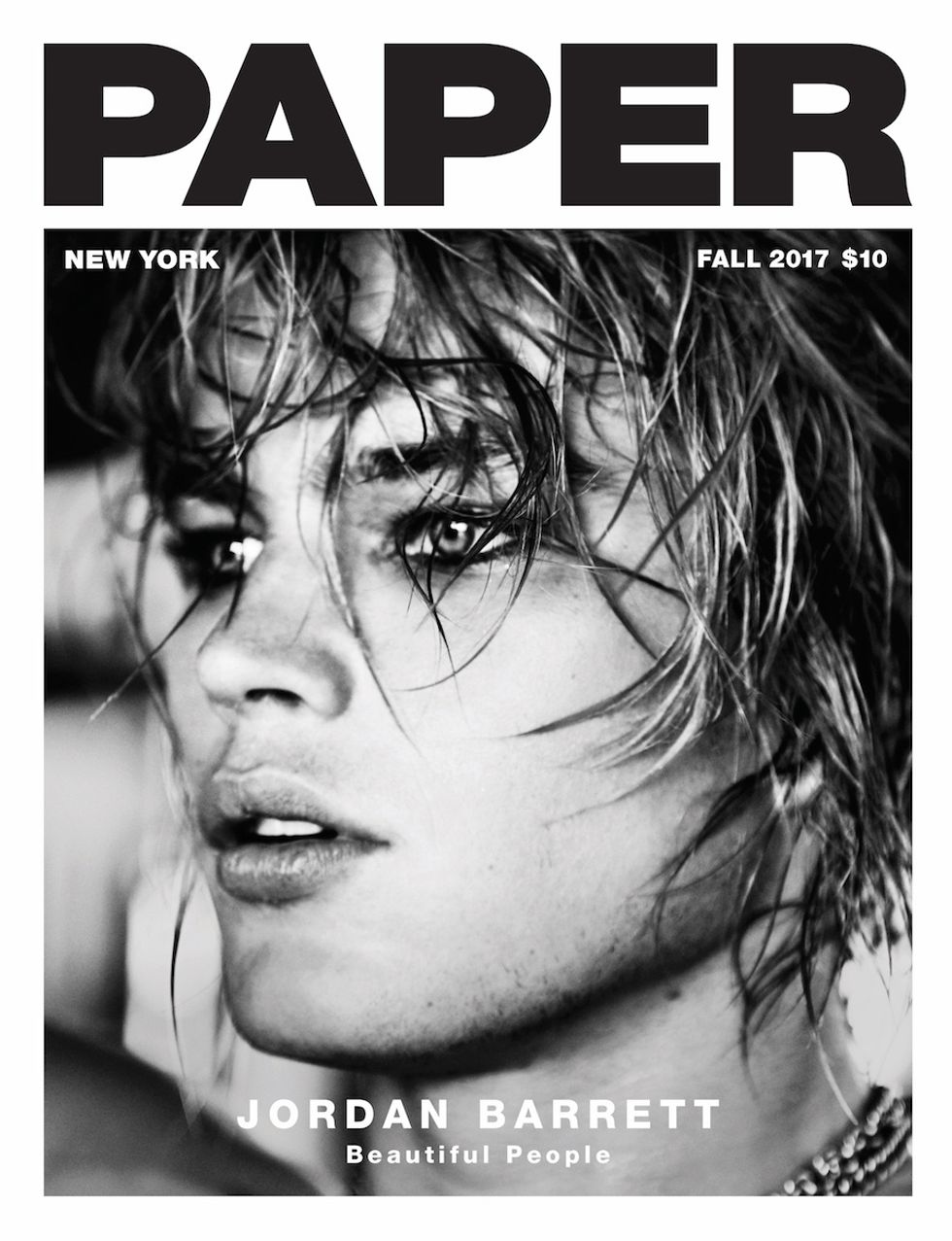 It's curious to think what Andy Warhol would make of Jordan Kale Barrett, the model, burgeoning photographer and social media maven whose supersonic rise to the top of the fashion heap has been one of the most white-hot in recent memory. The Aussie-born Barrett unquestionably falls in the "superstar" category, the self-styled moniker of Andy's clique, and is possessed of an almost extraterrestrial beauty that would have surely captivated the artist and counter-cultural arbiter. It's a question worth considering, given that Barrett is going through a bit of a Warhol phase himself. To wit, he is knee-deep in The Philosophy of Andy Warhol: From A to B and Back Again, the artist's esoteric volume on life in his pop-art milieu. He's also been taking Polaroids of his friends extemporaneously -- "It would be cool to make them into a little book one day" -- a style of throwaway portraiture the artist defined with his iconic celebrity series. A quick scan of Barrett's (633K followers and counting) Instagram, @iblamejordan, reveals him to have a similar observational remove from the absurdities of fame and celebrity, minus Warhol's gimlet eye and notorious insecurity (Jordan is 20 years old and gorgeous, after all).
"There's a lot in there that I love," Barrett says about getting into Philosophy. "Just all of these random thoughts he had that hold up so well today. It's wild." While the uncanniness of Warhol's relevance is not so much a surprise in our moment of Instafame, to watch someone so clearly manifested from that legacy discover and channel it as if he had just stepped out of The Factory's tin foil walls is compelling -- and almost eerie. It doesn't hurt that he can more than hold his own in casual discourse on Warhol's impact, influence and pertinence as if he were teaching a seminar at the New School.
That is the thing about Jordan Barrett that is perhaps the most disarming: not his Ginsu-sharp cheekbones or leonine visage (the ad nauseum comparisons to River Phoenix and a young Leonardo DiCaprio may as well be listed on his passport) but rather his deep and considered knowledge of the world he inhabits -- namely, the photographers and artists he works with. Born and raised in the beach hamlet of Byron Bay, New South Wales on the east coast of Australia, he spent his formative years surfing and running around barefoot outside at every chance, which is to say, no video games and very little TV, a practice that still holds up today (and is quite an achievement for a Gen Zer).

Click through to see more photos of Jordan Barrett from our Beautiful People issue!
After he was discovered in a convenience store at 14 by an IMG agent in 2010, he began modeling in Sydney and then moved to Tokyo for a couple of years. In 2015 he came to the States for a VMan shoot in Miami with photographer and inveterate career-launcher Bruce Weber, and he never looked back. "After I did my first thing with Bruce, that was when I saw it all differently and when it started getting serious," he says. "It switched in my head that this was full-on." From there came sittings with A-list photographers like Steven Klein, Mario Sorrenti, Ellen von Unwerth and Collier Schorr, the latter for whom he was the subject and star of a zine-style paperback called "I Blame Jordan." The project was part of the MoMA PS1 Greater New York series, a recurring exhibition begun in 2000 that brings together artists who work specifically in the New York metropolitan area and showcases the tension of a changing city and art world. The work with Schorr speaks to the fact that Jordan is that rare model and muse whose image is equally at home inside an avant-art project as it is in the pages of a fashion magazine.
And it's also clear that he's not letting the opportunity to work with these notable collaborators go to waste. "Whenever I'm working, I'm tapping into what all of the people on set are doing and all of the different things that go into it," he explains of his sponge-like attitude when he is working with one of these masters. Does he ever get intimidated? "If I'm working with someone new, like an amazing photographer I haven't worked with, maybe a bit, but the second you say hello and the second you sit down with them it just goes away."
Though sitting down is not what you would call one of Jordan's strengths. He is constantly on the move, and his day job as one of the most in-demand models (male or female) of the moment is conducive to his wanderlust and frenetic need to be doing things or be with other people. A once-over of his itinerary this summer -- Milan, Paris, Barcelona, Bali, Australia, LA, Mykonos and Mylos in Greece, all in the span of 6 weeks -- would leave mere mortals breathless, but for Jordan it is light calisthenics. One of the aspects he likes most about modeling is the show season and the nomadic life it offers him and his model friends like Levi Dylan (grandson of Bob), Marlon Teixeira and Bella Hadid, the latter of whom the tabloids tried to link him to romantically. "It's like a big camp or traveling circus," he says of the shows. (Though, in a great irony of the industry, he is almost too famous at this point to get cast in a lot of them, seeing as he's apparently crossed the red line of being so beautiful and recognizable that he now draws focus away from the clothes). But when given the chance, he loves the rush of the music and the runway -- a perennial favorite is Versace -- and the natural high that comes from the catwalk. When the shows wrap, he's been known to partake in some good-natured, Lost Boy-esque hijinks. He recently miffed security in a Montmartre park during the Paris men's shows when he and his friend, photographer Alana O'Herlihy, spontaneously took over a carousel, and the frolic was splashed all over the next day's tabloids. (And that's another thing -- the fact that he's become tabloid fodder is remarkable even in and of itself, considering how few male models become bona fide celebrities.)
The downtime during collection season -- or just the hurry-up-and-wait life of a model -- leaves ample opportunity for Barrett to practice his own hand at the lens, an interest he has been developing since he first started modeling. "I always liked taking photos," he says. "I started just having fun in my apartment. I've learned about different kinds of cameras from the different photographers I work with, and they would always give me tips and things like that." His favorite cameras of the moment are a classic Contax 35mm and, of course, a Polaroid (very Andy). "I have these big, big, big drawers full of different rolls of film and photos and all of these different things not yet published. Photos that I've just tucked away," he ponders with an I-should-do-something-about-that look. While he jokes about quitting modeling and training as Mario Sorrenti's 3rd assistant, his respect and voracious appetite for the art of photography is dead serious.
If Jordan's current photographic pursuits are pure art without commerce, there is very much a business to being @iblamejordan. He just debuted his first fragrance campaign for Paco Rabanne's iconic 1 Million, and will be promoting it across the globe for the better part of this year. It's funny considering he used to wear 1 Million growing up in New South Wales before he could imagine himself plastered across billboards, a phenomenon, by the way, that never stops being just a bit surreal. "The strangest thing was going to Paris and the ad was everywhere because they launched there first. It was all over the buses and shops and billboards, which was very strange to see...it's always a bit bizarre." He's sent a lot of bottles home to Australia, where he describes growing up as "always being barefoot...extremely relaxing."
Downtown New York, where he has a home base -- or glorified storage unit for the self- professed hoarder, as he jokes -- could not be more different than the laid-back surf town of his boyhood. His favorite part of the city is SoHo because he's obsessed with the neighborhood's fire escapes -- or at least he is this week. "They don't really have them in Australia!" he explains, before getting into other reasons he's fond of the neighborhood. "You can do something every 10 minutes in SoHo. There is always something to do right there. Anywhere in downtown New York, I don't really care where it is, I'm always running there...when I'm in the city I'm just running around there all of the time."
In Jordan-time, it is always about what's next -- what new city, what high-flying adventure, what surprise visit. The sleepless energy of NYC is perfect for him, but even Manhattan is no match for his escapist hyperactivity (just refer back to his flight log). But restlessness is perhaps just a hunger for the future in disguise. In The Philosophy of Andy Warhol, the artist muses: "I really do live for the future, because when I'm eating a box of candy, I can't wait to taste the last piece." Who knows what sweet surprises are in store for this new superstar, but you can be sure he's wasting no time finding out.
Location: The Standard, High Line
Text by Christopher Barnard

Photography by Ellen von Unwerth
Styling by Bill Mullen
Hair by Ashley Javier at Art + Commerce
Makeup by Devra Kinery at Art Department
Set Designer: Chelsea Maruskin
Model: Jordan Barrett at IMG
Fashion Assistants: Raquel Medina-Cleghorn and Julia Virkler
Photography Assistants: Sean O'Neill and Eduardo Valderrama
Digital Operator: Travis Drennen