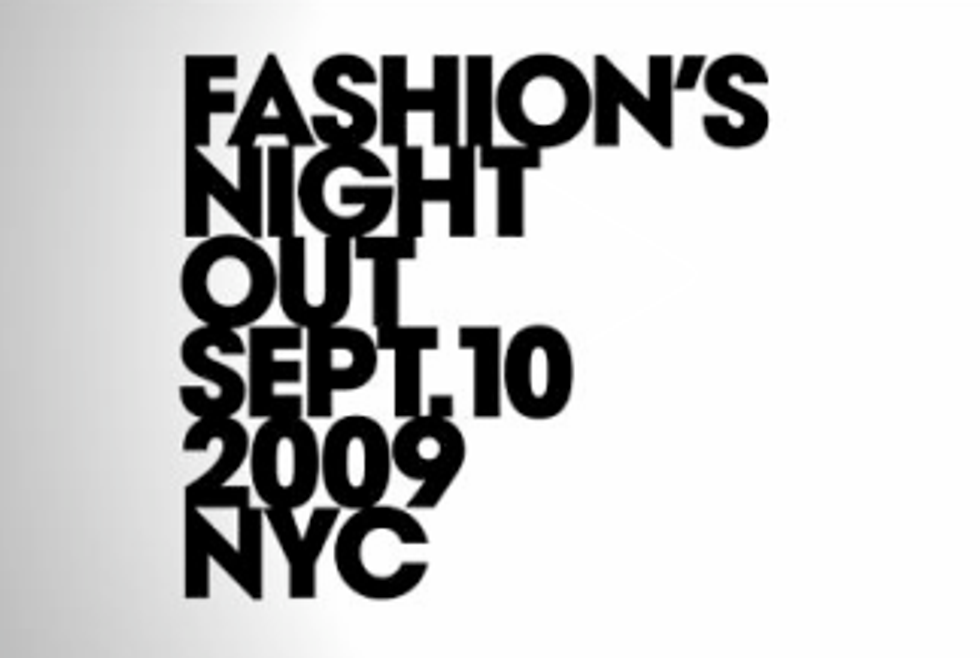 Whatever Anna wants -- Anna gets. And this season -- as everyone and my grandma in Africa knows -- she wanted Fashion's Night Out. The retail extravaganza is billed as a "global initiative" meant to "promote retail, restore consumer confidence and celebrate fashion." To that noble end, doors will be open across the land (no seriously, New York, London, Milan, Paris, Queens....) to the masses. What's so special about getting to shop where you can already shop? Well, unlike every other night, there are special surprises with each purchase (and I'm not talking taxes or credit card applications!) Think celebrities making you coffee, Vogue editors reading to you and fashion designers singing for you. Now, between you and me, I have no idea if this whole thing is going to work. With precious few discounts and way too many locations, I can't imagine that folks will be lining up to shell out cash en masse . More to the point, if I had no money to visit the Chanel store any other night, how would I have money to shop there on Fashion's Night Out?
But perhaps I'm being too cynical. Let's look at the upside: there will be lots to eat, lots to drink (assuming you go to the right parties) and lots to gossip about the next day. In that spirit, below is our guide of the top five place we will be hitting tonight and why, plus a bonus list of other FNO events that sound neat.
OPENING CEREMONY
35 Howard Street
The "real OC," as I like to call it, will host a festive block party featuring food, music, and appearances from some pretty posh designers. On tap to appear? Ummm, how's about Jack McCollough and Lazaro Hernandez of Proenza Schouler, Kate and Laura Mulleavy of Rodarte, Delfina Delettrez Fendi, Alexander Wang and Scott Sternberg of Boy/Band of Outsiders, who'll be peddling their special-edition wares out of their customized cars parked on Howard Street. An added treat: Lissie Trullie will be DJing alongside Ezra and Rostam of Vampire Weekend.
CLICK HERE FOR PAPERMAG'S COMPLETE DOWN-LOW FASHION WEEK SPRING 2010 COVERAGE. >>

BARNEYS
660 Madison Avenue
Barneys is going to be bananas, b-a-n-a-n-a-s, tonight. Catch a Rodarte-clad Justin Bond performance, knitting classes courtesy of Wool & the Gang, Adam Kimmel/Gerard Malanga screen tests, and more.
SAKS FIFTH AVENUE
611 Fifth Avenue
Not to be outdone by big B, Saks is hosting a slew of fun-sounding events tonight as well. Justin Timberlake will be on hand to celebrate the opening of a William Rast pop-up, as will Carolina Herrara, for the opening of her new in-store boutique. But our favorite little happening? Brush up on your backhand and play Wii Tennis with designer Chris Benz!
THE PRADA STORE
724 Fifth Avenue
The legendary creative director of Vogue, Grace Coddington, will recreate her magical "Little Red Riding Hood" story from the September issue of Vogue in the Prada Fiftth Avenue store. Prada has produced a limited edition red basket bag for the night, a red cape and a red coat sold exclusively on Fashion's Night Out. Added bonus: The Rapture are playing!
UNIS
226 Elizabeth Street
Fashion's Night Out makes us hungry. Which is why we'll be stopping by Unis for free Thai food from neighborhood favorite Lovely Day (which closed due to a fire, but is gearing up for a re-opening). PAPERMAG blogger and general boy about town Johnny Misheff DJs.
VOGUE ALUMNI HOUSE
@ the Bellhaus Pop-Up Shop, 57 Bond Street
A slew of former-Vogue-staffers-turned-designers (among them, Hester, Duskin, Doucette Duvall, Thread Social, Prova, Gryphon and Wren) are taking over the Bellhaus pop-up for a mini-block party (while you're there, check out Billy Reid and Rogan's FNO festivities). Enjoy DJ sets by Sebastian Kim, Skaught, Johnny Misheff (again!!) and appearances by Brad Goreski and Derek Blasberg.
ODIN
199 Lafayette Street
Albert Esquivel, Richard Chai, Sam Shipley and Jeff Halmos will be in store to mix and mingle with you over hors d'oeuvres and cocktails. There will also be special giveaways and the chance to checkout a preview of Esquivel's footwear line.
GIORGIO ARMANI
760 Fifth Avenue
Sip cocktails while Nora Ephron and Rosie O'Donnell read from Ilene Beckerman's Love, Loss and What I Wore..
CATHERINE MALANDRINO
468 Broome Street
Malandrino transforms her Meatpacking District boutique into a Parisian cafe. The beautiful brunette designer herself will actually be on hand to host this "Paris meets New York Marché." Shoppers will be treated to cocktails, DJs and delectable chocolates and croissants.
BERGDORF GOODMAN
754 Fifth Avenue
At Bergdorf's, Anre Leon Talley will be hosting a game show with teams led by none other than Donna Karen, Robert Verdi and Linda Fargo. Padma Lakshmi will be hosting a "cook-off" with Cynthia Rowley and Peter Som. Our favorite little event-let? Mary-Kate and Ashley Olsen will be bartending!
BIRD
203 Grand St., Williamsburg
How's about (gasp!) celebrating FNO in Brooklyn? We know, it sounds crazy, but Williamsburg boutique Bird is throwing a block party in Williamsburg co-hosted by the Vena Cava ladies that sounds like so much fun. There will be DJ sets by Nancy Whang of LCD Soundsystem, Justin Miller, Holy Ghost!, Justin D and Matt Cash, and a "celebrity dunk tank" featuring Kathryn Neale, Rachel Comey, Sam Shipley, Jeff Halmos the Costello Tagliapietra gents and PAPER's own Mr. Mickey! Don't catch a cold, Micks!
A BATHING APE
91 Greene Street
PAPER cover boy Kid Cudi will making an appearance at the Bathing Ape flagship in SoHo to celebrate his new BAPE T-shirt. There will also be free food and drinks.
MACKAGE
829 Washington Street
Montreal-based coat company Mackage celebrates its new MePa boutique and FNO with a DJ set by model Irina Lazareanu. Phillip Bloch will be on-hand for styling tips.
INTERMIX
98 Prince Street
Sisters Sienna and Savannah Miller, designers of Twenty8Twelve, will be signing special-edition FNO tees, which will be sold to benefit the 9/11 Fund.
See the entire -- massive -- list at www.fashionsnightout.com.