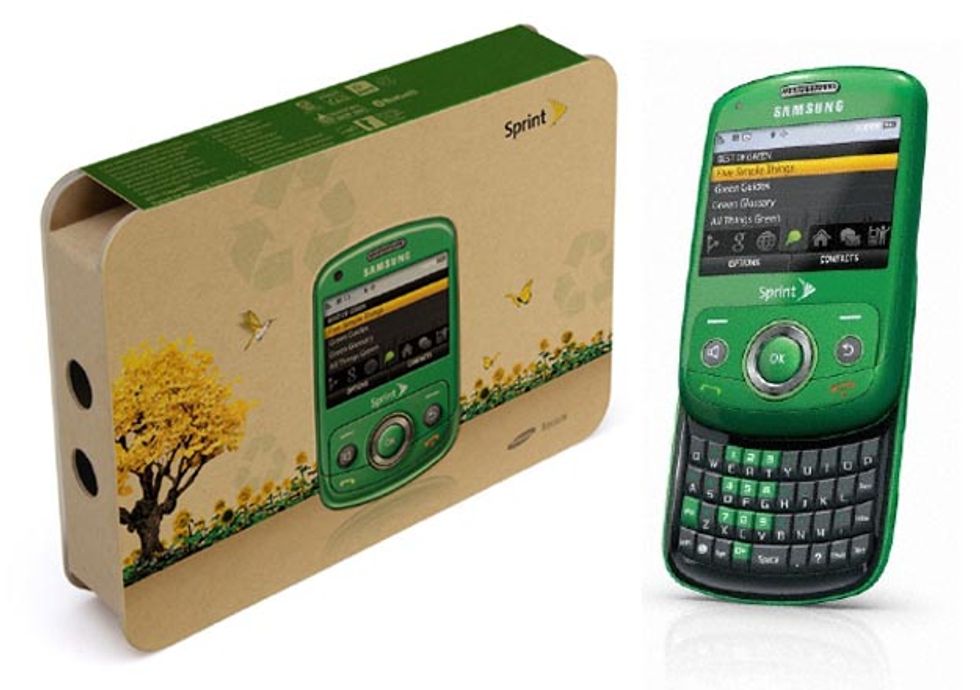 It's clear that we are all addicted and dependent on the many little pocket-sized gadgets that populate our lives. Unfortunately, many of these little utility robots and their poisonous batteries end up in wastelands and consequently hurt our ailing planet.
Luckily for our green hearts and our tech-junkie brain, Samsung and Sprint have announced the August 16th launch of their first ecophone. The Samsung Reclaim is an ode to modern and clever planet-friendly engineering. The new Qwerty phone is made almost entirely of recyclable material, from its hardware to packaging. The phone's shell is made of 40 percent corn-based bio-plastic material, with recycled ink and 80 percent of the entire gadget can be recycled. Even the AC adapter reminds users to unplug it once the phone is fully charged. According to Sprint CEO Dan Hesse, this is just one of the many measures they are taking to reduce their footprint and "hope to recycle 90 percent of wireless devices by 2017"!
The ecophone is also quite powerful with its 3G data network support, two mega pix camera, GPS and Bluetooth ready software and one-click access to popular web services such as Facebook and Twitter. If that's not enough to entice you, the phone retails for $49.99 with a two year contract and $2 from each sale will go to the Adopt an Acre Program, a foundation established in 1991 that has raised over 22 million dollars saving 600,000 acres of some of our most precious natural habitats worldwide.