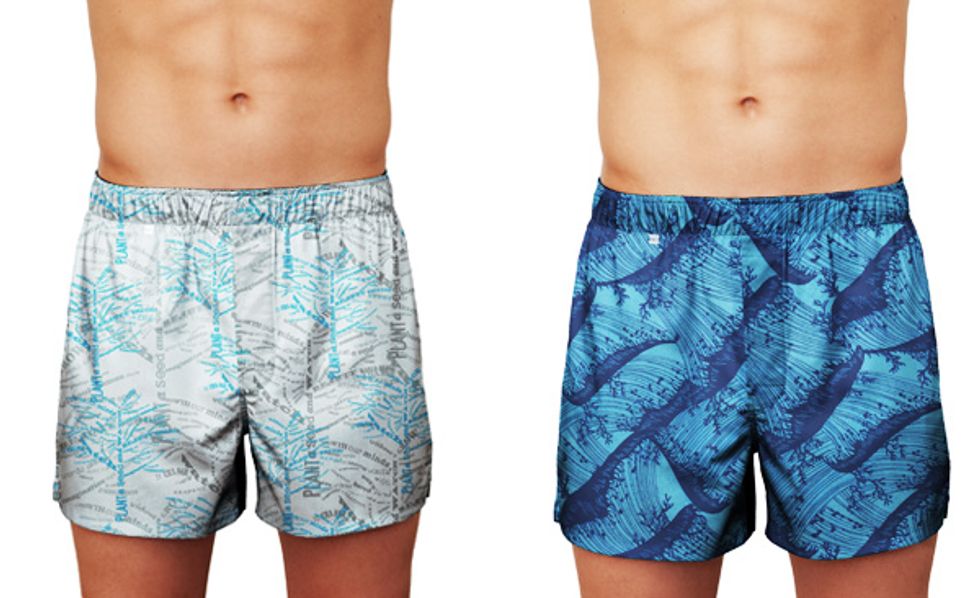 What if you could make a political statement with your underwear? Jeff Denby and Jason Kibbey wondered the same thing. And did something about it. The result? PACT, an online underwear company that blends design and sustainability, which launched earlier this week.
The company was launched with three original premium organic cotton underwear collections each supporting different social and environmental organizations. The fashion activists met in grad school and conceptualized the initial idea and a few prototypes back in 2007. The tenacity and foresight of the young duo caught the eye of famed sustainable designer Yves Behar, founder of the San Francisco based Fuseproject and designer of the One Laptop per Child "XO" laptop.
"We looked at underwear through the lens of 360-degree design. Having Fuseproject as an equity partner illuminates the fundamental importance of design to the PACT brand," says Denby of the key collaboration. The 360-degree approach goes beyond the playful prints conceived by Behar but more importantly into every step of the manufacturing process. PACT's products are all made in Turkey with all processes from the cotton growth to finished product conducted within an 100-mile radius. Every part of the supply chain is certified in the highest social and environmental standards. The underwear is then shipped to customers in bright green compostable shipping bags keeping to a bare minimum its carbon footprint.
Customers can shop by cause or print when visiting the online store. The inaugural prints support three different powerful organizations: ForestEthics, a non-profit founded in 2000 to protect endangered forests and wildlife around the world; 826 National, a nonprofit tutoring group dedicated to mentoring and inspiring the next generation of young writers; and Oceana, the largest international organization focused solely on ocean conservation.
Sustainability, style and social consciousness -- all in a pair of briefs.
Pictured above: PACT boxers $28 in 826 National and Oceana prints. For more information please visit www.wearpact.com.