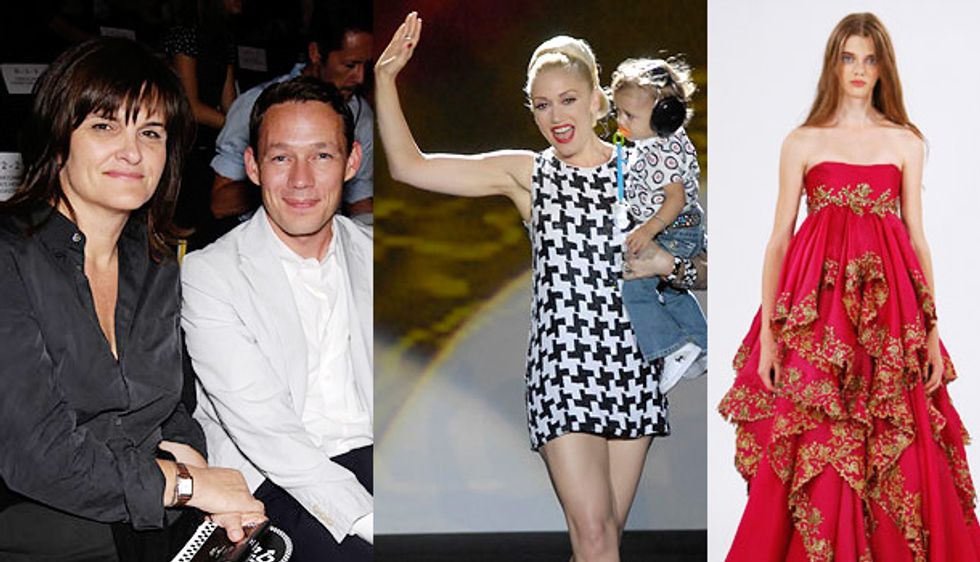 I feel like I've aged a million years and I've only gone to one show (Frank Tell) so far and it was a presentation near my house! But believe me, I've been working like a fool and I've got bad skin to prove it. So while perusing the interweb, I stopped by Cathy Horyn's "On the Runway" blog on NYTimes.com (their Fashion Week coverage is so on the DL I must say) and was delightfully shocked at how bitchy her review of L.A.M.B was.
I mean, I thoroughly enjoyed it on a schadenfreude level, but thought it was a bit out of character for her to be that scathing. But maybe she's sick of just any old body with a tabloid name starting a clothing line (I'm with CH on this). Horyn writes, "If ever there was a reason for a pop star to concentrate on her vocal skills, it was Gwen Stefani's fashion meltdown. Among the words I wrote in my notebook, until my pen came to a stop, were 'blob,' 'very last season,' 'bad secretary,' 'astonishingly bad,' and 'Ditzville.' I'm amazed -- now -- I had that much to say." Whoa, how do you really feel Cathy Horyn?! I applaud her being poisonously honest but I wonder just exactly what she expected from a label so banal that it calls itself Love, Angel, Marriage, oops, no, Music and Baby.
I had to check out the clothes with my own eyes so I moseyed on over to Style.com. And I didn't think they were that bad. I mean -– I hate using this expression -- but it is what it is. Let's face it: Gwen never said she's gonna give us Vera Wang. What I do hate though is when designers take bows with their babies (i.e. Kimora Lee Simmons), which Gwen was clearly guilty of. But somehow her clothes really got on Cathy Horyn's nerves. I wonder what she'll say bout JustSweet, J. Lo's new line showing later on this Fashion Week! Funny thing is, in the same blog, she gushes about Marchesa which I thought was pretty lame. And I'm not just hating on a label because it's backed by a major Hollywood muscle… (no not Rachel Zoe, who by the way, looks scarily skeletal and leathery -- oh, no, she's turning into a mummy!) I'm talking about Harvey Weinstein, of course. I actually think they make pretty dresses, but the new collection was a little ew -- all curls, bows and laces, and absolutely no masculinity -- and the hair and makeup were so blah. I really cannot vibe with "red carpet ready" girly-girly stuff.
Pictures Above from Style.com: Cathy Horyn and Eric Wilson from L.A.M.B show; Gwen Stefani with baby Kingston after her show; A dress from Marchesa Spring 08