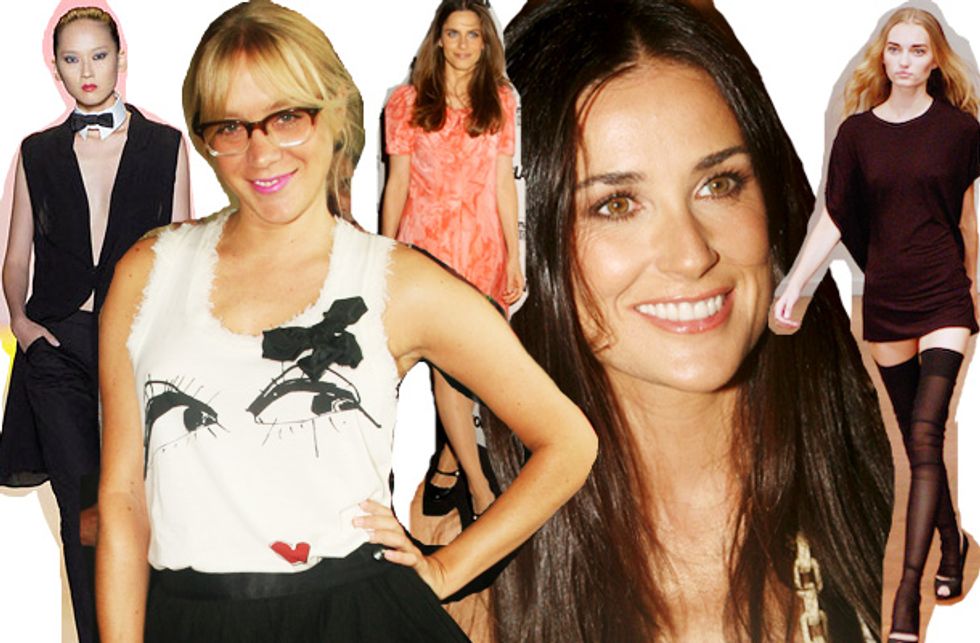 I do have a few favorite things about this Fashion Week. For one, I thought Chloë Sevigny's Lanvin outfit (the top had a drawing of a girl face and slightly torn/fringy shoulder straps -- so fresh!) at the lunch for Alber Elbaz was crazy cute and I loved the granny glasses she was rocking. They were very Rachel Comey for Spring '08. Chloë really knows how to accessorize and I really admire that about her. Really.
Then I really fell for Patrick Rzepski. For real. I didn't know much about him but his collection reminded me of vintage Bruce circa 2000 which is full of rebelliousness and femininity. And those stockings sans girdles -- how do they work?! I have no idea but they are sex-ay!!
I don't know if it's because I'm in the midst of a hyper eye shadow phase with makeup at the moment (no liquid eyeliner for a while) but I felt very drawn to the makeup with a capital M at Alexandre Herchcovitch.
Oh, and even though I'm not a fan of hers, I think Demi Moore looks uh-mazing! She's beaming and stunning in all the photos I've seen of her so far (at Une Journée à Paris and the Lanvin lunch). And she looks very natural like she hasn't had any work done which is a look I dig. Mr. Mickey told me a Demi anecdote from the Lanvin lunch which maybe he can fill you in on later. I don't want to end on a sour note, but I just want to say that Amanda Peet's style leaves something to be desired. I don't know if it's her acting chops or her fashion choices that I can't get over but whatever the reason there's a block.