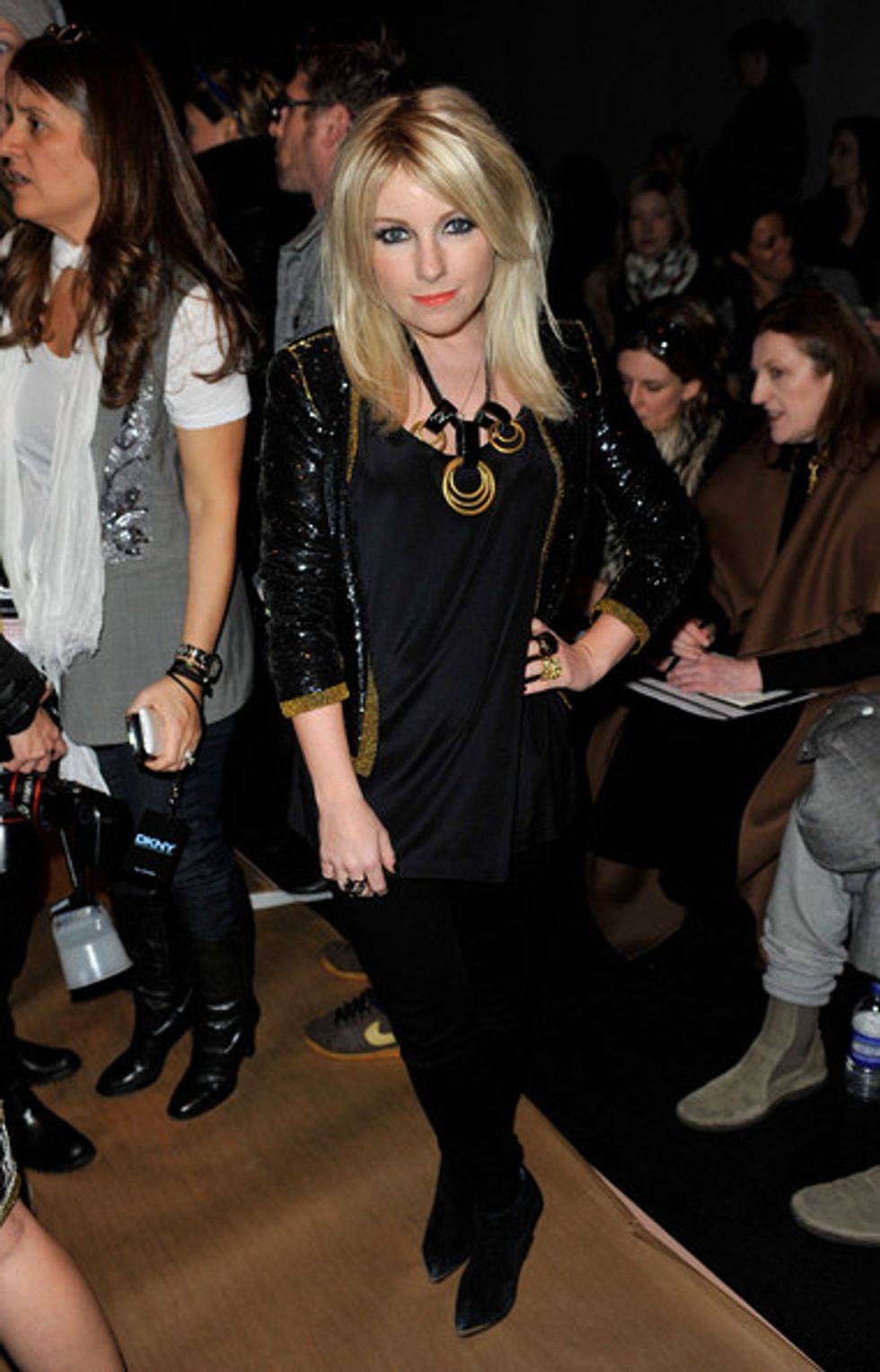 Throughout New York Fashion Week, one of our favorite Brit chanteuses, Little Boots, aka Victoria Hesketh, will be blogging about her Fashion Week exploits, leading up to the March 2nd U.S. release of her full-length debut, Hands. She plays the Highline Ballroom on March 2nd and 3rd.


The weekend seems to have gone so quickly! Saturday found us all nursing the most harrowing of hangovers but we managed to drag ourselves to the
Alexander Wang
show. The first word that sprung to my mind was "epic," as the show was set in a huge hanger with more lights than I thought were possible. There were people everywhere, and it felt like forever before they actually managed to clear the runway and start the show.
If I'm being totally honest, my initial reaction to the show was a little confused, as pinstriped tailoring met lace, velvet and chunky knits with huge oversize sleeves and bare midriffs. I loved the feel of the show with the moody music and make up, and by the last few dresses (I  particularly had my eye on a red velvet and lace number with a definite nod to the '90s) all had become clear. Apparently Wang said the show was inspired by "women who make money and women who steal money," and the show definitely felt like a statement.
We missed out on parties that night and opted for a lovely dinner and some chilled drinks in Brooklyn which was a nice change from the bustle of the fashion pack and a good way to clear my head for studio the next day. Before I got started I managed to squeeze into the
DKNY
show, where I sat with model
Poppy Delevigne
and
Mad Men
actress
Alison Brie
who were both lovely. DKNY loaned me a great spangly jacket for the morning, which was a motif that came up throughout the show, mixed in geometric patterned dresses and trailing scarves. I loved the camel and burgundy coats, which looked so wearable and effortlessly stylish.  The shoes were incredible, with sky high studded brogue boots and huge box shaped bags to match. Again, there were lots of velvet and leather details, mixed up with cheeky plaid skirts and cute knitted caps. Although there were lots of classic elements, the show definitely felt very modern and free spirited, reinforced by a great soundtrack featuring new bands. I came away immediately wanting everything, which is always a good sign (although maybe not for my bank balance).
I was sad to miss the
Peter Jensen
show as I ended up working late, especially as I heard
Nina Persson
from
The Cardigans
performed! I am currently manically burning CDs for my DJ set later for the ELLE/ Bebe party on my last night in New York so will report back later...