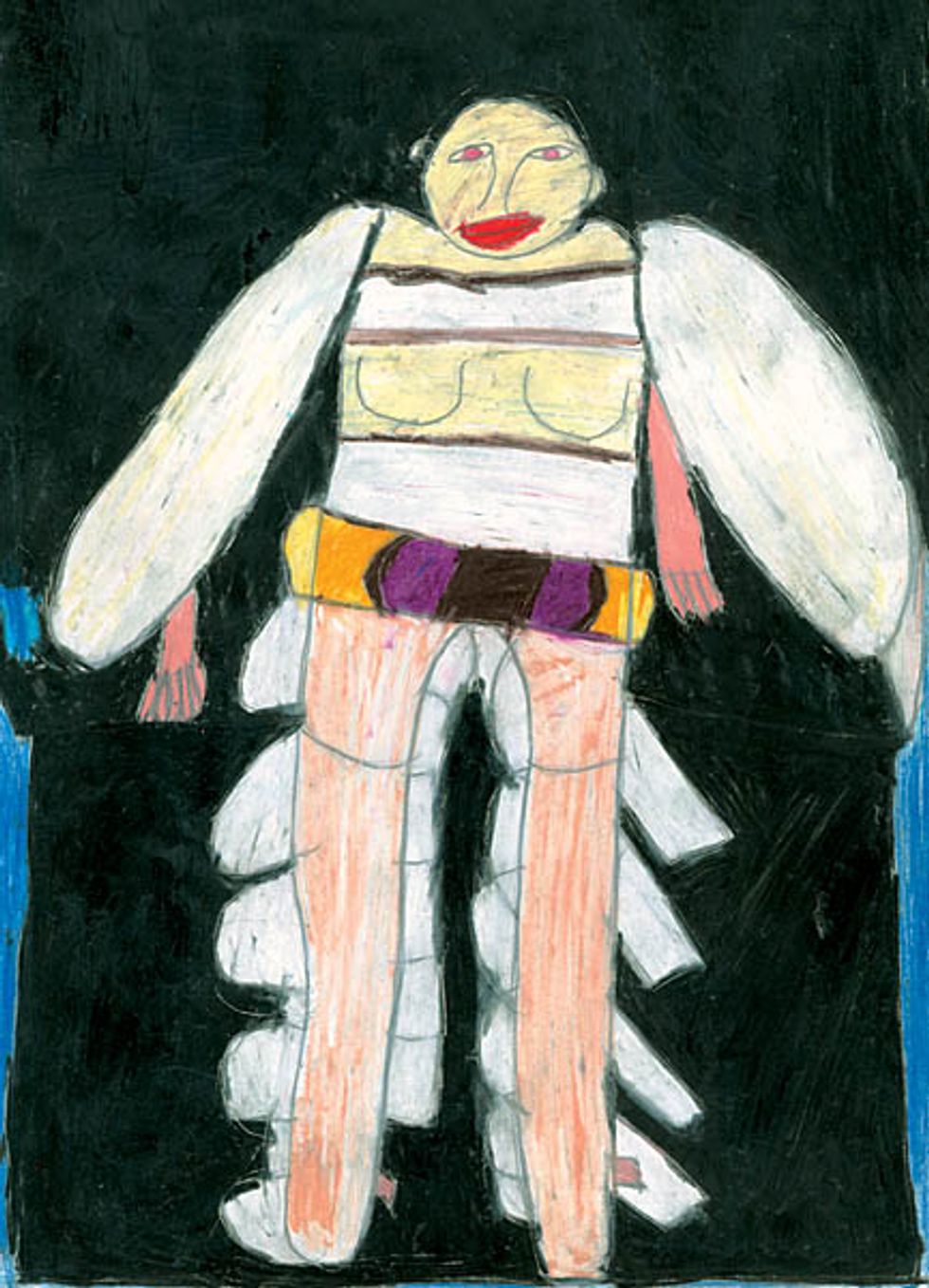 I always hate this last week of August. I always feel big anxiety before the shit hits the fan in September. And next week is going to be a doozie with the steam engine racing up to full speed Tuesday morning. On the other hand, I can't wait til Sept. 4th, because that's the day the big PAPER Barneys window will go up on the corner of Madison Ave. at 61st St. The window will be filled with artwork from our September issue -- specifically the fashion illustrations created by the developmentally disabled artists from a California-based art program called Creative Growth. If you haven't picked up our September issue, you must, because I swear this piece is really, really special. (A collectors item!)
The mentally disabled artists created the most amazing fashion illustrations from the fall collections (from the catwalks). I'm already getting phone calls from the designers themselves who want to purchase the drawings. Trust me on this one folks. It's special.
(check out the drawing they did of the fabulous Dolce & Gabanna gown above!)
Fashion Week also starts Tuesday this year which is unusually early. And because it is so early the schedule is nuts. I'm really excited because PAPERMAG is going to kick ass with our new "Down-Low Fashion Calendar" and coverage. Everyone in the office has been taking their vitamins and is ready to roll with coverage of the stuff no one covers. JUST WAIT! It's gonna be great!!
To top it all off, The Third Annual Art Parade (sponsored by Deitch Projects, PAPER and Creative Time) hits West Broadway at Houston Street on Saturday (Sept. 8th) at 4 p.m. So many great folks are marching and I think it's gonna be just amazing. PAPER will be marching with our friend Leyla's Heartchallenger baby pink ice cream truck -- so look for us!!