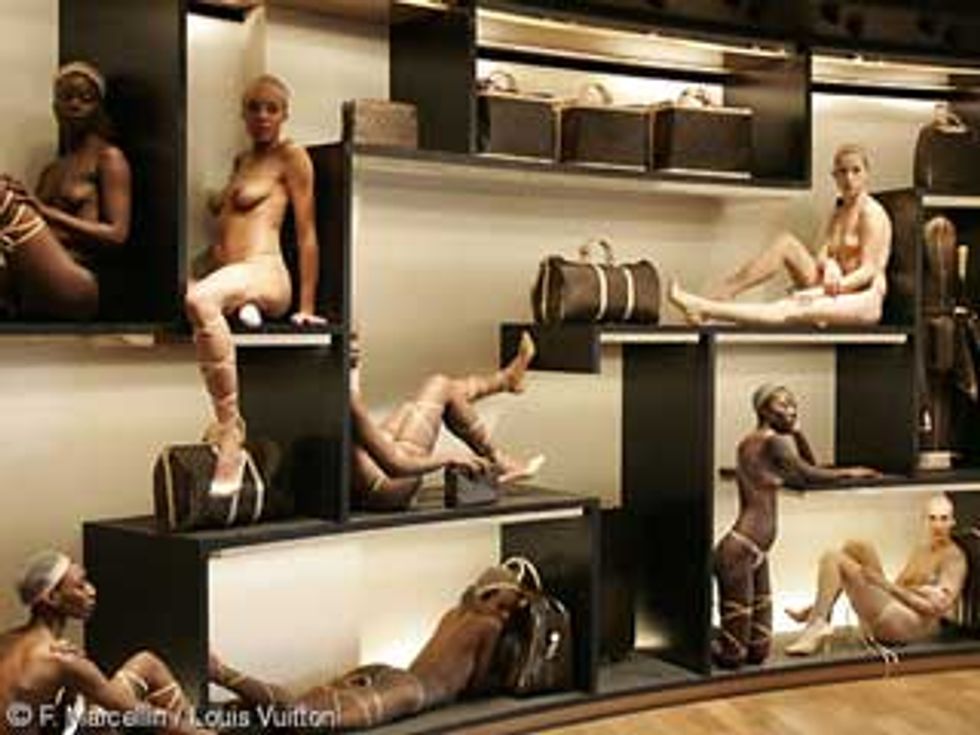 Womens Wear Daily was quite scoopy today. In it we read about Vanessa Beecroft's new exhibition which opens today at Louis Vuitton's brand new Champs Elysées flagship gallery (located above their store there). For the show, Beecroft created a "human alphabet" made of photographs of nude women and even made a "LV" version of course. Remember, Beecroft (always a fashion world favorite since she created her performance at the Whitney years ago of models in army formation wearing Gucci bathing suits) was commissioned by Vuitton to create an installation piece for the shops grand opening during fashion week last fall.

Meanwhile, WWD also reports that at the Galerie Almine Rehe, the cult Dior Homme designer, Hedi Slimane has opened his first solo show of photographs which are being received enthusiastically by collectors who are shelling out big bucks (up to $34,000 each) for the stuff.

Artists may be toying with fashion and vice versa in Paree, but here in New York, it was quite a scene at the opening of the Downtown Show, Curator Carlo McCormick's survey of art downtown from 1974-1984. If you live in New York, you must see the show which is rich with inspiration and early work from blue chip legends like Basquiat, Longo, Haring, Cindy Sherman, Otterness, Schnabel plus tons of wonderful art from people less famous but equally as important. There is even a little fashion inspiration exhibiting jewelry by Maripol, and some cool pieces from my closet of early Steven Sprouse, Andre Walker and the collaboration between Vivienne Westwood and Keith Haring in the early '80s. Don't miss it!