The fashion world has lost one of its greatest icons. New York Times Photographer Bill Cunningham has died at the age of 87.
He was immortalized in the 2010 documentary Bill Cunningham New York, in which his praises were sung by everyone from Vogue editor Anna Wintour, to PAPER co-founder Kim Hastreiter to philanthropist Annette de la Renta. Bill himeslf hated attention, preferring the focus to be on the subjects on the other side of his lens. The doc's producers joked that it took them fifteen years to make the movie: One year to film it and 14 years to convince Bill to do it. In the end, Bill couldn't say no when the owner of the Times told him he thought the film would be a really good thing for the paper. At heart, he was a loyal Times-man.
He came to New York City in 1948 after dropping out of Harvard, starting as a hat designer before covering fashion for Women's Wear Daily and, after capturing Greta Garbo on 57th and Fifth, in the Times. His "On the Streets" column at the Times and the videos he narrated online are probably the best education any student of fashion could have. Bill was tireless. He lived like a monk in a tiny apartment at Carnegie Hall with no kitchen, no closet and a bathroom down the hall. The room was full of filing cabinets of negatives and photos.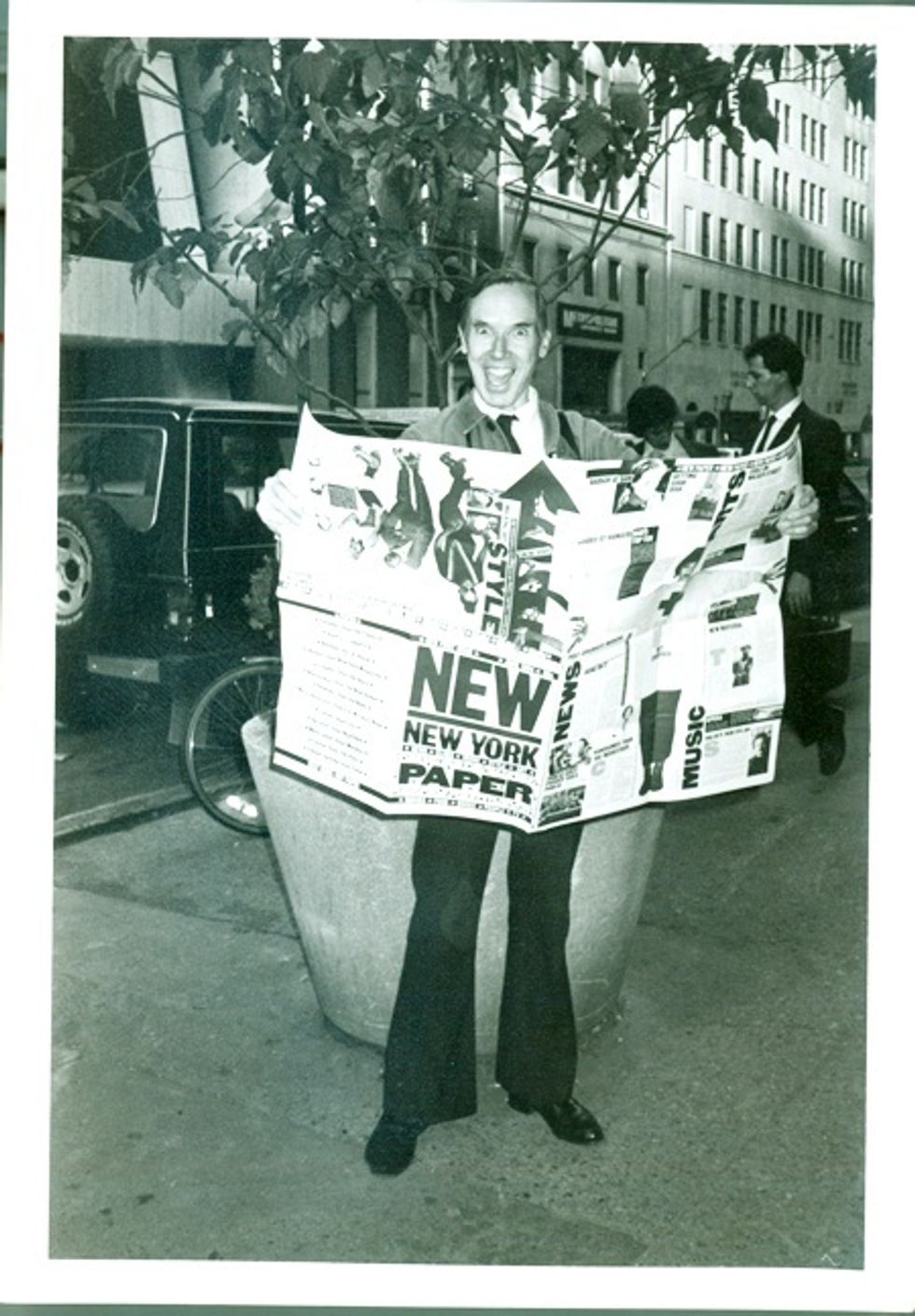 Bill and an early issue of PAPER
Bill thought that to see what was really going on in fashion you needed to do three things. Shoot the runways of fashion week. Shoot the parties at night. And shoot the people on the street. That gave you the total picture. He never cared overmuch about famous people or hype or what was cool. He adored well-dressed people. He loved the young. He loved the avant-garde and wild. Each fashion week, he would ask downtown friends like Lynn Yaeger or me to highlight his fashion calendar and tell him which shows would be worth shooting, where the outrageous looks would be.

Bill also loved Paris. In 2008, the French government presented him with Order of Arts. At the ceremony, Bill, who did not like having a fuss made over him, talked about his first time in Paris. He said it was like a dream to see all the beautifully dressed people. He wept as he talked about the wonderful girls on their bicycles.
Every fashion person or social fixture remembers the first time Bill photographed him or her. There was no greater seal of approval in NYC than to appear in one of his columns.
One year at the CFDA awards, I was wearing a green and black sequined Proenza Schouler sparkle top under a tuxedo with a giant necklace by Dana Lorenz. Bill, who was always happy to see me but frankly never very enthusiastic about my fashion looks, flipped and said, "Child we have to find Iris Apfel!" (the nonagenarian fashion icon known for her outrageous style). I spent several minutes being dragged around Alice Tully Hall by Bill looking for Iris. When we finally found her, he positioned me next to her and started shooting us together like a madman. People tried to talk to him. He ignored them. He was totally hypnotized by the look of Iris, very tribal, contrasted against my splashes of neon.
The photo didn't run in Bill's coverage that Sunday, but about a week later a large manila envelope addressed in a shaky handwriting landed on my desk. I opened it and pulled out a color print enlargement of a photo of Iris and me. (Bill got his film development at the cheap one hour photo shop near the Times). It included a personal note from Bill. "This is fashion," he wrote and signed it Bill.
I'll never be as proud of any fashion-related achievement as I was receiving that note from Bill. I feel honored that, even for just a few minutes, years ago, I provided a little stimulation to one of the truly great fashion minds of all time. His loss is incalculable and the entire fashion world is truly heartbroken.
Splash photo courtesy of BFA.com. Inline courtesy of PAPER.

You May Also Like